Publié le par Bernard Duyck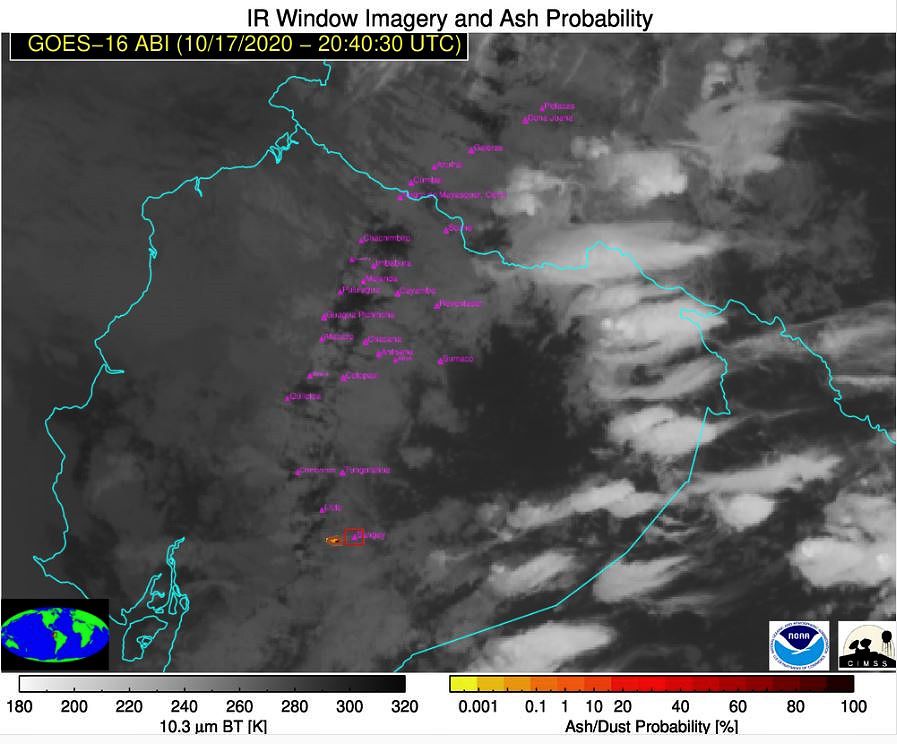 Sangay - 17.10.2020 / 20:40 UTC - yellow spot at the bottom of the image, with the ash plume to the west (left) Doc. GOES-16
.Since the morning of October 17, 2020, the SAGA seismic station in Sangay has recorded an increase in the number of explosions; this type of activity is similar to that observed during the eruptive period that began in May 2019.
These explosions could be associated with other phenomena, such as ash falls, or the remobilization of materials accumulated on the sides of the volcano.
An image from the GOES-16 satellite shows an ash cloud moving westward, potentially causing light ash fall over Chimborazo province.
The VAAC Washington reports 4 notices of ash emissions at a height of 570 meters above the crater, dispersing to the west.
The alert level is amarillo
Sources: IGEPN and VAAC Washington
In Guatemala, the activity of the Caliente dome of Santiaguito continues, with the extrusion of lava in blocks and degassing.
A white plume 3,000 meters asl high is. present, replaced during the explosions by an ash and gas plume at 3,300 meters asl. causing light ash fall in the vicinity of the volcanic complex.
Avalanches of boulders and ash descend the southern flank to the base of the dome. Pyroclastic flows are possible.
Sources: Insivumeh & Conred
Current activities:
- at Kerinci / VAAC Darwin and
- at the "Saddle vent" of the Etna NSEC / Boris Behncke and LAVE webcam.
The POVI has uploaded photos illustrating the violent eruptive episode of October 15 at 5:34 am at Villarica (see article http://www.earth-of-fire.com/2020/10/news-from-villarica-nevados-de-chillan-mauna-loa-and-bromo.html)
The active lava lake, with a diameter of 5 to 6 meters, maintains a depth of 150 meters.
Satellite images show pyroclasts covering snow and ice cover up to 3,000 meters in length; these traces are left by the eruptive impulses of October 9 and 15, 2020.
During the month, the POVI documented at least 7 eruptive impulses.
Source: POVI