Publié le par Bernard Duyck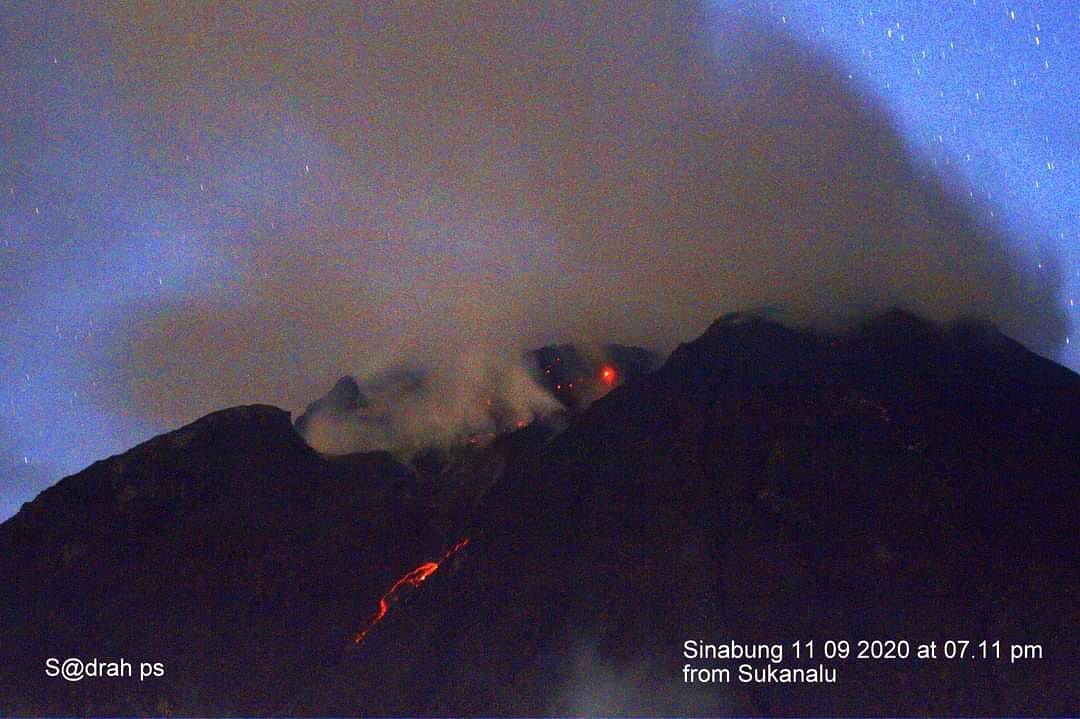 Sinabung - glowing dome and collapse on 11.10.2020 / 19:11 - photo Sadrah Peranginangin via Beidar Sinabung
In Sinabung, in activity level 3 / Siaga, avalanches were observed with a sliding distance of 300 to 700 meters to the east and south-east.
The seismicity of October 11 was characterized by
- 14 collapse earthquakes
- 10 blast earthquakes
- 1 low frequency earthquake
- 1 local tectonic earthquake
- 3 distant tectonic earthquakes.
This October 12, the PVMBG reports, between 00 and 06h, an earthquake of collapse with an amplitude of 76-95 mm and an earthquake duration of 79-106 seconds.
Sources: PVMBG & Beidar Sinabung
In Costa Rica, the Rincon de La Vieja presented two eruptive episodes on October 11, respectively at 10:09 am local and 5:46 pm local; the height of the plumes could not be increased due to poor visibility conditions.
The first episode lasted 1 minute, and tape and discontinuous tremor was recorded (0.7 - 5 Hz).
The duration of the second episode is also one minute.
Source: Ovsicori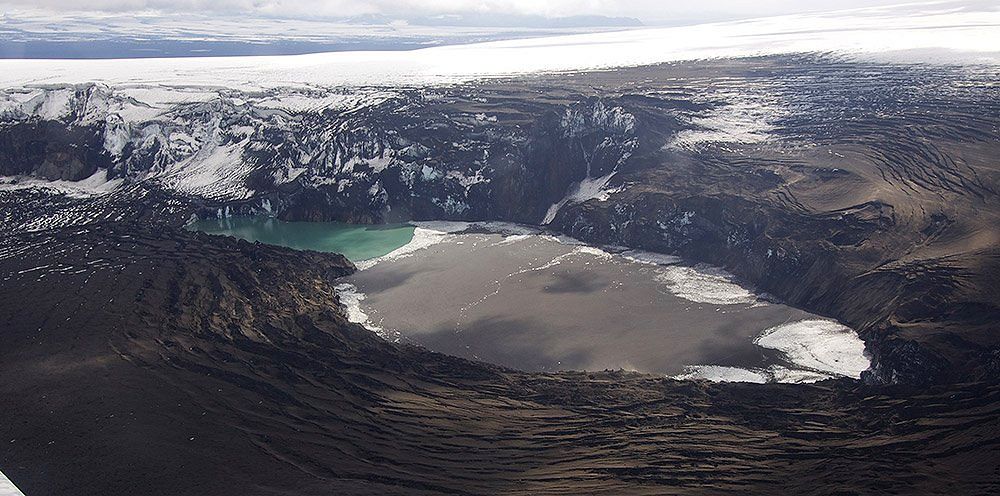 The Icelandic volcano Grimsvötn is usually hidden under a glacier, but the May 2011 eruption melted the ice here and exposed the crater. - photo © Boaworm / CC-by-sa 3.0 - one click to enlarge
According to the Icelandic Met office, several signs of increasing activity (frequency of earthquakes, inflation, geothermal activity and rising heat flow) are noticed at Grimsvötn, which saw its aviation code change from green to yellow on September 30.
Volcanologist Magnús Guðmundsson, from the University of Iceland, explains that an increase in seismicity and heat flux is observed 6 months to 2 years before an eruption.
The water level of the subglacial lake, present above the Grimsvötn, increased sharply and reached higher values ​​than in 2004 and 2010, marked by jökulhlaup (glacial debacles) ... the sudden pressure relief destabilizes the volcano, and may cause an eruption.
Increased monitoring of the volcano is required during this period of increased activity.
Source: ScineXX