Publié le par Bernard Duyck
The M 7.0 earthquake (revised to 6.6 by the University of Athens) of October 30, 2020 off the island of Samos, Greece, occurred following a normal fault at shallow depth of the earth's crust in the Eurasian tectonic plate in the eastern Aegean Sea.
The location of the October 30, 2020 event is approximately 250 km north of the nearest main plate boundary, where the Africa plate is moving north at a speed of approximately 10 mm / year relative to to Eurasia; this earthquake is therefore considered an intraplate event.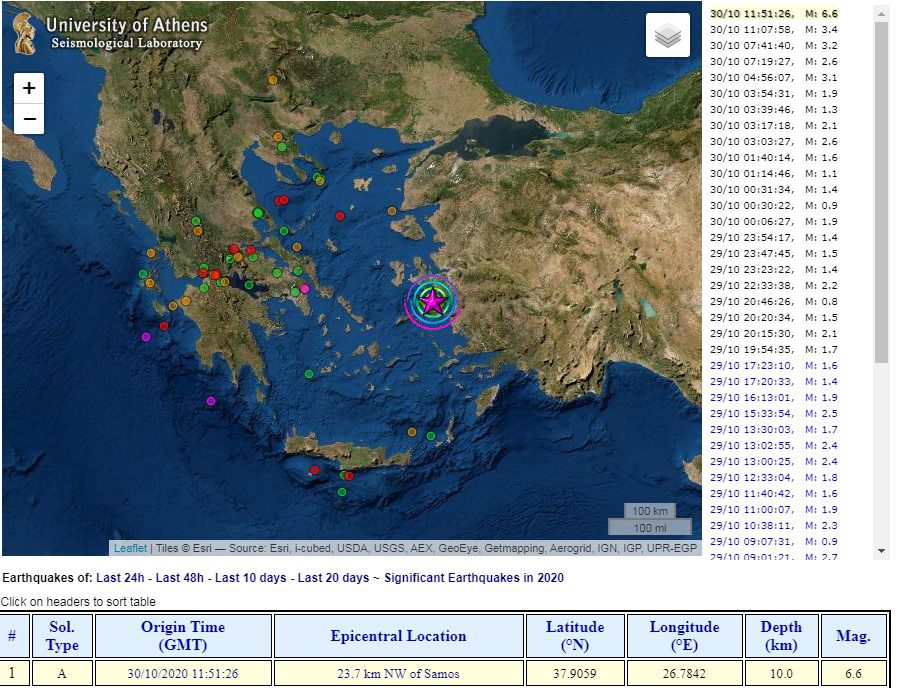 High magnitude and shallow earthquake in the Aegean Sea - 10.30.2020 / 11:51 UTC - Univ. from Athens, seismology lab / via Evi Nomikou
The focal mechanism solution indicates that the earthquake occurred on a moderately pendulous normal fault striking either east or west. This mechanism indicates a north-south oriented extension that is common in the Aegean Sea.
The tectonics in the region surrounding this earthquake are relatively complex; to the south, the lithosphere of Africa (Nubia) subducts to the north under the Eurasian plate to the Hellenic trench; in the east, the Anatolian microplate (part of Eurasia) moves in a general direction towards the west, causing a right lateral fault along its northern boundary, the North Anatolian fault and a left lateral fault in the south -est of Turkey. The Aegean region, western Turkey and southern Greece, where the October 30 earthquake occurred, is generally experiencing a north-south extension driven by southward migration of the pit. Hellenic. (USGS earthquake hazards program)
A "mini-tsunami" occurred on the Greek island of Samos in the Aegean Sea and material damage to buildings was recorded following a strong 6.7 earthquake which hit this sea island Aegean, according to Greek public television, Ert.
According to Turkish authorities, the disaster left at least 4 dead and 120 injured.
Sources: USGS earthquake hazards program, EMSC, and European media.