Publié le par Bernard Duyck
In 2002, during the last eruption of the Nyiragongo volcano in the DRC, lava poured down its flanks in the crowded city of Goma. About 250 people died, 20% of the city was destroyed and hundreds of thousands had to flee. Since then, the at-risk population living in the shadow of the volcano has more than doubled to 1.5 million.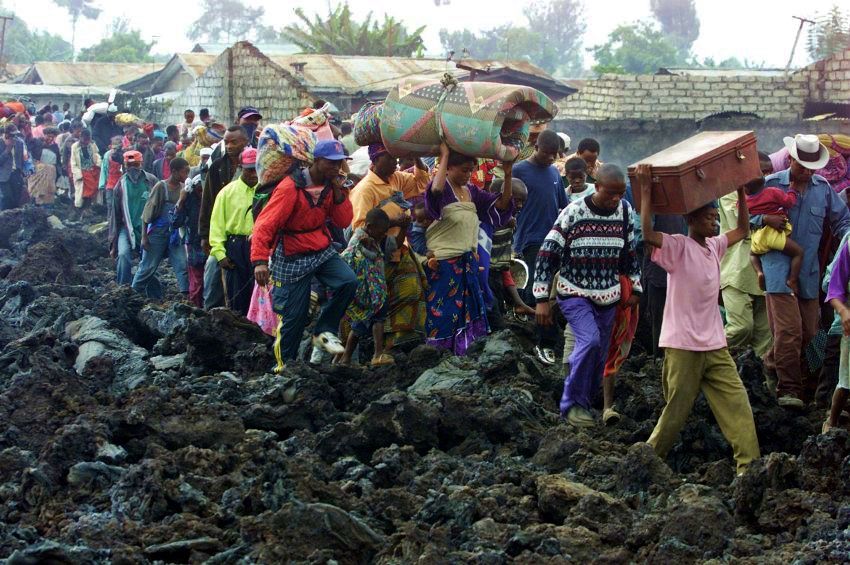 Goma - 01.2002 - The inhabitants flee in front of the advancing lava emitted by the Nyiragongo. - Doc. archives / Reuters
Today, the conditions are ripe for another disaster, researchers say.
A February scientific campaign in the volcano's crater revealed that the lava lake was filling there at an alarming rate, with lava from the spatter-cone cascading into the lava lake with an estimated flow rate of 4 m³ / s. ( SVG - Data from Patrick Marcel), increasing the risk that molten rock could again burst through the crater walls.
An analysis, published in August, suggests the maximum hazard will arrive in 4 years, although researchers believe an earthquake could trigger a crisis sooner.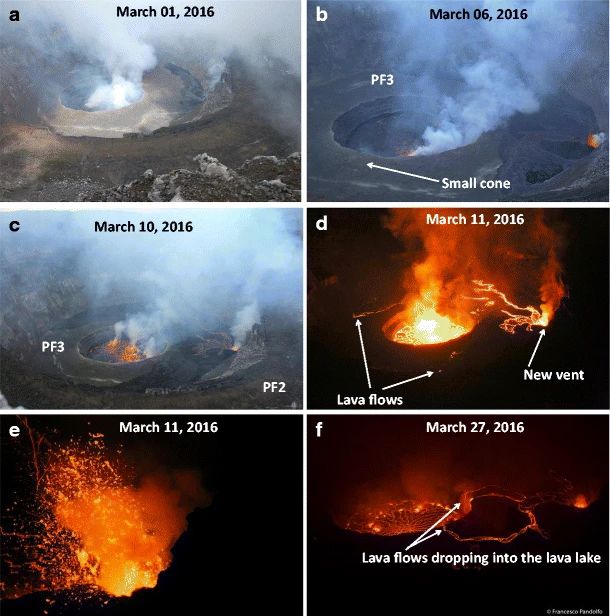 Nyiragongo - evolution of the lava lake in 03.2016 - Doc. Dr.Ch.Balagazi & al. / Bulletin of volcanolgy
Nyiragongo - the lava lake in February 2020 and level fluctuations - Doc. AAAScience - one click to enlarge


Nyiragongo - images sentinel-2 L1C bands 12,11,4 from 08/30/2020 and 09/14/2020 - one click to enlarge
A network of seismometers around the volcano, operated by GVO and installed in recent years with the help of researchers in Belgium and Luxembourg, shows seismic activity; the network requires constant maintenance, due to vandalism, theft and lightning damage. But civil unrest in the region makes repairs dangerous. Earlier this year, 13 park rangers were killed in an ambush in the surrounding Virunga Volcano National Park.
Adding to concerns, the Goma volcano observatory, the region's only monitoring station, is losing financial support from the World Bank.
A UN spokesperson says the peacekeepers plan to support the GVO in the short term. " We recognize the importance of keeping volcanoes monitored in order to protect civilians and save lives. "
It remains to be hoped that an earthquake will not help the cracking and weakening of the walls, during a period of heavy filling of the lava lake.
Sources:
- AAAS - Lava lake rises at dangerous African volcano - Roland Pease - 16 Oct 2020: Vol. 370, Issue 6514, pp. 270-271 DOI: 10.1126 / science.370.6514.270 - link
- François Kervyn, director of the natural risks division at the Royal Museum for Central Africa in Belgium - link
- Virunga volcanoes supersite - Dr Charles Balagizi / OVG - link
- Bulletin of Volcanology - Soil temperature and CO2 degassing, SO2 fluxes and field observations before and after the February 29, 2016 new vent inside Nyiragongo crater - Charles M. Balagizi & al.