Publié le par Bernard Duyck
On Sunday morning (22/11) at 6:50 a.m. WIB, there was an avalanche of old lava cliffs on the north wall of the Merapi crater (dating from 1954), recorded on a seismogram with an amplitude of 75 mm and d 'a duration of 82 seconds. The materials fell into the crater and so far had no effect on the activities of the volcano.
During the observation period of November 22 at 24:00 WIB, 50 avalanches were observed, 81 emission earthquakes, 342 polyphase hybrid earthquakes, 41 shallow volcanic earthquakes and 1 distant tectonic earthquake.
This 23 November 2020, 33 avalanche earthquakes were recorded, including 4 heard at Babadan and Kaliurang stations, 83 emission earthquakes, 399 hybrid / multiphase earthquakes, 37 shallow volcanic earthquakes, and 3 distant tectonic earthquakes.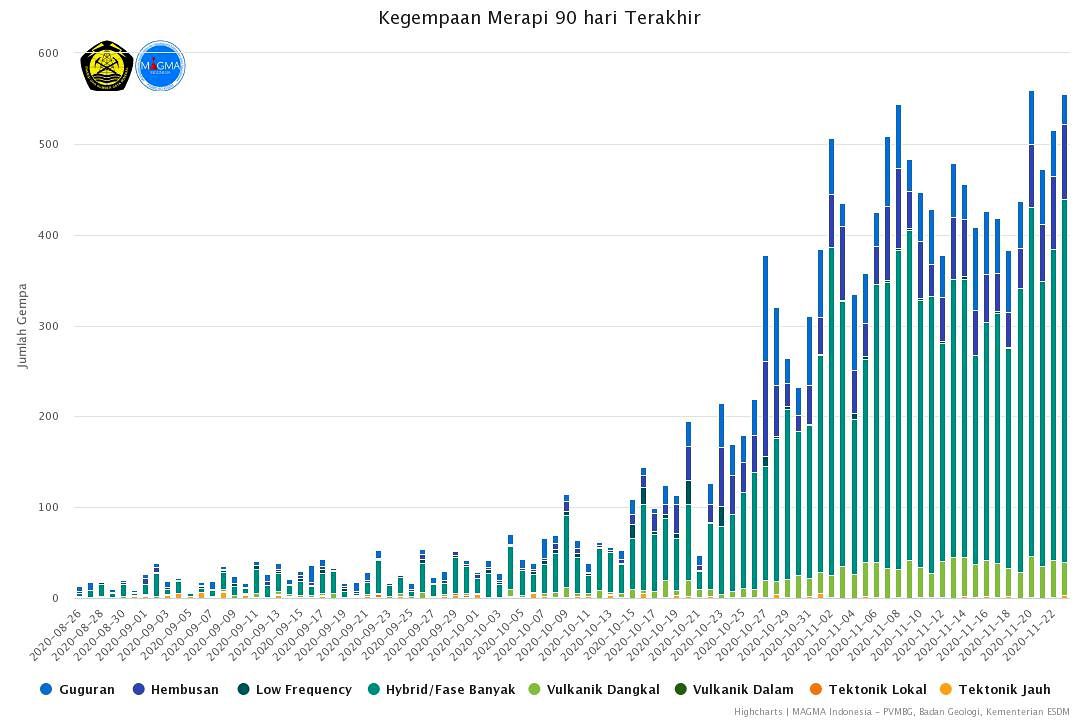 Merapi - seismicity at 23.11.2020 - to note an increase in the number of volcanic and hybrid earthquakes - Doc. Magma Indonesia - one click to enlarge
The general deformation of the volcano is visible on an InSAR image, taken during the 2 passages of November 11 and 19.
The level of activity has been since November 5, 2020 at 3 / siaga, accompanied by priority evacuations of sensitive people.
Sources: BPPTKG, PVMBG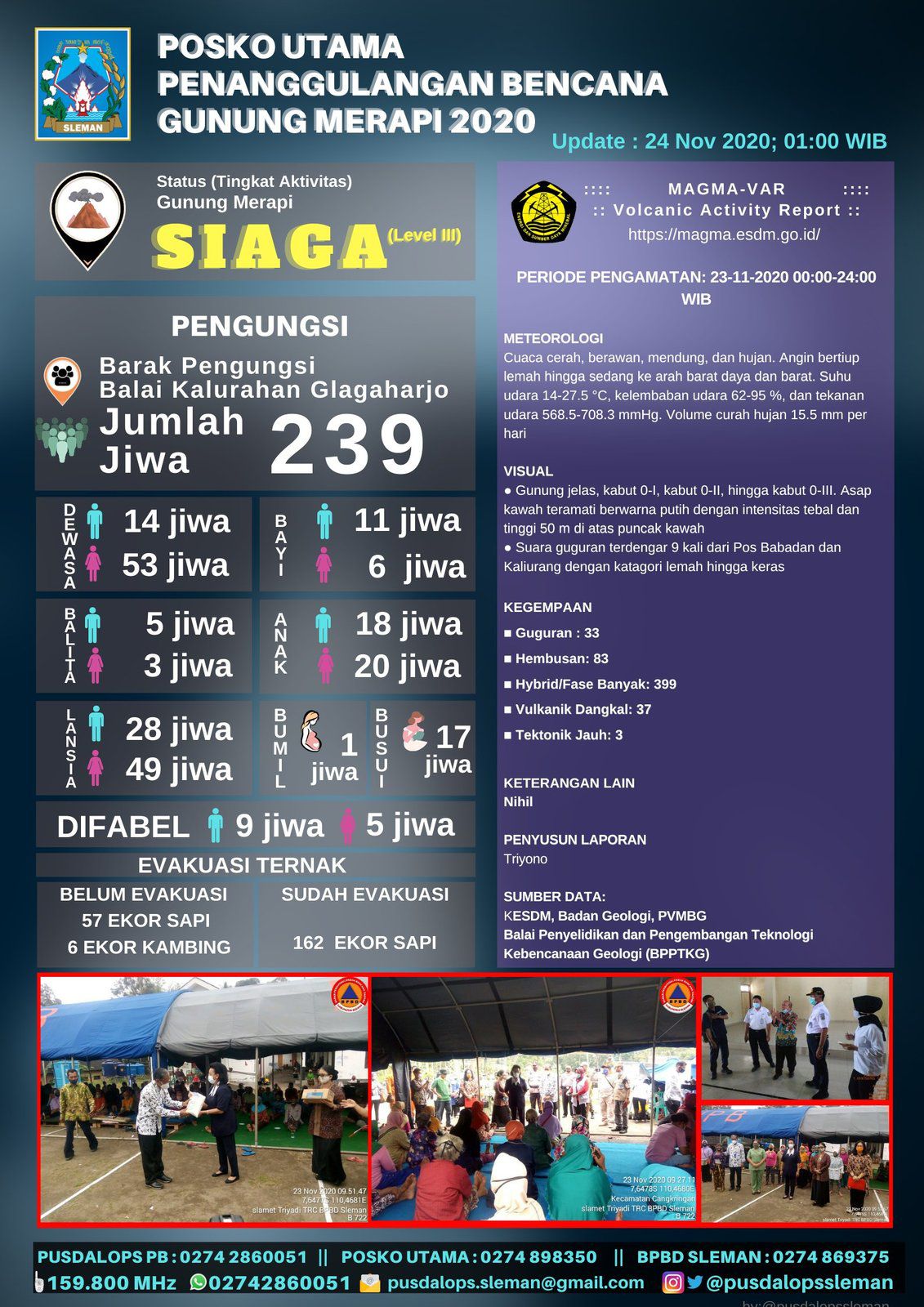 Merapi: status - evacuations - volcanic activity of 23.11.2020 - Pusdalops Sleman - one click to enlarge
Explosions recorded on November 23 at the Sabancaya volcano, generated the emission of the ash dispersion alert, with plumes at times more than 3,000 m above the summit.
The evolution of the lava dome is not considered to be a direct danger for the populations of the Colca valley: its surface occupies 11,700 m² in mid-November; in November 2019, its surface was 54,700 m². Its formation is considered a normal aspect in the current eruptive process of the Sabancaya volcano.
Source: IGP & Ingemmet - OVI
Sabancaya - parameters as of 11/22/2020 and seismicity of 11/23/2020 - Doc.Ingemmet - one click to enlarge
In Dukono, in the northern Moluccas, broadcasts will continue on November 22 and 23; the gray-white plume reaches a height of 200-800 meters above the summit crater.
The seismicity of November 23 is marked by a continuous tremor, with an amplitude of 0.5-8 mm (dominant 2 mm).
The activity level remains at 2 / waspada, with recommendation for people around G. Dukono and visitors / tourists not to practice any activity, climb and approach the Malupang Warirang crater within a radius of 2 km.
Source: PVMBG & VAAC Darwin