Publié le par Bernard Duyck
At Sinabung, the main crater emits gases at a moderate height of about 50-300 meters above the summit.
Thanks to the seismographic recordings of November 17, 2020, it was recorded:
- 24 collapse / avalanche earthquakes
- 6 low frequency earthquakes
- 1 local tectonic earthquake
- 2 distant tectonic earthquakes.
The dome continues to grow, making it more and more cantilevered. Its development (collapse or formation of a dome-flow) should be closely followed.
This November 18 at 12:59 WIB, a pyroclastic flow occurred, with a sliding distance of 1500 meters to the southeast (the wind to the southwest.)
An eruption occurred the same day at 1:44 p.m. WIB, accompanied by an ash plume 1,000 meters high
The activity level remains at III / siaga.
Sources: PVMBG, Magma Indonesia, Beidar Sinabung / Firdaus Surbakti and Sadrah Peranginangin and Nachelle Homestay.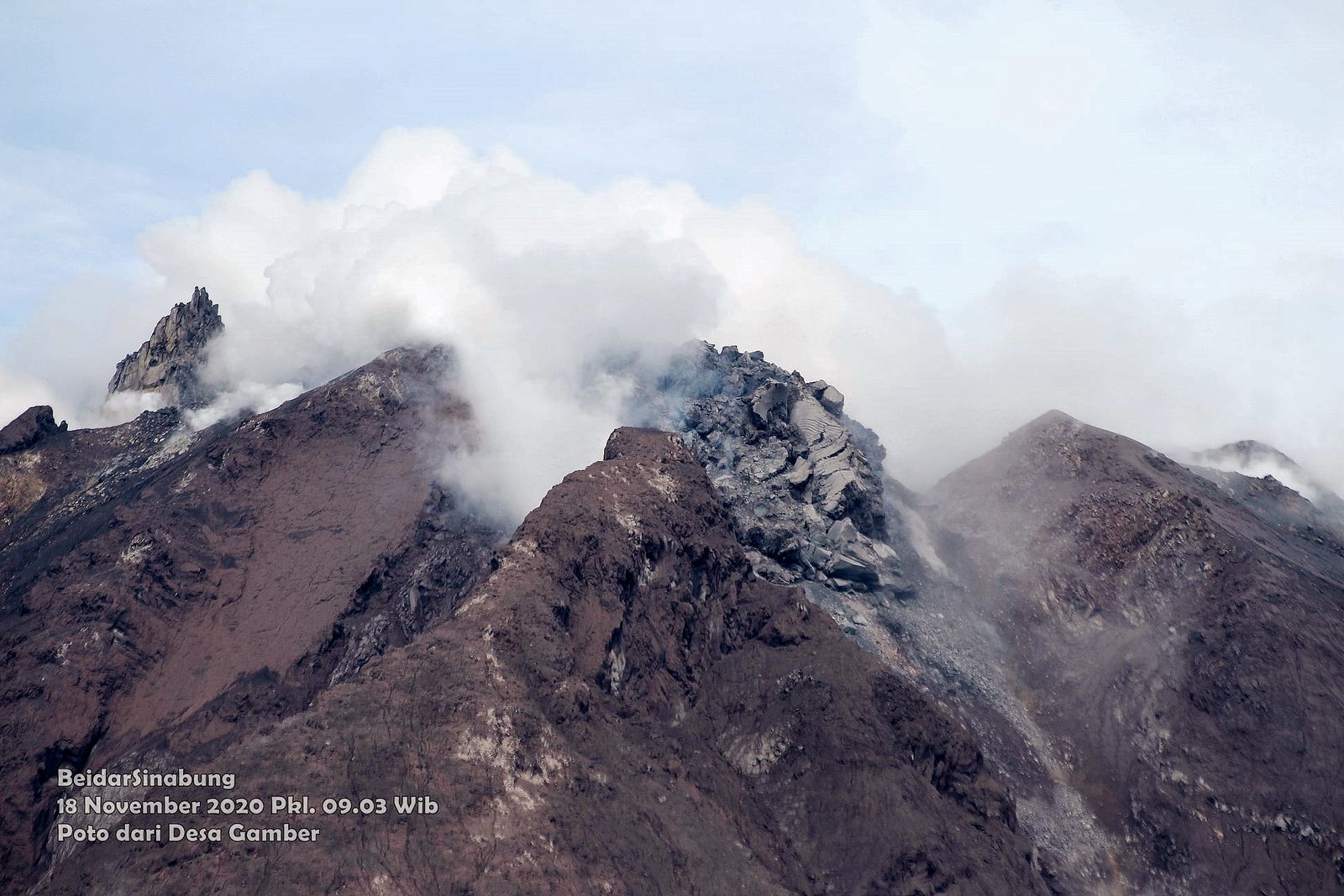 Sinabung - the dome on 11/18/2020 / 9:03 a.m. WIB, from a different perspective - photo Firdaus Surbakti / Beidar Sinabung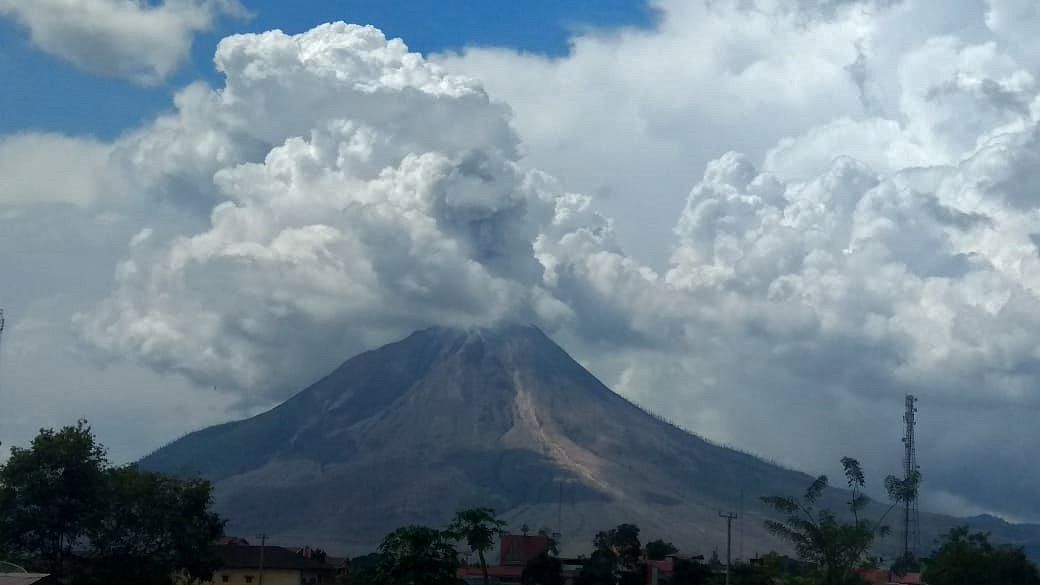 Sinabung - eruptive episode of 11/18/2020 / 01:44 p.m. WIB - photo Sadrah Peranginangin / Beidar Sinabung
Between November 9 and 15, 2020, I.G. Peru recorded 2,264 volcanic earthquakes in connection with the circulation of magmatic fluids inside Sabancaya. Volcano-tectonic earthquakes are located mainly to the northeast of the volcano.
The eruptive activity continues, at a moderate level, with an average of 54 daily explosions, accompanied by plumes of ash and gas reaching 3,300 meters above the summit.
Monitoring by GNSS technique does not present any significant anomalies. Eleven thermal anomalies, of VRP between 3 and 63 MW were detected, associated with the presence of a lava body / dome in the crater of Sabancaya.
The level of the volcanic alert remains at Naranja, with a prohibited zone of 12 km in radius.
The Geological, Mining and Metallurgical Institute (Ingemmet) has confirmed in recent hours, thanks to multidisciplinary monitoring and satellite images (Sentinel), the location of the second lava dome, called "Iskay" (two in Quechua) northeast of the crater of the Sabancaya volcano, with an area of ​​about 12,000 square meters.
On November 17, Tropomi / Sentinel-5P detected a strong signal of sulfur dioxide near Sabancaya, with 13.65 DU of SO2.
Sources: Instituto Geofisico del Peru, Ingemmet press release & Tropomi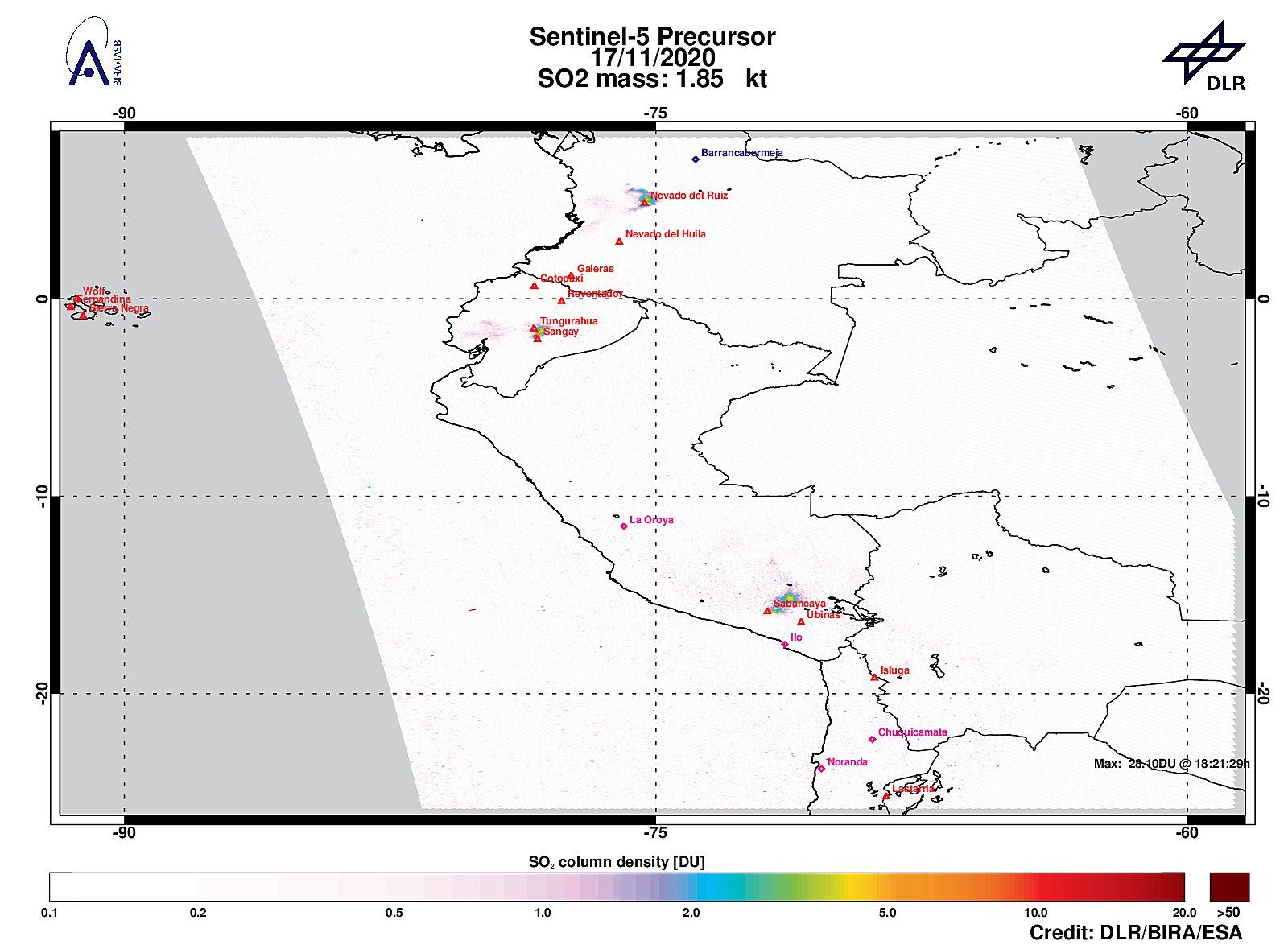 Sabancaya - 11/17/2020 Tropomi / Sentinel-5P has detected a strong sulfur dioxide signal near Sabancaya, with 13.65 DU of SO2. (bottom center of document) - Doc. DLR / Bia / ESA - Sentinel-5 P Tropomi
Last Wednesday (November 11, 2020), a period of ash emission began in Whakaari / White Island. Ash deposits were observed on some of the island's cameras, and at times a darker-than-usual plume was reported on the mainland. Satellite images provided at the time by MetService, courtesy of the Japan Meteorological Agency, confirmed the ash emission, but later images showed the presence of little or no apparent ash.
The gas measurement and observation flights on Monday November 16, 2020 again reported small amounts of ash in the plume. Overall, observations indicate a lower level of ash emission over the past few days.
Laboratory analyzes of the ash show that it includes hydrothermal minerals and ancient volcanic materials (ash sediments), and that no new magma is present. Ash particles are materials eroded from the 2019 ventilation area by the flow of steam and gas.
The quantities of CO2 and SO2 gas have decreased.
The high emission of volcanic gas combined with the increase in seismic activity confirms that Whakaari / White Island is in a period of heightened unrest. As a result, the volcanic alert level remains at level 2 and the aviation color code remains at yellow.
Source: Geonet