Publié le par Bernard Duyck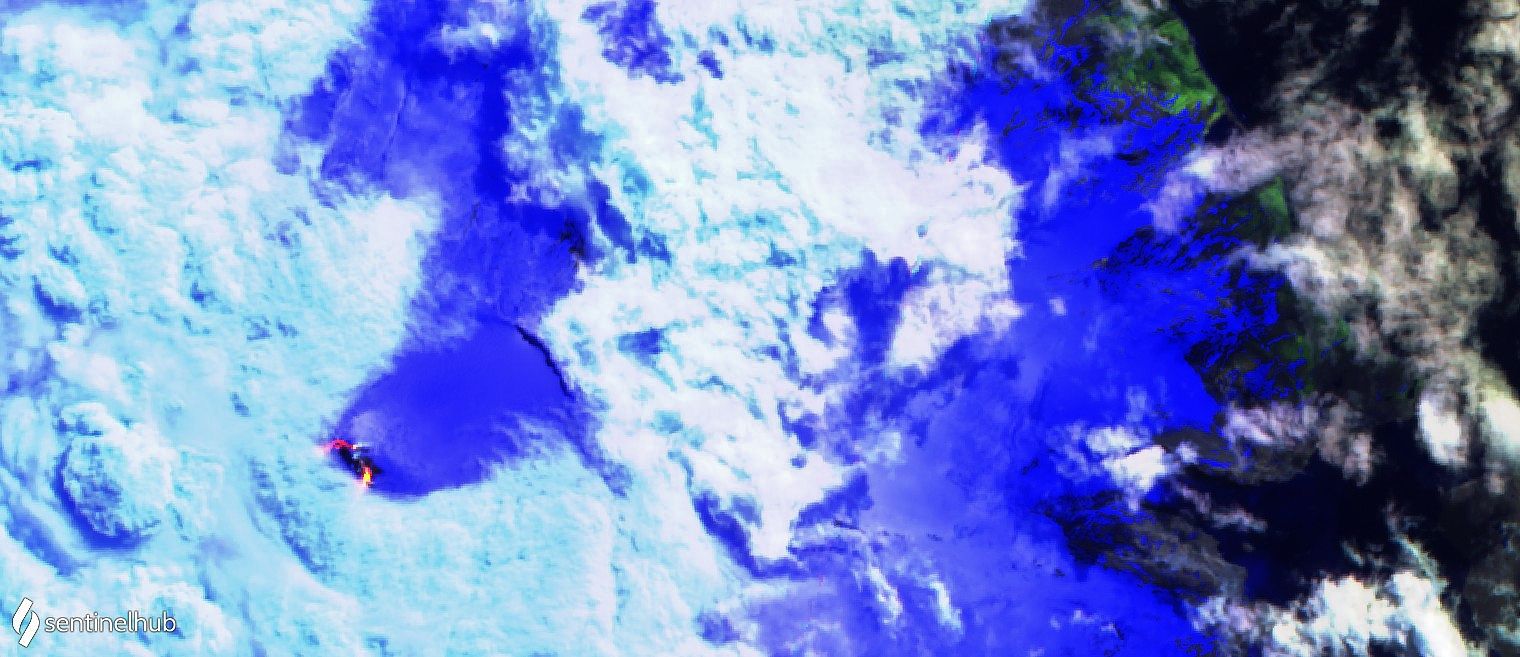 Heard island - two lava flows at Mawson peak on 11.11.2020 - image Sentinel-2 L1C bands 12,11,4 - one click to enlarge
The effusive eruption continues at Mawson peak, on Heard island.
Images from the Sentinel-2 satellite revealed a hot spot (heavily obscured by clouds) on November 9.
This November 11, we see two lava flows in the opposite direction, one on the northwest flank and the other on the south-southwest flank, becoming almost parallel in the slope, about 500 meters long, before being masked by the clouds.

Heard island, on the Kerguelen plateau in the southern Indian Ocean, consists mainly of the emergent part of two volcanic structures.
The large, glacier-covered, basalto-trachytic composite cone of Big Ben volcano comprises most of the island, and the smaller Mount Dixon sits at the northwestern end of the island across a narrow isthmus.
The historically active Mawson peak forms the highest point on the island; it is located in a caldera 5-6 km wide, jagged on the southwest side of Big Ben.
According to the Global Volcanism Program, Mawson peak has been erupting since September 5, 2012, still "ongoing".
Sources: Sentinel-2 and Global Volcanism Program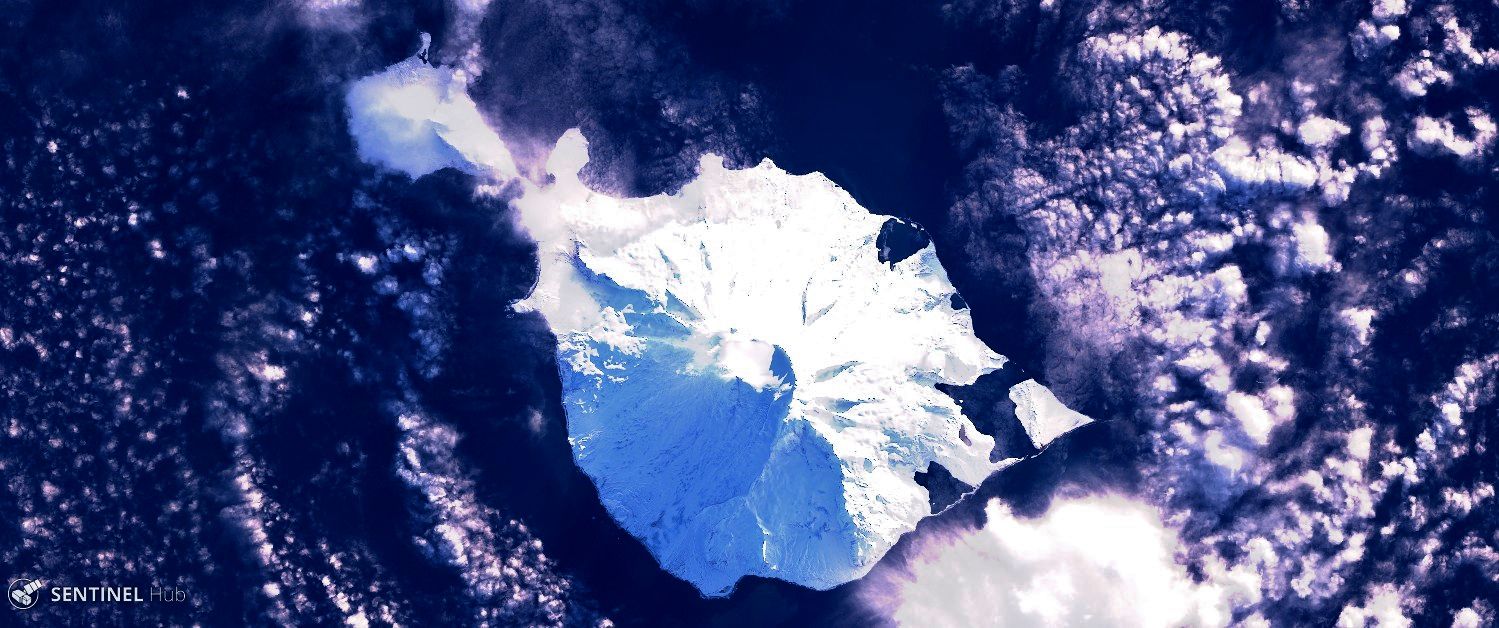 A rare sight of Heard island cleared by Sentinel-2 image nat. colors on 05/31/2019 - one click to enlarge
In Colombia, during this week the SGC through its Volcanological and Seismological Observatory of Manizales, commemorates the 35th anniversary of the eruption of the Nevado del Ruiz volcano, which occurred on November 1985.
The volcano continues to emit water vapor and gases, mainly sulfur dioxide. The column of gas and vapor reached a maximum height of 2,122 m measured at the top of the volcano on November 4. On November 13, Sentinel-5P / Tropomi detected a strong signal of sulfur dioxide with 11.66 DU of SO2.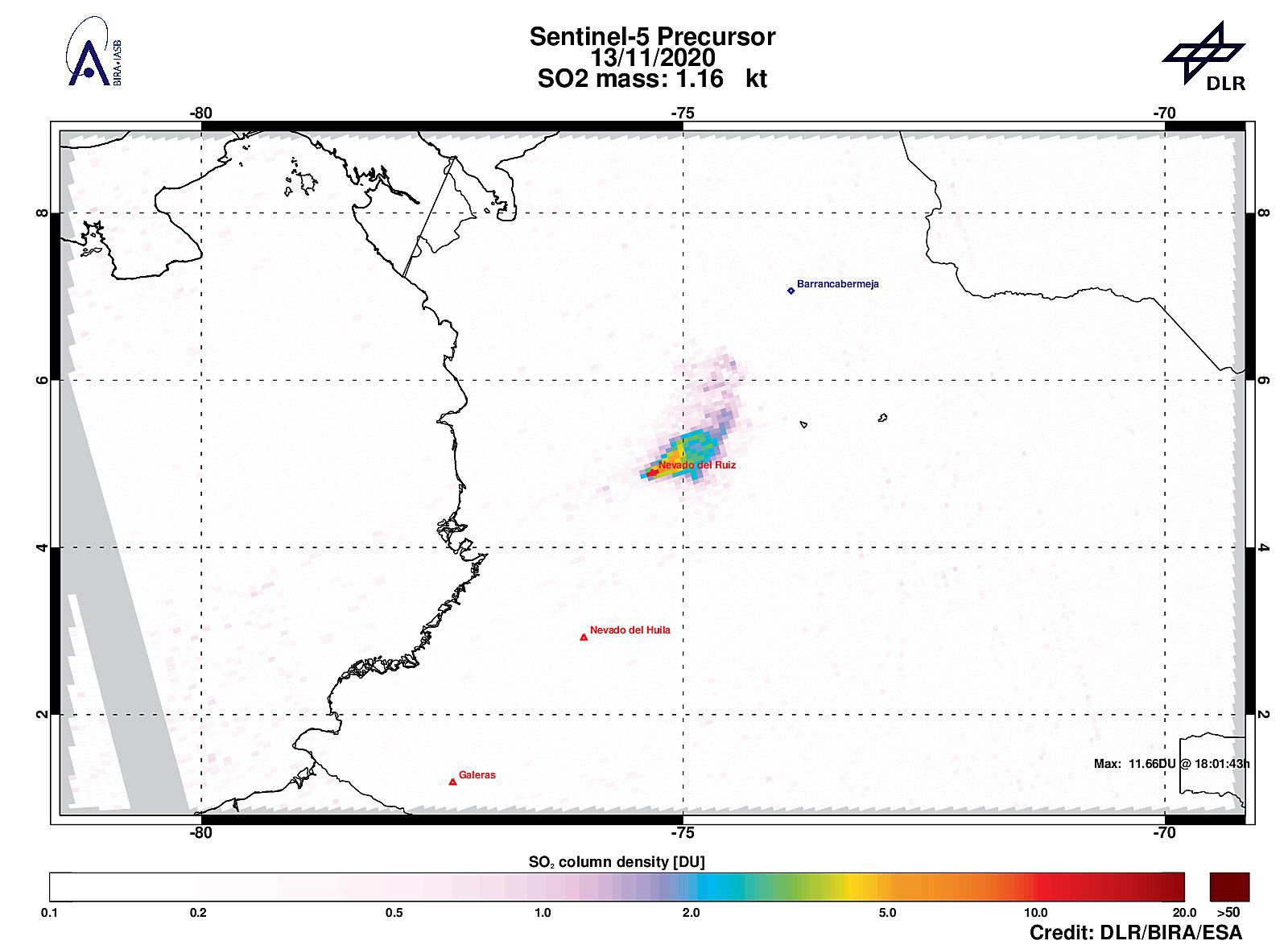 Nevado del Ruiz - a strong sulfur dioxide signal with 11.66 DU of SO2 detected by Tropomi - Doc. DLR / BIRA / ESA
In terms of seismicity, that generated by the fracturing of rocks has slightly decreased in the number of earthquakes and increased seismic energy released compared to the previous week. During the week, several episodes of low-energy drumbeat-type seismicity were recorded, associated with fracturing of the rock.
An increase in seismicity linked to fluid dynamics, inside volcanic conduits, in terms of the number of events and the seismic energy released, is observed compared to the previous week. This activity
seismic activity was characterized by the appearance of continuous volcanic tremor, tremor pulses, long-period and very long-period earthquakes, of varying energy level and spectral content. Some of these signals were associated with gas and ash emissions, confirmed by cameras installed on the volcano.
The deformation of the volcanic surface, measured from GNSS (Satellite System of Global Navigation) stations and electronic inclinometers, did not show any additional changes compared to those reported in recent weeks.
The activity level remains at 3 / amarillo - changes in the behavior of volcanic activity.
Sources: SGC & Tropomi