Publié le par Bernard Duyck
At Merapi, a fine white plume rises over the crater from 20 to 150 m. Avalanches were observed on November 8, 2020, with a sliding distance of 750 to 3000 m to the west - north-west

Thanks to the seismographic recordings of November 8, 2020, it was recorded:
- 71 collapse / avalanche earthquakes
- 88 blast / emission earthquakes
- 351 hybrid / multiphase earthquakes
- 31 shallow volcanic earthquakes
- 2 low frequency earthquakes
- 1 distant tectonic earthquake
Since Friday, the Indonesian government began evacuating the first villages located closest to the crater. 500 people took refuge in shelters provided for this purpose. A 9 km perimeter evacuation scenario around the crater is ready. Communication, routes, logistics and 35 shelters can be deployed quickly.
1.A forecast map of risk areas has been drawn up by the BNPD; she understands :
A. DIY Province
Regency. Sleman. Kec. Cangkringan: village of Glagaharjo (hamlet of Kalitengah Lor); Village of Kepuharjo (hamlet of Kaliadem); Umbulharjo village (hamlet of Palemsari).
B. Jawa Tengah / Central Java Province
at. Regency. Magelang. Dukun district: village of Ngargomulyo (Dusun Batur Ngisor, Gemer, Ngandong, Karanganyar); Krinjing Village (Dusun Trayem, Pugeran, Trono); Patent Village (Babadan 1, Babadan 2)
b. Regency. Boyolali. District of Selo: village of Tlogolele (hamlet of Stabelan, Takeran, Belang); Klakah village (Sumber, Bakalan, Bangunsari, hamlet of Klakah Nduwur); Jrakah village (Distance Hamlet, Sepi)
c. Regency. Klaten. Kec. Kemalang: village of Tegal Mulyo (Dusun Pajekan, Canguk, Sumur); Sidorejo village (hamlet of Petung, Kembangan, Deles); Village of Balerante (Dusun Kontakrejo, Ngipiksari, Gondang).
2. It is recommended to stop mining in the river channels that originate at Mount Merapi in KRB III.
3. Tourism actors should not carry out tourism activities at KRB III G. Merapi, including climbing activities to the top of Mount Merapi.
4.The government of Sleman Regency, Magelang Regency, Boyolali Regency and Klaten Regency to prepare all aspects of disaster mitigation efforts due to the eruption of Mount Merapi which can occur at any time.

Sources: PVMBG, BPBD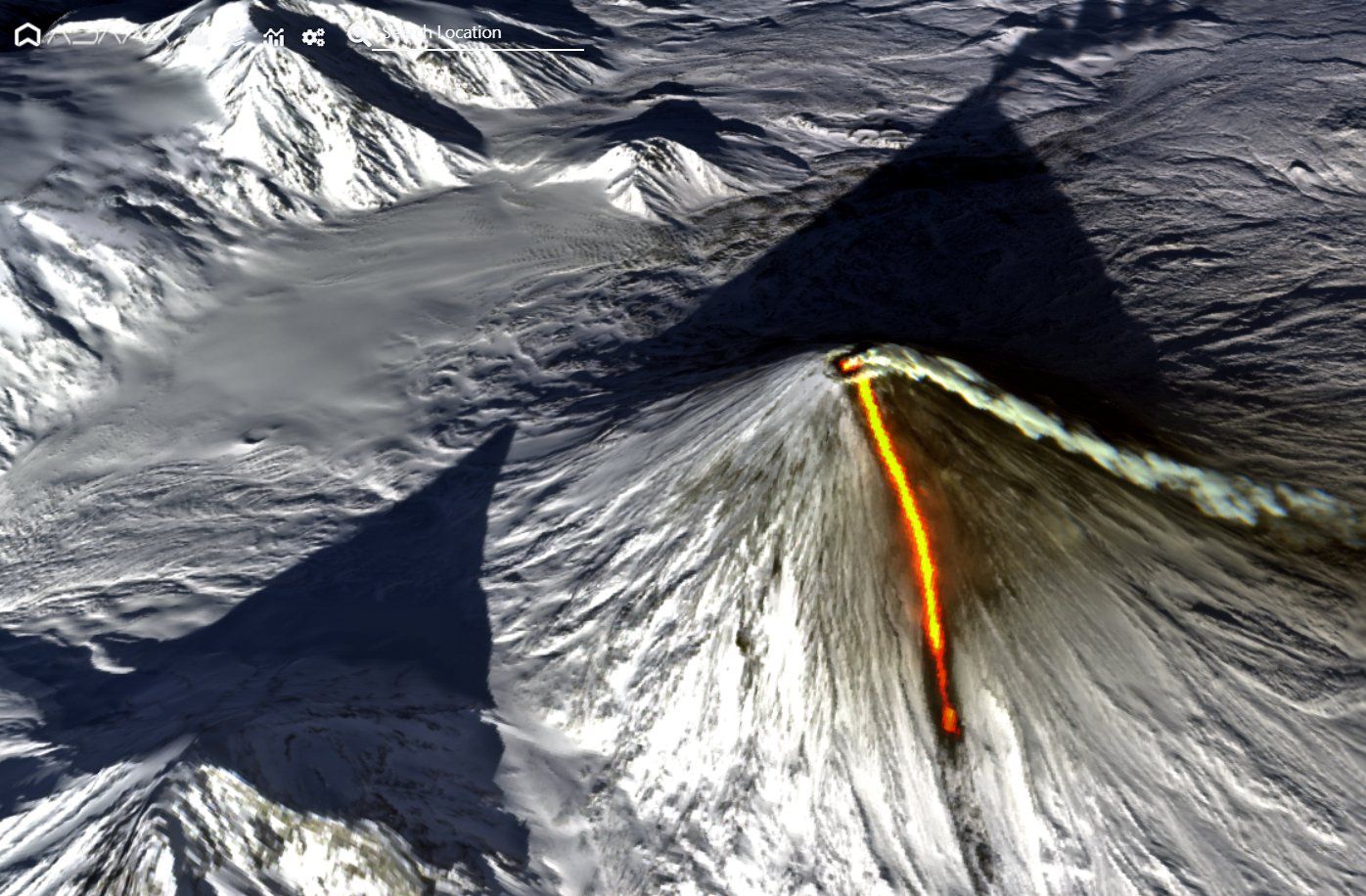 Klyuchevskoy - increasing flow, plume 85 km east, shadow - Sentinel-2 image 3D image 08.11.2020 - via A.Vecoli
The explosive-effusive eruption continues at Klyuchevskoy.
The lava flow on the southwest flank continues to grow. The ash plume extends for approximately 85 km. to the east.
Mirova reports a very high thermal anomalies, with a VRP of 1071 MW, on November 9 at 2:10 a.m.
The aviation code remains orange.

Sources: KVERT, Mirova & VAAC Tokyo
In La Reunion, the concerns are not linked to the eruption, but to the fires that have been raging since Saturday in the Mafate circus, and more particularly in Maïdo.
A thought by our friends from Réunion who are fighting against the fire, fueled by the wind and the drought.
The night went badly at Maïdo. Despite a relentless fight by the firefighters, the flames managed to cross the forest road around 2 a.m. in the night from Sunday to Monday. The balance sheet is now 200 hectares burnt.
The firefighters had to move their command post. The flames continue to spread towards the forest road of Tamarins and it is now an area of ​​500 hectares that is threatened.

Source: Imazpress