Publié le par Bernard Duyck
In Santiaguito, after yesterday's activity, degassing is observed, at certain time prolonged, of white and gray color, which disperses towards the west and reaches heights of 600 meters above the dome of Caliente. For short periods, it is possible to hear sounds similar to those of an airplane turbine, due to prolonged degassing of the Caliente dome.
Seismic recording makes it possible to observe weak and moderate explosions. These generate plumes of gas and ash, and altitudes of up to 3400 meters above sea level.
Boulder and ash avalanches are also recorded mainly towards the southwest flank.
Source: INSIVUMEH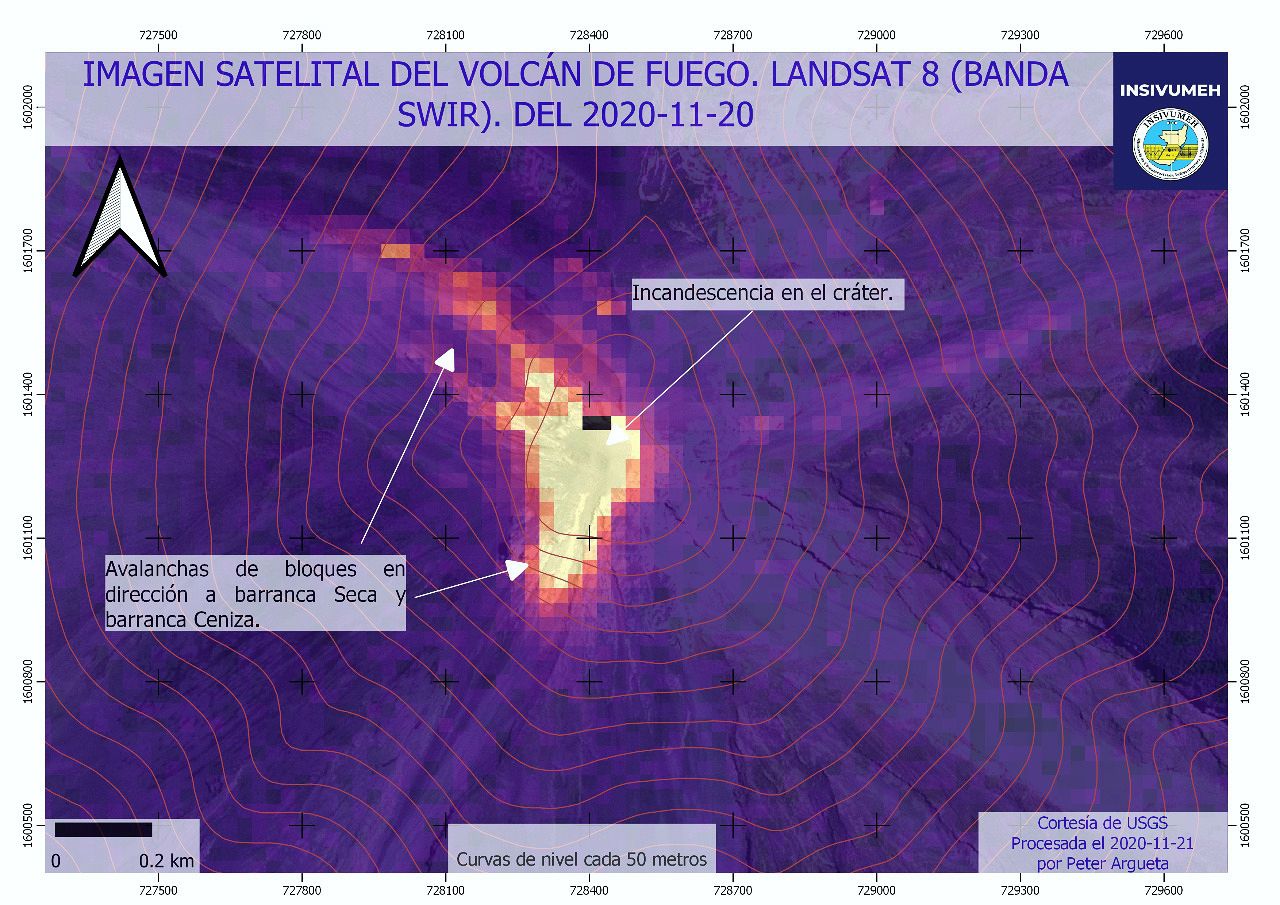 Fuego - summit glow and blocks falls in the Seca and Ceniza barrancas - Landsat-8 Image 20.11.2020 / Insivumeh
In Guatemala, the Fuego exhibits 4-8 weak and moderate explosions per hour, expelling plumes of gas and gray ash at an altitude of 4,500 to 4,700 meters (14,763 to 15,419 feet) which disperse mainly to the south -Where is. Some explosions are strong and cause shock waves that vibrate the roofs and windows of houses near the volcanic perimeter.
The explosions are accompanied by weak and moderate avalanches, which disperse towards the ravines of Seca, Ceniza, Taniluya, Trinidad and Las Lajas. Avalanches with strong characteristics persist on the ravines of Seca and Ceniza, some of which reach the vegetation limit. Fine ash falls were recorded in the Panimaché 1 area.
At night and early in the morning, reflections of incandescent pulses were observed on the crater.
Only satellite images show us this activity, the region being under a high pressure system associated with storm Iona.
Sources: Insivumeh & Landsat-8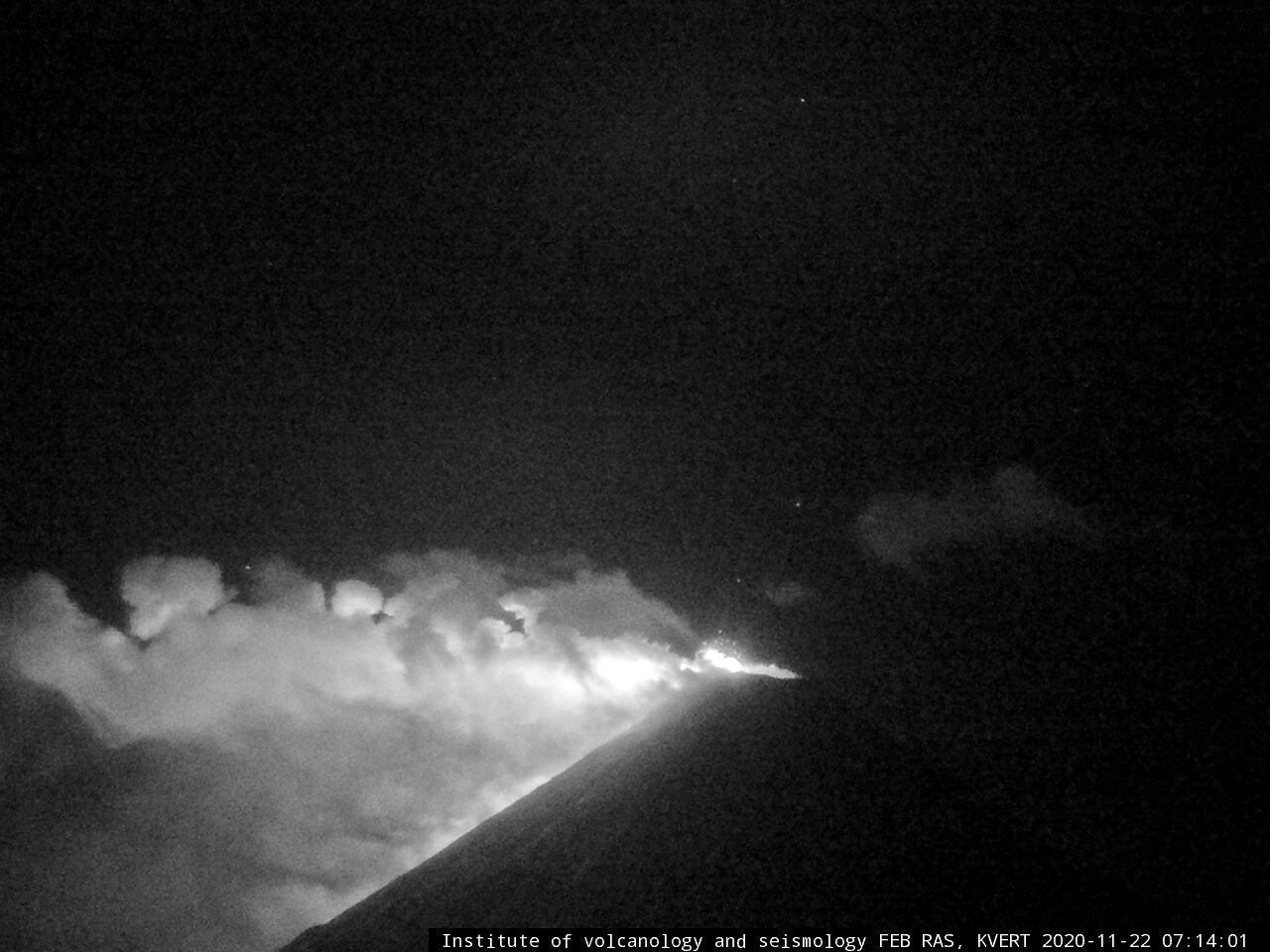 Klyuchevskoy from the Kliuchi volcanological staion - 11/22/2020 / 7:14 a.m. - IVS FEB RAS webcam, KVERT
At Klyuchevskoy, in aviation code orange, moderate explosive-effusive activity continues.
Strombolian explosions, gas, steam and ash emissions are observed in the form of a plume extending 25 km to the south-east of the volcano. A thermal anomaly is detected by the satellites, with this November 22 at 01:40 a VRP of max. 732 MW
A lava flow is still descending in Apakhonchich falls.
Sources: KVERT & Mirova
In Sinabung, seismicity is characterized on November 21 by:
- an eruption earthquake with an amplitude of 56 mm and an earthquake duration of 149 seconds.
- 29 collapse / avalanche earthquakes, with an amplitude of 2 to 100 mm and a duration of 20 to 86 seconds.
- 3 Tornillo-type earthquakes
- 17 low frequency earthquakes
- 1 distant tectonic earthquake.
The activity level remains at 3 / Siaga.
Source: PVMBG & VAAC Darwin