Publié le par Bernard Duyck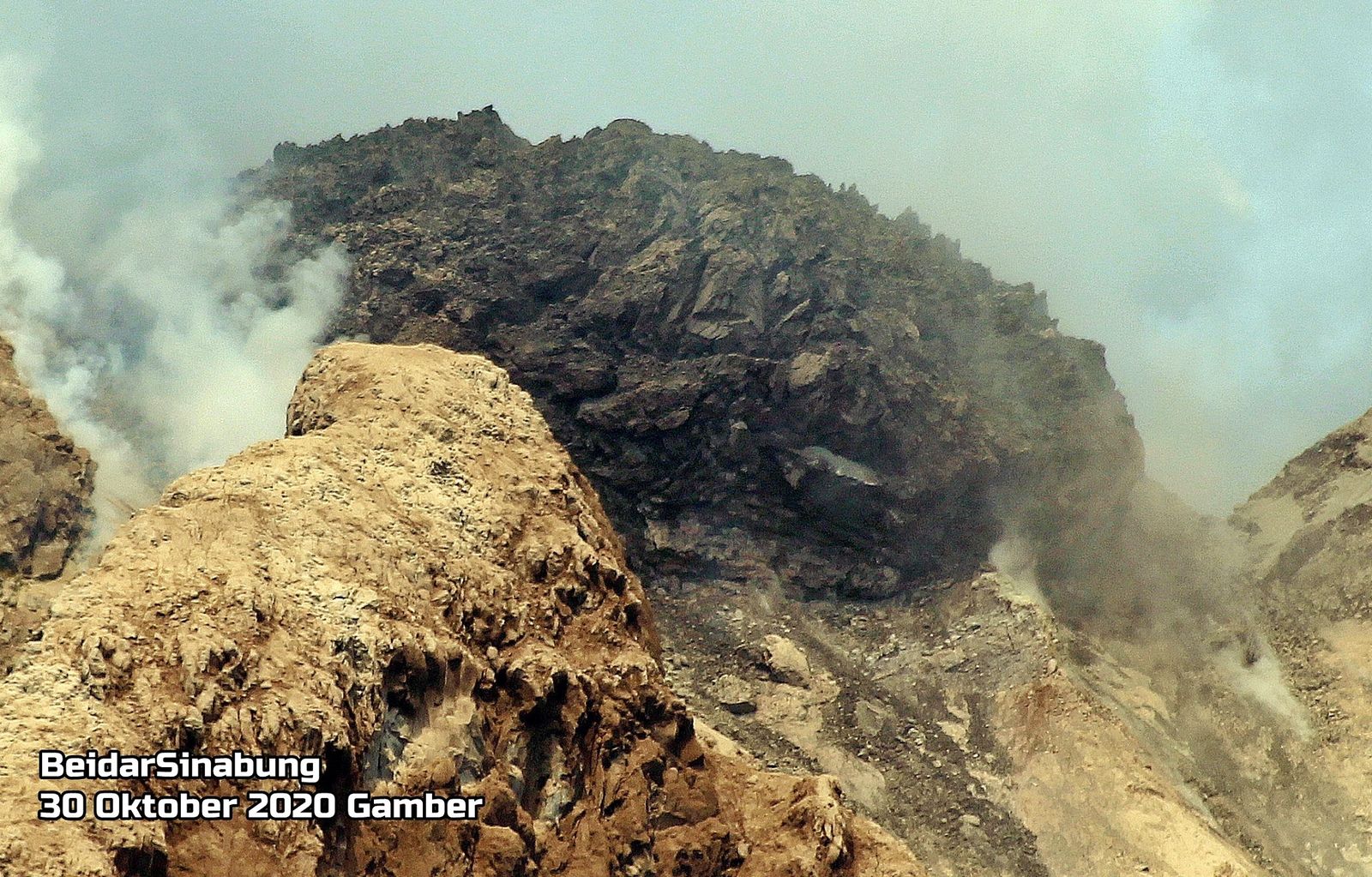 Sinabung - the impressive lava dome at the edge of the indentation - photo 30.10.2020 Firdaus Surbakti / Beidar Sinabung
Photos of Beidar Sinabung as of October 30 allow us to follow the growth of the intracrateric dome of Sinabung, and the existing faults at the top.
The collapses remain partial, but the mass close to the indentation gives rise to fear of a greater or total collapse, accompanied by powerful pyroclastic flows (photos Firdaus Surbakti via Beidar Sinabung)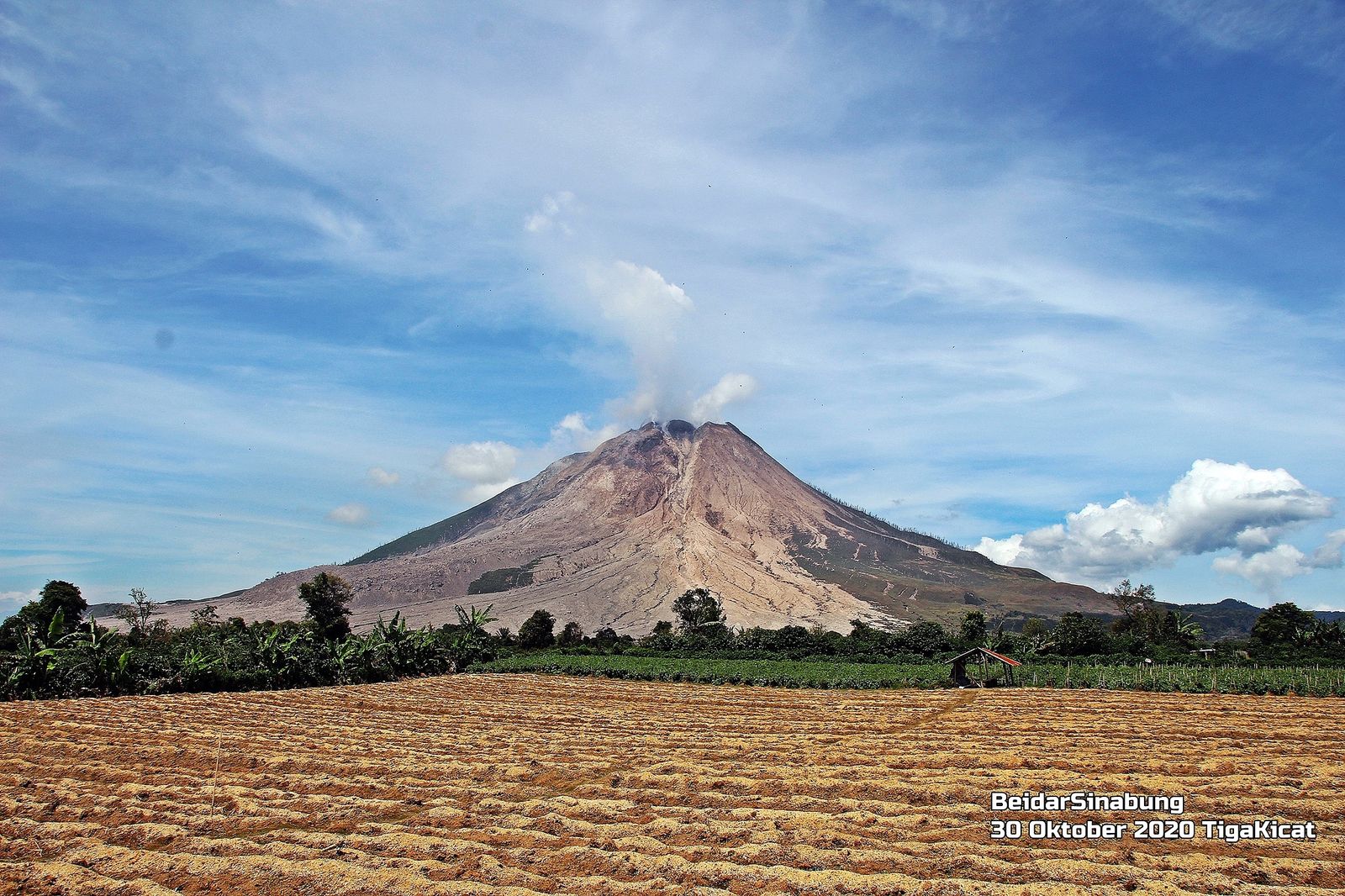 Sinabung - the volcano, clearly visible, emits a light white plume - photo 30.10.2020 Firdaus Surbakti / Beidar Sinabung
We observe this October 31 that the plume of the crater is white, with a weak to strong pressure, a thin to thick intensity, 50-200 m high above the peak of the crater. Two pyroclastic avalanche flows were observed, with a sliding distance of 1500 m and avalanches with a sliding distance of 200-1000 m to the east and south-east.
According to the seismographic records of October 31, 2020, it was recorded:
- 1 earthquake linked to a pyroclastic flow
- 65 collapse / avalanche earthquakes
- 19 blast / emission earthquakes
- 11 low frequency earthquakes
- 16 hybrid / multiphase earthquakes
On November 1, 2020, a pyroclastic flow occurred at 1:22 p.m. WIB (Rizal / Twitter).
Communities and visitors / tourists not to conduct activities in the villages that have been relocated, as well as within a radial radius of 3 km from the summit of G. Sinabung, and a sector radius of 5 km for the southern sector. east and 4 km for the east-north sector.
Sources: PVMBG, Beidar Sinabung, and Rizal
Strong northwest winds near Katmai and the Valley of Ten Thousand Smokes (VTTS) picked up loose volcanic ash that erupted during the Novarupta-Katmai eruption of 1912 and carried it southeast to the southern part of Kodiak Island this October 31 at 4:28 p.m. AKDT (Sunday November 1 at 12:28 UTC).
The National Weather Service issued a SIGMET for this low-level event and suggests the maximum cloud height is 5,000 feet above sea level.
This phenomenon is not the result of recent volcanic activity and occurs during periods of high winds and dry snowless conditions in the Katmai region and other young volcanic regions of Alaska. No eruption is in progress. All volcanoes in the Katmai region (Snowy, Griggs, Katmai, Novarupta, Trident, Mageik, Martin) remain in the GREEN color code. Current volcanic alert level: NORMAL
Resuspended volcanic ash should be considered hazardous and could be harmful to aircraft and health.
Rehearsal of the episode of March 12, 2015, where ash from the deposits of the lower Katmai river was blown towards Shelikof Strait; and spotted on a NASA EOS image (Lance-Modis).
New episode on December 2, 2016.
A similar episode occurred on September 21, 2003, when strong northwesterly winds swept through the VTTS in Katmai National Park swept ash from the 1912 deposits to form a substantial cloud which was carried over the Shelikof Strait, Kodiak Island and the Gulf of Alaska. The particle fallout on Kodiak Island has been mistaken for material from an eruptive cloud. After receiving the reports from Kodiak, AVO scientists analyzed satellite images and seismic data of the area and determined that the phenomenon was not of eruptive origin.
Source: Alaska Volcano Observatory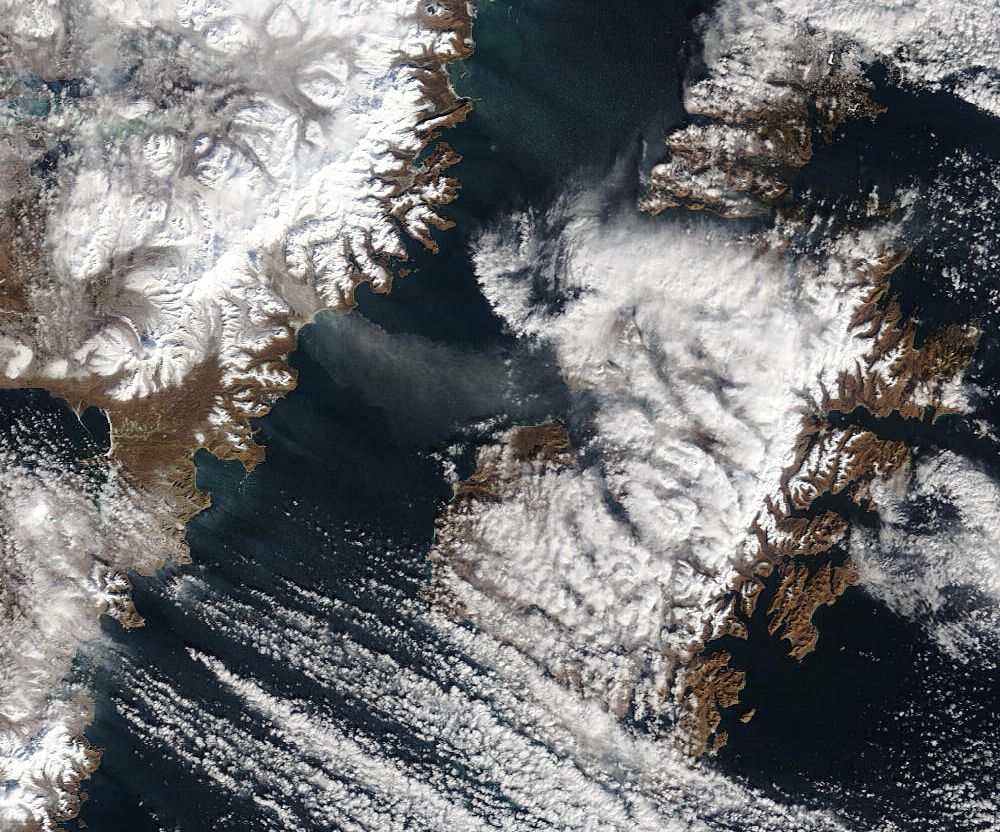 Katmai - re-suspended by the winds of the ash of the Katmai lower river - AVO - image Modis rapid response team 12.03.2015