Publié le par Bernard Duyck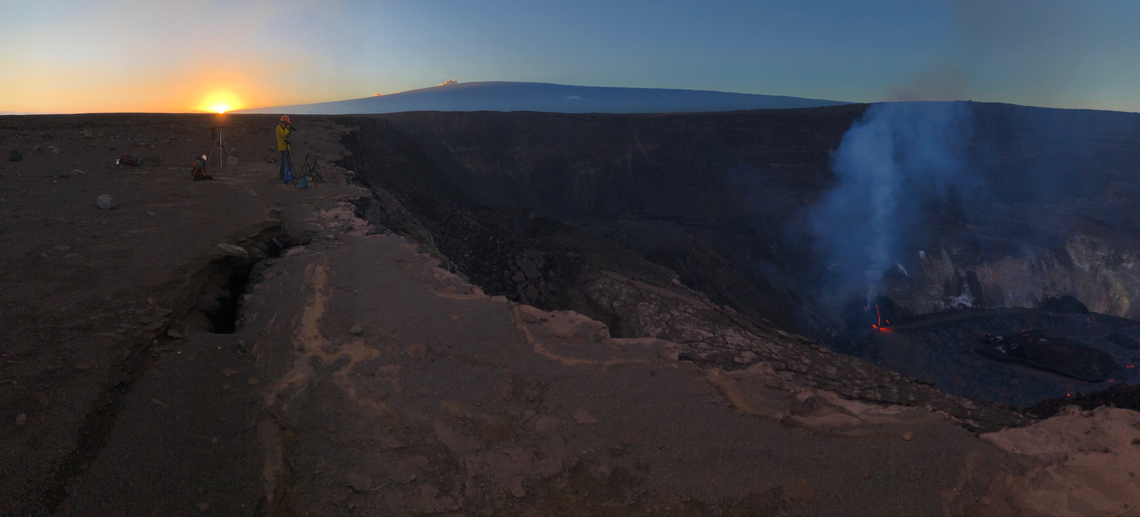 Kilauea Halema'uma'u - 12/28/2020 / 6:00 p.m. HST - photo USGS photo / B. Carr. - one click to enlarge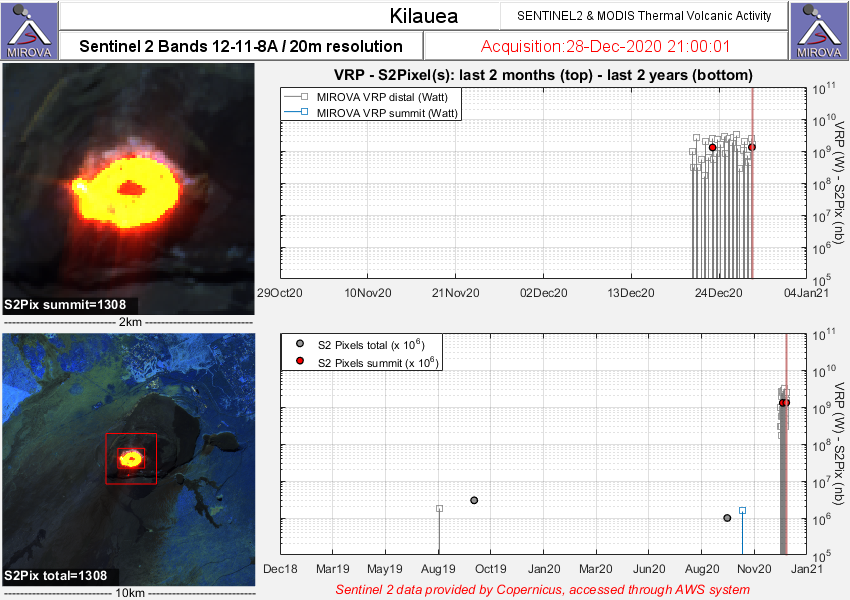 Kilauea Halema'uma'u - volcanic thermal activity 28.12.2020 / 21h00 Doc. Sentinel-2 bands 12,11,8A & Mirova
In Kilauea, lava activity is confined to Halemaʻumaʻu crater with lava erupting from a vent on the northwest side of the crater, by two or three narrow channels visible on December 28 morning. At 10 p.m. yesterday (December 27), the lava lake was 177m (581ft) deep with a narrow black rim around it. Reduced SO2 emissions were measured yesterday morning.
The lava lake in Halema'uma'u Crater has changed little over the past day and was about 177 m (581 feet) deep and about 408 m (1340 feet) below the southern edge of Halema ' uma'u this morning (December 28). The volume of the lake was about 21.5 million cubic meters. The most recent heat map (December 26) showed the dimensions of the lake at 790 by 520 m, for a total area of ​​29 ha.
Halema'uma'u 27.12.2020 / 9.30 a.m. HST (pictured right) the westernmost vent (left) had a small skylight visible with occasional splash ejected. The vent is continuing to produce an open channel. Doc .USGS - one click to enlarge
Summit tiltmeters continued to record a low inflationary tilt.
Seismicity remained high but stable, with regular high earthquakes and a few minor earthquakes.
Source: HVO
An eruption of Gunung Sinabung, North Sumatra, occurred on December 28, 2020 at 5:51 p.m. WIB with a plume height observed at ± 500 m above the summit (± 2,960 m above sea level). The plume observed is gray, thick, tilting towards the south. This eruption left an imprint on the seismogram with a maximum amplitude of 18 mm and a duration of ± 3 min 16 sec.
The same day at 9:50 p.m. WIB. Another eruption was recorded on a seismograph with a maximum amplitude of 46 mm and a duration of 187 seconds. No visual rash was observed.
The activity level remains unchanged, at 3 / siaga, and communities and visitors / tourists are recommended not to conduct activities in villages that have been moved, as well as the location within a radial radius of 3 km from the summit of G. Sinabung, and a sector radius of 5 km for the south-eastern sector and 4 km for the east-north sector.
In the event of ash rain, people are advised to wear masks when leaving the house to reduce the health effects of volcanic ash. Secure the drinking water facilities and clean the roof of the house from dense volcanic ash so that it does not collapse.
People who live near the rivers that drain the Sinabung should be aware of the dangers of lahars.
Source: PVMBG
諏訪之瀬島 噴火警戒レベル3へ 2020年12月28日(Suwanosejima to eruption alert level 3 December 28, 2020)
The JMA raised the alert level of Suwanosejima to "3 / do not approach the volcano", following an explosion at Ontake crater on December 28 at 2:48 am, accompanied by a plume of ash and gas reaching 200 meters before enter the clouds.
Projections are reported up to 1,300 meters from the crater.
The JMA reports an increase in the number of explosions since December 21; on December 27, 81 explosions were recorded, and 28 explosions on December 28 at 3 p.m. (provisional values).
Significant changes are observed via inclinometers and continuous GNSS observations.
Source: JMA
The Servicio Geologico Colombiano, reports that since December 28, 2020 at 09:42 (local time), it has observed a significant increase in volcano-tectonic seismic activity in Nevado del Ruiz, associated with rocks fracturation at the volcanic edifice, located in the northern sector at an average distance of 0.7 km, from the Arenas crater.
The recording of a volcano-tectonic earthquake that occurred at 09:42 a.m. (time local) with a magnitude of 3.6 ML (local magnitude), at a depth of 3.0 km. This earthquake was felt by those responsible for the Los Nevados National Natural Park and by the inhabitants of the municipalities of Manizales and Villamaría.
The Nevado del Ruiz volcano continues at the Amarillo activity level. The activity is not excluded, which could indicate an acceleration of the process, implying greater instability of the volcano and consequently changes in its level of activity.
Source: SGC