Publié le par Bernard Duyck
Klyuchevskoy - image Sentinel-2 L1C bands 12,11,4 from 30.11.2020, on the left - and on the right, bands 12,4,2 from 30.11.2020 - one click to enlarge
The moderate explosive-effusive eruption continues at Klyuchevskoy.
Strombolian activity and gas-vapor emission, with the presence of ash, is observed.
The plume extends to the northwest for 70 km.
Lava effusion feeds flow into Apahkonchich falls on the southeast flank of the volcano
The aviation code remains orange.
Source: KVERT
In Lewotolok, the PVMBG reports, for November 30, the observation of 10 eruptions, accompanied by plumes of gray ash at 1,400-2,000 meters above the summit; they occurred with a "BANG", a flow of incandescent material and a strong smell of sulfur perceived at the observation post.
In terms of seismicity, the PVMBG counts this November 30:
- 10 eruption earthquakes
- 28 hybrid / multiphase earthquakes
- 91 deep volcanic earthquakes
- 4 local tectonic earthquakes
- continuous tremor of amplitude between 2 and 16 mm / dominant at 6 mm.
The eruptive activity continues on December 1.
The activity level is at 3 / siaga.
People around Mt Ili Lewotolok and visitors / climbers / tourists are recommended not to perform activities within 4 km of the summit crater.
Source: PVMBG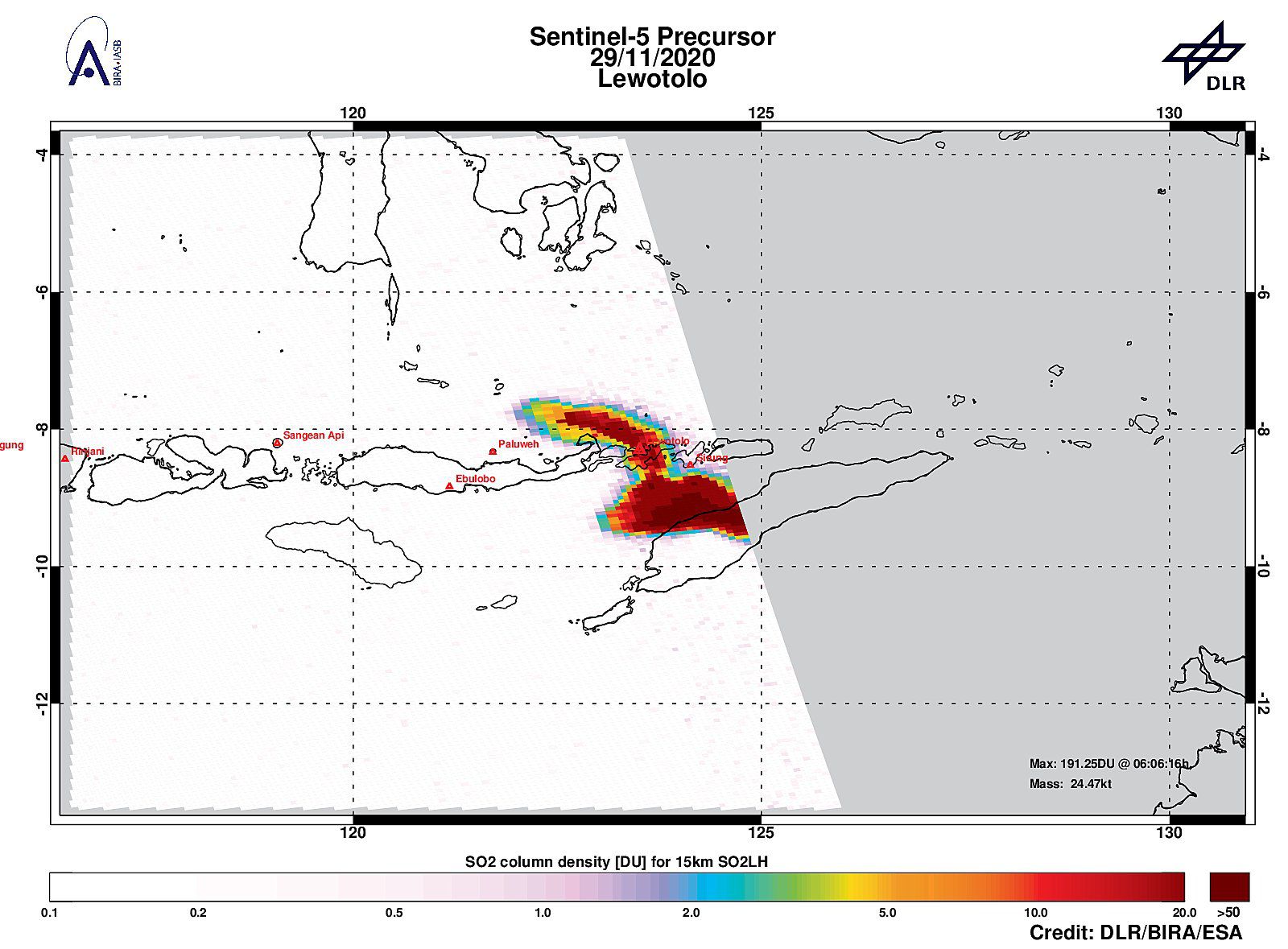 Lewotolok - strong SO2 signal with 191.25 DU at about 15 km altitude on either side of Lembata Island - Doc. Sentinel-5 P / Tropomi - via DLR / BIRA / ESA
At Semeru, there is a significant increase in the number of avalanches, followed by pyroclastic flows, characterized by a sliding distance of 1 km max. towards the south-eastern sector.
The seismicity of November 30 is declined between:
- 3 eruption earthquakes
- 1 earthquake accompanying a pyroclastic flow 2 blast / emission earthquakes
- 4 episodes of harmonic tremor
- 1 distant tectonic earthquake.
This December 1 from 01:23 WIB, pyroclastic flows are observed from the summit dome over a sliding distance of 2 to 11 km towards Kobokan, south-eastern sector.
In level II / waspada status, people / visitors / tourists are recommended not to have activities within a radius of 1 km from the crater / summit of Mount Semeru, nor within a distance of 4 km in the direction of the opening of the crater in the south-south-east sector, and to keep abreast of possible pyroclastic flows, avalanches of incandescent blocks and lahars in the various drainages of Semeru.
Source: PVMBG