Publié le par Bernard Duyck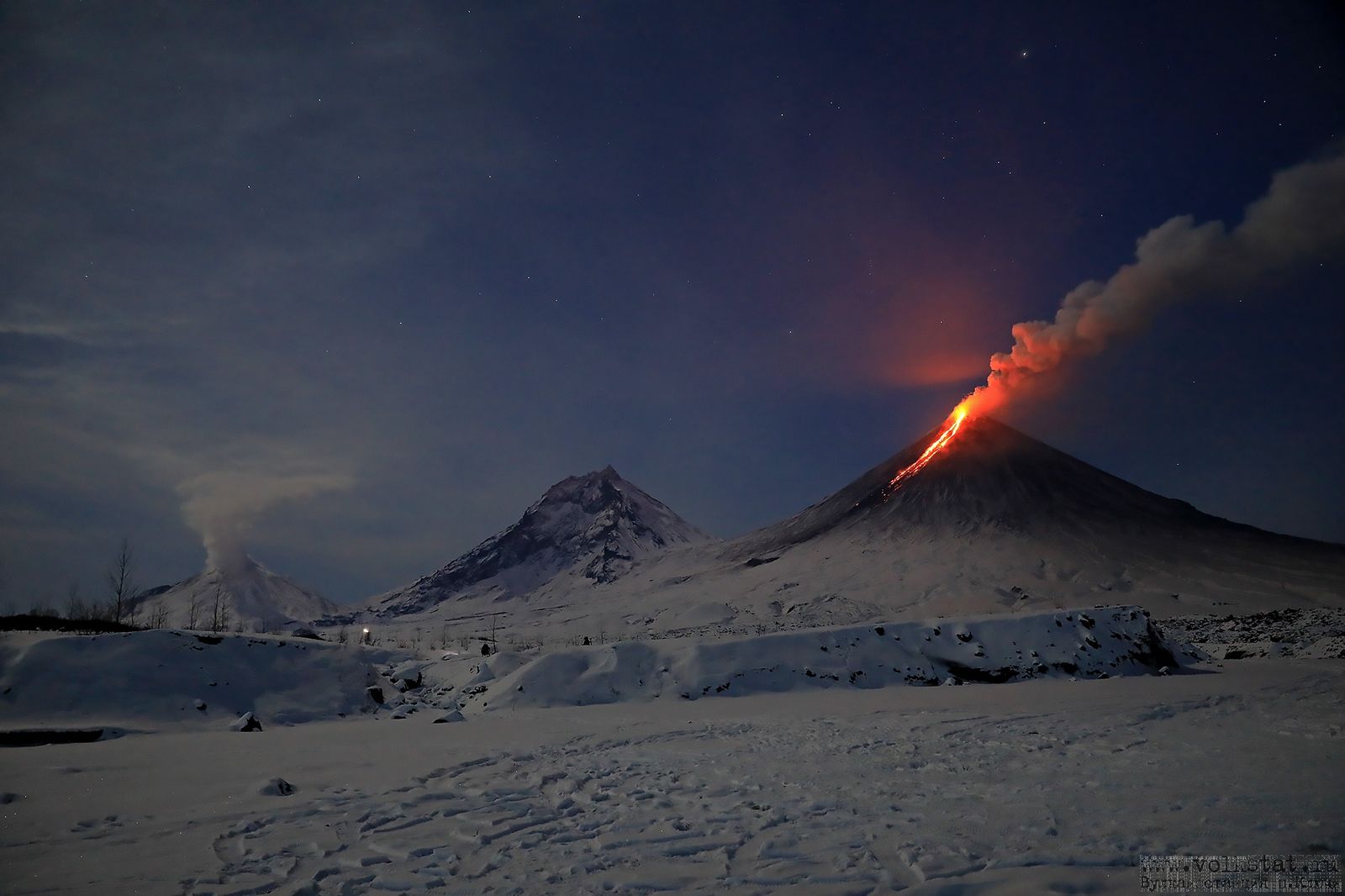 The Klyuchevskoy group: from G. to D., the Bezymianny, the Kamen and the Klyuchevskaya Sopka - photo Y. Demyanchuk - Volkstat.ru 07.12.2020
Yuri Demyanchuk, of the Volcanological Observatory, reports that new magma arrived in the summit vent of Klyuchevskoy, filled the southern crater before overflowing and descending the southern flank for about 1,500 meters.
Strombolian activity generated a ash plume reaching 6,100-7,000 meters above sea level, before extending over 120 km NE of the volcano.
The thermal anomaly of December 7 is VRP 1.293 MW (Mirova)
A new flow began to be observed on the northern slope from 18:30 UTC.
Source: Y.Demyanchuk
Sabancaya - activity from 04.12.2020 - 6.15am-06.17am - Ingemet webcams - OVI - one click to enlarge
During the week of November 30 to December 6, 2020, the Sabancaya presented a decrease in activity compared to the previous week; an average of 26 explosions per day were recorded, accompanied by plumes of gas and ash reaching 2,000 meters in height.
Seismicity informs of 1,450 earthquakes during this week.
Seven thermal anomalies, between 1 and 23 MW, are recorded.
Source: I.G. Peru
Following the end of the eruption on 12/08/2020 at around 7.15 a.m. local time at Piton de La Fournaise, 21 volcano-tectonic earthquakes were recorded during the day of 12/08/2020 under the western edge of the Dolomieu crater, approximately 900 m above sea level (ie approximately 1,700 m below the surface), and already 6 today (between 0 a.m. and 5 a.m. UT, i.e. until 9 a.m. local time).
A possible resumption of inflation (swelling) of the building will be followed in the coming days.
The gas emissions in the air or in the ground have returned to pre-eruptive conditions, namely CO2 fluxes in the stable soil and SO2 emissions in the air at the level of the summit of the volcano below or near the threshold detection.
No photo this morning, the volcano is in the fog.
The Prefect of Reunion Island decided to switch to the safeguard phase of the specific ORSEC system of the Piton de la Fournaise volcano on Tuesday, December 8, 2020. No hypothesis is ruled out for the moment as to the evolution of the situation in come, and the ban on access to the upper part of the enclosure remains in force until further notice pending the conclusions of future reconnaissance.
Sources: OVPF & Préfecture de La Réunion.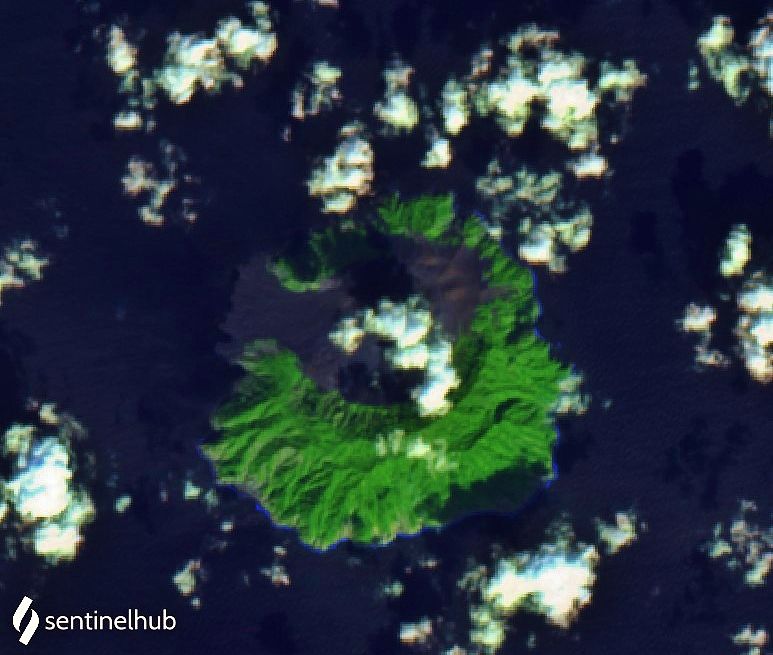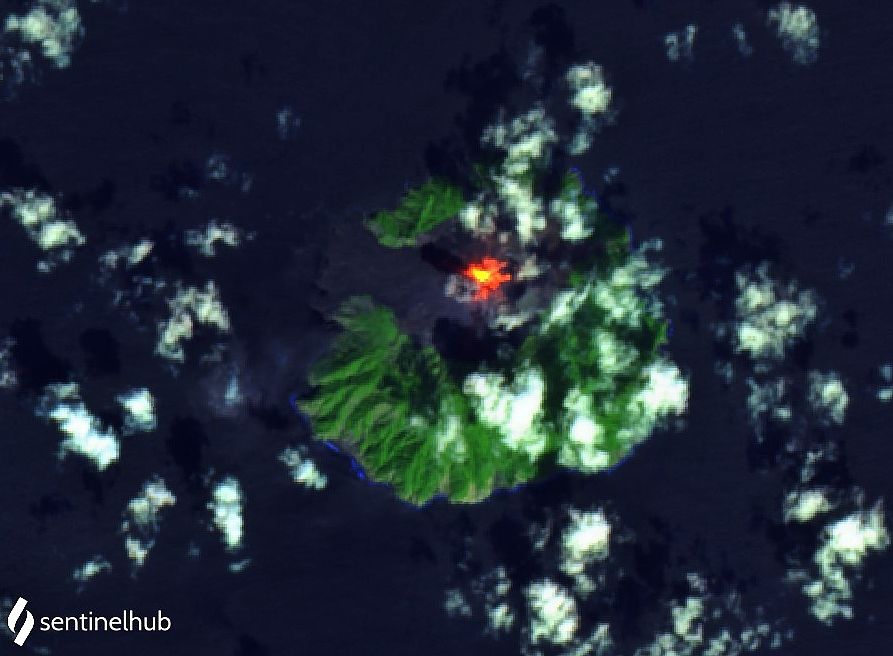 Barren island - Sentinel-2 L1C bands images 12,11,4 from 06.12.2020 (above) and 11.11.2020 (below) - one click to enlarge
The VAAC Darwin issued an ash scatter advisory for Barren Island, in the Andaman Islands, at a flight altitude of 60 (approx. 1,800 m. Alt.) Moving towards the OSO.
The aviation code is orange.
The last active period dates back to mid-November, when thermal anomalies were spotted.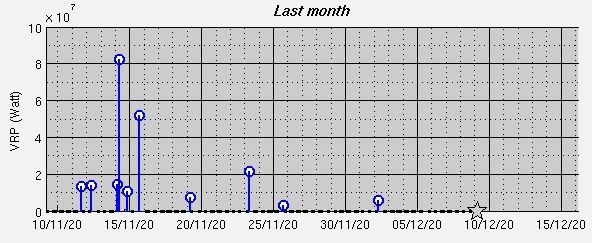 Sources: VAAC Darwin, Sentinel-2 and Mirova.