Publié le par Bernard Duyck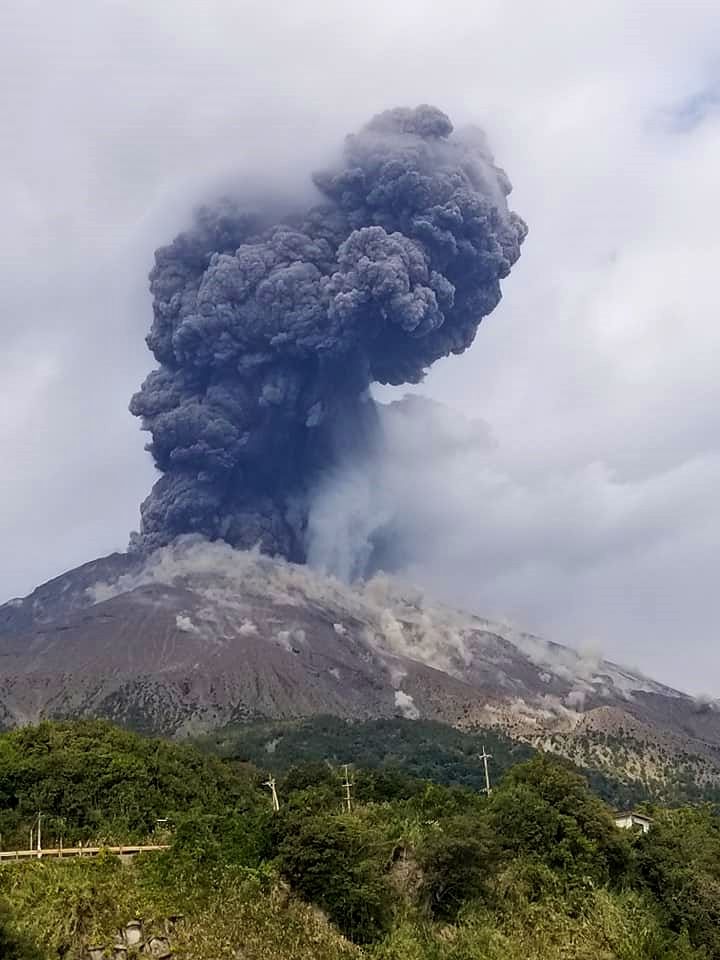 Sakurajima - ash plume and boulder impacts on the flanks 02.12.2020 - doc. https://www.facebook.com/photo?fbid=3337969259635043&set=pcb.3074597649491155
The Sakurajima experienced an explosion at the Minamidake summit crater on December 2 at 02:55 Z / 11:55 JST, accompanied by an ash plume reaching an altitude of flight 70, then 110, drifting east, according to the VAAC Tokyo.
The JMA indicates that the plume of the explosion entered the clouds 1,000 meters above the crater.
The alert level remains at 3.
Sources: JMA & VAAC Tokyo
December 2, 2020, ~ Explosion ~ 桜島 ~ Sakurajima Volcano, Japan ~ 11:55 JST
On December 2, 2020, at dawn, Strombolian activity simultaneously animated the two mouths of the South-East Crater of Etna, known as the "saddle mouth (or cone)", and the most eastern, also called "puttusiddu".
This last outlet showed a gradual return to activity from the evening of November 14, first with puffs of steam and gray or brown ash (old material), then with a first weak incandescence a few nights ago, and finally, from the night of November 30 to December 1, with Strombolian activity. The last activity of this mouth took place during the first half of December 2019.
Source: Boris Behncke / INGV OE
Etna SEC - early 02.12.2020 morning - vidéo Boris Behncke / INGV
The eruption continues at Ili Lewotolok, with this December 2, 2020, a plume of ash and gas 500-700 meters above the summit, and night glow.
Seismicity is characterized by
- 8 eruption earthquakes
- 4 hybrid / multiphase earthquakes
- 2 deep volcanic earthquakes
- 50 episodes of non-harmonic tremor
The level of activity is 3 / siaga, and a disadvised area of ​​4 km radius.
Note: the number of shallow and deep volcanic earthquakes, and hybrid earthquakes is increasing on November 30 and December 1.
Ili Lewotolok - on 12/02/2020 / 12:26 a.m. WITA and 12/03/2020 / 4 a.m. WITA - PVMBG webcam / Magma Indonesia - one click to enlarge
The ERCC / Emergency Response Coordination Center of the European Commission reports an increasing number of evacuations, not only in Lewotolok, but also in Merapi and Semeru, with this December 2 more than 10,500 displaced.
Sources: PVMBG, Magma Indonesia, ERCC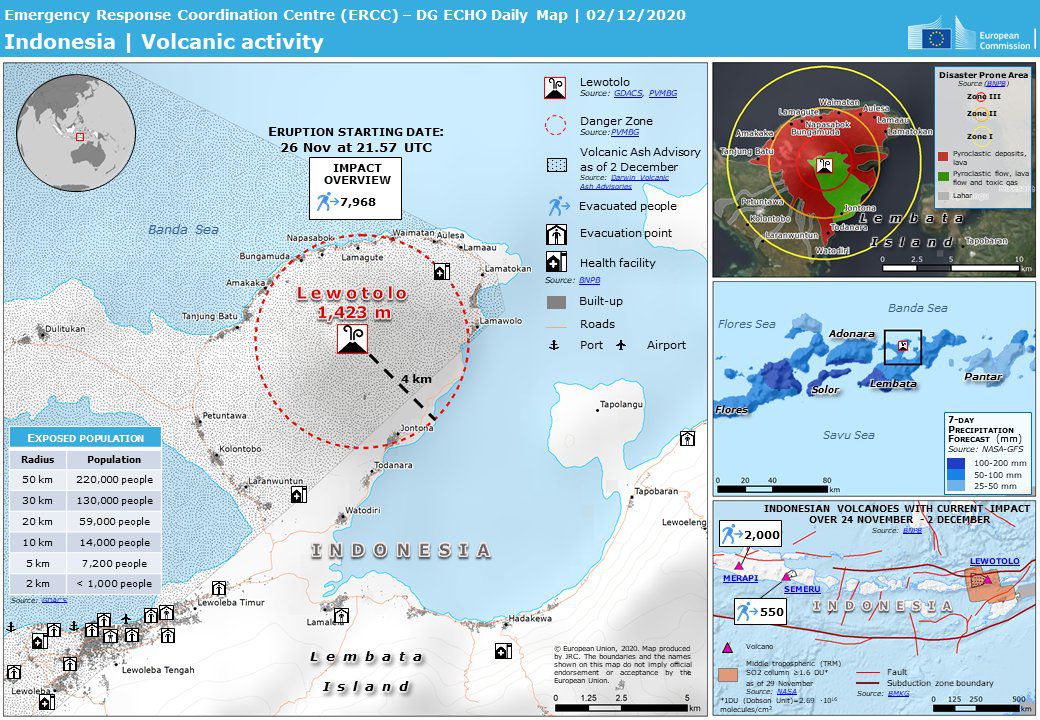 Volcanic activity in Indonesia and number of evacuations as of 02.12.2020 - Doc. ERCC - one click to enlarge
In Semeru, seismicity has been showing a new face for a few days.
The PVMBG informs a.a. for this December 2
- 5 eruption earthquakes, with an amplitude of 13-22 mm, and an earthquake duration varying from 50 to 90 seconds.
- 1 earthquake associated with a pyroclastic flow, with an amplitude of 20 mm and a duration of 1445 seconds.
- 33 collapse / avalanche earthquakes, with an amplitude of 2 to 20 mm and a duration of 40 to 250 seconds.
- 1 blast / emission earthquake
Sources: PVMBG & Magma Indonesia