Publié le par Bernard Duyck
The volcanic activity of Sangay has remained high in recent days, with gas and ash emissions more than 2,000 meters above the crater on December 9-10 / 11 a.m., and between 1,800 and 2,100 meters on December 10-11 / 11 a.m.
FIRMS recorded 34 thermal anomalies on 9-10.12.2020 and 51 on 10-11.12.2020
Seismicity is characterized on December 9-10 by 25 LP earthquakes, 99 explosion earthquakes, 33 emission tremor episodes, and 2 harmonic tremor.
For December 10-11, 45 LP earthquakes, 101 explosion earthquakes, 7 emission tremor episodes are counted.
The alert level remains at Amarillo.
Sources: IGEPN daily reports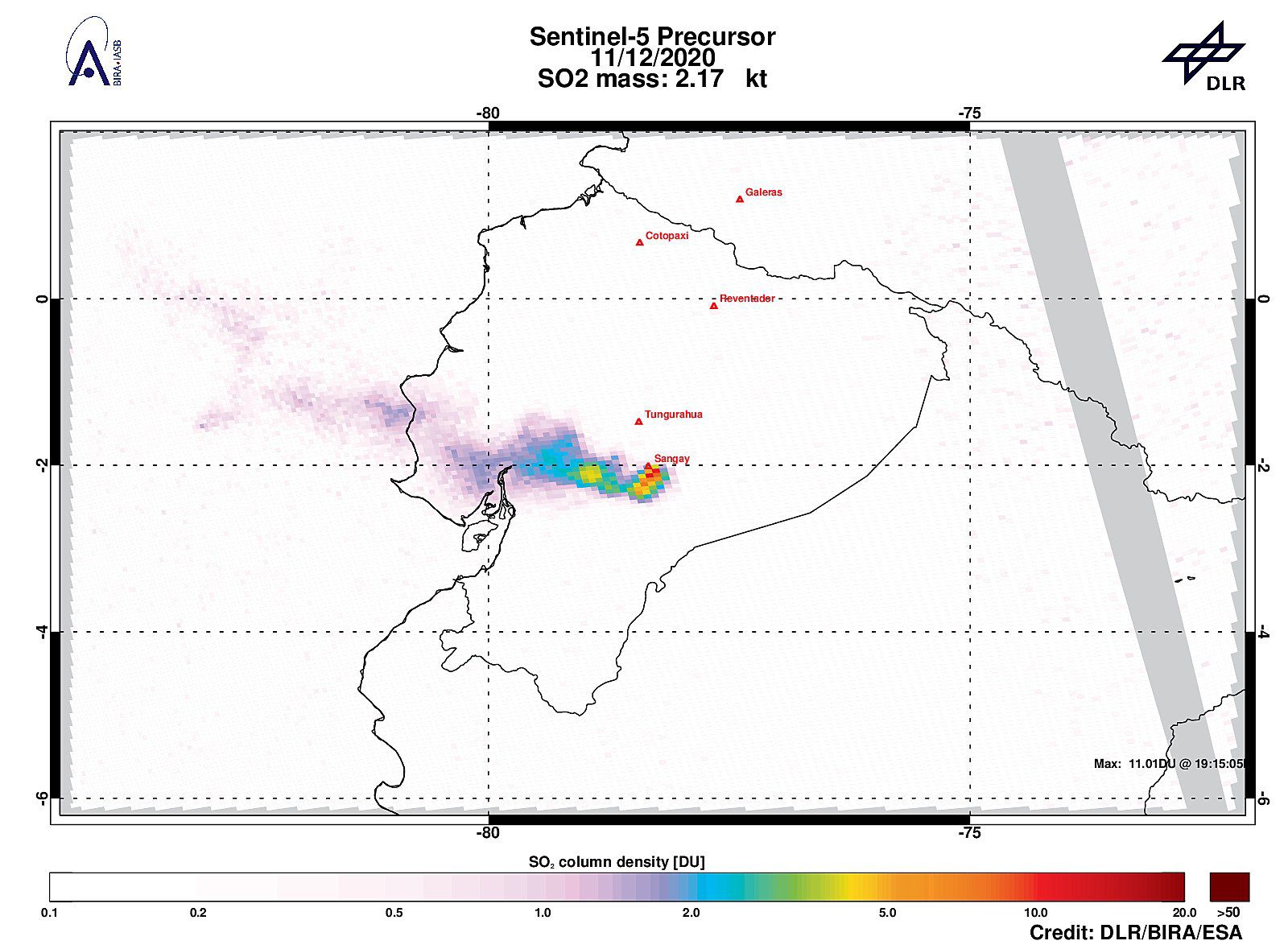 Sangay - 12.11.2020 - Sentinel 5P / TROPOMI has detected a strong sulfur dioxide signal near the Sangay, with 11.01DU of SO2. - Doc. DLR / BIRA / ESA
In Kamchatka, the Klyuchevskoy continues its moderate explosive-effusive eruption.
Strombolian activity and gas and ash emissions are observed.
The effusion feeds a lava flow on the southern flank of the volcano.
A significant thermal anomaly is revealed by satellite data.
The aviation code remains orange.
Sources: KVERT & Mirova
At Sinabung, a visual of the monitoring station in Simpang Empat shows a fall of incandescent blocks on December 12 at 4:39 a.m. WIB, over approximately 1,000 meters to the south-southeast.
The parameters remain within the standards, except for the number of hybrid type earthquakes, increasing on December 11.
Source: PVMBG, Magma Indonesia
In Hawaii, vigilance is maintained in Kilauea, although its alert level remains at Normal and the aviation code at green.
Between November 30 and December 2, several hundred earthquakes occurred 1-4 km below the summit of Kīlauea and the upper East Rift Zone.
On December 2, a transient increase in ground deformation resulted in an uplift of about 8 cm of the caldera floor. That was about 4 months of lifting in just 4 hours.
After a magnitude 3.1 earthquake on December 2 at 6 p.m. HST, several rockfalls occurred along the scree slope, and impacted the summit lake of Halema'uma'u, causing brief color changes localized by the webcam to the surface.
The water lake at the bottom of Halema'uma'u continues to slowly expand and deepen.
Monitoring data from the Kīlauea summit region indicated that a small injection of magma penetrated below the volcano's surface. Although the magma did not reach the surface, this event demonstrated that the magma continues to fill the volcano's storage system.
Source: USGS Volcano Watch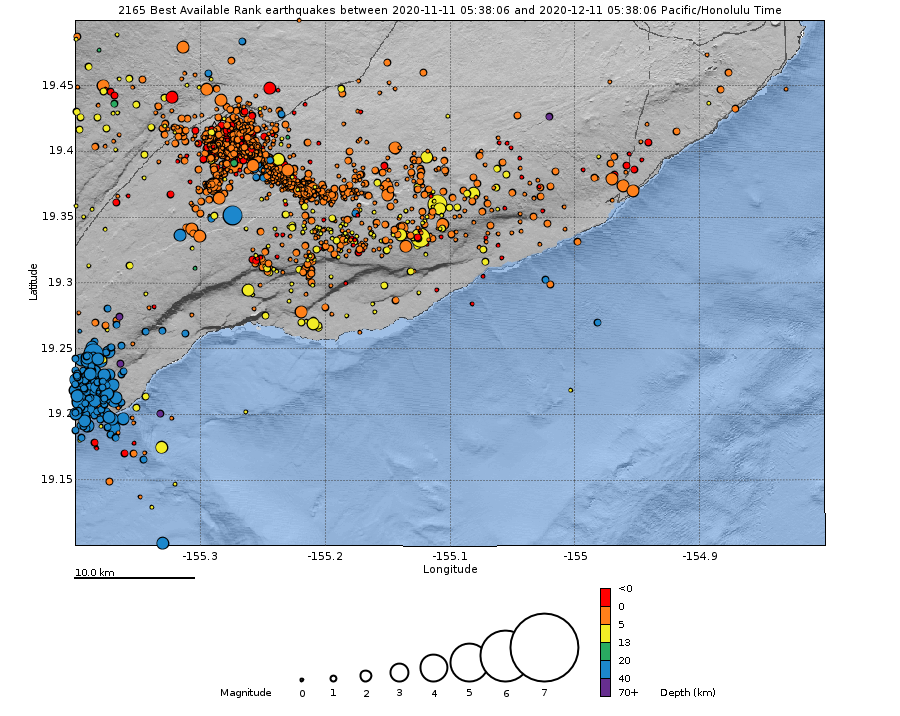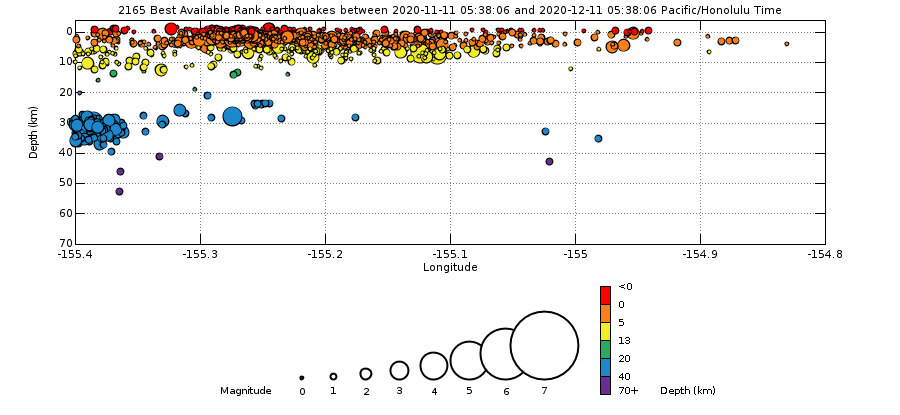 Kilauea - map showing the locations of earthquakes during the past month. Bottom: Depth of earthquakes (circles) over the past month. The size of the circle represents the magnitude and the color indicates the depth - Doc. HVO / USGS