Publié le par Bernard Duyck
In the Ryukyu archipelago, the eruption continues at Suwanoejima, at Mitake crater.
The JMA reported a plume of ash on December 19 at 10:56 p.m., rising to 1,300 meters above the crater, and drifting towards the southeast.
This December 20 at 07:46 am, a plume is observed at 1,100 meters above the crater, with a dispersion towards the south-east.
Also on December 20 at 8:37 am, an ash plume was observed at 1,330 meters above the crater as it entered the clouds; the drift is towards the south-east.
Sources: JMA & VAAC Tokyo
At Klyuchevskoy, an explosive-effusive activity continues, with the emission of an ash plume at 6,000-6,500 meters asl. stretching 65 km northeast of the volcano.
The aviation code remains orange, other ash explosions can occur at any time.
The effusion feeds a lava flow on the southern flank of the volcano
Mirova noted very high thermal anomalies on December 20, with a VRP of 1,034 MW at 12:15 a.m., 1,491 Mw at 1:55 a.m. and 1,176 MW at 2:05 a.m.
Sources: KVERT, VAAC Tokyo & Mirova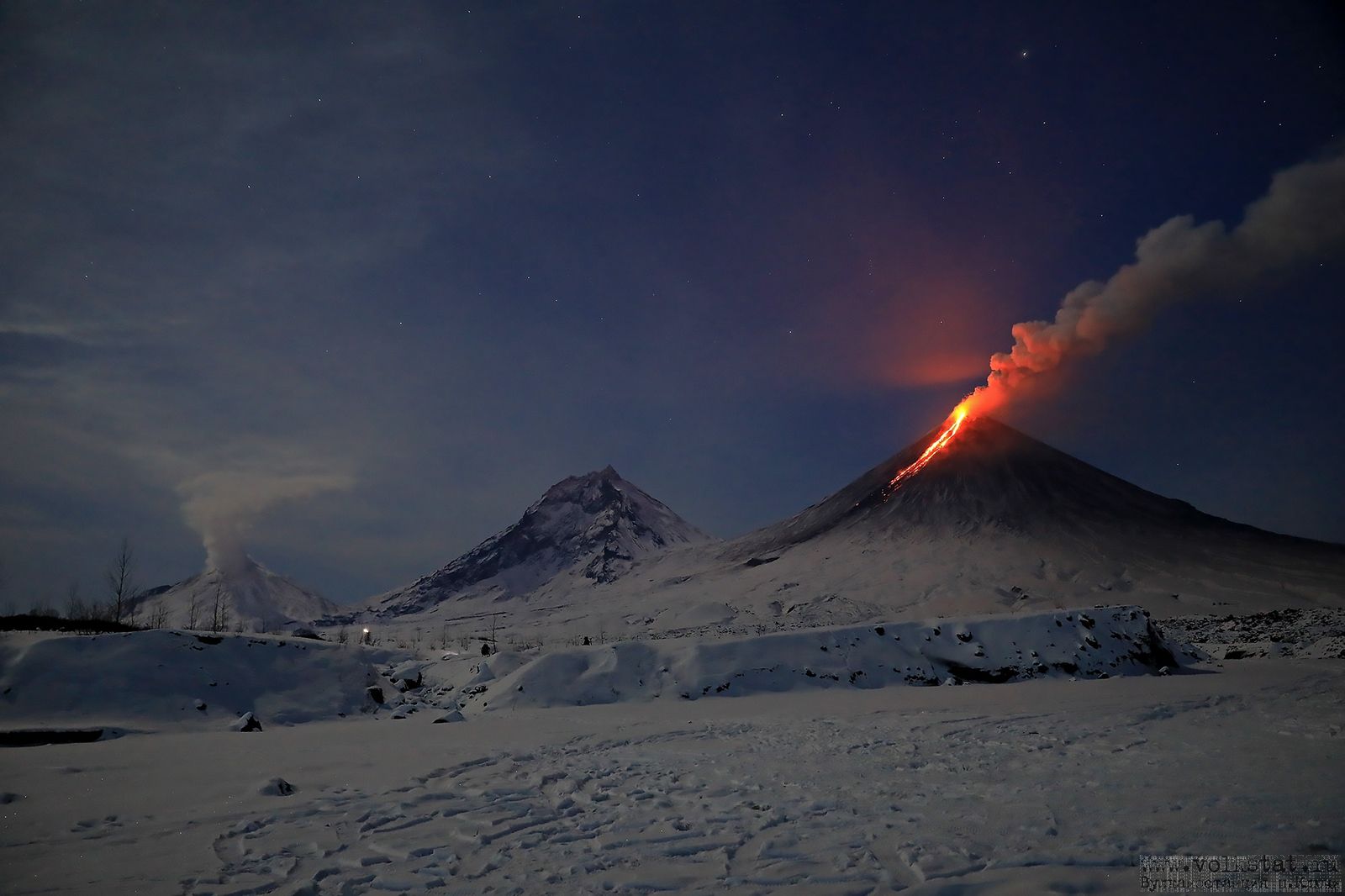 The Klyuchevskoy remaining under the clouds, the photo is from 08.12.2020 (from left to right, the Bezymianny, the Kamen and the Klyuchevskaya Sopka) - photo Y. Demyanchuk - Volkstat.ru
During the last 24 hours, thanks to the monitoring systems of the Popocatépetl volcano, 225 exhalations have been identified, accompanied by emissions of water vapor, volcanic gases and small amounts of ash. In addition, 109 minutes of low amplitude tremor were recorded.
During the night, and in the morning, a light emission of water vapor and gas was observed, at the time of this report there is a partial visibility of the volcano, any emission will have a northeast direction.
CENAPRED urges not to approach the volcano and especially the crater, because of the danger posed by the fall of ballistic fragments and, in the event of heavy rains, to stay away from the bottom of the ravines because of the danger of flows mud and garbage.
The Popocatépetl volcanic alert semaphore is on YELLOW PHASE 2.
Source: Cenapred