Publié le par Bernard Duyck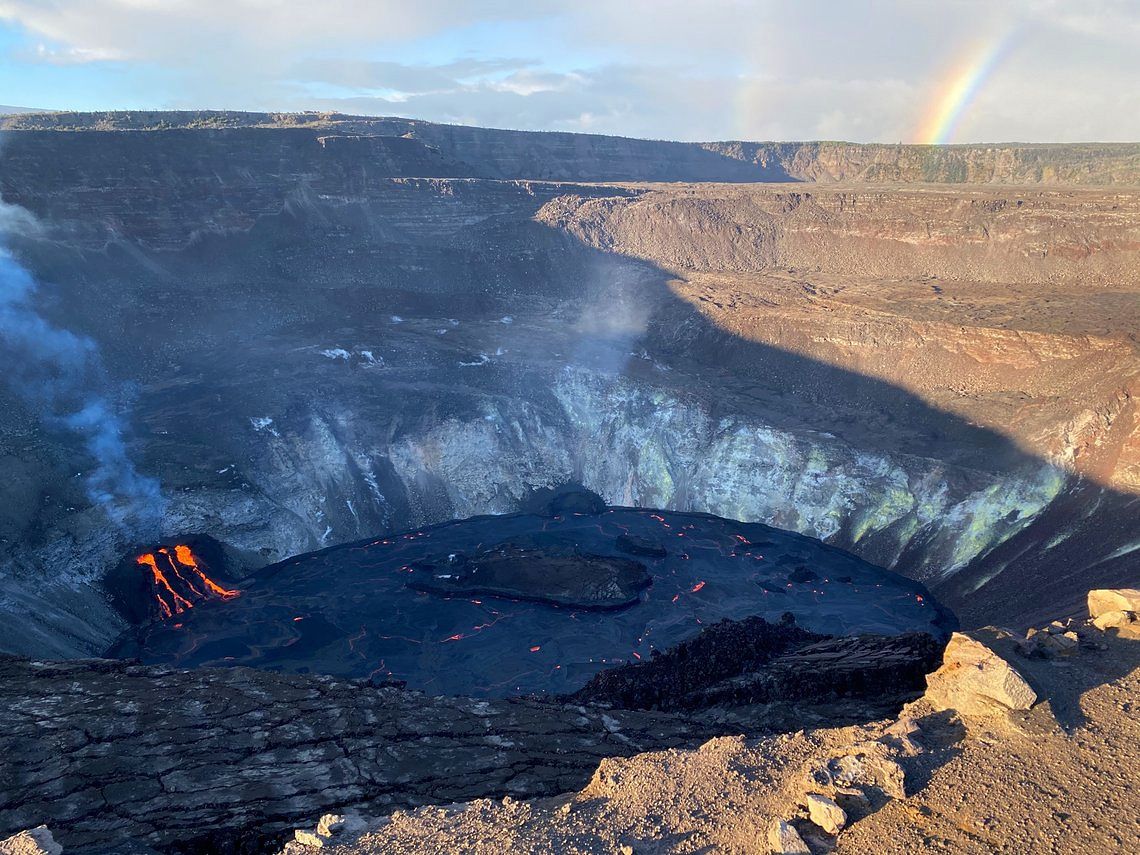 Kilauea - drop in level of lava lake in Halema'uma'u on 12/26/2020 -a vent remains active, under a rainbow - USGS photo
In Kilauea, lava activity remains confined to Halemaʻumaʻu from two vents on the north and northwest sides of the crater.
At 2 p.m. yesterday, the crater lake was still 176m deep and the lake level appeared to be 2m. lower, leaving a narrow black rim around the northern edge. Early this morning, the west vent re-activated as the north vent calmed down and began to drain the lake. Reduced SO2 emissions were measured last night.
The north vent continued to erupt lava into a lake inside Halema'uma'u Crater. The west vent was glowing until about 2:40 a.m. this morning (almost coinciding with the change from a deflationary tilt to an inflationary summit tilt) when it became vigorously active with up to 3 narrow lava streams in the lake. After 3 a.m., the north vent calmed down and began to slowly drain lava from the lake, and the volume of the lava lake remained around 21 million cubic meters.
USGS field crews are currently taking measurements to confirm whether the lake's surface continues to decline.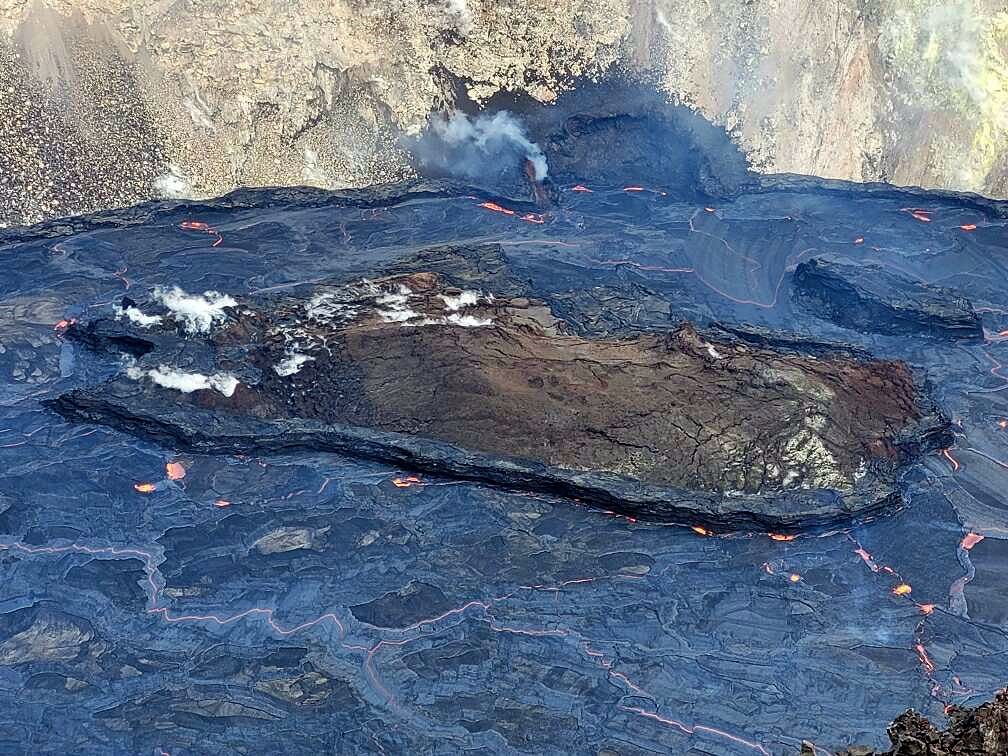 Kilauea, Halema'uma'u - drop in lake level, marked by the rim, drained into the north vent - photo USGS
A colder, solidified lava island floating in the lava lake, which slowly drifted northeast into the lake, apparently anchored near the northern vent. It is still around 260m in length and 115m in width (based on the heat map of December 23).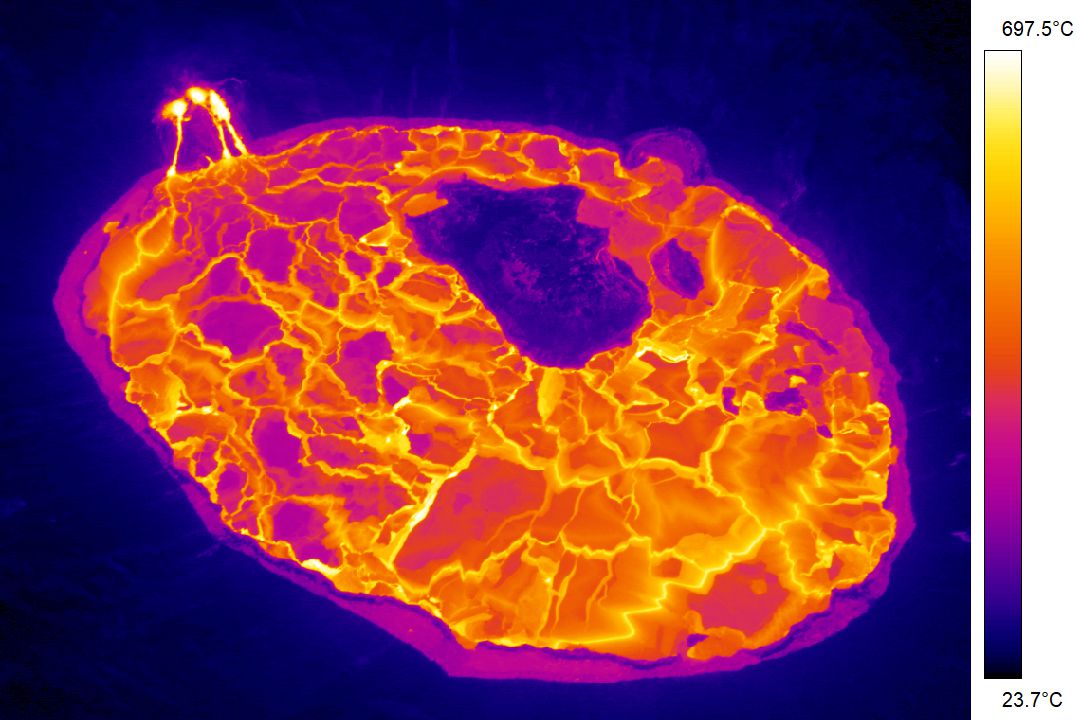 Kileauea - Halema'uma'u - lava rim around the lake and island anchorage near the north vent - cam. therm 12/26/2020 / USGS
Preliminary analysis of sulfur dioxide emission rates measured last night suggests the rates have dropped to 16,000-20,000 tonnes / day. Summit tiltmeters continued to register a slowdown in deflationary tilt until 3 a.m. this morning (December 26) when they switched to inflationary tilt. Seismicity remained high but stable, with a few minor earthquakes and fluctuations in tremor related to the vigor of the fissure fountain.
Source: HVO-USGS
In recent years, several swarms or seismic series have been recorded on the Cumbre Vieja volcano in La Palma / Canary Islands.
The first occurred in October 2017. Then another was recorded in February 2018 and in 2020, has already given us 4 seismic swarms, according to IGN.
The new swarm occurred between 9:26 p.m. on December 23 and 9:29 p.m. on December 24.
At 2 p.m. on December 26, the IGN updated the information, claiming to have detected 602 seismic movements of which it had been able to locate 126. Also for them, the hypocentres of the events would be at a depth of about 30 km and the maximum recorded magnitude would be 2.3 mbLg. As for the energy released at the start of this seismic series, it would reach a value of 6x10 9 Joules.
Two institutions -IGN and INVOLCAN- are developing active monitoring of these processes because, although these are small-scale events and several kilometers deep, and last year more frequently, it seems likely that overpressure occurs as a result of movements of magmatic matter; we could therefore be faced with the first signs of a long term volcanic process.
Source: IGN & InVolcan