Publié le par Bernard Duyck
On the afternoon of December 23, HVO field crews noted that the surface of the summit lava lake of Kīlauea is now 143 m deep, with an approximate volume of 12 million cubic meters. The area was about 22 ha and the shape of the lake is roughly oval with an east-west length of 690 m and a north-south width of 410 m.
A smaller, coolder, solidified lava island has drifted east into the lake over the past 24 hours. It seems to have about 150 m in diameter.
The fountaining continues in 2 places, more vigorously at the east vent, feeding the growing lava lake
Summit tiltmeters continued to record a constant deflationary tilt.
Sulfur dioxide emission rates remain high, estimated at around 30,000 tonnes / day, measured on Monday, December 21. SO2 emissions continue.
Seismicity remained high but stable, with a few minor earthquakes and fluctuations in tremor related to the vigor of the fissure fountain.
No significant change therefore, the current volcanic alert level is Watch and the aviation code is orange.
Source: HVO-USGS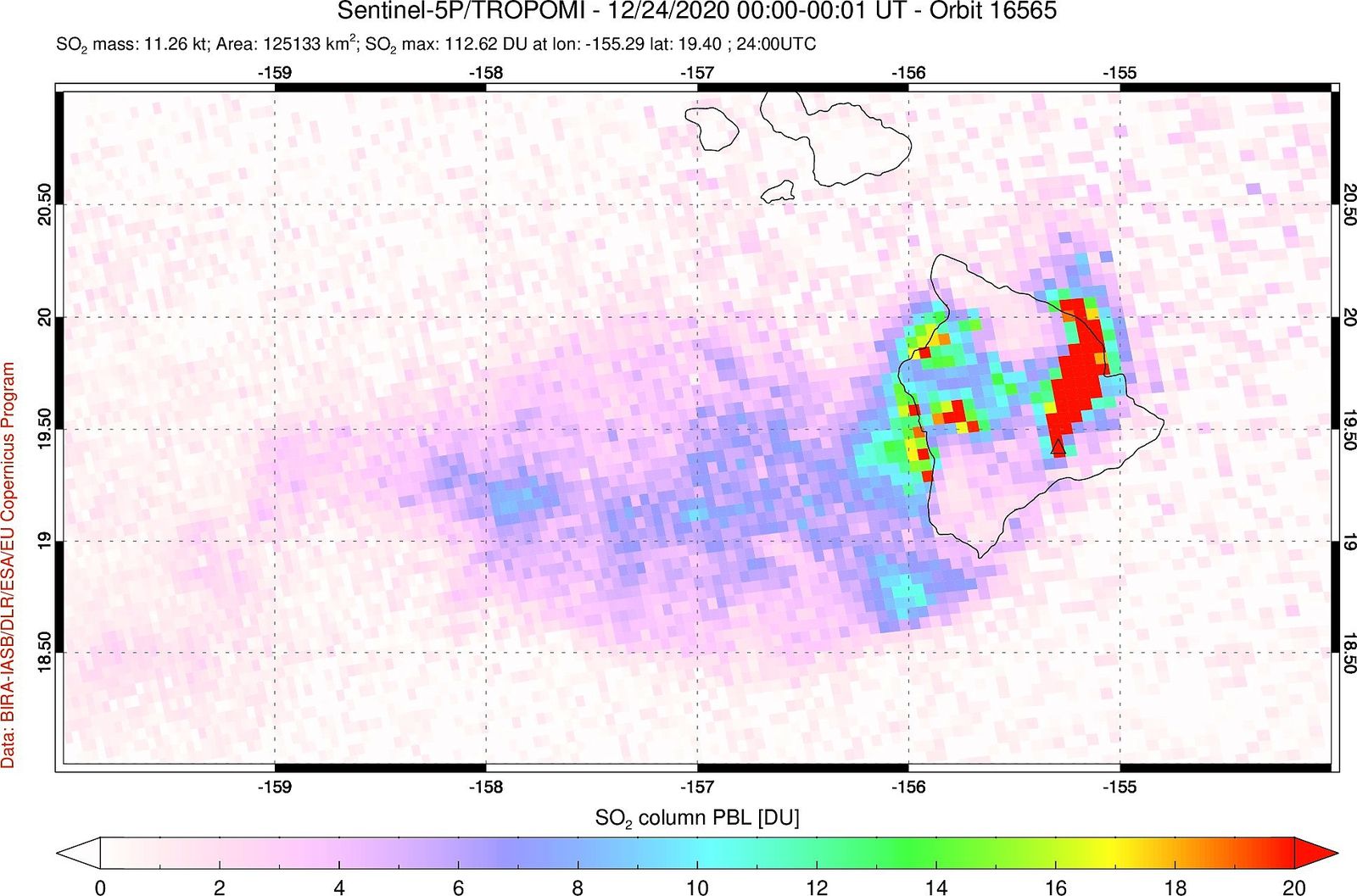 Kilauea - 24.12.2020 / 00h -00h01 UT - plume of SO2 - image Sentinel-5P Tropomi / DLR / BIRA / ESA , via S.Carn
The night at Semeru is marked by an incandescence 50 meters above the summit. Once hot clouds fell with a glide distance of about 3.5 km towards Besuk Kobokan. 2 times the lava avalanche was observed with a glide distance of about 100 to 300 meters towards Besuk Kobokan.
Thanks to the seismographic records of December 23, 2020, it was recorded:
- 7 eruption earthquakes
- 1 pyroclastic flow earthquake, with a displacement of 3,500 meters in the direction of Besuk Kobokan
- 6 avalanche earthquakes, two of which are observed over 100 to 300 meters towards Besuk Kobokan.
- 10 blast / emission earthquakes
- 30 episodes of Harmonic Tremor
- 1 remote tectonic earthquake
In level II (Alert) status, it is recommended that people / visitors / tourists not have activities within a radius of 1 km from the crater / summit of Mount Semeru and at a distance of 4 km from the direction of the opening of the crater in the south-southeast sector, as well as keeping abreast of pyroclastic flows, lava avalanche, and lahars along the rivers / valleys that originate at the top of Mount Semeru. The recommended radius and distance will be continuously evaluated in anticipation of any change in hazard symptoms.
Sources: PVMBG, Sentinel-2, Mirova
Semeru - 12.22.2020 - image Sentinel-2 L2A bands 4,3,2, left; bands 12,11,4, right - one click to enlarge
The explosive-effusive eruption continues at Klyuchevskoy, with this December 23, a plume at 6,000-6,500 meters, extending for 64 km towards the ENE of the volcano.
The effusion continues on the southern flank, marked by significant incandescence.
The aviation code remains orange.
Sources: KVERT, Mirova and Sentinel-2
I wish a Merry Christmas to everyone, despite the fact that the holiday conditions are not there during this pandemic period, with this photo of Etna and its south-eastern crater still active.