Publié le par Bernard Duyck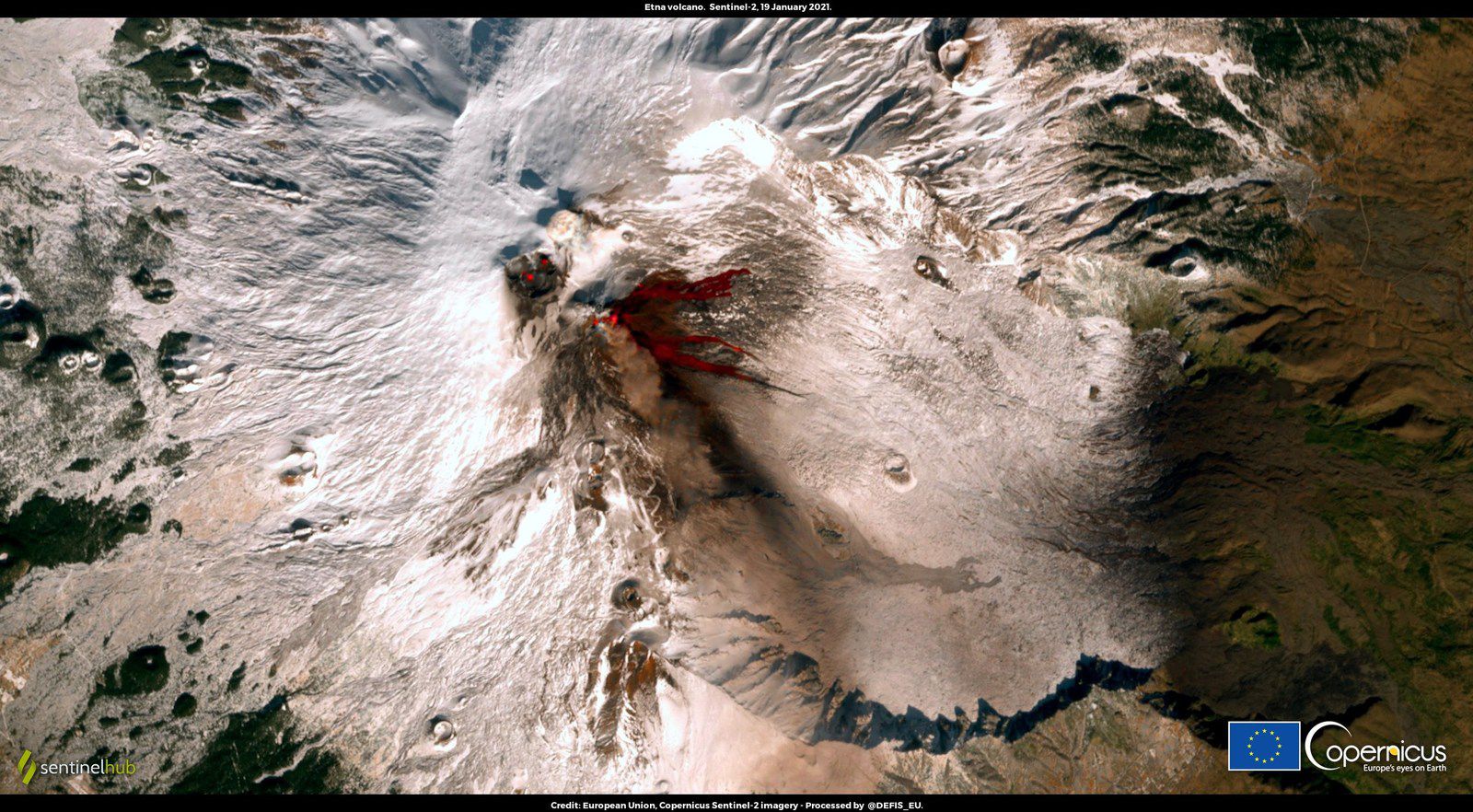 Etna - 01.19.2021 - contrast between snow cover and lava - Sentinel -2 / CLMS High-Resolution Snow and Ice Monitoring image - one click to enlarge
Etna crat. summits - thermal anomalies and activity mark all craters - Sentinel-2 image from 01.19.2021 / 09:42 am via Mounts projects
A slight eruptive activity continued at the southeastern crater of Etna, on the evening of January 19, 2021, and from time to time, the crater of Voragine also appears active.
The National Institute of Geophysics and Vulcanology, Etnéo Observatory, communicates that from around 00:40 hours, a new lava overflow is observed on the north side of the South East Crater. In addition, moderate Strombolian activity is still present at the South East Crater.
With regard to the volcanic tremor, we notice an increase in magnitude which reaches high values.
The infrasonic activity is modest.
Etna's GPS network data shows no significant variation.
Source: INGV OE
Etna SEC - lava overflow on the north side of the SEC - therm webcam. 01.20.2021 / 02.35 a.m. - INGV OE
In Merapi, on the island of Java, activity continues in an ascending mode.
This January 20 at 5:35 am local time, a pyroclastic flow traveled 1,200 meters in the Kali Krasak drainage.
Two other pyroclatic flows are reported between 00 and 6 o'clock
Their print is 13-21 mm, lasting 116 to 198 seconds.
The PVMBG also reports:
- 36 collapse earthquakes, with an amplitude of 3 to 20 mm and the duration of the earthquake was 12 to 170 seconds.
- 1 hybrid / multiphase earthquake with an amplitude of 3 mm, S-P 0.5 seconds and the duration of the earthquake was 10 seconds.
- 1 distant tectonic earthquake with an amplitude of 60 mm, S-P 10 seconds and a long earthquake of 110 seconds.
The activity level remains at 3 / siaga.
Source: PVMBG & BPPTKG
An eruptive épisode occurred at Suwa Nosejima (Mitake Crater) at 3:51 p.m. JST on January 20, and the plume of gas and ash rose 2,500 m above the rim of the crater. The volcanic ash moved west from the crater, and within an hour a fairly large amount of ash fell in Toshima village, Kagoshima prefecture.
Source: JMA
The growth of the dome continues at the Soufrière de St Vincent.
There are multiple areas of steam / fumarole on the 1979 dome, at the point of contact between the old and new dome, and on top of the new dome.
The dome took on an elliptical shape.
We can see a black mass of burnt vegetation, potentially caused by the contact between the growing very hot dome and the abundant shrubs in the crater; it occupies about 100 meters at the western end of the dome. It is possible that this vegetation damage occurred on Saturday evening, January 16, 2021, and could be the cause of the glow or glow reported by residents on the west side of the volcano.
Source: UWI - SRC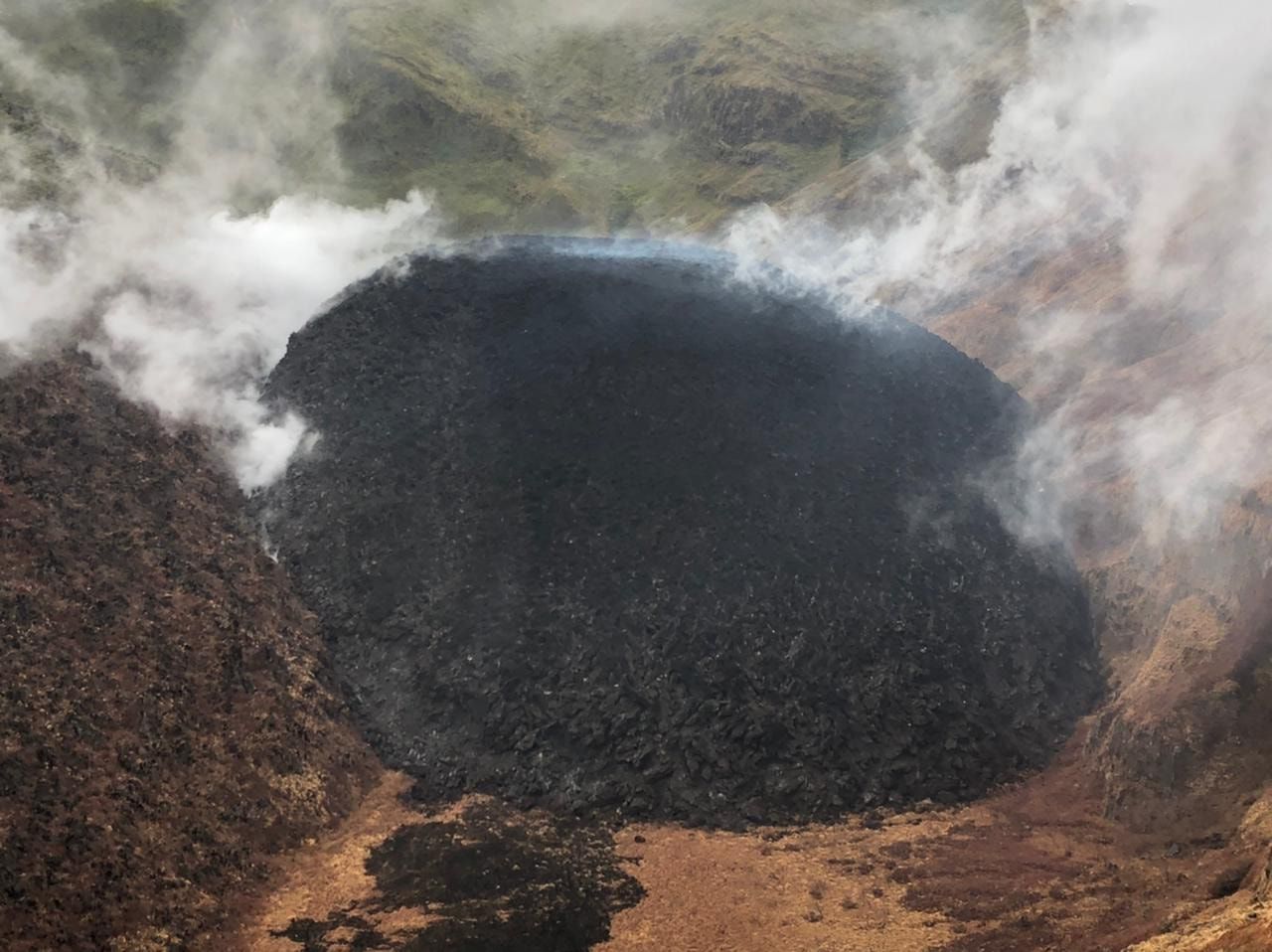 Soufrière de St Vincent - the fumaroles at the top of the new dome and in contact between the new and the old - photo NEMO 18.01.2021
Summary of Soufrière's activity by Prof. R. Robertson / UWI-SRC on January 18th, 2021