Publié le par Bernard Duyck
At Etna, last evening January 28, 2021, a few moments of partial visibility between these encrusted clouds made it possible to observe an activity at the Southeast Crater a little less intense than the previous days (in concert with an amplitude of the lowest volcanic earthquake), but we still see the two eastern mouths and sometimes even that "of the saddle", as well as frequent small explosions with the Voragine and a continuous glow indicative of a new flow of lava which is flows from this crater into the adjoining Bocca Nuova.
Etna SEC - activity on 01.28.2021, at 6:22 p.m., 7:28 p.m. and 8:27 p.m. respectively - LAVE webcam - one click to enlarge
At Etna, the "boati " who are feeling lately are not a sign of danger, they are not evidence of strange things in depth, and are not even signs of particularly violent eruptive events.
These are totally superficial phenomena, generated by contact between the exploding magma and the atmosphere. The rapid decompression of a large gas bubble at the top of the magmatic column in the duct produces a shock wave in the atmosphere, the infrasonic part of which - that is, the acoustic signal at very low frequency, between 0 and 20 Hertz, not audible to human ear - shakes everything. It doesn't take a giant explosion to do this, but it's how the explosion happens, the rate of energy release, that determines how strongly the "boato" and infrasonic wave feel.
The only problem with these "boati ": when they occur at night, they can disrupt sleep.
Sources: INGV OE & Boris Behncke
At Sinabung, the main crater has a thick, white plume about 200 to 500 meters from the summit.
In terms of seismicity, there has been an increase in recent days; this January 29 between 6 and 12h, we count:
- 20 earthquakes of collapse / avalanche, with an amplitude of 2 to 115 mm lasting 22 to 383 sec.
- 4 earthquakes of blast / emission
- 8 hybrid multiphase earthquakes
- 1 distant tectonic earthquake.
Sources: PVMBG, Magma Indonesia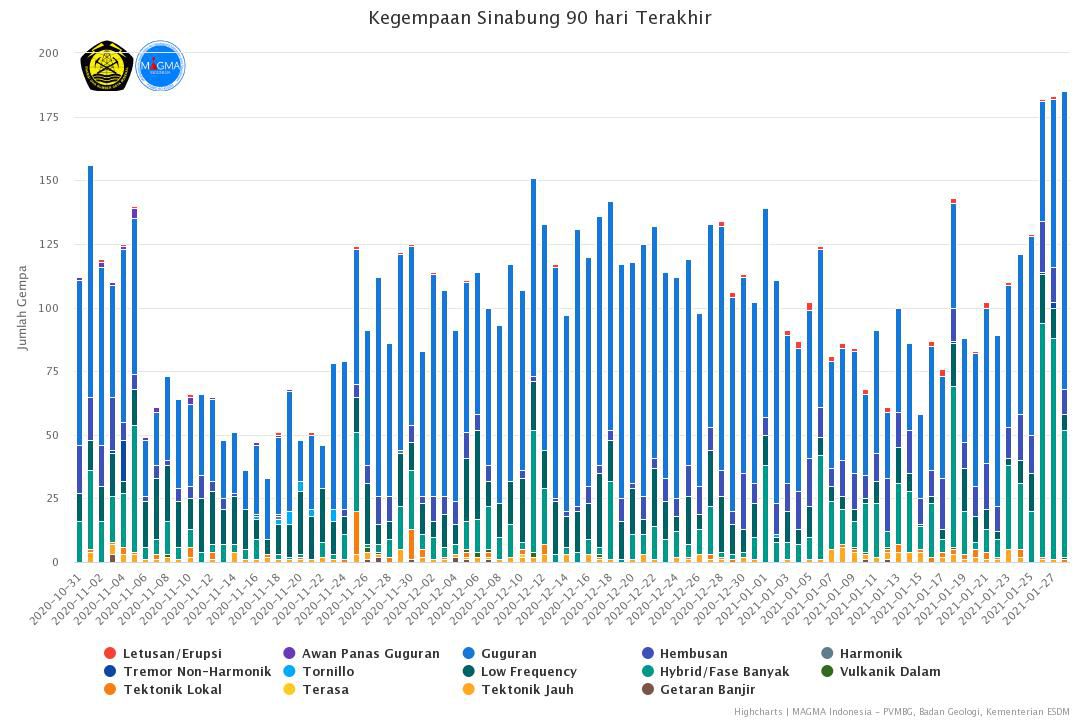 Sinabung - seismicity as of 01/28/2021; to note an increase in the number of earthquakes these last days - Doc. Magma Indonesia
At Merapi, an aerial overflight allowed to determine the displacement distance of the pyroclastic flows of January 27, 2021: 3,500 meters on the slope.
A cloud-free top shows the partial destruction of the dome, and the morphological changes that surround it.
The rains remobilized the ashes and caused a lahar in the Boyong River.
The seismicity of January 28 breaks down in :
- 1 earthquake accompanying a pyroclatic flow, with an amplitude of 69 mm for 175 sec., And an estimated displacement of 2,000 meters towards the south-west. (Kali Krasak & Boyong)
- 139 collapse / avalanche earthquakes
- 8 blast / emission earthquakes
- 14 multiphase hybrid earthquakes
Sources: PVMBG, Magma Indonesia, BPPTKG
A moderate explosive-effusive eruption of the volcano continues at Klyuchevskoy.
According to video and satellite data, a gas-steam plume with a certain amount of ash extends 92 km east of the volcano, and at 5,800+ 6,000 meters on January 29, 2021.
The aviation code remains orange, other explosions may affect air traffic.
Sources: KVERT, Mirova and VAAC Tokyo