Publié le par Bernard Duyck
Nyamulagira, in DRC, has had a lava lake intermittently in its caldera since early April 2013.
On January 17 and 22, 2021, an opening in the cloud cover allowed, thanks to the Sentinel and Modis satellites, to see thermal anomalies / hot spots in the main crater.
Sources: Sentinel-2 & Mirova Modis, Mounts Project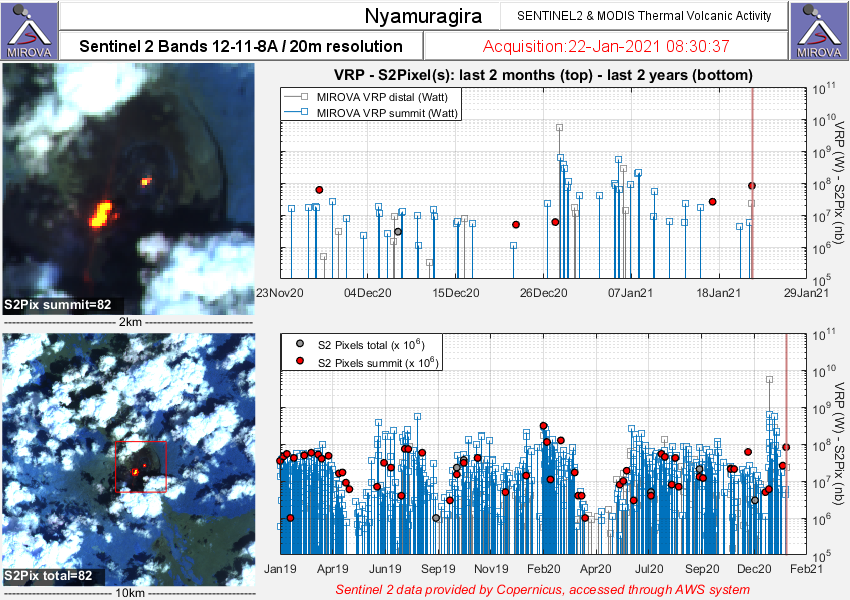 Nyamuragira - Thermal anomalies of the last 2 months (above) and the last 2 years (below) at 22.01.2021 / 08:30 - Doc. Sentinel 2 MIROVA
At Klyuchevskoy, explosive-effusive activity continues.
On January 24, an ash plume grew up to 7,000-7,500 meters, then spread 22 km to the northwest.
Intense effusion marks the summit crater and lateral tear at an altitude of about 2,200 meters asl., And caused the collapse of large masses of pyroclastic material in Apakhonchich fall, accompanied by an ash cloud reaching 9,600 meters asl. .
Sources: KVERT and VAAC Tokyo
The National Institute of Geophysics and Volcanology, Etneo Observatory, reports that at 4:57 p.m. GMT there was an explosion that was energetically more intense than ordinary activity in Stromboli, but could not be classified as a major explosion. The analysis of the INGV-OE surveillance cameras also revealed that the products generated by this explosion fell along the Sciara del Fuoco.
Further lava overflow from the North Crater area is also visible from around 7:05 p.m. GMT. The seismic signals do not show any significant change from the previous update.
Data from the Stromboli GPS network shows no significant change.
Source: INGV OE
A swarm of small earthquakes took place on January 24 under the eastern flank of Etna. Seismic activity started early this morning Almost 50 earthquakes have been recorded with magnitude up to 2.3 and activity appears to be continuing.
Most earthquakes have occurred at a depth of between 10-20 km and are located in a linear area with an east-west trend between the summit and the country of Jarre, mainly centered under the municipality of Sant 'Alfio.
The position of earthquakes in an EW diagram suggests that a fault zone has been activated in that zone.
It is difficult to say whether it is associated with magma intrusion along a corresponding dam at depth or caused exclusively by tectonic movements or a combination of the two.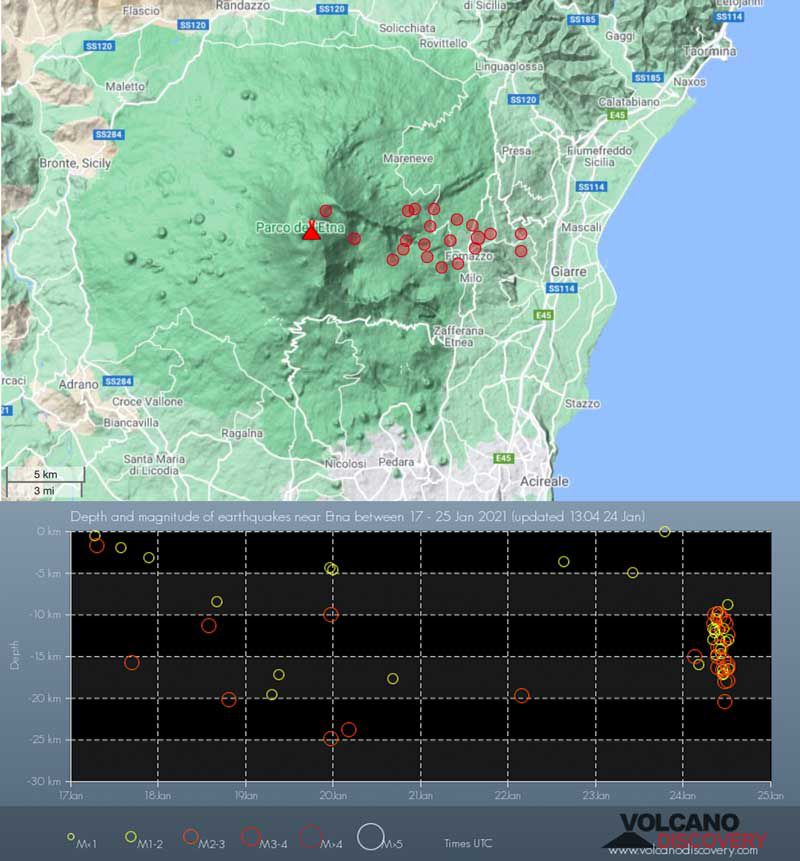 Etna - 01.24.2021 - location and depth of earthquakes - doc. Volcanodiscovery / via Salvatore Lo Giudice
On the surface, Etna continues to be very active. When visibility permitted, strombolian-type lights and explosions could be seen through New SE Crater, Central Voragine Crater, and other possible air intakes.
The volcanic tremor remains high, reflecting an above average current magma input.
Sources: INGV OE & Volcanodiscovery