Publié le par Bernard Duyck
At La Soufrière de St Vincent, the dome continues to grow in height and extends laterally to the east and west, confined between the old dome and the crater wall, following continued magmatic extrusion. Steam is visible from the Belmont Observatory.
A helicopter arrived from Antigua on January 14, allowing aerial reconnaissance, and the taking of thermal images, gas emissions and measurements of the dimensions of the new dome.
New gas measurements and analyzes must be carried out.
The alert level remains at orange.
Sources: UWI-SRC & NEMO
In Pacaya, Guatemala, effusive activity feeds an active lava flow over around 1,600 meters. Insivumeh does not rule out the occurrence of other lava flows on other sides of the volcano; they could be accompanied by degassing plumes with a high ash content.
The seismicity is marked by a constant tremor, in relation to the rise of the magma and a permanent degassing of the crater.
Sources: Insivumeh & Sentinel-2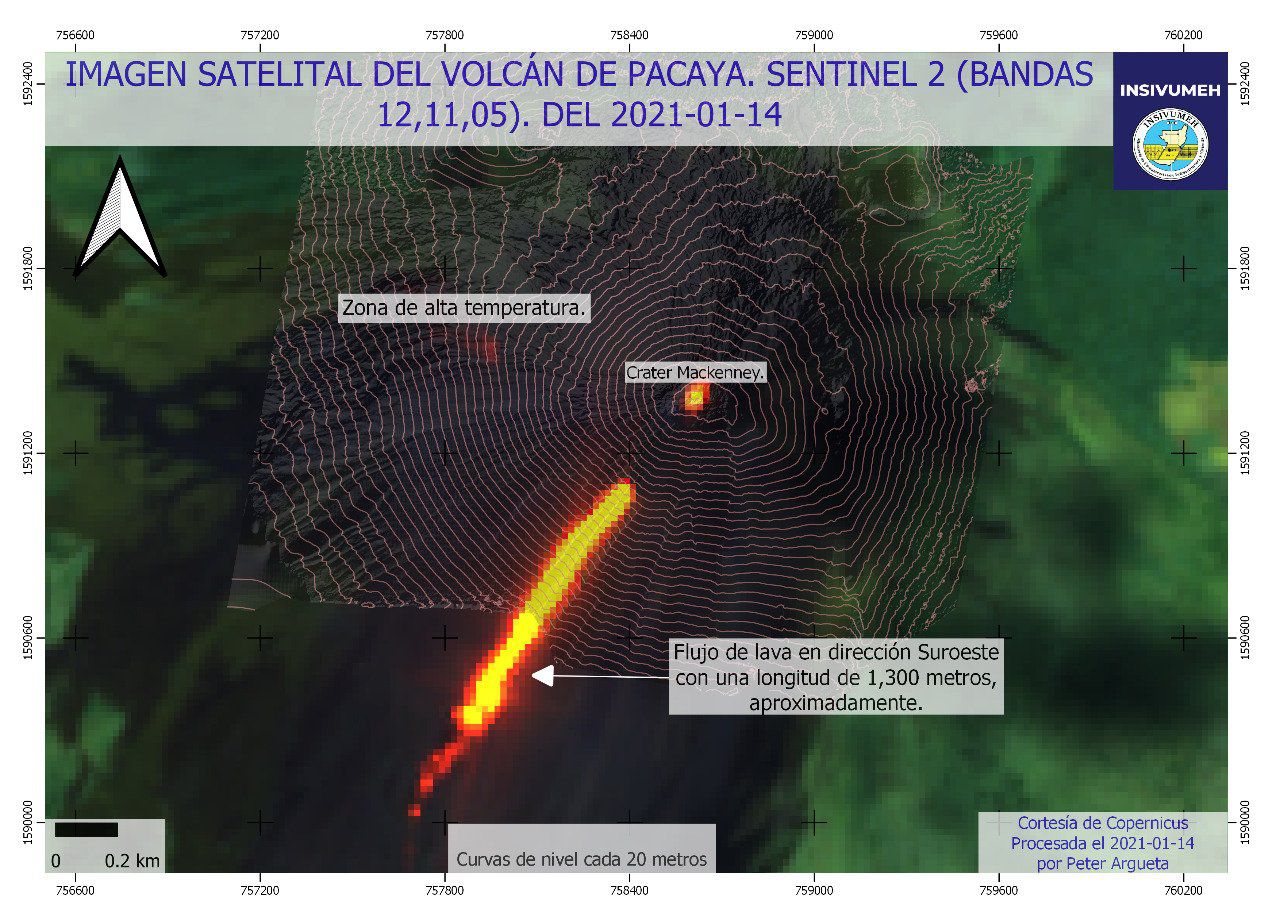 Pacaya - Sentinel-2 bands image 12,11,5 from 01/14/2021 - incandescence at the summit and lava flow - high temperature zone west of the summit - Doc. Insivumeh
The eruption is still in progress at Ili Lewotolok on January 14, 2021, with a white and gray eruptive column of varying intensity, about 200 to 500 meters high from the summit. A low, moderate to loud rumble was heard.
The projections of incandescent material have been observed up to 500-1500 meters southeast of the summit.
Thanks to seismographic recordings of January 14, 2021, it was recorded:
- 18 eruption earthquakes
- 113 blast / emission earthquakes
- 7 episode of harmonic tremor
- a distant tectonic earthquake.
The activity level remains at 3 / siaga. Communities around Mount Ili Lewotolok and visitors / climbers / tourists are recommended not to undertake activities within 3 km of the summit / crater of Mount Ili Lewotolok and in sectoral areas in the southeast until 4 km from the top of Mount Ili Lewotolok to the beach.
Source: PVMBG
The Merapi volcano was clearly visible on January 14 until it was covered in fog. The main crater is topped by a white plume, of moderate to thick intensity, about 50 meters high from the summit.
Incandescent blocks falls are observed 17 times, over a maximum sliding distance of 600 meters upstream of the Krasak River.
The seismicity of January 14 is declined in:
- 105 collapse / avalanche earthquakes
- 7 emission / blast earthquakes
- 19 hybrid / multiphase earthquakes
- 2 distant tectonic earthquakes
Source PVMBG & BPPTKG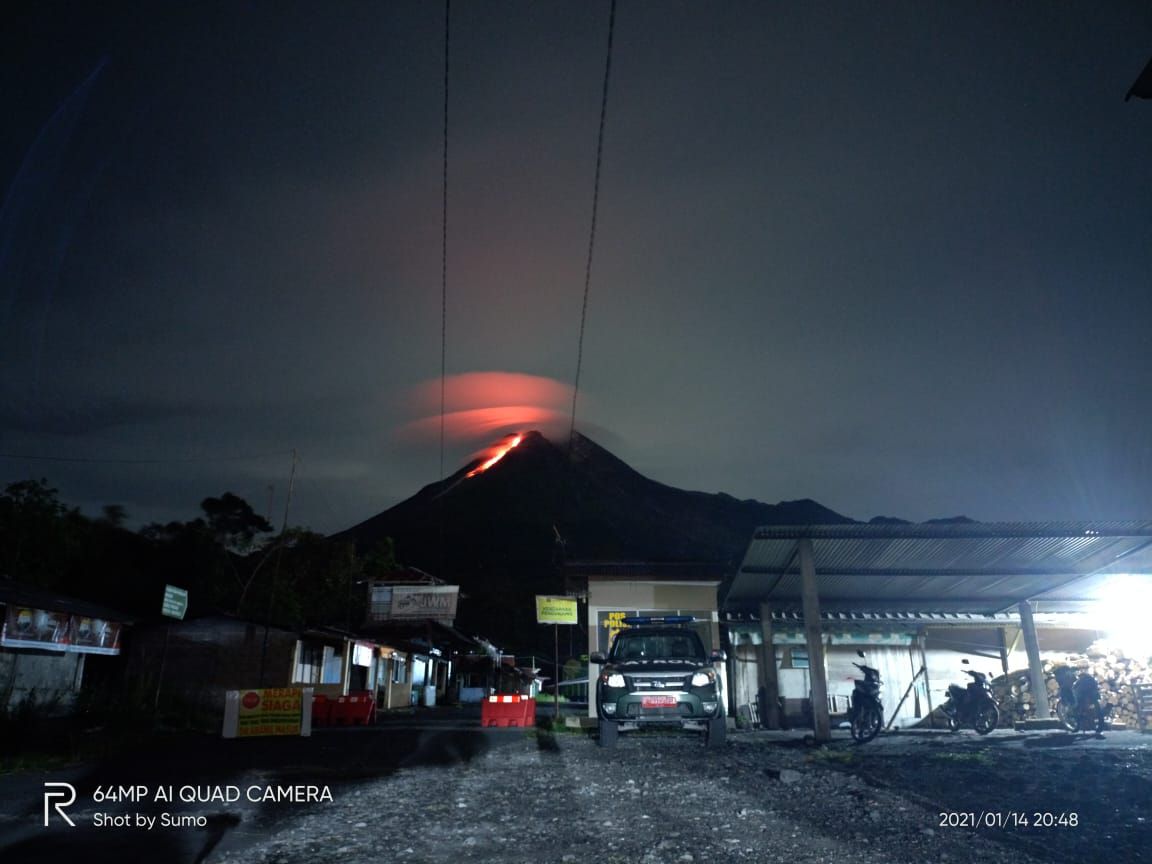 Merapi - falling glowing blocks and reflections on a lenticular cloud - photo Sumosulis TRC BPBD DIY 14.01.2021
In Kilauea, lava activity is confined to Halemaʻumaʻu with lava erupting from a vent on the northwest side of the crater.
This morning, January 14, the lava lake was about 199 m (653 ft) deep and remains stagnant over its eastern half. Sulfur dioxide emission rate measurements taken on Monday January 11 were around 2,500 t / d.
Yesterday afternoon, summit tiltmeters started registering an inflationary tilt. Seismicity remains high but stable, with regular earthquakes and a few minor earthquakes.
Source: HVO-USGS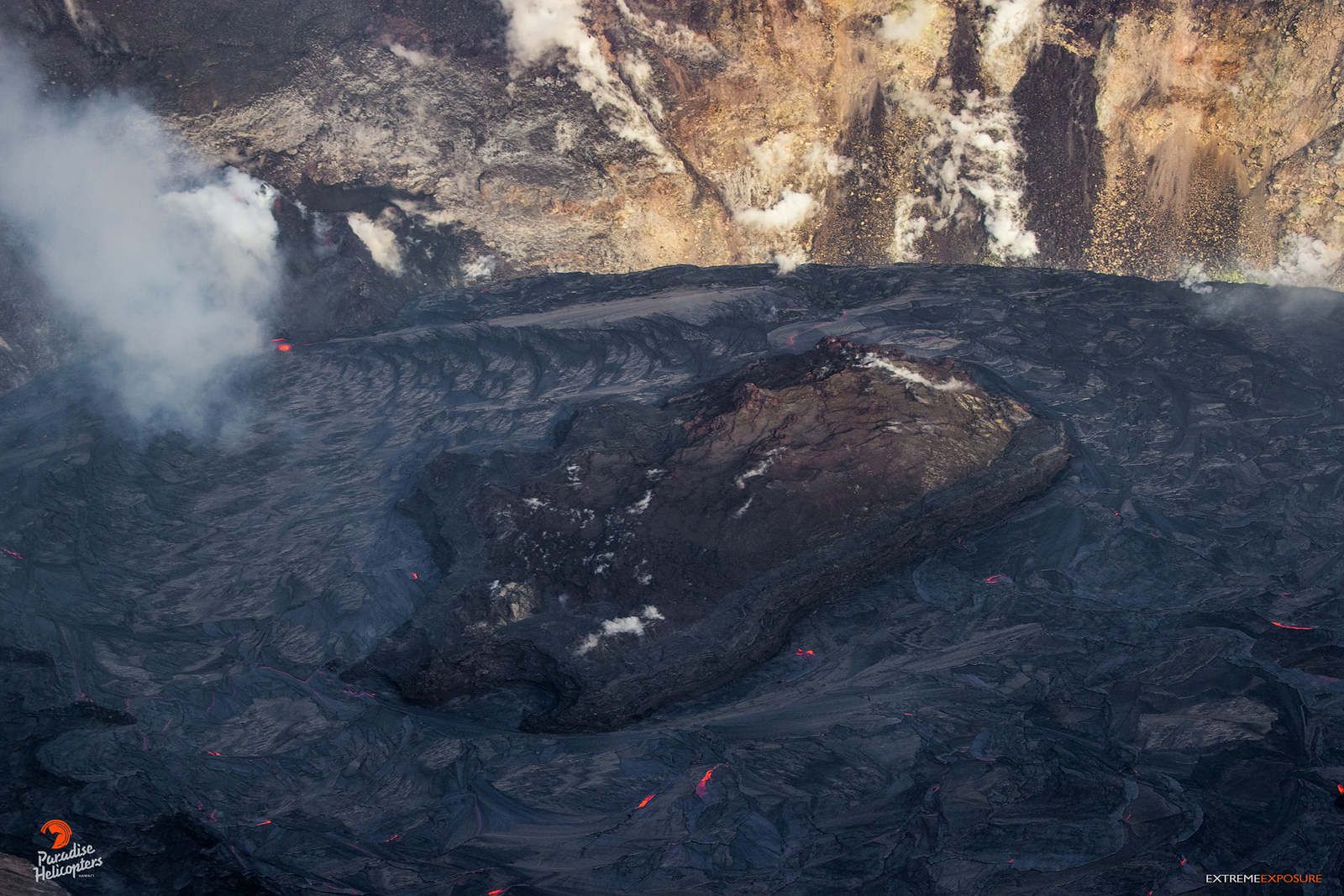 Kilauea - Halema'uma'u - 14.01.2021 - photo Bruce Omori, mahalo nui Paradise Helicopters, Canon, Really Right Stuff, and Pro Camera Hawaii
This compilation shows nine heat maps created for the ongoing eruption at Halema'uma'u, atop Kīlauea, which began on December 20, 2020. The maps show the rapid establishment and growth of the lake in the early days , followed by a switch in the dominant vent from the North Fissure to the West Fissure on December 26. The main island moves and turns, presumably controlled by the currents of the lake. The last two maps (January 7 and 12) show the stagnation and cooling of the eastern half of the lake surface. The color range shows relative temperatures across the lake, with blue colors indicating cooler temperatures and red colors indicating warmer temperatures. USGS Maps by Mr. Patrick