Publié le par Bernard Duyck
The Ebeko, in the northern Kurils, continues its eruptive activity, with an explosion on February 8, accompanied by an ash plume observed at more than 2,000 meters asl., drifting east of the volcano.
The aviation code remains orange, other explosions can occur at any time and affect flights in Severo-kurilsk.
Source: KVERT - 08.02.2021 / 23:05Z
Seismicity remains high at Sinabung on February 8:
- an eruption earthquake at 10:05 p.m. WIB. No visual eruption was observed. This eruption was recorded on a seismograph with a maximum amplitude of 40 mm and a duration of 201 seconds.
- 158 collapse / avalanche earthquakes, of amplitude between 2 and 120 mm, lasting 19 to 301 sec.
- 13 blast / emission earthquakes
- 24 low frequency earthquakes
- 18 hybrid / multiphase earthquakes
- a shallow volcanic earthquake with an amplitude of 30 mm, and the duration of the earthquake was 16 seconds.
A pyroclastic avalanche flow occurred on February 09 at 4:26 a.m. with a sliding distance of 2500 m southeast of the easterly wind direction, with an amplitude of 100 mm, for 340 sec.
The activity level remains at 3 / siaga, with the usual restrictions.
Sources: PVMBG, Magma Indonesia and Nachelle Homestay
The eruptive behavior that has been maintained at the Santa Maria - Santiaguito volcanic complex since February 2020, is characterized by the extrusion of lava in blocks from the dome to the edge of the crater of the Caliente dome in a westerly direction. This activity generates avalanches, and suspended ash, with periodically stronger avalanches and pyroclastic flows. These flows are recorded on the southwest flank and the upper part of the Rio San Isidro, but can affect other directions.

Explosive activity remains low to moderate, accompanied by ash plume at 3,000-3,400 meters asl moving over 10 to 15 km.
The activity of February 8 is characterized by a plume of heavy ash reaching 3,100 m. asl., dispersed to the northwest and west over 30 km. and ash falls. Bomb falls are reported on the flanks of the Mackenney cone 300 meters from the crater.
Source: Insivumeh - special bulletin updated on 07,02,2021 / 12h loc.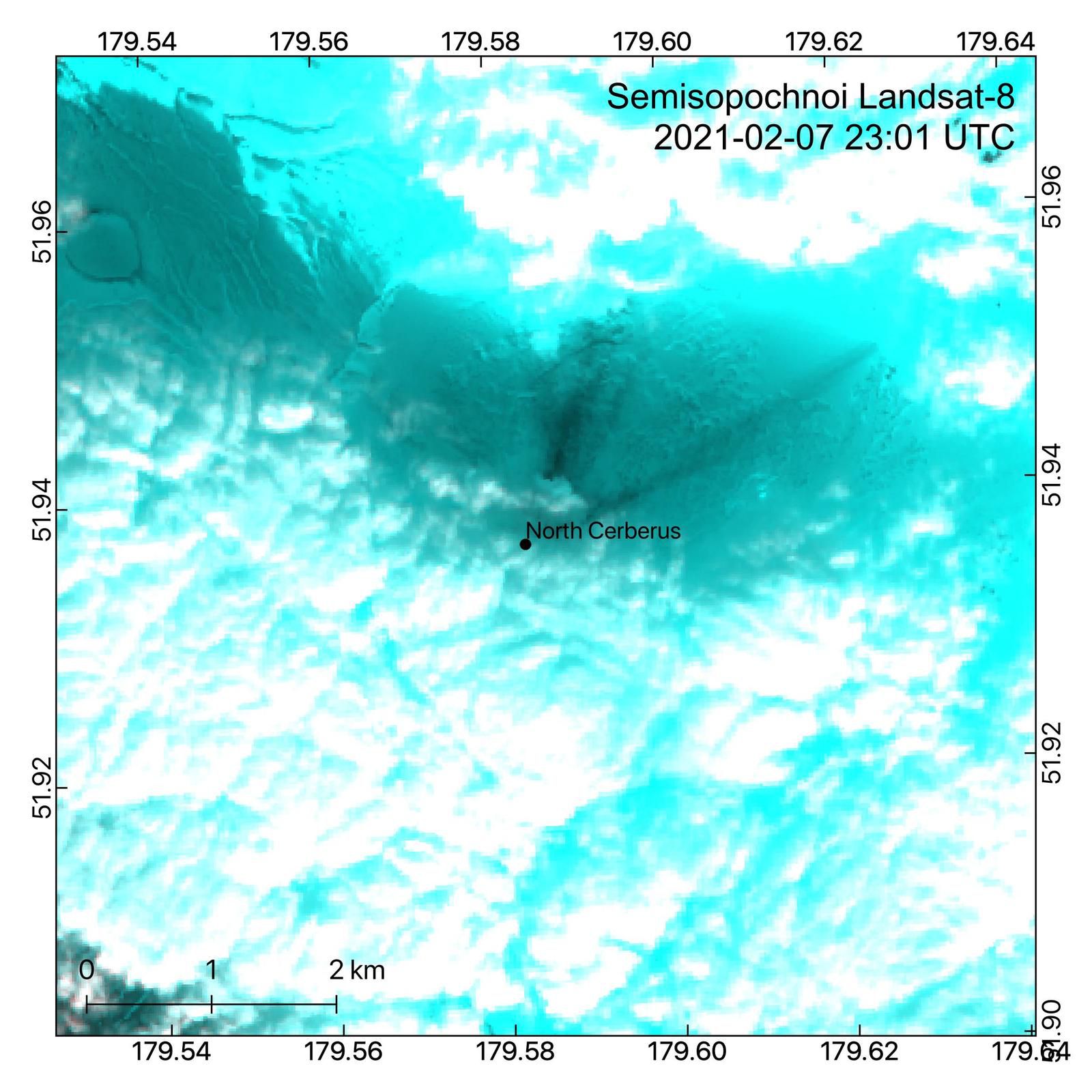 Semisopochnoi - 07.02.2021 / 23:01 UTC Narrow, dark streaks of ash on top of the snow extend for> 3 km from the North Cerberus crater on Semisopochnoi Island and reveal that explosive activity at low altitude has place in this crater - Landsat-8 photo via Dietterich, Hannah / AVO
High-resolution satellite imagery from February 7 shows a second small deposit of ash extending at least 3 km northeast of the North Cerberus crater on Semisopochnoi Island, similar to the first seen on February 6. the volcano. The ash clouds associated with these deposits were not observed and are likely low level (<10,000 feet) and short lived. Due to evidence of continued low level ash emissions, the Alaska Volcano Observatory has increased the Aviation Color Code to ORANGE and the Volcano Alert Level to WATCH.
The Semisopochnoi is monitored by satellite data, regional infrasound and lightning detection instruments. An infrasound array on Adak Island can detect explosive emissions from Semisopochnoi with a slight delay (about 13 minutes) if atmospheric conditions permit.
Source: AVO-USGS
BULLETIN La Soufrière de St. Vincent # 30 - FEBRUARY 8, 2021 / 8:00 PM
1. An investigation was carried out in the region of the hot springs of Wallibou on Sunday February 7, 2021 based on a report indicating irregular temperatures and unusual gas odors. Some gas samples were taken by Dr Thomas Christopher, the temperature was taken at various points and some liquid samples were taken for further analysis.
2. The strain network is functional. Successful electronic distance measuring (EDM) target strikes have been recorded on the volcano rim of Richmond Vale, Troumaca, Rose Hall, Belmont and Cherry Hill Chateaubelair. Basic data is collected. The EDM network is used to help with deformation measurements associated with the flanks of the volcano.
3. NEMO staff will conduct a drive through in the communities of Cumberland and Coulls Hill on Tuesday February 9, 2021. The purpose of this drive through is to inform residents about the condition of the La Soufrière volcano and to provide information on evacuation procedures. and individual preparation.
4. The new dome continues to grow with a lateral spread of material to the north and south, with preferred growth to the north.
5. Vegetation damage from acid gases emitted from the growing dome downstream from the summit continues to be observed.
6. The National Emergency Management Organization reminds the public that no evacuation order or notice has been issued.
7.NEMO continues to call on the public to refrain from visiting the La Soufrière volcano, in particular entering the crater, as this is extremely dangerous.
Source: UWI-SRC