Publié le par Bernard Duyck
According to satellite data from the VolSatView information system and video data, a flank eruption (lateral rupture) began to form on the northwest slope of the Klyuchevskoy volcano between 11:00 p.m. and 11:50 p.m. UTC on February 17, 2021, and the eruption continues.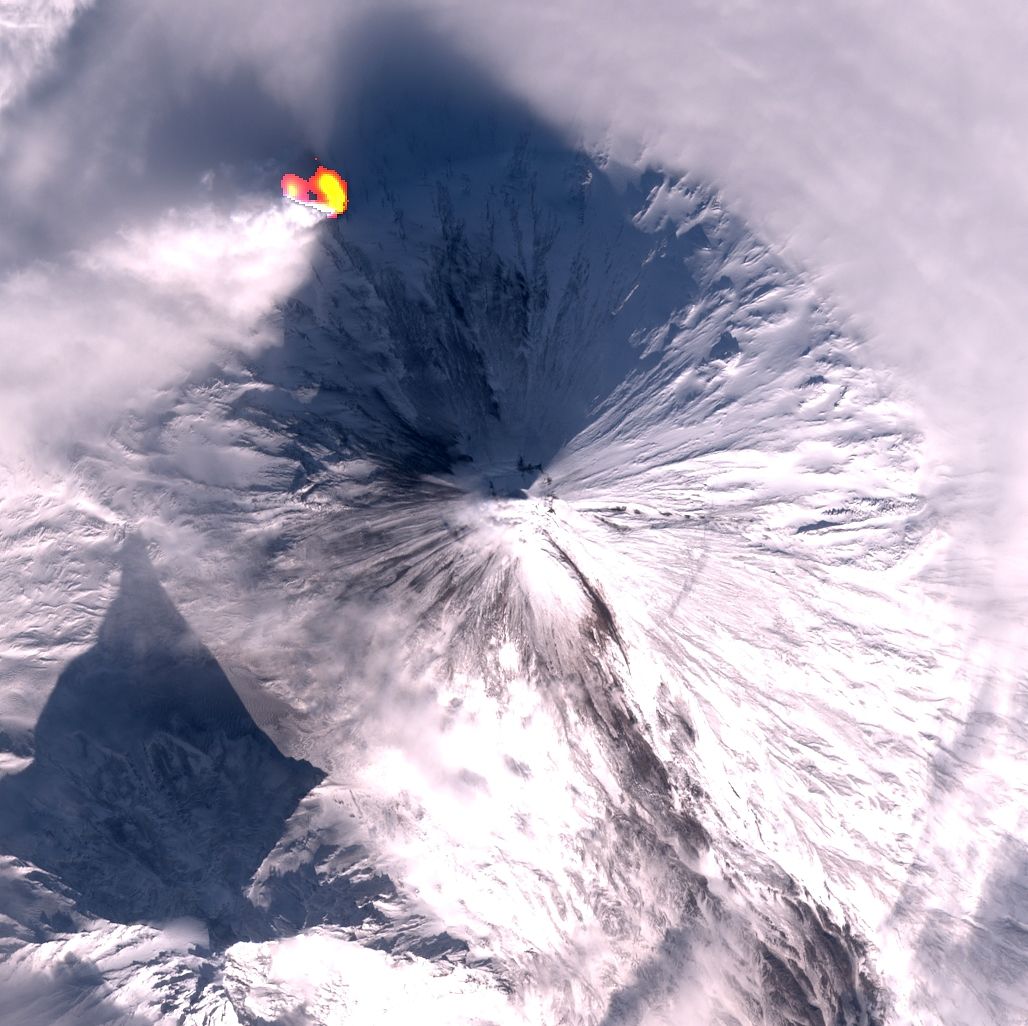 Klyuchevskoy - image Sentinel2 bands 4,3,2 + bands 12,11,8A from 02.21.2021 / 00:36 via Mounts project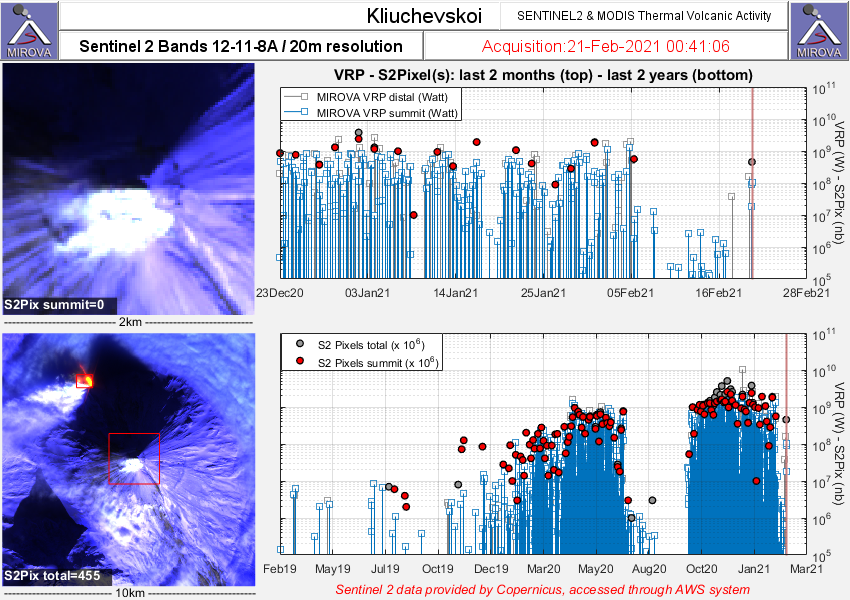 2021.02.21 00:41 Klyuchevskoy - image Sentinel-2 & MIROVA Modis thermal anomaly on 21.02.2021 / 00:41
Snowfall has continued in the Klyuchi region for the past few days, and from February 17-19 there was no video data. A brilliant incandescence over the flank eruption began to be observed from 3:23 PM UTC on February 20 at IVS FEB RAS video data. Probably a lava flow has started to move from a side break / crack. The flank eruption forms at an altitude of about 2.5-2.7 km above sea level, near the Erman Glacier. There is a real danger of mudslides for the village of Klyuchi.
Moderate gas-vapor activity from the volcano continues. The danger of ash explosion up to 19,700-23,000 ft (6-7 km) a.s.l. remains. Ongoing activities could affect low-flying aircraft.
The aviation code remains yellow
Source: KVERT
The Strombolian phase is maintained at a high level in Pacaya, with moderate explosions, sometimes strong, and the expulsion of volcanic and ballistic materials at 3,000-3,200 m. asl. The ballistic projections fall over 300 meters around the Mackenney crater. It is accompanied by a plume of ash moving towards a large western sector; ash falls are reported over San Francisco de Sales, El Cedro and other areas over 15 km.
Yesterday, the Internatioenal La Aurora airport closed three air routes because of the ashes emitted by the Pacaya and the Fuego.
On the southern flank, the lava flow develops in several branches, and reaches a length of 1,100 meters; the fall of boulders at the start of the flow front reaches 1,400 meters.
Tremor is perceived associated with the rise of magma, the movements of the lava flow and the pressure of gases.
Source: INSIVUMEH
After 04:15 UTC and the end of the fourth paroxysmal episode of Etna, no more eruptive activity occurred at the Southeast Crater.
At the other summit craters, on the other hand, the explosive activity continues as observed in the last days.
In the hours following the activity of the lava fountain and until the present state, the average amplitude of the volcanic tremor has remained confined mainly to the average level.
Source: INGV OE