Publié le par Bernard Duyck
In Merapi, in activity level 3 / siaga, the seismicity is characterized on February 25 by:
- Two earthquakes related to pyroclastic flows, respectively at 16:52 WIB and 18:42 WIB, with an amplitude of 37 and 51 mm and an earthquake duration of 115 and 175 seconds. They moved for 1500 m and 1900 m in a south-westerly direction.

- 198 collapse earthquakes, with an amplitude of 3-58 mm and a length of 9-188 seconds of the earthquake.
- 2 emission earthquakes, with an amplitude of 8 to 13 mm and the earthquake lasted 11 to 14 seconds.
- 1 hybrid / multiphase earthquake.
The precautions to be taken and the prohibited areas remain unchanged
Source: BPPTKG
During the last 24 hours, the Taal volcano network has recorded one hundred and thirteen (113) episodes of volcanic tremor lasting from one to thirty-four minutes.
Despite this, only weak steam-laden plumes were emitted by fumarole activity at the vents of the main crater. Elevated temperatures of 74.6 ° C and a pH of 1.59 were last measured from the main crater lake on February 18 and 12, 2021, respectively. The ground deformation parameters of the continuous electronic tilt on the island of the volcano have recorded slight deflation around the main crater since October 2020 but overall, very slow and steady inflation of the Taal region was recorded by continuous GPS data after the eruption.
Alert level 1 (abnormal) is maintained on the Taal volcano. DOST-PHIVOLCS reminds the public that at Alert Level 1, sudden steam or phreatic explosions, volcanic earthquakes, minor ash falls and fatal accumulations or expulsions of volcanic gas can occur and threaten areas of the volcanic island of Taal (TVI). DOST-PHIVOLCS strongly recommends that entry into TVI, the permanent danger zone of Taal or PDZ, especially around the main crater and Daang Kastila fissure, remain strictly prohibited.
Source: Phivolcs
The Pacaya presents an essentially effusive activity on February 25, with the lengthening of the lava flow on the southern flank between 1000 and 1680 m.
Moderate to strong strombolian explosive activity is recorded sporadically.
Degassing columns, white to azure, 200 to 800 m high. above the crater are observed, moving south and over-west
Source: Insivumeh
The seismic swarm continues in the Reykjanes Peninsula.
On February 24, two earthquakes above M5.0 were detected. One at 10:05 am from M5.7 and M5.0 at 10:30 am. At 12:37 a.m., an M4.8 earthquake was detected near Kleifarvatn. IMO's SIL system detected 11 earthquakes on M4.0 and much larger than M3.0. The earthquakes were felt throughout the SV part of Iceland, north of Húnaþing and west of Ísafjörður. Please note that the seismic activity is located on the Reykjanes Peninsula. Other major earthquake locations are unreliable.
Yesterday at 14:35, an earthquake of M3.5 was detected near Fagradalsfjall and another at 14:21 of M3.2. The earthquakes were felt in Reykjanes and the capital region. The swarm is still ongoing and since February 24, the SIL system has detected more than 4,200 earthquakes in the region.
Source: IMO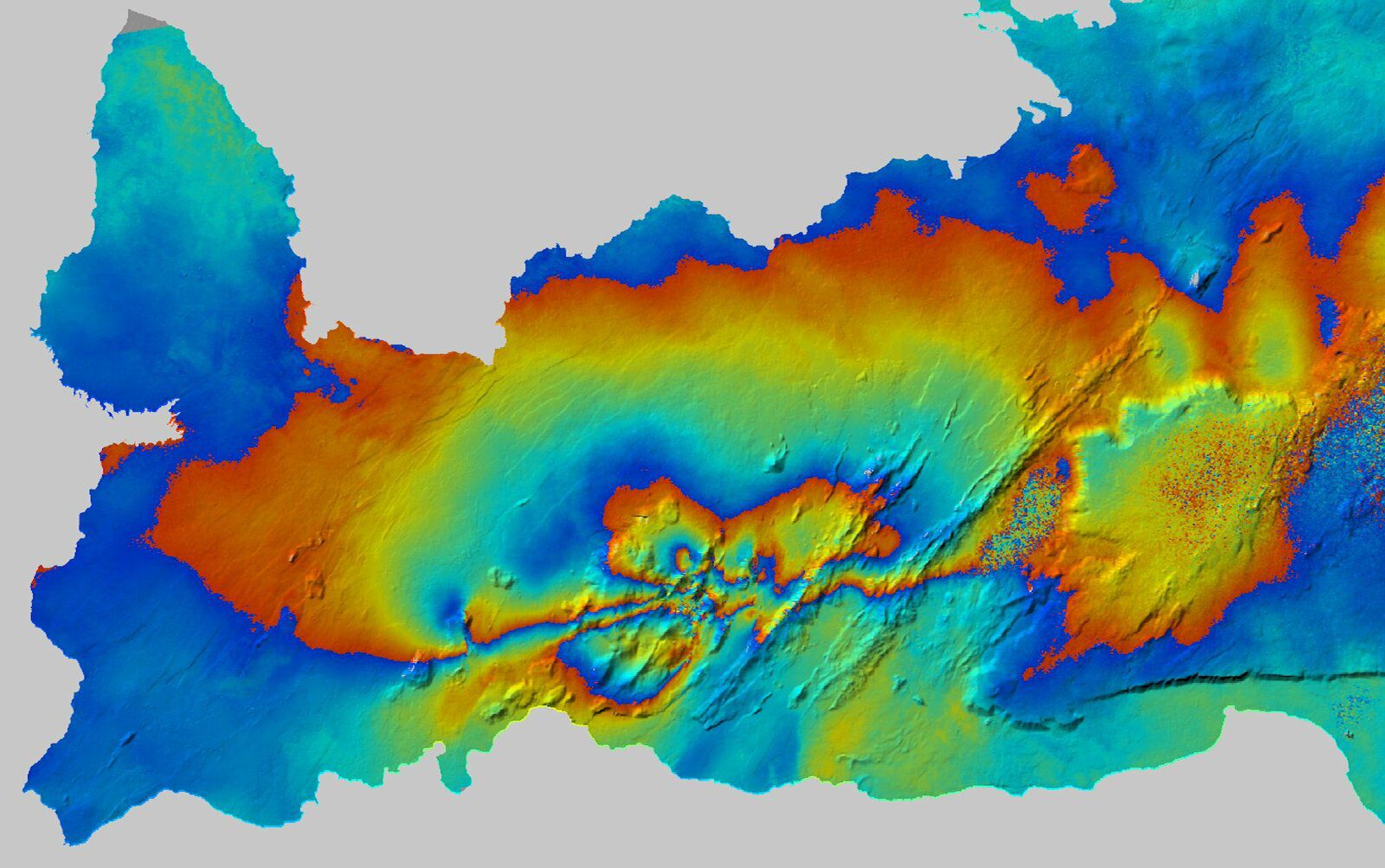 InSAR image of the strong current earthquake sequence near Reykjavík. About 30 km of the boundary of the ENE trending plate has moved laterally to the left at depth with several right lateral strike-slip surface failures Coseismic N-S, including that of the magnitude 5.7 earthquake - Doc. Sigurjón Jónsson - Processed by Adriano Nobile, CDI group, KAUST