Publié le par Bernard Duyck
Strombolian activity continues at a high level in Pacaya, this February 09, with episodes of increase lasting 3 to 5 hours, during which explosions at the Mackenney crater generate expulsions of volcanic and ballistic materials at a height between 200-300 mr. dispersing around the crater, accompanied by ash puffs reaching 3,000-3,200 M. asl, with a dispersion over a western and southwestern sector over 10 km.
From 4 p.m. local, activity continues at a high level, with moderate to strong explosions and expulsions of materials at 500 m. above the Mackenney cone.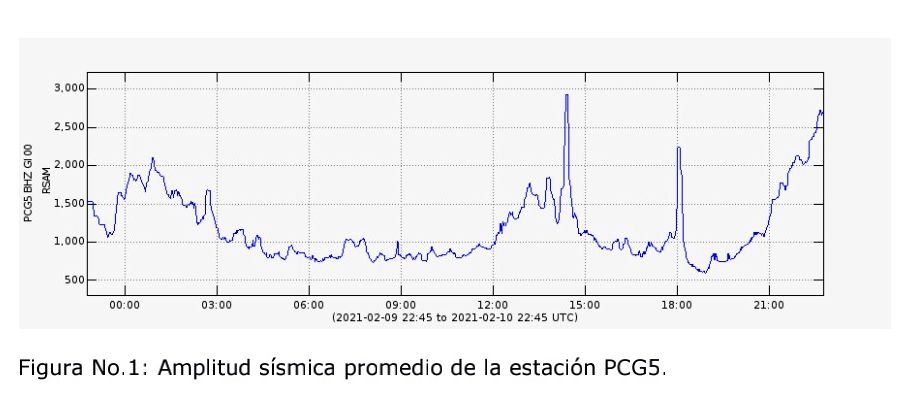 On the southern flank, an active lava flow, of fissural origin, reaches a length of 1,300 m .; its lava front generates avalanches of blocks over approximately 200 meters.
The tremor is still recorded.
Pacaya National Park was closed following this activity and a precautionary notice issued to civil aviation.
Sources: Insivumeh and Conred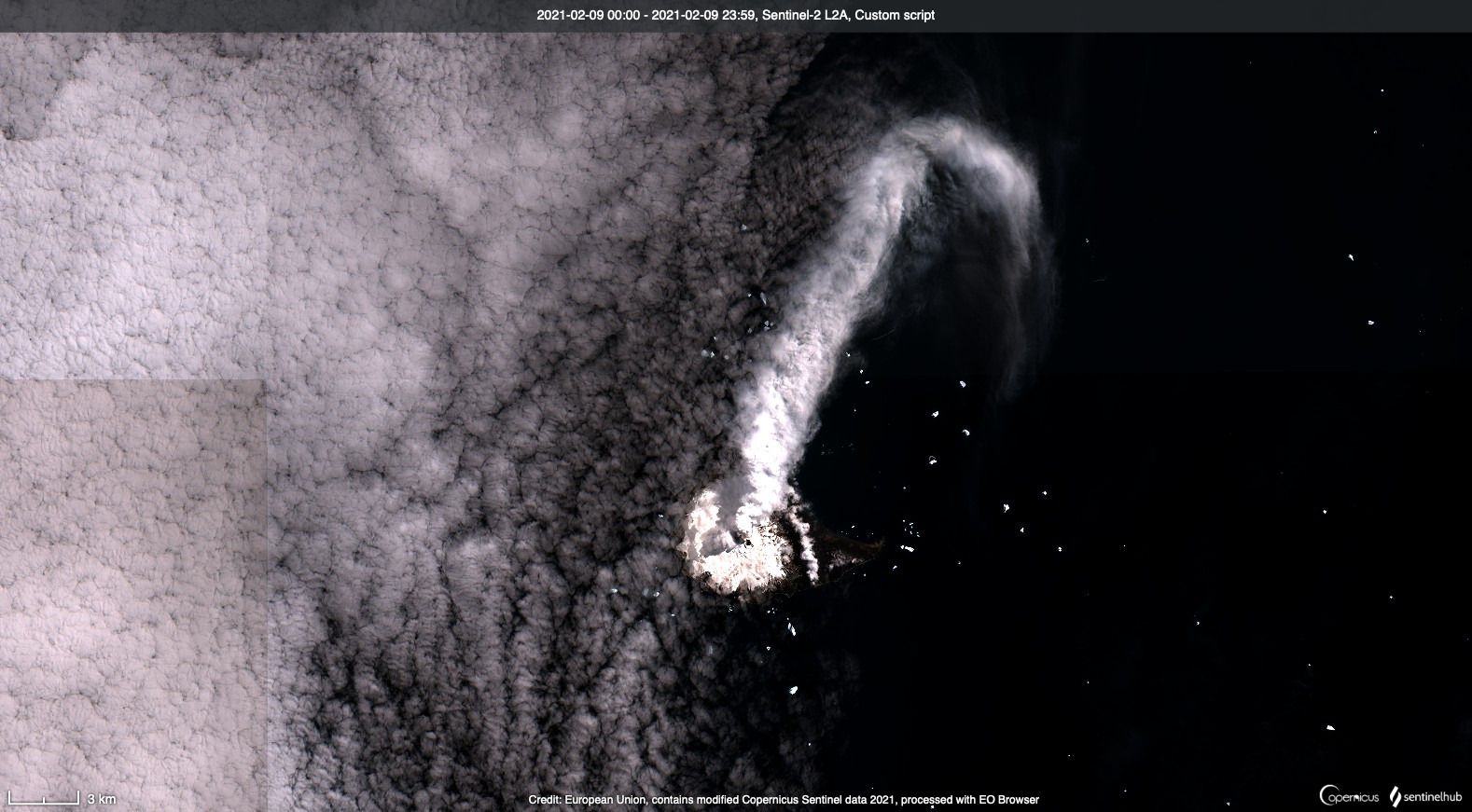 Mt. Michael - activity of 02.09.2021 - image Copernicus / Sentinel L2A custom scripts - one click to enlarge
Sentinel L2A spotted a small plume emitted by Mount Michael on February 9, on Saunders island in the South Pacific.
Sulfur dioxide emissions, recorded by Tropomi, appear low.
Sources: Santiago Gassó, Simon Carn, and Sentinel-2 / Copernicus
There was an eruption at Mount Ili Lewotolok this Wednesday February 10, 2021 at 12:33 WITA with an ash plume observed at ± 700 m above the summit (± 2123 m above sea level). We observe that the ash plume is white to gray, with a thick intensity, towards the east. This eruption was recorded on a seismograph with a maximum amplitude of 18 mm and a duration of 25 seconds.
The seismicity of February 10, 2021 is characterized by:
- 5 eruption earthquakes
- 3 blast / emission earthquakes
- 9 episodes of non-harmonic tremor
- 1 low frequency earthquake
- 2 distant tectonic earthquakes
- and continuous tremor, amplitude 0.5-2 mm (dominant 0.5 mm)
This February 11, from midnight to 12 noon, 7 eruption earthquakes were recorded.
The activity level remains at 3 / siaga; People around Mount Ili Lewotolok and visitors / climbers / tourists are recommended not to perform activities within 3 km of the summit / crater. Residents of the village of Jontona should always be aware of the potential threat of landslide hazards that may be accompanied by pyroclastic flows originating from the south-eastern part of the volcano's summit / crater.
Source: Magma Indonesia
The seismicity of the Merapi has experienced various fluctuations in recent days.
On February 9, the PVMBG counted :
- 134 collapse / avalanche earthquakes
- 137 multiphase hybrid earthquakes
- 2 blast / emission earthquakes
- 20 shallow volcanic earthquakes.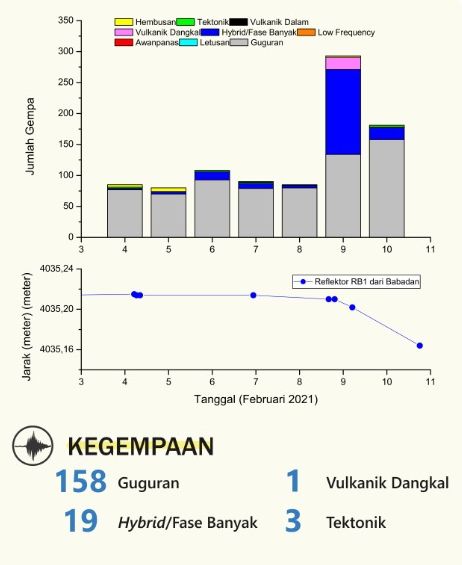 On February 10, the seismicity is characterized by:
- 158 collapse / avalanche earthquakes
- 19 hybrid multiphase earthquakes
- a shallow volcanic earthquake
- and 3 distant tectonic earthquakes.
The level of activity remains at 3 / siage, with a potential danger zone of 5 km in the SSO sector.
Sources: PVMBG, Magma Indonesia and BPPTKG