Publié le par Bernard Duyck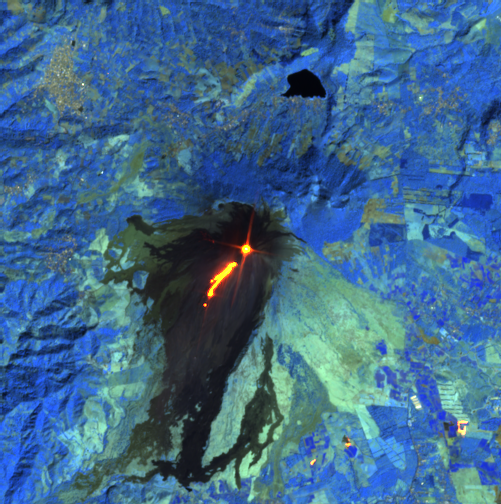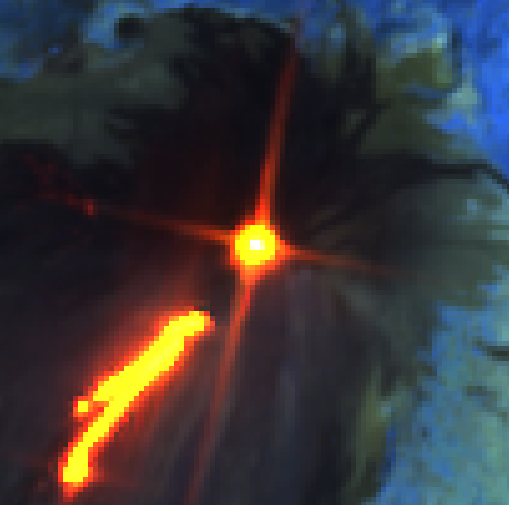 Pacaya - Sentinel-2 bands image 12,11,8A from 02/03/2021 / 4:25 p.m. - Via Mounts project - one click to enlarge
At Pacaya, continuation of explosive and effusive activity.
Strombolian-type explosions are recorded, mostly weak and moderate, which eject incandescent materials up to a height of 225 meters above the crater. Simultaneously, periods of incandescence and continuous white and bluish degassing in the crater, with dispersion over several kilometers in a southerly direction. The ashes are generated at a height of 100 to 300 meters above Mackenny Crater and disperse to the south.
Lava flow activity continues on the southern flank. The length of the lava flow is about 900 meters.
INSIVUMEH seismic stations constantly record tremors, associated with the rise of magma, as well as the continuous degassing deviations observed in the crater. The appearance of more lava flows on other flanks or the generation of degassing columns with abundant ash is not excluded.
Sources : Insivumeh & Mirova / Sentinel-2
Pacaya - image Sentinel-2 bands 12,11,5 / Insivumeh and thermal anomalies at 03.02.2021 / Sentinel 2 & Modis thermal volcanic activity via Mirova - one click to enlarge
At Sinabung, a white plume is observed on February 4 about 100 to 500 meters from the summit.
Thanks to seismographic records from February 4, 2021, it was recorded:
- 164 earthquakes of collapse, with an amplitude between 2 and 110 mm, lasting 15 to 352 seconds
- 7 emission / blast earthquakes
- 4 low frequency earthquakes
- 14 hybrid / multiphase earthquakes
- 1 deep volcanic earthquake
- 1 deep tectonic earthquake.
The PVMBG informs for this February 5:
- an eruption at 00:04, without observation of the generated plume; the imprint on the seismogram has a maximum amplitude of 40 mm for 5 min. 29 seconds.
- this February 5 at 2:13 p.m. WIB, two pyroclastic flows are reported, respectively 1,300 meters on the south-eastern flank and 1,500 meters on the southern flank.
Source: PVMBG
In Ecuador, the activity of the Reventador remains superficially high, with an increasing trend.
On February 3 in the late afternoon, ash emissions were observed 600 meters above the crater, and dispersal to the west.
Nighttime explosions and incandescence in the crater are reported, as well as boulder rolls 600 meters below crater level.
Source: IGEPN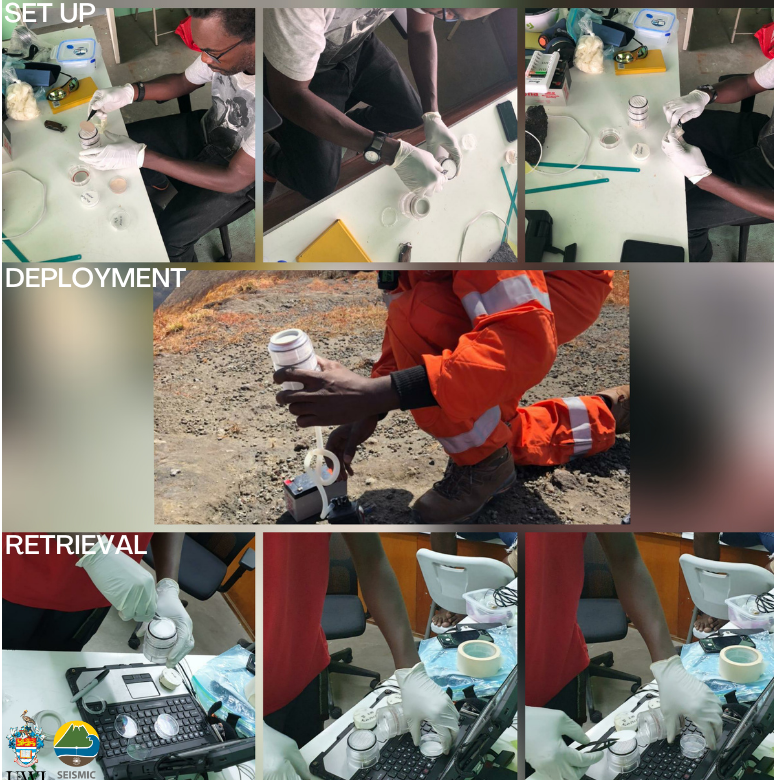 Soufrière of St. Vincent - gas sampling and analysis by the teams of Dr. Christopher / MVO - Doc. UWI-SRC 04.02.2021
At the Soufrière of St. Vincent, Dr. Th. Christopher and his MVO team, in support of the local teams, collected volcanic gas samples at the new dome, using filter packs; these filters will be immersed in a solution in order to determine the type of gas present. They allow the detection of hydrochloric acid, hydrofluoric acid, hydrogen sulfide and sulfur dioxide.
Monitoring the chemistry of volcanic gases gives clues to the depth of the earth where the gases are emitted, which can help scientists better understand how the eruption may unfold.
Sources : UWI-SRC and MVO