Publié le par Bernard Duyck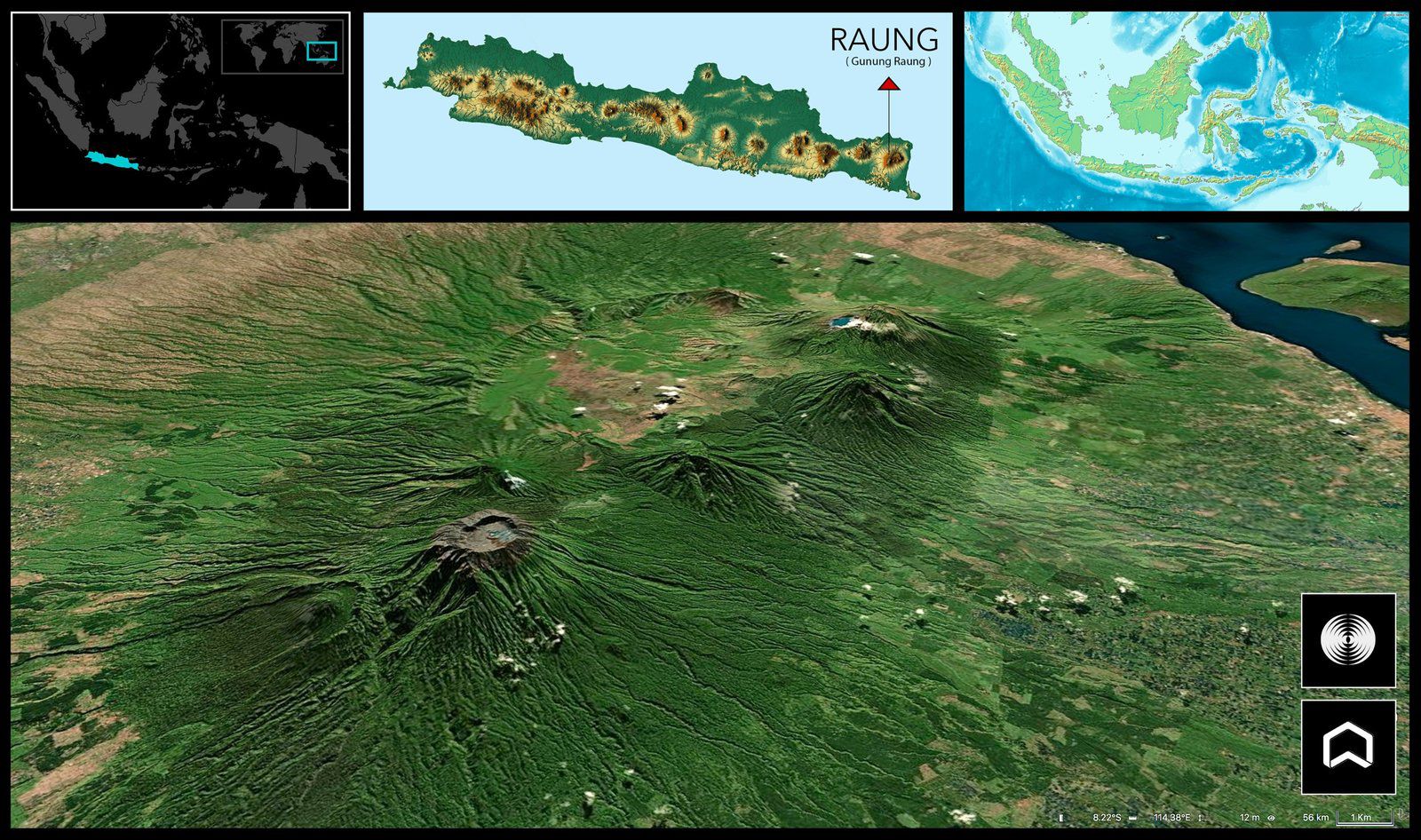 Raung - location and 3D modeling - From left to right: Raung and Suket, then on the SE edge of the Kendeng caldera, Jampit, Ranteh and Merapi / Kawah ijen - Doc. nodo20chile - one click to enlarge
In Raung, on Java, the PVMBG reports ash plumes 1,200 to 2,000 meters high above the summit from February 7 to 9, 2021.
Rumblings and roars are heard at times.
A nocturnal glow is reflected in the emissions.
The thermal anomalies range between VRP 613 MW on February 9, and VRP 1261 MW on February 10, the various passages of Modos being influenced by cloud cover.
The alert remains at level 2 / waspada, with an exclusion zone of 2 km radius.
Sources: PVMBG, Magma Indonesia, Mirova, Sentinel / via Mounts project and Pierre Markuse, Nodo20chile.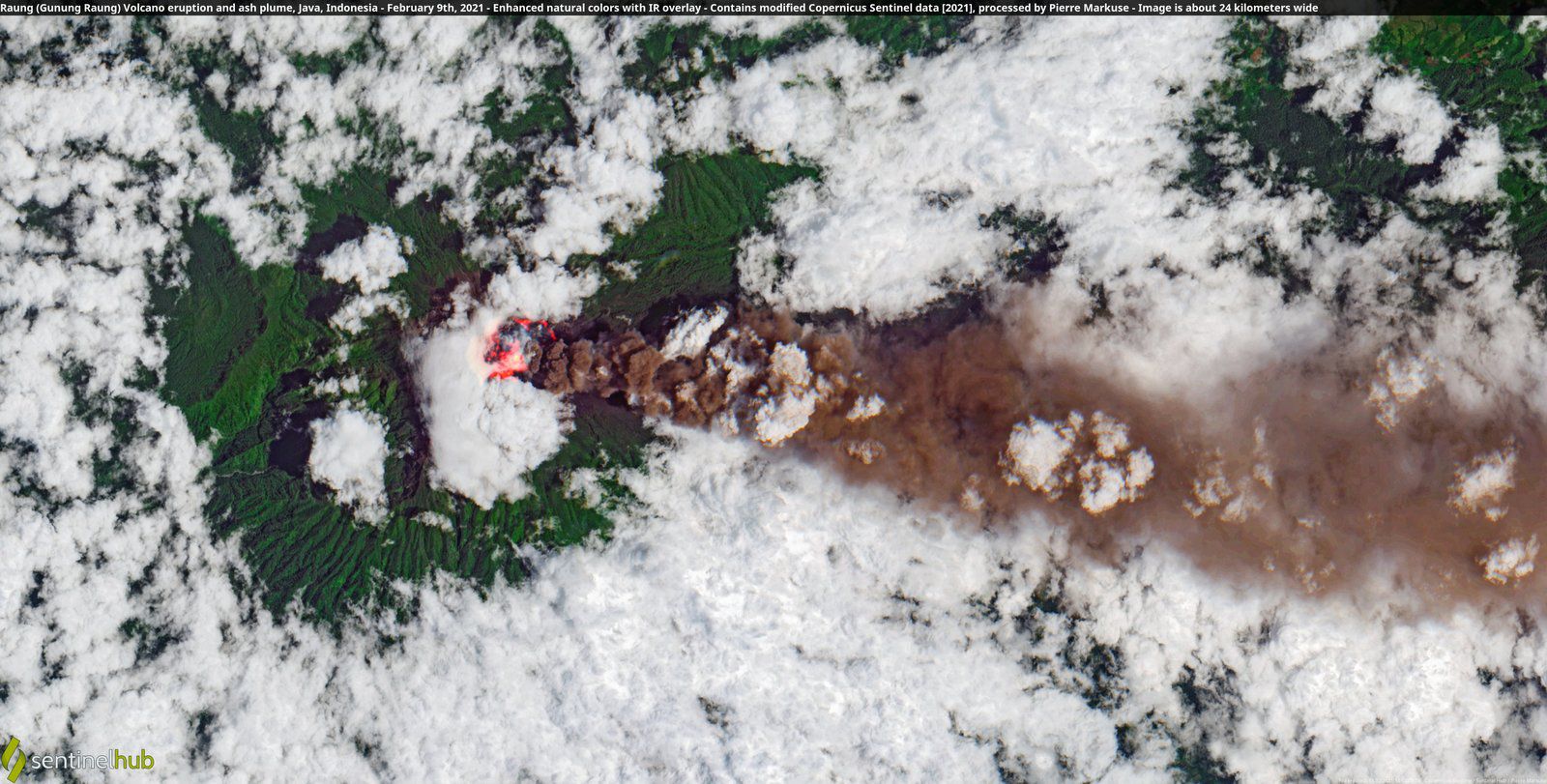 Raung - hot spots in the crater and ash plume from 02.09.2021 - image Sentinel2 / enhanced nat. colors + IR overlay / by Pierre Markuse - one click to enlarge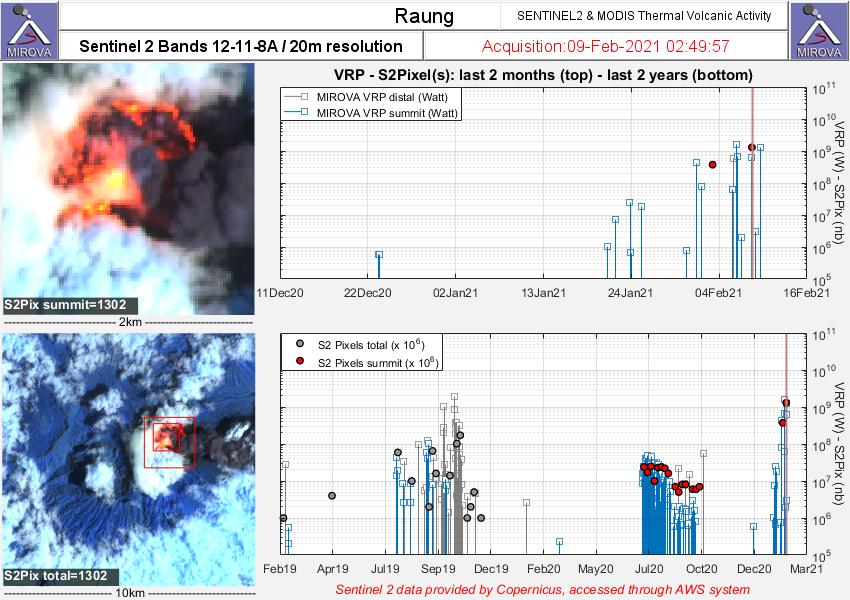 Raung - volcanic thermal activity at 09.02..2021 / 02h49 - Doc. Sentinel-2 bands 12,11,8A & Modis / MIROVA Last
During the last 24 hours, thanks to the monitoring systems of the Popocatépetl volcano, 53 exhalations have been identified accompanied by emissions of water vapor, volcanic gases and small amounts of ash, in addition to 2 minor explosions that occurred on the 10th February at 10:58 p.m. and February 11 at 8:28 a.m.
In addition, 238 minutes of low amplitude tremor and 21 volcanotectonic earthquakes were recorded.
During the night a slight incandescence could be observed above the crater.
Between 0 a.m. and 5 p.m., a constant emission of volcanic gases and light amounts of ash was observed, which are dispersed in a north-northeast direction.
The alert remains at Amarillo Fase 2, with a 12 km safety zone and recommendations to stay away from drainages in the event of heavy rain.
Source: Cenapred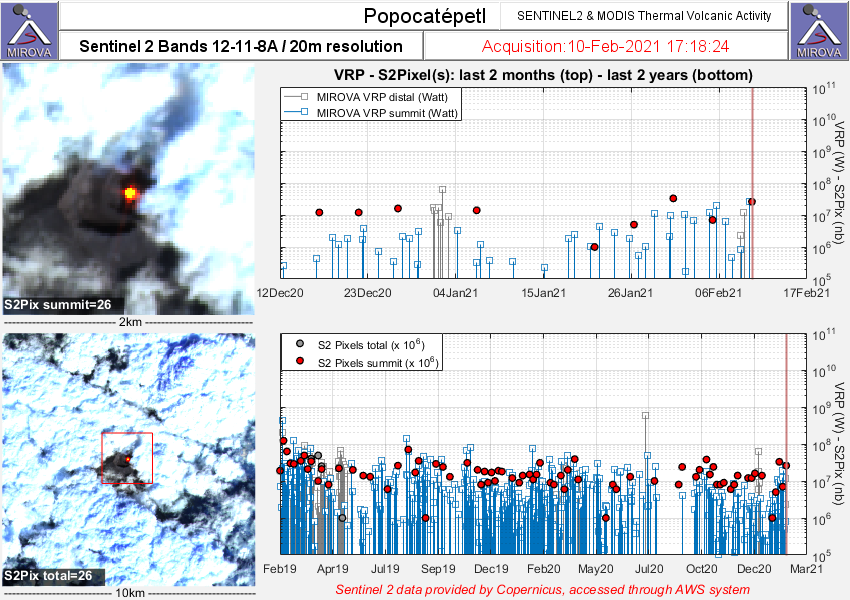 Popocatepetl - volcanic thermal activity on 02/10/2021 / 5:18 p.m. - Doc. Sentinel-2 bands 12,11,8A & Modis / MIROVA Last
In the Kurils, a moderate eruptive activity continued throughout the week at Ebeko. According to data from volcanologists in Severo-Kurilsk, explosions generated ash plumes over 3,600 meters, with winds drifting in different directions.
On February 11, information was received that an ash ejection occurred on the Ebeko volcano at a height of 2 km. The plume spread north from the volcano to a distance of 3 km.
The satellite images were obscured by clouds.
This activity may affect local flights and Severeo-Kurilsk Airport at any time.
Sources: KVERT & Interfax Russia