Publié le par Bernard Duyck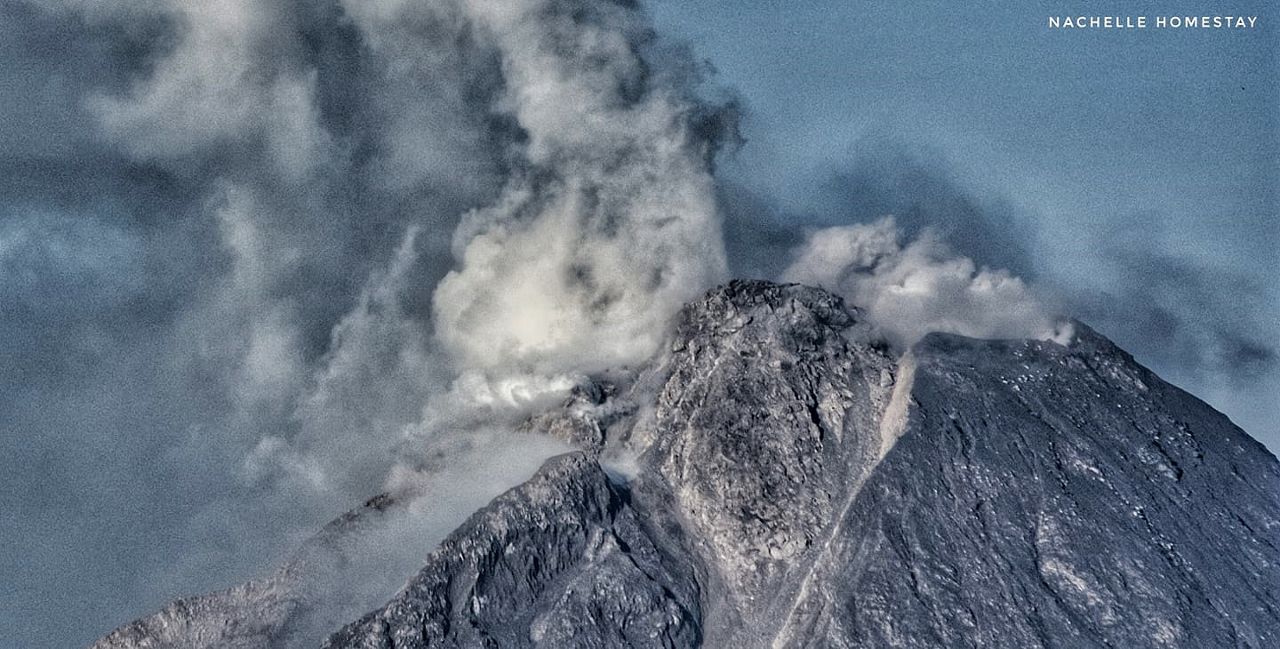 Sinabung - growing summit dome and gas and steam plume on 02/03/2021 / 7:21 am - photo Nachelle homestay - one click to enlarge
At Sinabung, the growth of the summit lava dome continues to increase, as do the points of nocturnal incandescence; its volume reached 4 million m³ on February 4, and becomes the largest dome ever observed between 2014 and 2021.
Build-destroy activity - the sight of an active dome - increases the potential number of collapse pyroclastic flows ... the number of collapse earthquakes is on the rise.
This February 3, the PVMBG reports a white plume of about 50-100 m. above the summit.
The seismicity of 03.02 is characterized by :
- 161 collapse / avalanche earthquakes
- 9 emission / blast earthquakes
- 18 low frequency earthquakes
- 31 hybrid / multiphase earthquakes
- 1 deep tectonic earthquake
The activity level remains at 3 / siaga; The community and visitors / tourists should not conduct activities in the villages that have been displaced, as well as within a radial radius of 3 km from the summit of Mount Sinabung, and a sector radius of 5 km for the south-eastern sector. and 4 km for the east-north sector.
Sources: PVMBG & Beidar Sinabung
At the Soufrière of St. Vincent, sulfur dioxide was measured for the 1st time on February 1: the absence of SO2 in the early stages of the eruption was due to its interaction with the water table; the fact that it can be measured suggests that the tablecloth is drying up.
Using data from Dr. A. Stinton / Montserrat Volcano Observatory, the footprint of the new dome, and its growth, could be traced.
Its current measurements are on February 1: 511 meters by 231 meters, for a height of 93 meters - volume: 5.93 million m³.
Observations made northwest of the dome suggest a new area affected by fire that affected vegetation on the crater walls.
Source: UWI-SRC # 28 / 03,02,2021 - 20h.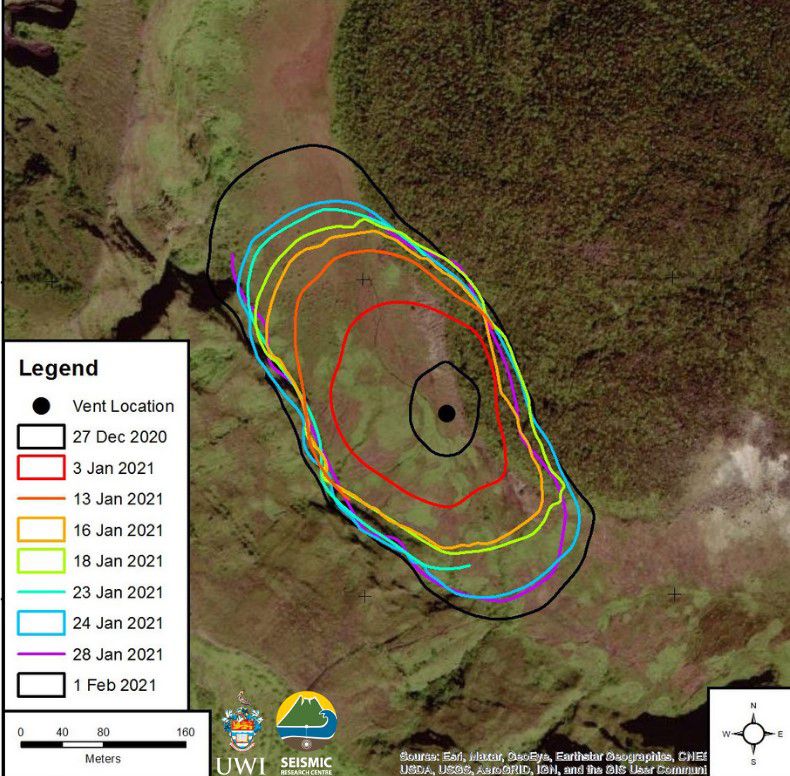 Soufrière of St. Vincent - footprint of the new dome between 27.12.2020 and 01.02.2021 - Doc. UWI-RSC
Remote monitoring of the Whakaari / White Island vent area, which erupted in December 2019, revealed that the temperatures of the gas emissions rose from over 700 ° C, in February 2020, to 300 ° C, on January 21, 2021.
Recent observations do not suggest any eruptive activity since a series of minor steam explosions on December 29, 2020. Current activity is still characterized by steam and gas emissions at moderate to low levels. The volcanic alert level remains at 1.
In January 2021, GNS Science continued to monitor Whakaari / White Island through observation flights and gas emission rate measurements, as well as automatic observations of earthquakes, cameras and ground deformation. These recent observations confirmed that there was no evidence of recent eruptive activity or signs of collapse in or near active vents. There is little water accumulated on the bottom of the 1978/90 crater.
The Volcanic Alert Level reflects the current level of unrest or volcanic activity and is not a forecast of future activity !
Volcanic Alert Level 1 indicates that the main dangers are those expected during volcanic unrest; including releases of steam and hot volcanic gases, earthquakes, landslides and hydrothermal activity. While Volcanic Alert Level 1 is primarily associated with environmental risks, eruptions can still occur with little or no warning.
Source: GeoNet volcanic alert bulletin of 03,02,2021 / 13:15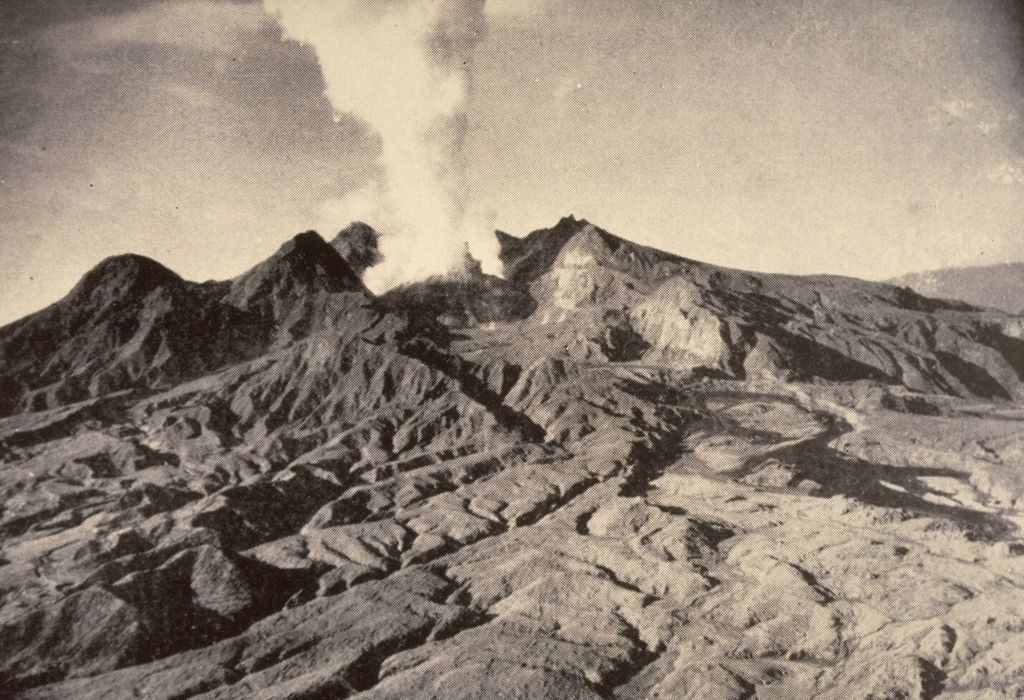 Mt. Lamington - the dome of the volcano on 02.08.1951 - photo Tony Taylor, 1951 (Australia Bureau of Mineral Resources). GVP-00489
The governor of Oro Province in Papua New Guinea, Gary Juffa, wants Mount Lamington to return to its native name.
Authorities estimated that around four thousand people died in the eruption. But Juffa said the figure was likely much higher because many villagers were not counted in the death toll.
The governor, who is seeking a better overall picture of the disaster, said the mountain should be known by its native name, Sumbiripa.
"This is something I would like to do, give some thought to the original inhabitants of this region, name these mountains, these hills, these geographic locations, their original tribal names."
It will therefore be necessary to rename the volcanoes by their "native" name, as other countries have done before.
Source: RNZ / Papua NG