Publié le par Bernard Duyck
The Kanlaon Volcano Monitoring Network recorded twenty (20) volcanic earthquakes during the 24 hour observation period.
A moderate emission of white vapor laden plumes was observed which rose 500 meters before drifting northwest and southwest. Sulfur dioxide emissions were measured at an average of 1,130 tonnes / day on February 13, 2021. Soil deformation data from continuous GPS and electronic tilt measurements shows slight inflation of lower and middle slopes since June 2020. These parameters may indicate hydrothermal, tectonic or deep magmatic processes occurring deep below the edifice.
DOST-PHIVOLCS wishes to remind the public that the Kanlaon volcano is on Alert Level 1, which means it is in an abnormal state and has entered a period of unrest. Local communities and the public are strongly reminded that entry into the Permanent Danger Zone (PDZ) with a radius of 4 kilometers must be strictly prohibited due to other possibilities of sudden and dangerous eruptions caused by steam or phreatic.
The situation of Taal volcano has not been reassessed since the measurements taken on February 12, 2021. (see the article of February 16: http://www.earth-of-fire.com/2021/02/news-from-taal-and-raung.html )
In the last 24 hours, the Phivolcs has counted 69 tremor episodes, lasting from one to five minutes. The activity in the main crater consists of weak emissions of steam plumes, white, reaching only about twenty meters in height.
Forced evacuation has started for residents living near Taal Volcano, disaster response officials said on Tuesday, after continuing volcanic activity seen in recent days.
The NDRRMC said the move is underway for those who live on Volcano Island, especially residents of two sites in the Municipality of Talisay.
Source: Phivolcs February 17/8 a.m. & Philstar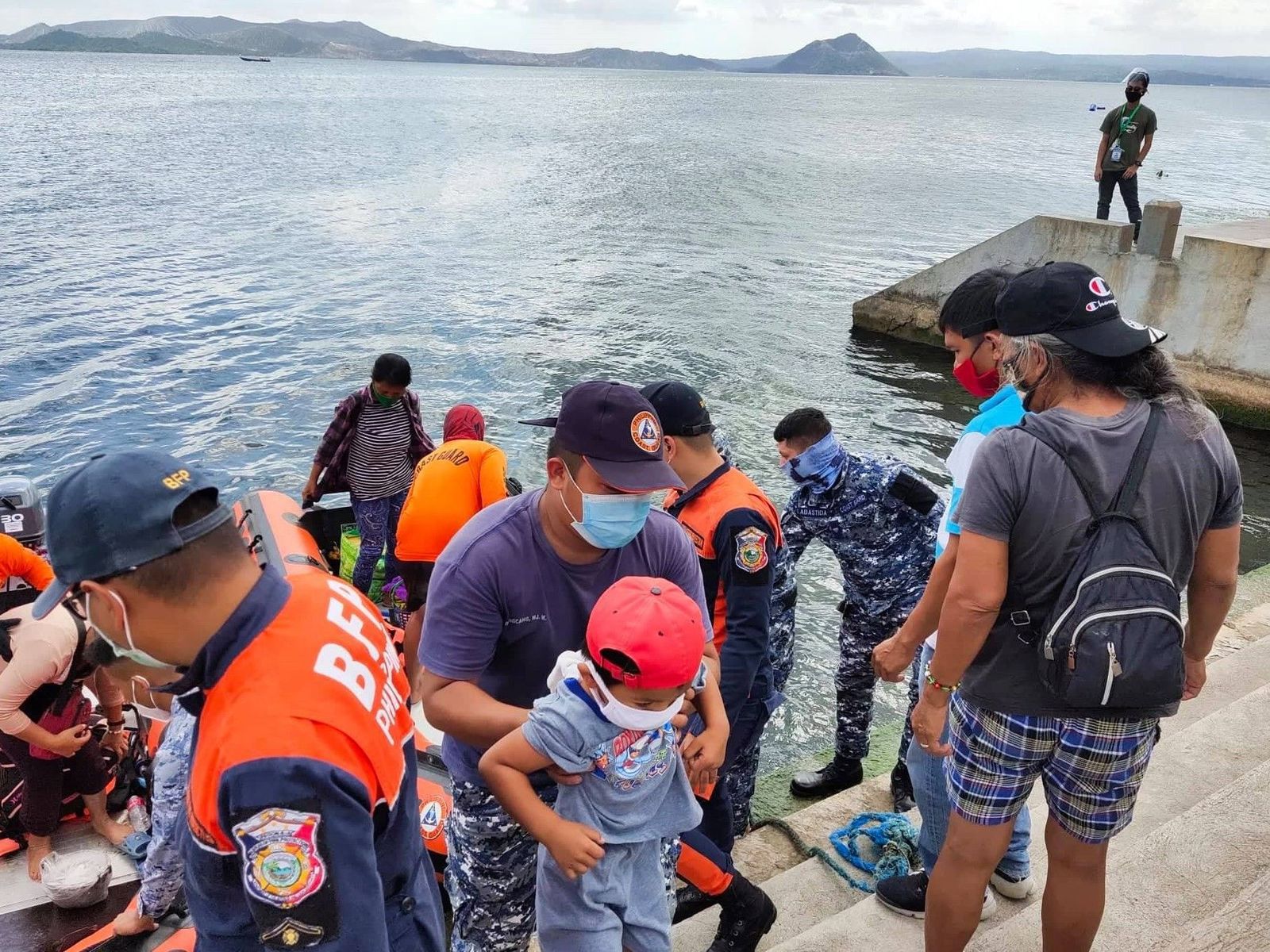 Taal - 02.16.2021 - evacuation of the inhabitants of the central island with the help of the Coast Guards - doc. via Philstar
I.G.Peru informs us that the eruptive activity of Sabancaya was maintained between February 8 and 14, 2021 at moderate levels, with an average of 76 daily explosions, accompanied by plumes of gas and ash up to 3,000 meters above the summit, with dispersal in an extended western sector.
In terms of seismicity, the observatory counts 1,477 earthquakes of volcanic origin, associated with the circulation of internal magmatic fluids; volcano-tectonic earthquakes related to rock fracturing, from M 2.2 to 2.8, occurred mainly to the northeast of the volcano.
Slight inflation is observed in the south-eastern and northern sectors.
The volcanic alert remains in Naranja, with a 12 km no-go zone.
Source: I.G. Peru
The KVERT reports a moderate steam / gas degassing activity at Sarychev peak. The aviation code is yellow, and weak thermal anomalies are detected by the satellites.
Analysis of a Sentinel-2 image from February 14, 2021 by P.Markuse shows a hot spot and the trace of a short lava flow.
The activity of the volcano, located on the island of Matua in the Kurils, constitutes a potential danger for international and local air traffic.
Sources : KVERT & Sentinel- 2 / P.Markuse