Publié le par Bernard Duyck
An orange VONA was issued on February 2 at 16:55:00 UTC for the Raung.
It follows an eruption, accompanied by a plume of volcanic ash at 16:54 UTC (23:54 local time). The eruption and ash emission continues.
Best estimate of ash cloud top is around 13,862 FT (4332 M) above sea level, which may be higher than can be seen clearly. Source of altitude data: ground observer. The ash cloud is moving east.
Activity level remains at 2 / waspada
Sources: Magma Indonesia and VAAC Darwin
At Etna, at the end of January, all the summit craters were showing activity.
Strombolian activity of varying intensity and a weak emission of volcanic ash are observed at the southeast crater.
An intracrateric strombolian activity with sporadic and diluted ash emissions and intracrateric effusive activity mark the Voragine crater.
Strombolian intracrateric activity is noted at the Bocca Nuova crater and at the northeast crater, with occasional and diluted ash emissions.
This February 2, with a particular Strombolian activity at the SEC.
The tremor remains in the upper zone; sulfur dioxide emissions are significant.
The new scoria cone established in the eastern vent area of ​​the southeast crater at the top of Etna continues to grow - the comparison photographs below show the changes in 4 days, between January 29 and February 2, 2021.
Sources: INGV OE and Boris Behncke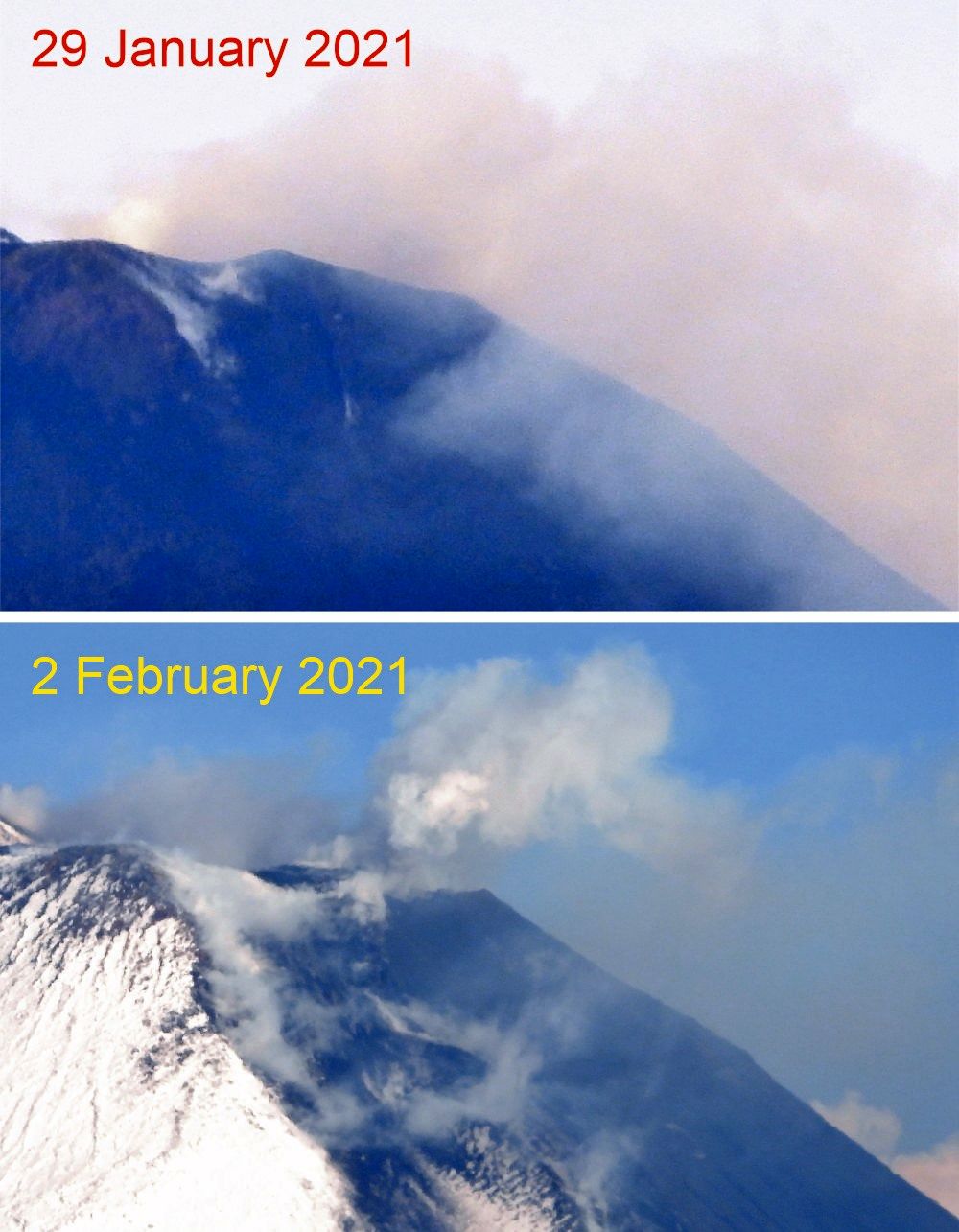 Etna - changes in the new SEC scoria cone in 4 days, between January 29 and February 2, 2021. - Doc. Boris Behncke
In Kilauea, lava activity is confined to Halemaʻumaʻu with lava erupting from a vent on the northwest side of the crater. On the morning of February 2, the lava lake is about 213 meters deep, and only the western part of the lava lake is active. SO2 emission rates remain high. The summit inclinometers are on an inflationary trend. Seismicity remains high but stable, with regular high earthquakes and a few minor earthquakes.
The lava lake of Halema'uma'u at the top of Kīlauea was observed in detail during an overflight on February 1 (see below).
The eastern half of the lake is solidified at the surface, with active surface lava mainly confined to the western half. Nevertheless, small lava seeps sometimes appear along the eastern perimeter of the lake. The west lake is perched several meters above its base, held back by a dike of solidified lava. Lava erupts at the western fissure and enters the lake at a small entrance site, where a narrow stream of lava empties. During the overflight, a large overflow pierced the north dike and flowed along the northern margin of the lake to the east.
Source: HVO-USGS