Publié le par Bernard Duyck
The Phivolcs recorded this February 15, 2021 a series of 50 weak episodes of tremor, between 05h and 15h, at Taal.
These episodes lasted between 2 and 5 minutes, at a depth of less than 1,000 m., Indicating an increase in hydrothermal activity.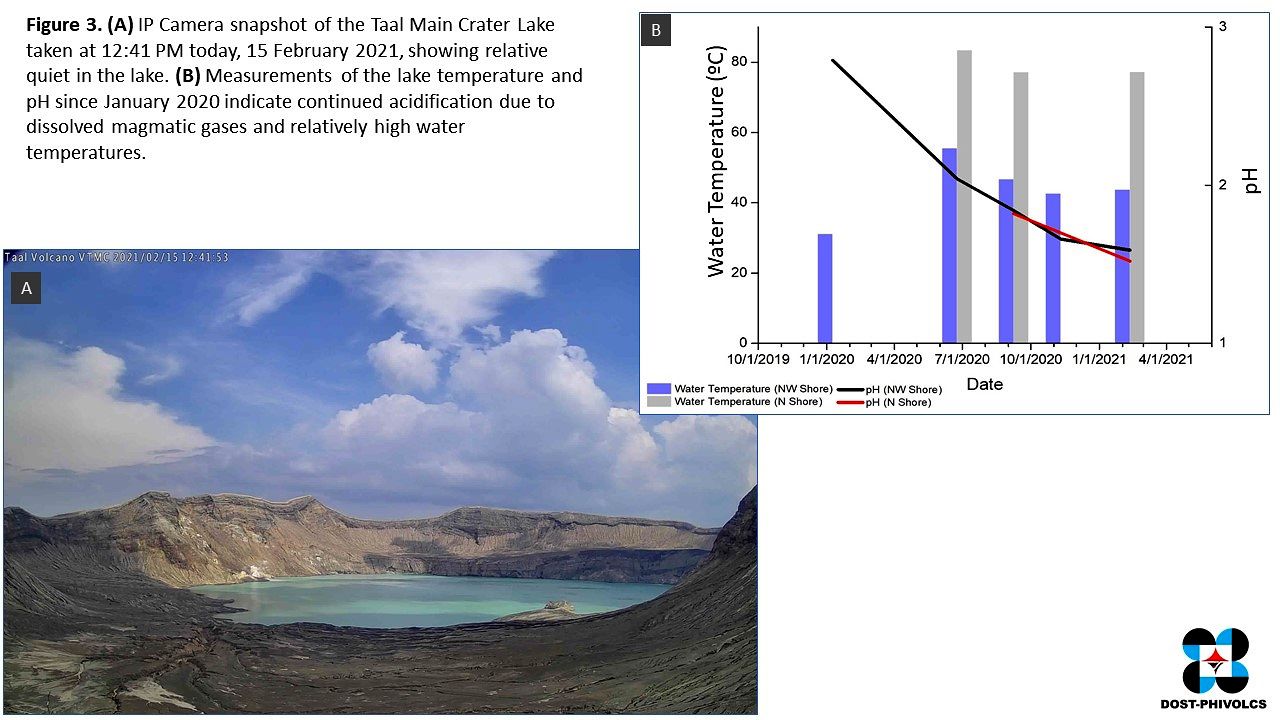 Lake Taal appears calm as its temperature rises and its pH is more acidic - Doc 02/15/2021 / Phivolcs
Since February 13, a total of 68 episodes of superficial tremor have been recorded; in addition, the pH of the main crater lake varied from 2.79 to 1.59, between January 2020 and February 2021, and its temperature rose to 77 ° C. The CO2 / H2S gas ratios are consistent with shallow magma degassing.
The deformation shows slight deflation around the main crater, and slight inflation of the region around the Taal, corresponding to constant magmatic degassing and hydrothermal turbidity.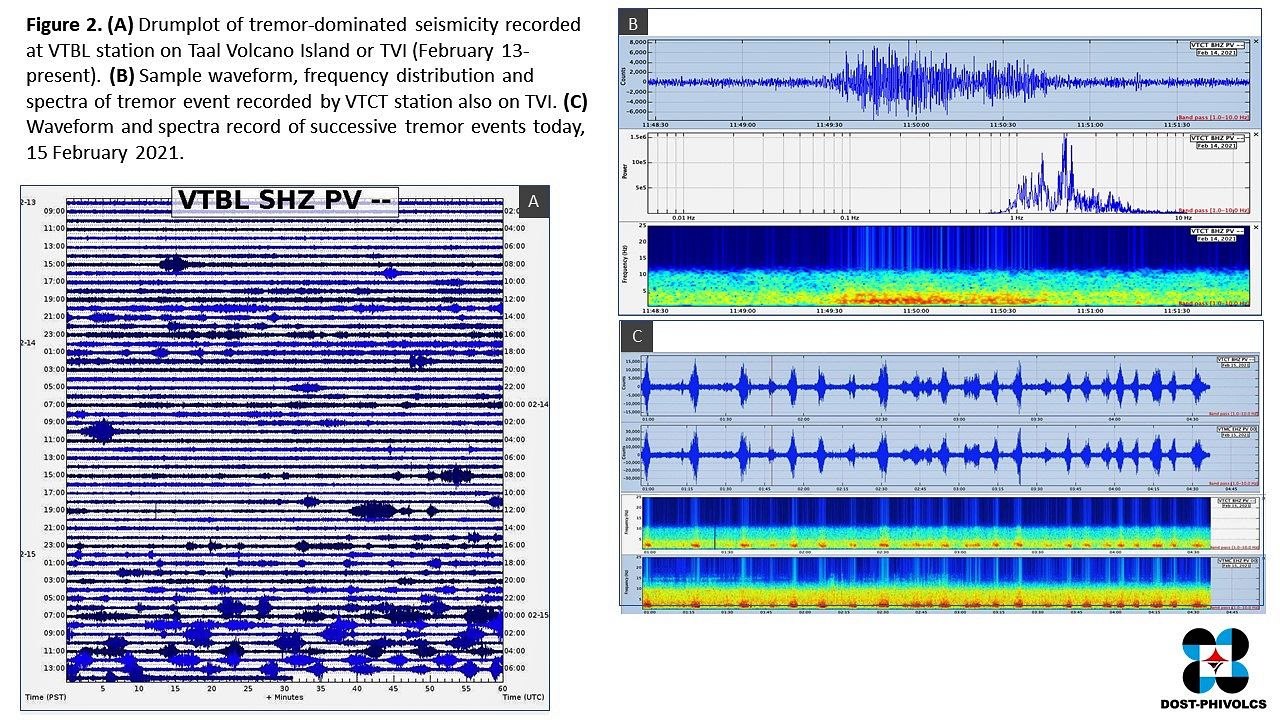 Taal - (A) tremor between 13 and 15,02,2021 at Taal Volcano Island (TVI) - (B) wave and spectrum of tremor at TVI - (C) wave and spectrum of tremor of 15,02,2021 - Doc . Phivolcs
Alert level 1 / abnormal corresponds to a possible sudden increase in vapor or phreatic explosions, to lethal accumulations or the expulsion of volcanic gases, to minor ash falls.
The areas of the central crater and the Daang Kastila fissure remain prohibited.
Source: Phivolcs - 15,02,2021 / 3:30 p.m.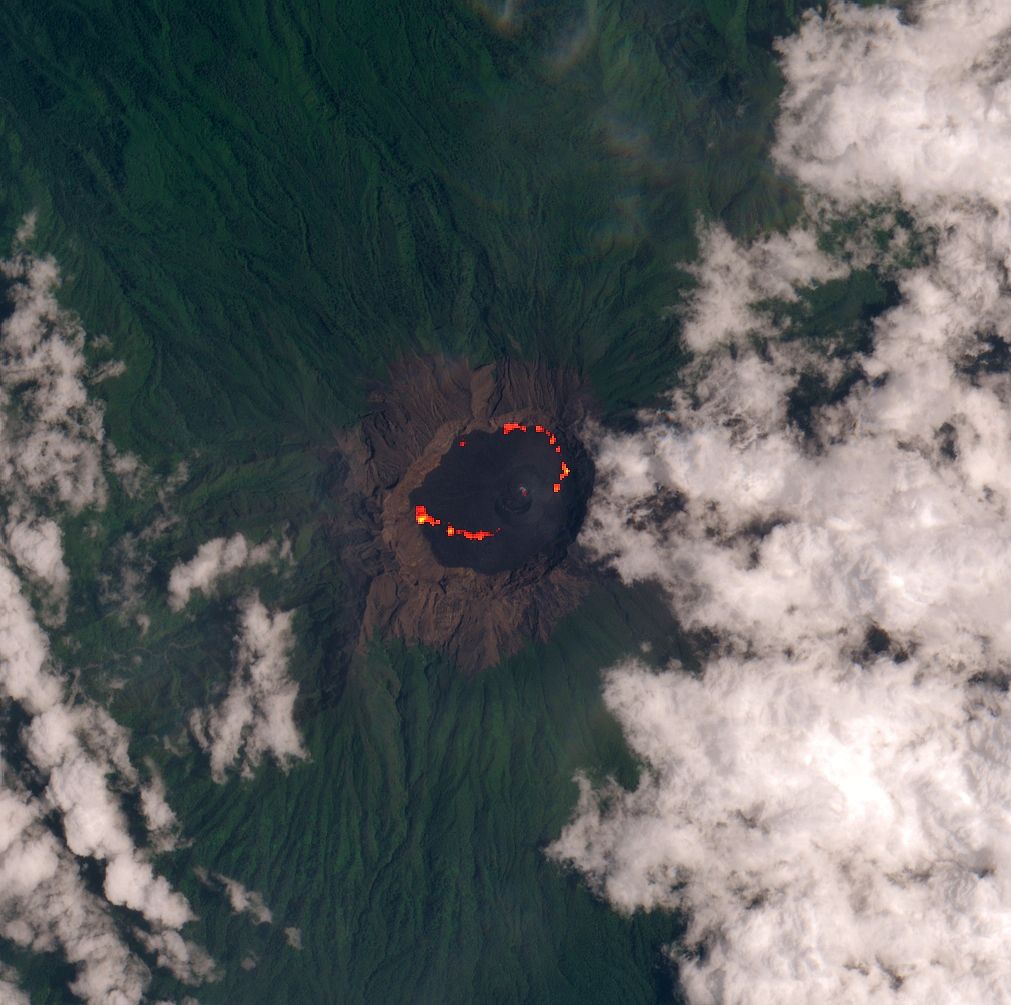 Raung - Hot spots of lava in the crater - image Sentinel-2 bands 4,3,2 + bands 12,11,8A via Mounts project from 02.14.2021
Raung's activity seems to be calming down, with less ash emissions and different seismicity in recent days ... which has allowed the reopening of Banyuwangi airport in East Java.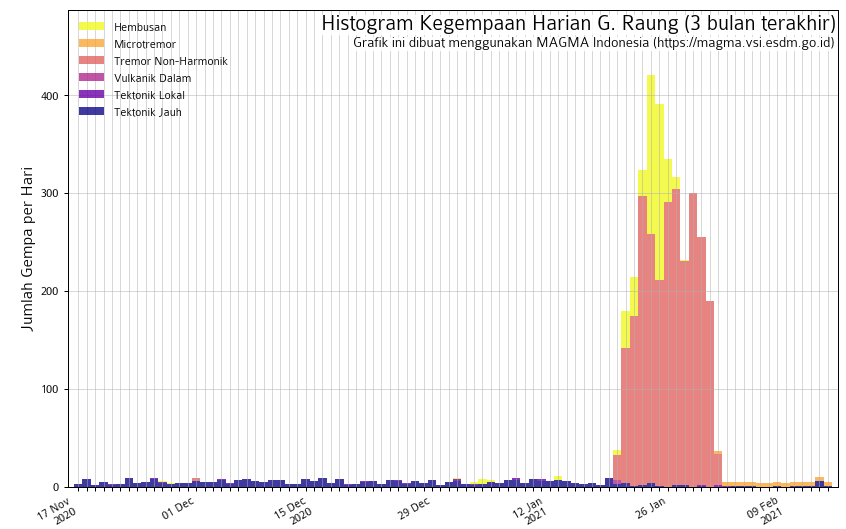 Lava is still present in the crater, on Sentinel-2 footage on February 14.
The thermal anomalies detected by Mirova are moderate, with VRP 91 MW on February 13, and VRP 50 MW on February 14/3 a.m.
Sources: Magma Indonesia & Sentinel-2 / A. Vecoli and Mounts project