Publié le par Bernard Duyck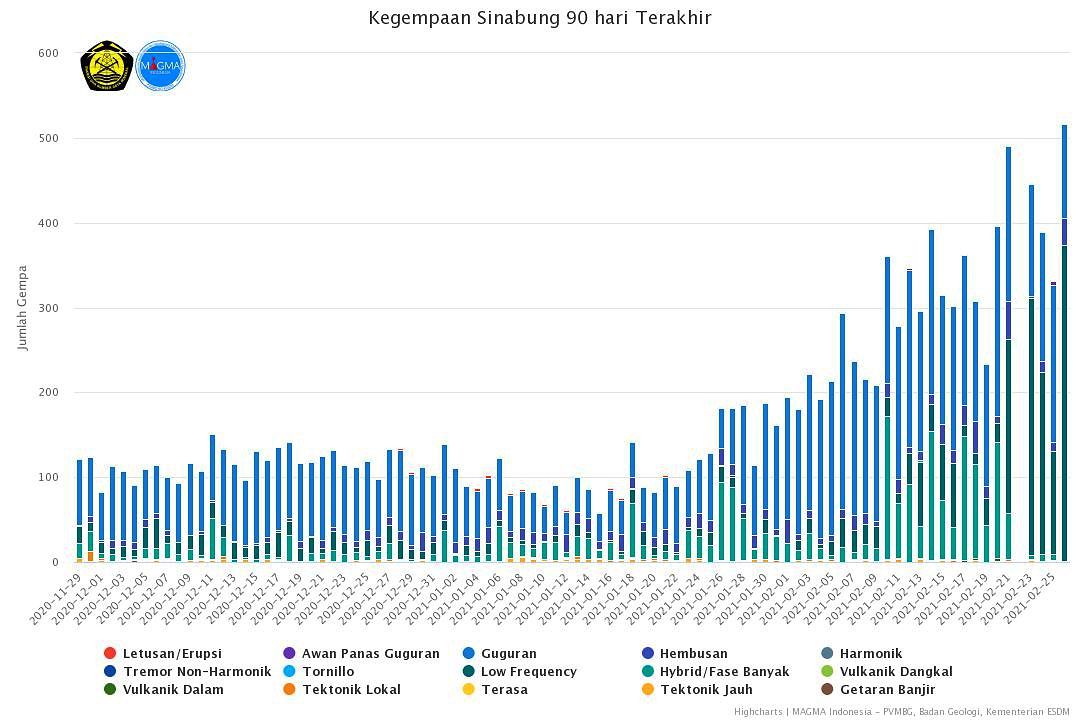 Sinabung - seismicity at 02.26.2021 - note a gradual increase over the past month - Doc. Magma Indonesia
Sinabung's main crater emits a thin, white plume about 50-200 meters from the summit.
The seismicity of February 26 is broken down into:
- 111 collapse / avalanche earthquakes, with an amplitude of 2 to 120 mm and an earthquake duration of 25 to 250 seconds.
- 31 emission earthquakes, with an amplitude of 3 to 27 mm and the earthquake lasted 12 to 110 seconds.
- 373 low frequency earthquakes, with an amplitude of 2 to 11 mm, and the duration of the earthquake was 5 to 26 seconds.
- a local tectonic earthquake.
The activity level remains at 3 / siaga /
Communities and visitors / tourists not to conduct activities in the villages that have been displaced, as well as the location within a radial radius of 3 km from the summit of G. Sinabung, as well as within a sector radius of 5 km for the south-eastern sector, and 4 km for the east-north sector.
Sources: PVMBG, Magma Indonesia
During the last 24 hours, the Taal volcanic monitoring network recorded twenty-eight (28) volcanic earthquakes and one hundred and thirty (130) episodes of volcanic tremor lasting from one (1) to five (5) minutes. . Despite this, only weak steam-laden plumes were emitted by fumarole activity at the vents of the main crater. Elevated temperatures of 74.6 ° C and a pH of 1.59 were last measured from the main crater lake on February 18 and 12, 2021, respectively. The ground deformation parameters of the continuous electronic tilt on the volcano island have recorded slight deflation around the main crater since October 2020, but overall, very slow and steady inflation of the Taal region was recorded by continuous GPS data after the eruption.
Alert level 1 (abnormal) is maintained on the Taal volcano. DOST-PHIVOLCS reminds the public that at Alert Level 1, sudden steam or phreatic explosions, volcanic earthquakes, minor ash falls and fatal accumulations or expulsions of volcanic gas can occur and threaten areas of the volcanic island of Taal (TVI). DOST-PHIVOLCS strongly recommends that entry into TVI, the Taal Permanent Danger Zone or PDZ, especially around the main crater and Daang Kastila fissure, remain strictly prohibited.

Source: Phivolcs
An intense earthquake swarm began on the Reykjanes Peninsula at 10 a.m. on February 24 with an M5.7 earthquake followed by an M5.0 Earthquakes were widely felt in the southwestern part of the country, in the north-west of Iceland to Ísafjörður.
About twenty earthquakes of M4 and more have been recorded and more than 100 on M3. Earthquake rate decreased on February 25
Since noon on the 26th it started to increase again and several earthquakes above M4 were recorded. The largest earthquake on February 26 was M4.9 at 10:38 p.m. This was widely felt in the SW eg. in Vestmanneyjar, Borgarfjörður, Rangárþing. Three earthquakes on M3.0 were detected around 2:30 a.m. The largest was M3.8 and was felt in the southwest and west of Iceland.
Such intense swarms are not unheard of eg. on June 10, 1933, five earthquakes M4.9-M5.9 were recorded at Fagradalsfjall.
The swarm is still ongoing and since February 23, the SIL system has detected more than 6,000 earthquakes in the region.

Source: IMO