Publié le par Bernard Duyck
At Sinabung, the main plume is white, thick, about 50 to 300 meters from the summit.
This February 14, 2021, it was recorded:
- 1 earthquake related to a pyroclastic flow, with a sliding distance of 2,000 m. towards the ESE at 01:42 WIB; the flow was distributed on both sides of the lava flow dating from 2014.
- 195 collapse / avalanche earthquakes, with a sliding distance of 500 to 1,500 meters to the east, southeast and south.
- 12 emission earthquakes
- 32 low frequency earthquakes
- 152 hybrid / multiphase earthquakes
- 1 deep volcanic earthquake
- 1 remote tectonic earthquake
The activity level remains at 2 / siaga. The community and visitors / tourists should not carry out activities in the villages that have been displaced, as well as within a radial radius of 3 km from the summit of G. Sinabung, and a sector radius of 5 km for the south-sector. east and 4 km for the east-north sector.
Source: PVMBG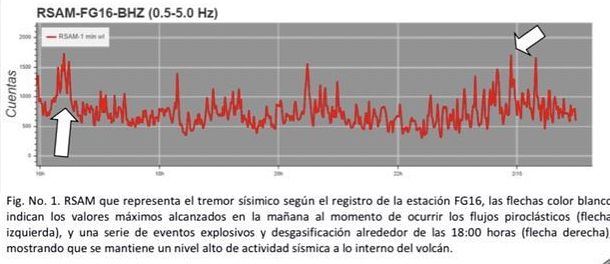 Fuego - RSAM / seismic tremor; the white arrows indicate the max. reached for the left one during pyroclastic flows, and for the right one, during a series of explosions and degassing around 6 p.m. - Doc. Insivumeh
In Fuego, this February 14, Insivumeh recorded the occurrence in the morning around 10:20 a.m. of two pyroclastic flows in the barranca Ceniza, and the maintenance of two active lava flows, one in the barranca Seca, 200 meters long, the another in the barranca Ceniza, 800 meters long, with avalanches at the lava front.
The explosive activity is characterized by expulsions of incandescent material 150 m away. above the crater and plumes of ash at 4,200 m. asl., dispersing over a large area west, south and southwest up to 20 km.
This activity is maintained at a high level.
Sources: Insivumeh & Conred
At Pacaya, a new impulse of activity occurred on February 14 from 11:45 a.m., with incandescent expulsions at 250 m. above the Mackenney. An ash plume reaches a height of 1,900 m. asl., before moving east for 5 km.
The active lava flow on the southern flank is about 1,000 meters long.
A very high thermal anomaly was reached this February 15 at 4:35 am, of VRP 1,498 MW
Sources: Insivumeh & Mirova