Publié le par Bernard Duyck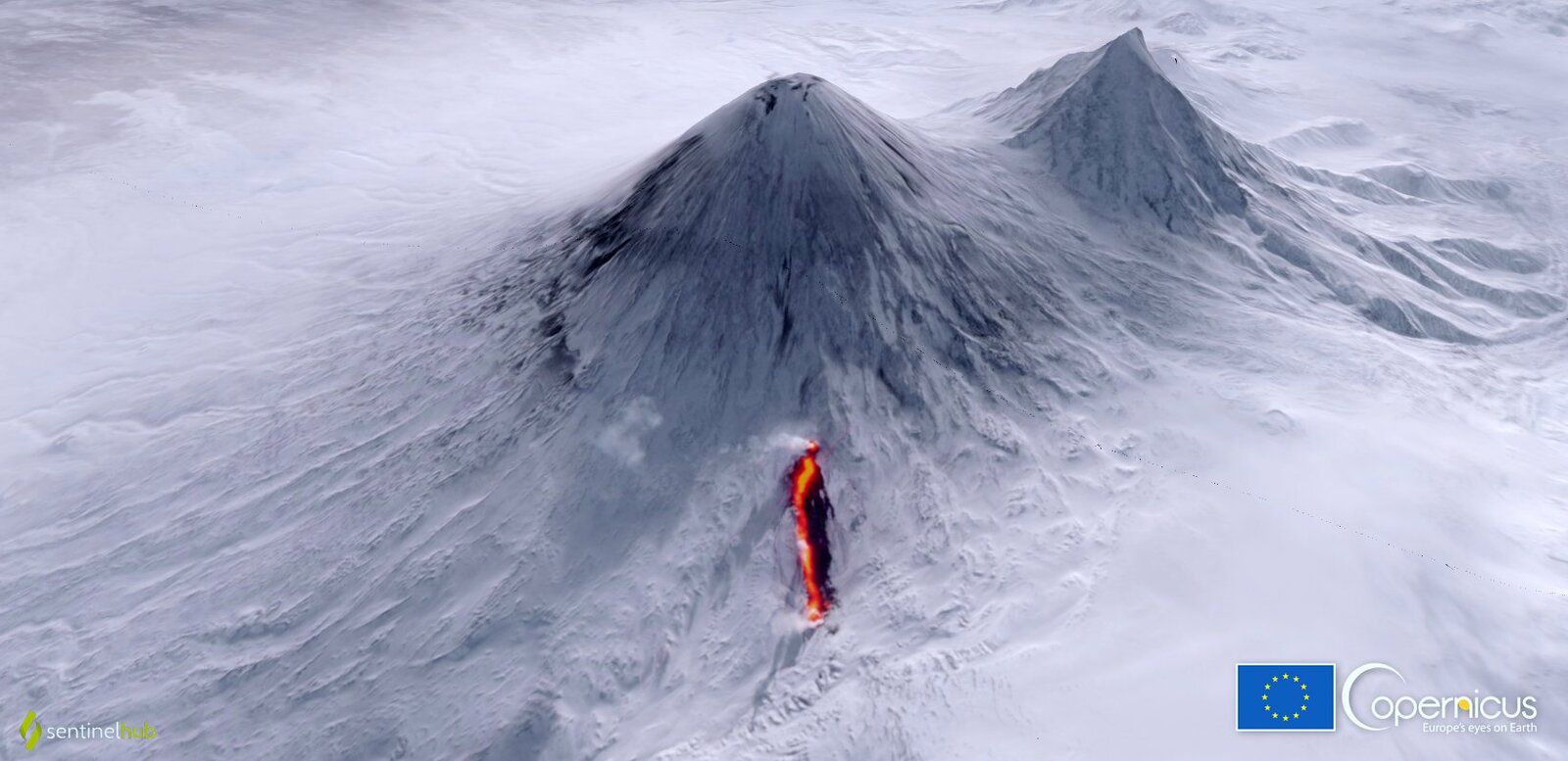 Klyuchevskoy - the lava from the flank eruption on the snow this 13.03.2021 - Sentinel-2 image via Coperncus - one click to enlarge
At Klyuchevskoy, a moderate flank explosive-effusive eruption and gas-vapor emission activity from the summit of Klyuchevskoy volcano continues.
KVERT satellite data showed a significant thermal anomaly on the flank eruption on the northwest slope of the volcano.
The color code for aviation remains orange.
Sources: KVERT & Mirova
An eruption occurred at G. Sinabung, North Sumatra on March 15, 2021 at 18:08 h with an ash plume observed at ± 2,000 m above the summit (± 4,460 m above sea level) . The observable ash columns are gray, with a thick intensity, leaning towards the southwest and the west. This eruption is recorded by seismogram with a maximum amplitude of 15 mm and a duration of 6 min 27 sec.
Currently, Sinabung is in Activity Level 3 / siaga, with recommendations for society and visitors / tourists not to do activities on resettled villages, as well as locations within a 3 km radius of the summit. of Sinabung, as well as 5 km of sector radius for the south-eastern sector, and 4 km for the east-north sector.
Sources: PVMBG, Magma Indonesia and Komunitas Beidar Sinabung
In the Reykjanes Peninsula, as of March 15, a total of 1,800 earthquakes have been detected by the IMO seismic network, including seven M3.0 or more. The strongest M4.3 earthquakes occurred at 10:32 p.m. northeast of Fagradalsfjall Most of the earthquakes detected today were located near Fagradalsfjall and in the evening mostly northeast of Fagradalsfjall.
Between midnight and 5:43 am on March 16, around 500 earthquakes were detected in the Reykjanes peninsula, no earthquakes were measured above M3.0. The activity was mostly centered around Mt. Fagradalsfjall and east of Mt. Þorbjörn.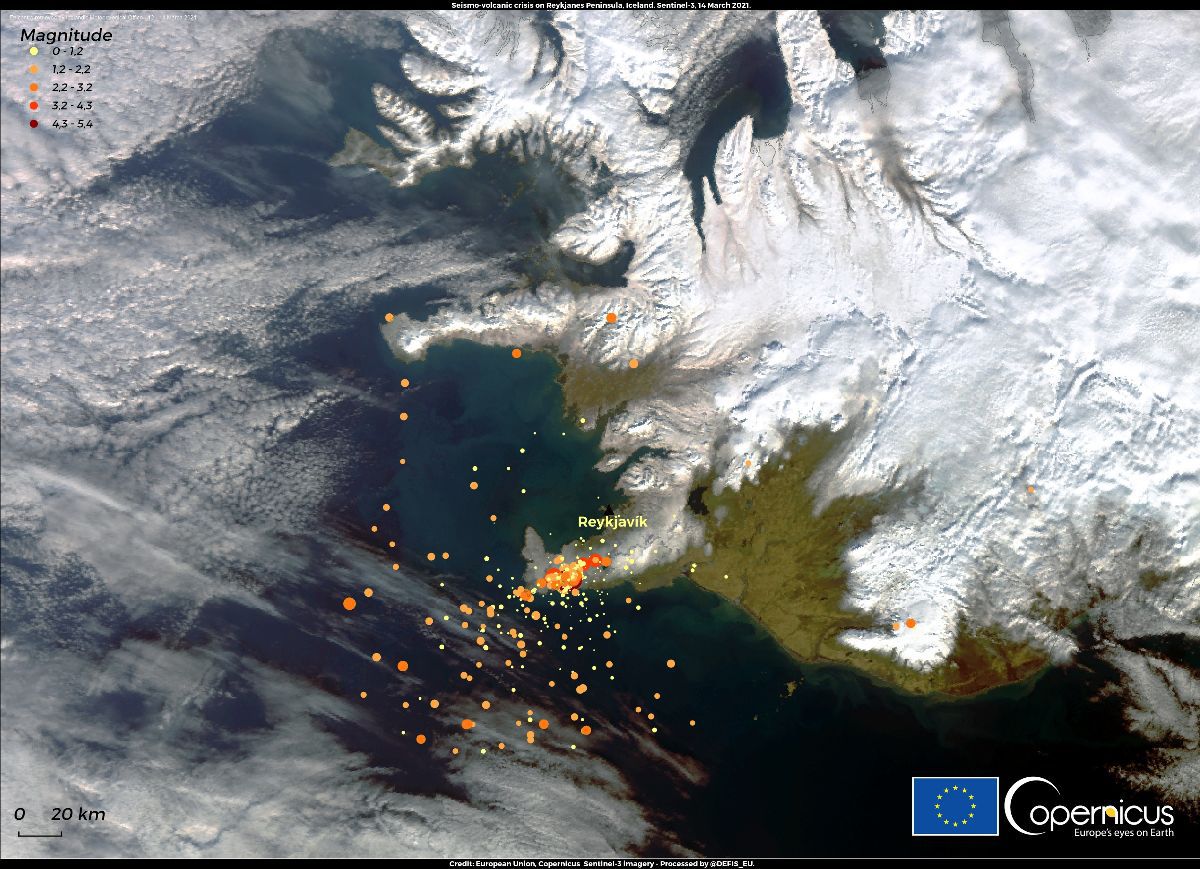 Reykjanes Peninsula in southwest Iceland and the strongest earthquakes - Sentinel image 3 / 03.14.2021 via Copernicus
According to the latest InSAR document of Saturday March 13, there is an opening of 20 cm., and a progression of the dyke towards the southwest, in a line marked by the locations of the earthquakes.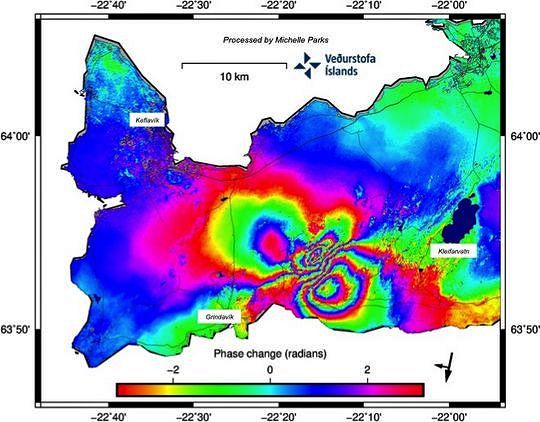 Reykjanes - last InSAR document of 13.03.2021 indicating a widening and progression of the dyke towards the SO - Doc. IMO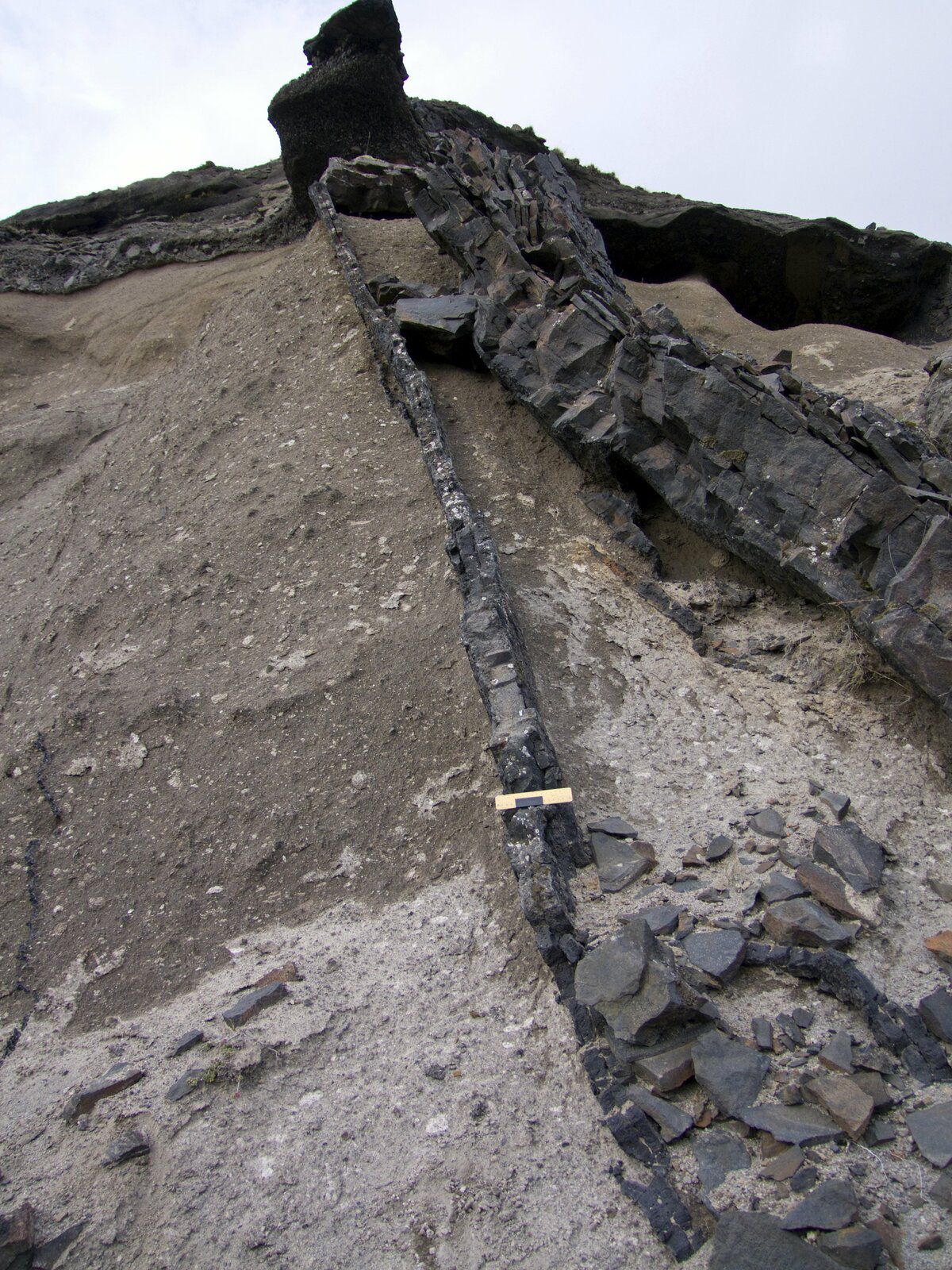 Reykjanes Penisula - one of the many dykes exposed by erosion, illustrating what is happening underground today - photo dave McGarvie
Massive improvements have been made to the cGPS and seismic monitoring networks on the Reykjanes Peninsula. Many stations have been added, with the cooperation of ISOR, the Czech Academy of Sciences and the University of Cambridge with IMO.
Sources: IMO, ISOR