Publié le par Bernard Duyck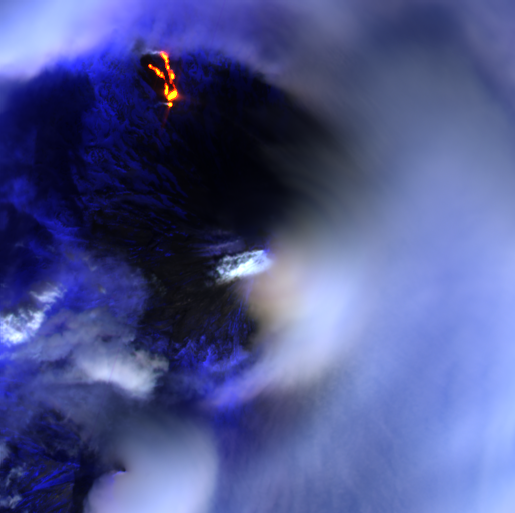 Klyuchevskoy - summit plume and effusion on the side on 18.03.2021 / 00h36 - image Sentinel-2 bands 12.11.8A - via Mounts project
A moderate explosive-effusive flank eruption continues at Klyuchevskoy. The danger of ash explosion up to 4-5 km (13,120-16,400 ft) a.s.l. at the flank crater and at the level of the lava flow front (phreatic explosions in contact between the flow and the Erman glacier) remains. Ongoing activities could affect low-flying aircraft, and warrants Aviation Code Orange
The flank eruption on the northwest slope of the volcano at an altitude of 2800 m above sea level. with the strombolian activity of the cinder cone, and the effusion of lava flow, continues.
According to satellite data, a large thermal anomaly was observed all week in the area of ​​the flank eruption.
Fumarole activity at the top of the volcano also continues.
Source: KVERT
The activity continues at Sinabung, with this Friday March 19, 2021, with two explosions, respectively at 6:52 a.m. WIB, accompanied by a plume observed at 700 meters above the summit, and at 10:58 a.m. WIB, with an ash plume at 1,000 meters above the summit.
The activity level remains at 3 / siaga.
Source: PVMBG, Magma Indonesia
At Etna this 19.03.2021, two strong explosions at 06:15 h 06:15 and 06:29 h were heard at the Southeast crater, which wanted to announce what will probably be its fifteenth paroxysmal episode in the streak that began on February 16, 2021.
The amplitude of the tremor increases, reaching the high level threshold. The sources of the signal are located under the southeast crater at a depth of about 2500 m. asl. Infrasound activity is currently increasing with 1 to 2 events per minute.
Explosive activity at the southeast crater continues. The forecast model indicates the dispersion of the eruptive cloud in the ENE direction.
Source: INGV OE
On March 17, the Taal Volcano Network recorded one hundred and sixty-four (164) volcanic earthquakes, including sixty-seven (67) episodes of volcanic tremor lasting from one to two minutes and three hybrid events.
On March 18, the Taal Volcano Network recorded one hundred and ten (110) volcanic earthquakes, including sixty-three (63) episodes of volcanic tremor lasting from one (1) to fifteen (15) minutes and three (3 ) hybrid events.

Activity at the main crater consists of a weak emission of steam-laden plumes from the fumarolic vents that stood 5 meters high. Sulfur dioxide emissions, which averaged 754 tonnes / day, were measured yesterday March 18, 2021. Maximum temperatures of 71.8 ° C and a pH of 1.59 were last measured from the main crater lake on March 4 and February 12, 2021, respectively. Ground deformation parameters from electronic tilt, continuous analysis of GPS and InSAR data indicated very slow and steady inflation and expansion of the Taal region since the eruption of January 2020. These parameters may indicate increased magmatic activity at shallow depths under the edifice.
Alert level 2 (increased unrest) is maintained on the Taal volcano. DOST-PHIVOLCS reminds the public that at Alert Level 2, sudden steam or phreatic explosions, volcanic earthquakes, minor ash falls and fatal accumulations or expulsions of volcanic gas can occur and threaten areas of the volcanic island of Taal (TVI).
Source: Phivolcs