Publié le par Bernard Duyck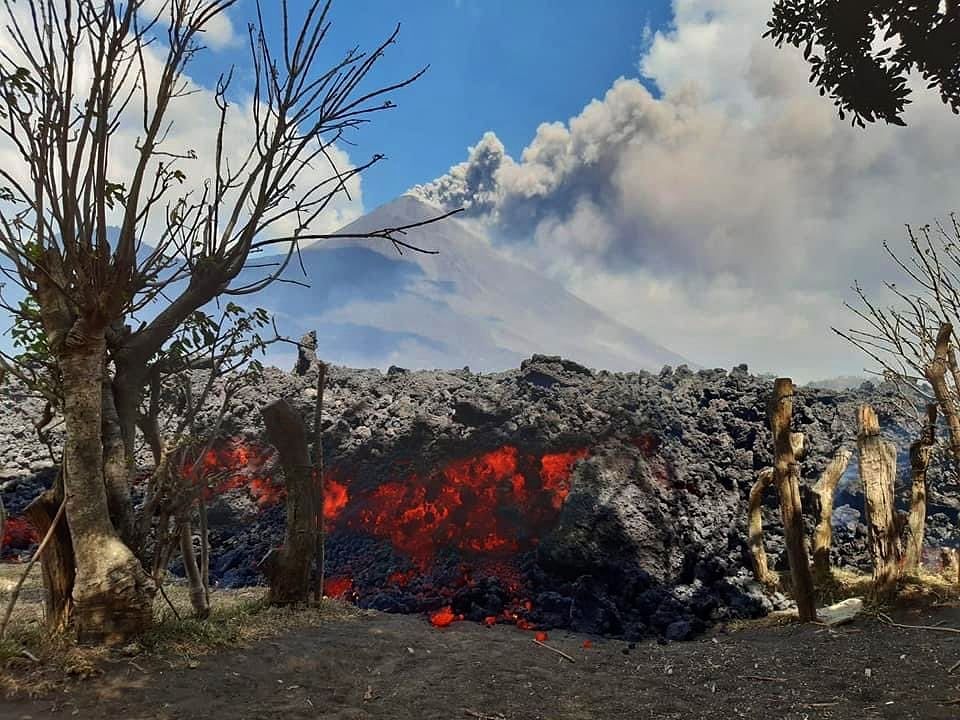 Pacaya - 03.30.2021 - effusive activity continues to feed the lava flow on the western flank - photo Insivumeh
In Pacaya, a plume of gas and ash is observed reaching 3,000 m. asl., with a displacement towards the south on 7 km.
Effusive activity feeds the lava flow on the western flank; it reached the coffee plantations and swallowed up an empty house in the village of El Patrocinio. Its length is approximately 2,850 meters.
According to Conred, the flow could affect inhabited areas.
The seismic stations record a constant tremor, associated with the rise of the magma.
Sources: Insivumeh & Conred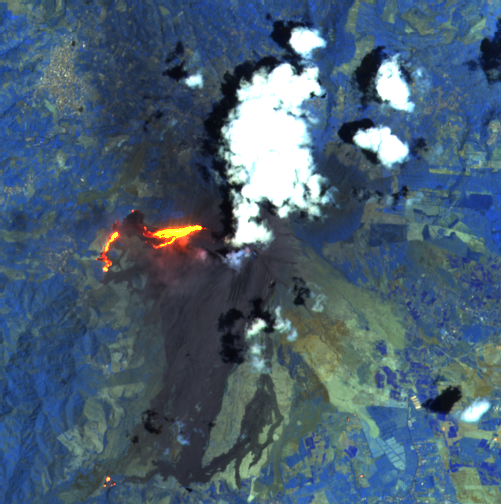 Pacaya - summit plume and lava flow - image Sentinel-2 bands 12,11,8A from 03.30.2021 / 4:18 pm - one click to enlarge
A unique, powerful explosion, followed by a loud noise and a compression wave at 07:07 local time today March 30, 2021 at the southeastern crater of Etna.
Since then, a weak resumption of Strombolian activity has been observed at the SEC, with a center of gravity of the tremor from 1:30 p.m. under the southeast crater.
On the other hand, the explosive activity continues in the other summit craters - Bocca Nuova, northeast crater and Voragine -, especially with frequent puffs of ash at the Voragine crater.
The infrasonic activity, located in the SEC is increasing.
Sources: INGV OE and Boris Behncke
According to the I.G.Peru report, the activity of Sabancaya remained at a moderate level between March 22 and 2, 2021, with an average of 90 explosions per day, accompanied by plumes of ash and gas reaching 2,500 meters above. Summit. The ashes scattered over a northern and western sector.
Seismicity is characterized by the occurrence of 1773 earthquakes associated with the circulation of magmatic fluids; volcano-tectonic earthquakes, linked to the fracturing of rocks, remain located to the northwest of the volcano.
The deformations do not present anything significant, except a slight inflation of the northern sector.
Six thermal anomalies, between VRP 5 and 31 MW, were observed by Mirova, associated with the presence of a surface lava body in the crater.
The volcanic alert level remains at Naranja, with an inaccessible area of ​​12 km in radius.
Source: I.G. Peru
In Iceland, RUV sums up the difficult situation in Geldingadalur in three maxims:
"crater changes, staff tired, more cash ..."
Since Sunday March 28, the morphology of the crater has evolved, the eruption continues to feed the lava field which has become a very popular destination, with more than 16,000 visitors having frequented the site.
Both official and volunteer teams were in great demand 24/7, by organizing marked trails, parking, and the physical and health management of everyone.
The municipality of Grindavik will be forced to devote an extra 10 million crowns to install toilets, and signage, and improve parking lots and their facilities.
With the approach of the Easter weekend, the tension should not relapse.
For volcanophiles forced to stay in the country due to containment, a new webcam has been installed by mbls.
Sources: RUV