Publié le par Bernard Duyck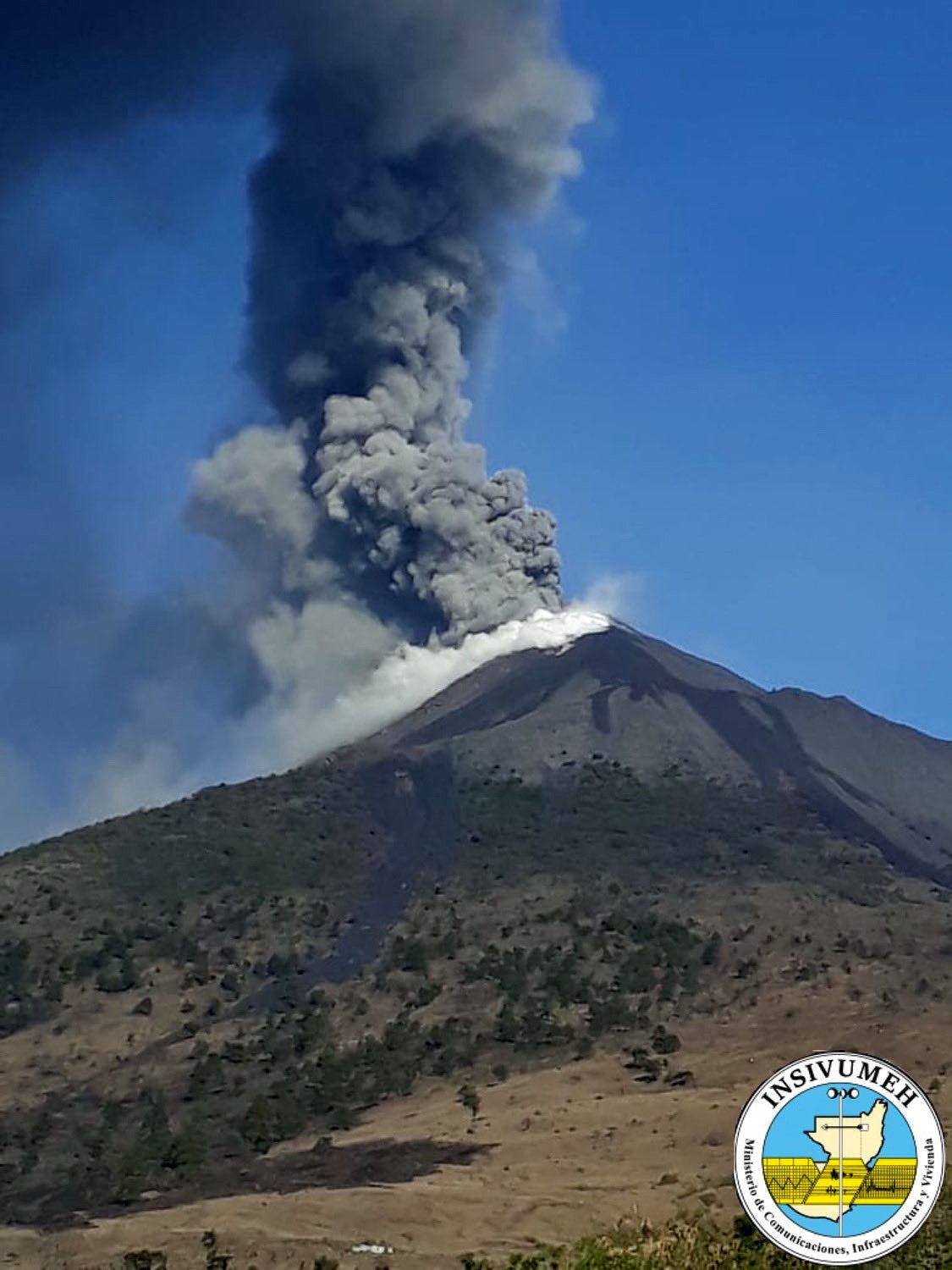 Pacaya - 03.21.2021 - gray plume emitted from the crater and a white fumarole in the part of the crack that opened last week. - photo Insivumeh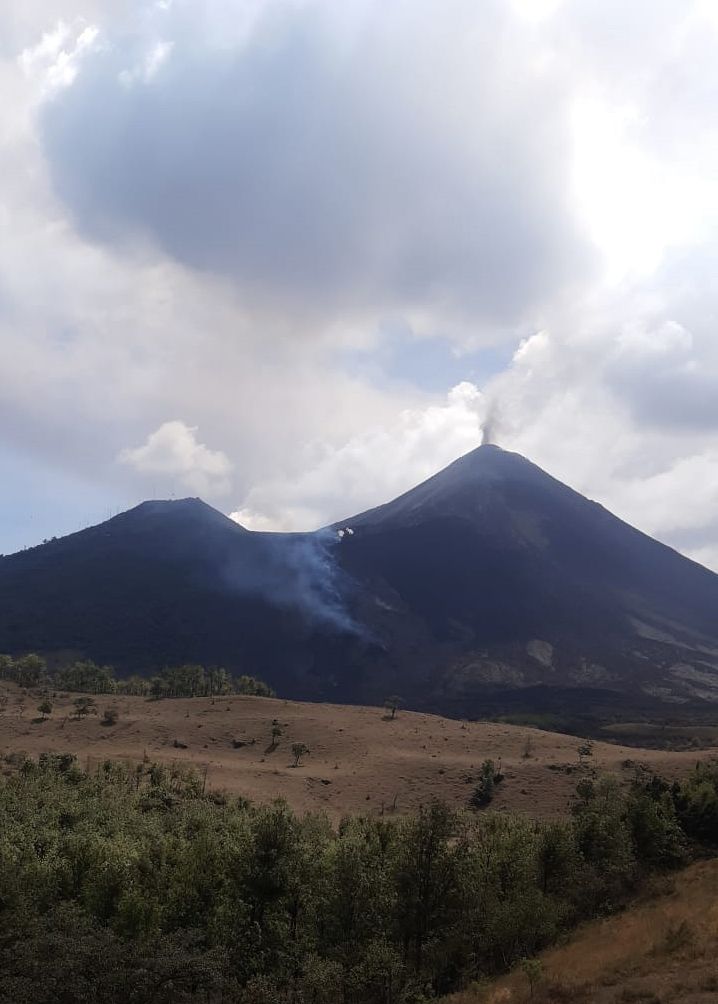 Pacaya - ash plume and gas from 03.22.2021 - photo Orlando Itzep, Unidad de Prevención de Volcanes. via Conred
In Pacaya, activity continues, with moderate to strong explosions, with ballistic expulsions 500 meters above the Mackenney crater, settling over 300 to 600 meters away, and accompanied by ash plumes at a height of 3,500 -4,000 meters asl., moving towards an East and South sector, this March 22.
Strong electrical activity is observed in the pyrocumulus (cumulus flammagenitus) emitted by the volcano.
Lava flows are observed, respectively 1,500 meters long on the southwest flank, and 500 meters on the eastern flank.
Sources: Insivumeh & Conred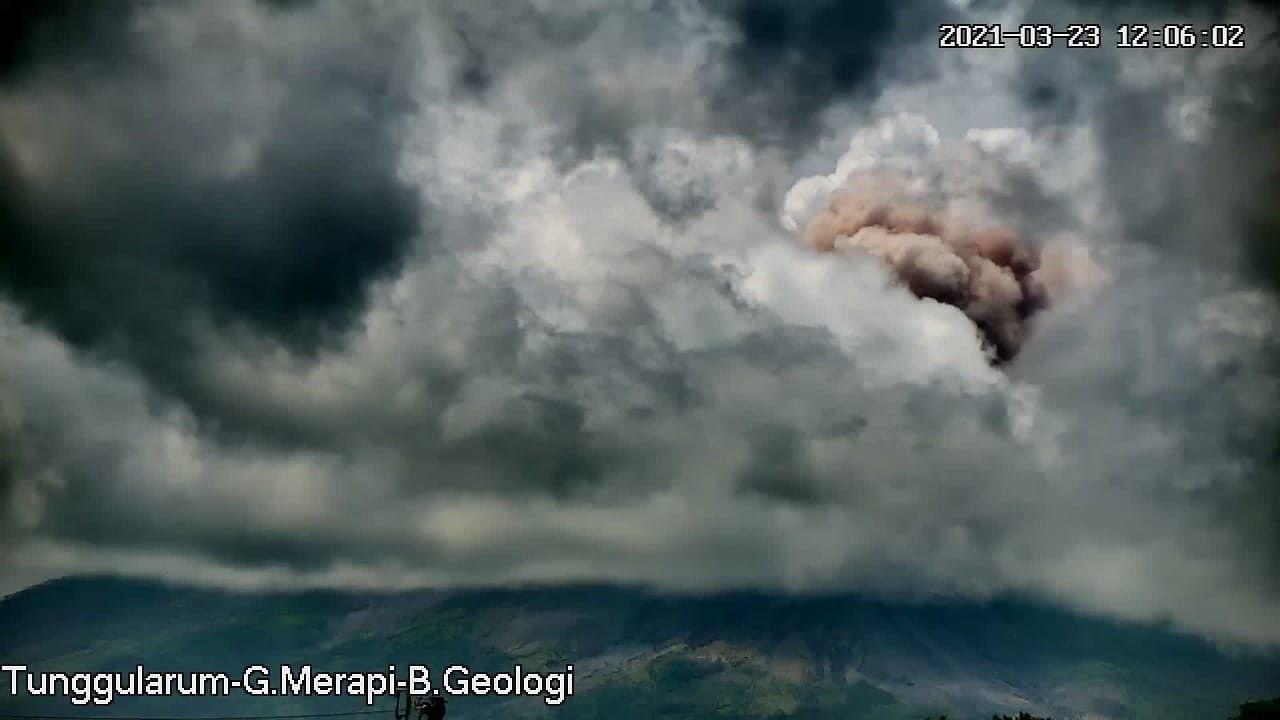 Merapi - 23.03.2021 - the avalanche pyroclastic flow at 12:06 is largely obscured by clouds - photo Tunggularum-G. Merapi B. Geologi
The pyroclastic avalanche flows follow one another at Merapi.
On March 22, the PVMBG reported 2 flows, recorded on a seismogram with an amplitude varying between 10 and 48 mm, lasting 134 to 150 seconds.
On March 23, at 10:58 am WIB, another pyroclastic flow was mentioned with an amplitude of 56 mm, lasting 141 seconds, and yet another at 12:02 WIB, recorded on a seismogram with an amplitude of 70 mm and a duration of 174 seconds. Its range is estimated at 1,800 m to the southwest. The wind was blowing from the southeast.
The activity level remains at 3 / siaga.
PVMBG source
The eruption in the Reykjanes Peninsula / Geldingadalsgos stabilized on a single vent from the initial fissure.
The explosive activity is low there, with the emission of lava packets, projected near the explosion zone and welded to the underlying projections. It built a cone of projections with steep walls, 25 meters high, in successive phases of construction-subsidence.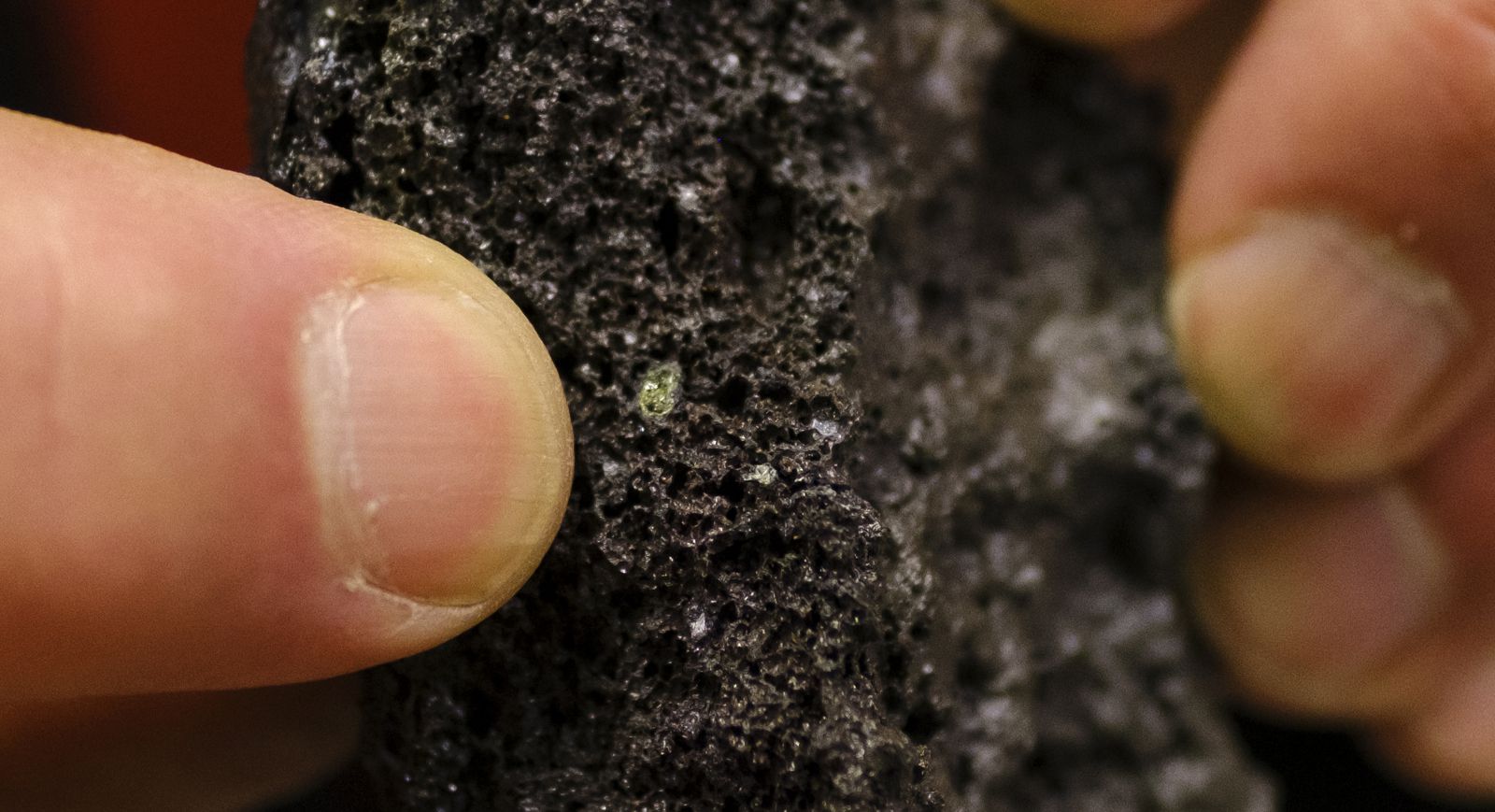 Most of the lava comes out in the form of flows. This lava is smooth, pahoehoe, forms lava tunnels and builds a lava field which gradually fills the valley.
The lava flowing in Geldingadalur is basalt. It is the main feature of Icelandic volcanic belts, but it is likely to come from great depth. According to the analyzes of the samples, the connection is direct with the center of the Earth's mantle. This basalt is called olivine tholeiite and comes from "primitive" magma that is found at a depth of 17 to 20 kilometers.
Sources: IMO & RUV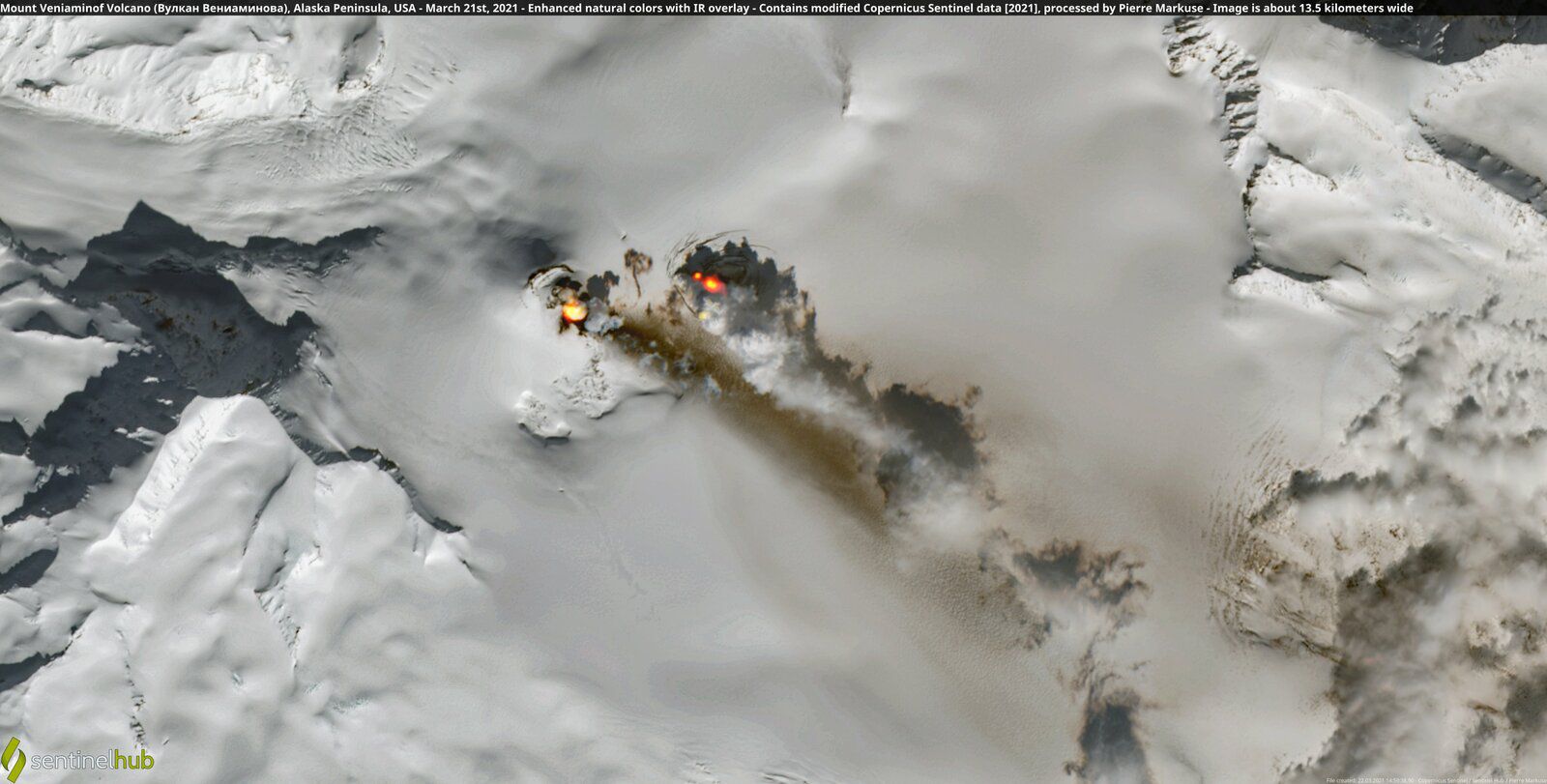 Veniaminof - image Sentinel-2 enhanced nat. colors + IR overlay from 03.21.2021 / via Pierre Markuse - one click to enlarge
Low-level eruptive activity continues at Veniaminof.
Small explosions at Veniaminof were observed in local seismic data and infrasound data at Chignik lagoon on the morning of March 21. A cloud of volcanic gas has been detected in satellite data extending southeast at an altitude of 5,000 feet or less. Minor low-level ash emissions from the small cone in the summit caldera and lava eruption in the intracaldera glacier at a vent ~ 1 km (0.6 mile) east of the top of the cone continues.
Sources: AVO & Sentinel-2 / Pierre Markuse