Publié le par Bernard Duyck
In Guatemala, the Strombolian eruption of the Pacaya continues: strong explosions expel incandescent materials 500 - 700 meters above the Mackenney crater, and generate a dense plume of ash and gas, at a sustained height of 4,500-5,500 m. asl., moving to a western and southern area.
Tephra and lapilli between 2mm and 6 cm, and blocks larger than 6 cm are likely to fall in the "red" zone (see map)
Ash falls are reported in the surroundings of Cerro chino, El Patrocinio and El Rodeo, etc.
The lava flows on the southern flank reach lengths between 700 and 1,300 meters, and present various ramifications and avalanches generated at the flow front.
Insivumeh recommends maintaining the closure of Pacaya National Park until further notice, and applying the protocols in the event of falling ballistic projectiles, within a radius of 6 km around the volcano, as well as those provided in the event of ash fall.
A warning has been issued for civil aviation, due to the presence of ash at an altitude of 5,500 m asl. dispersing over 40 km, mainly west and southwest.
Sources: Insivumeh & Conred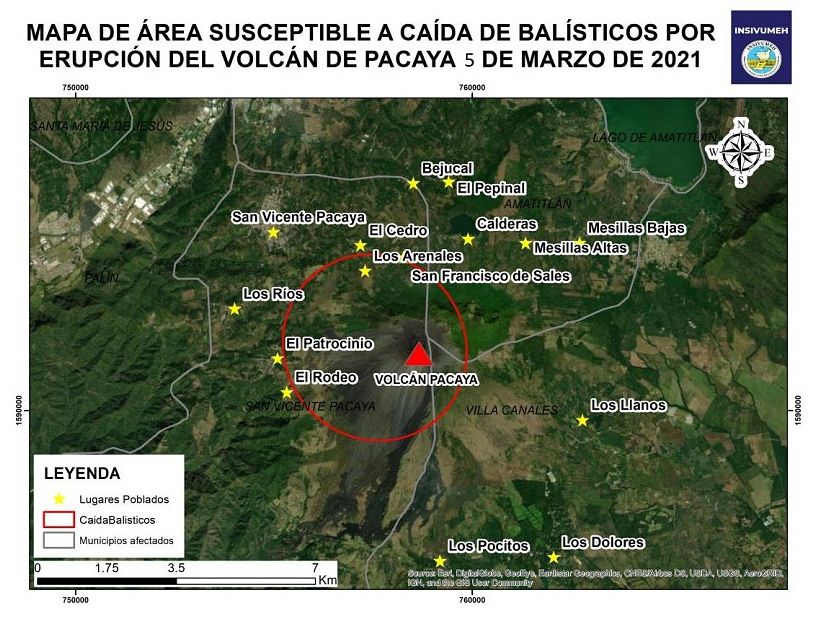 Pacaya - area likely to be impacted by falling ballistic materials as of 05.03.2021 - Insivumeh map - one click to enlarge
In Merapi, on Java, between February 26 and March 4, 2021, pyroclastic avalanche flows occurred 10 times, with a maximum glide distance estimated at 1,900 m towards the southwest and recorded on a seismogram of 'a maximum amplitude of 60 mm and a duration of 171 seconds.
The volume of the lava dome in the southwest sector is 711,000 m³ with a growth rate of 13,900 m³ / day.
Morphological analysis of the peak area based on photos of the southeast sector from March 1 to March 5, 2021 shows a change in the height of the dome. The height of the dome in the middle of the crater measures 45 m.
The activity level is at 3 / siaga
The current potential dangers come in the form of lava avalanches and hot clouds in the south-southwest sector, including Kali Kuning, Boyong, Bedog, Krasak, Bebeng and Putih, with a maximum distance of 5 km and in the south-eastern sector, the Gendol River up to 3 km.
The ejection of volcanic material in the event of an explosive eruption can reach a radius of 3 km from the summit.
Source: BPPTKG
The explosive activity continues in Sakurajima, with this March 5 an episode accompanied by a plume of ash and gas at 2,000 m. above the Minamidake crater, with dispersion to the south-east.
The JMA reports large bombs dispersing in the 800 to 1,100 m. from the crater.

Source: JMA
Seismic activity is not weakening in the Reykjanes Peninsula.
According to IMO, on 5.03.02021, around 2800 earthquakes were detected and as of midnight around 700 were detected. At 11:29 p.m. an M3.5 earthquake was located by Fagradalsfjall No quakes were measured overnight, but the seismic activity is still significant.
At 4:11 am on 03/06/2021, an M3.7 earthquake occurred by Fagradalsfjall. Five other earthquakes were measured above M3 this evening. There were 3 earthquakes of magnitude greater than M3 detected at noon, felt by the population.
A volcanic eruption in Keilir could trigger magma intrusions on other fissures on the Reykjanes Peninsula, according to geophysicist Pál Einarsson. The Reykjanes Peninsula is an active area and the region's volcanic activity is connected between systems. Pál Einarsson considers that it is possible that magma intrusions occur in the system of Reykjanes, Svartsengi, Krísuvík, Brennisteinsfjöll and Hengill.
In recent years, there have been repeated intrusions of magma into these systems, but they have not caused any damage. However, it cannot be ruled out that if an eruption did occur, it would lead to magma intrusions in other places on the Reykjanes Peninsula that could open cracks above ground without erupting there.
Such cracks could damage various infrastructure such as roads, power lines, waterways and telecommunications.
Sources: IMO and Mbls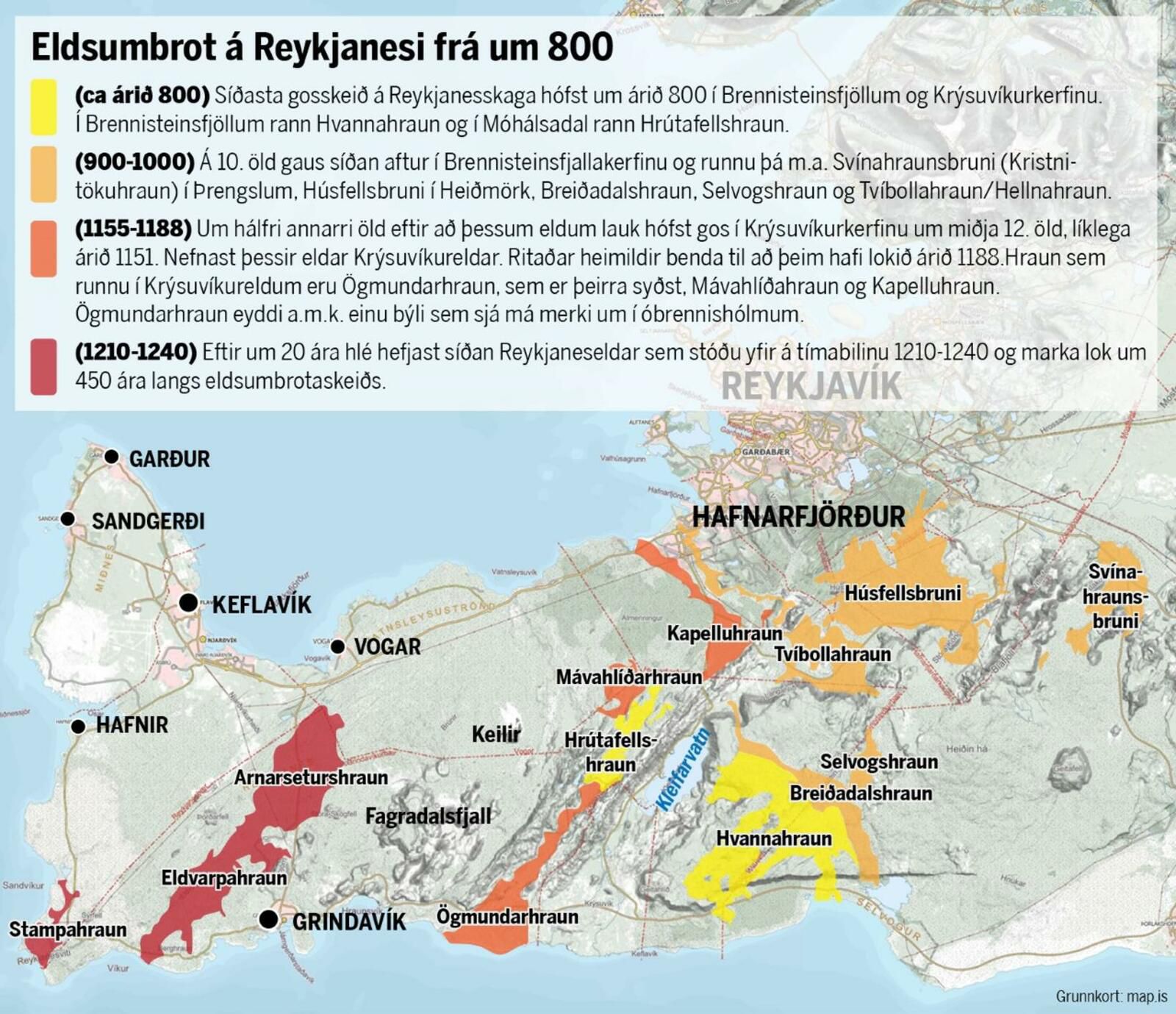 2021.03.04 Reykjanes - Review of eruptions in the Peninsula since the year 800, and their lava flows - graph mbl.is