Publié le par Bernard Duyck
The Sinabung erupted on Sunday March 7, 2021 at 7:01 p.m. WIB with the observed height of the ash column ± 1000 m above the summit (± 3460 m above sea level). The ash column was observed to be gray with thick intensity towards the northwest. This eruption was recorded on a seismograph with a maximum amplitude of 57 mm and a duration of 189 seconds.
A thin white plume is observed about 50-1000 meters from the summit.
Seismicity is also marked on March 7 by:
- 53 collapse / avalanche earthquakes
- 21 emission earthquakes
- 1 Tornillo-type earthquake
- 10 low frequency earthquakes
- 36 hybrid / multiphase earthquakes
- 3 deep volcanic earthquakes
- 1 local tectonic earthquake.
The activity level remains at 3 / siaga, with no-go zones unchanged.
Source: PVMBG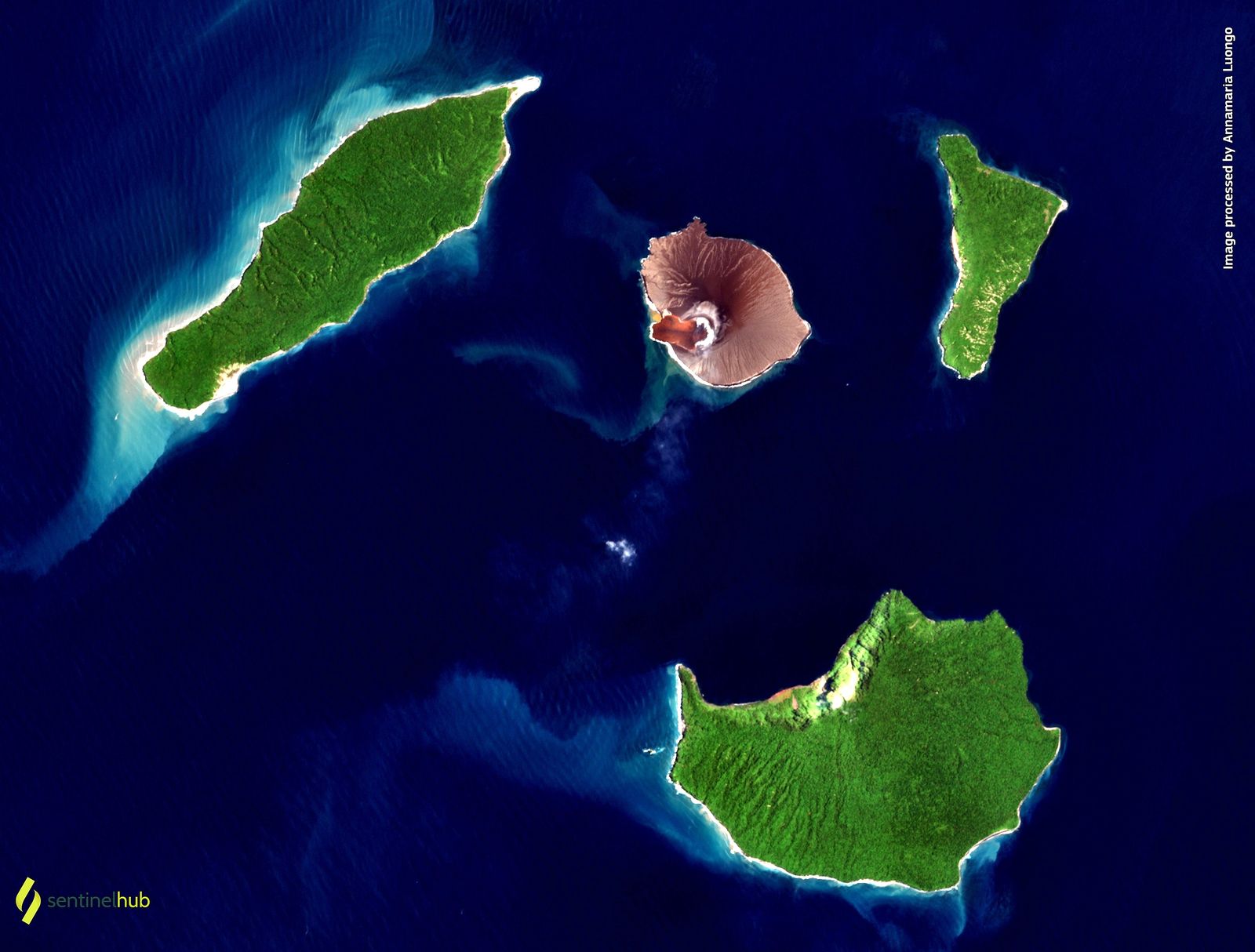 The Anak Krakatau sticks out its tongue - image Eos - Sentinel Hub 05.03.2021 - A. Luongo - one click to enlarge
The Anak Krakatau is clearly visible and "sticks its tongue" to observers who are waiting for activity to resume.
On March 6, the seismicity is characterized by 4 shallow volcanic earthquakes, with an amplitude of 3 to 6 mm and the duration of the earthquake was 6 to 8 seconds.
and 1 episode of continuous tremor, with an amplitude of 1-6 mm, dominant 2 mm.
On March 7, a white plume, with fine to medium intensity, is observed about 25-100 meters from the summit.
Seismicity is characterized by:
- 3 emission earthquakes, with an amplitude of 3-4 mm and the earthquake lasted 37-52 seconds.
- 1 episode of continuous tremor, continuous with an amplitude of 1-6 mm, dominant 2 mm.

The activity level is at 2 / waspada, and the recommendation for the public / tourists remains valid: they are not allowed to approach the crater within a radius of 2 km from the crater.
Sources: Magma Indonesia & Sentinel-2
Sangay - Volcanic ash advisory for March 6 and 7, 2021 - Doc. VAAC Washington - one click to enlarge
During the night and early morning of March 6, ash emissions were observed using satellite images in Sangay, Ecuador.
These emissions had a moderate impact on the cantons of: Alfredo Baquerizo Moreno, and more strongly those of Alausí, Chunchi, Cumandá, Guamote, Pallatanga, Milagro, San Jacinto de Yaguachi, Samborondón, Daule and Durán.
The VAAC reported emissions reaching 3920 meters and moving west - southwest.
The seismicity of the day is characterized by:
- 16 LP earthquakes
- 17 explosion earthquakes
- 18 episodes of tremor of emissions.
The alert level remains amarilla
Source: IGEPN
Low level eruptive activity continues at Veniaminof. Numerous small explosions were seen on regional infrasound networks over the past day, some of which were heard and felt by residents of Perryville.
High surface temperatures have been observed in satellite data, suggesting that lava may be near or on the surface of the summit cone.
A low-level plume of ash and volcanic gas continues to be emitted and has been observed by pilots, as well as on web cameras and satellite imagery during periods of clear weather. The ash and gas plume was mostly below 3,000 meters asl, but was estimated at 4,500 meters asl in satellite data from last night. The plume continues to dissipate rapidly and the ash is mostly confined to the top caldera near the vent.
Source: AVO
The Pinatubo Volcano Monitoring Network has recorded thirty-five (35) volcanic earthquakes in the past 24 hours.
Alert Level 1 at Pinatubo means that there are low-level disturbances that may be related to tectonic processes beneath its edifice and that no impending eruption is expected.
Entering the Pinatubo crater area should be done with extreme caution and should be avoided if possible. Communities and local government units surrounding Pinatubo are reminded to always be prepared for both earthquake and volcanic disasters and to review, prepare and strengthen their contingency, contingency and disaster preparedness plans.
Source: DOST-PHIVOLCS