Publié le par Bernard Duyck
Sinabung in March :
According to the Darwin VAAC, an ash plume has been identified in satellite images as high as 3 km (10,000 feet) above sea level. (i.e. 600 m above the summit) and drift NW on March 5. The observatory noted that avalanches of material traveled 500m along the southeastern flank from March 6 to 7 and that an ash plume rose 1 km and drifted northwest at 19 10:10 am on March 7.
The lava domes atop Sinabung, in partly new, appear to have developed at two points, with potential for collapse generation in 2 different directions.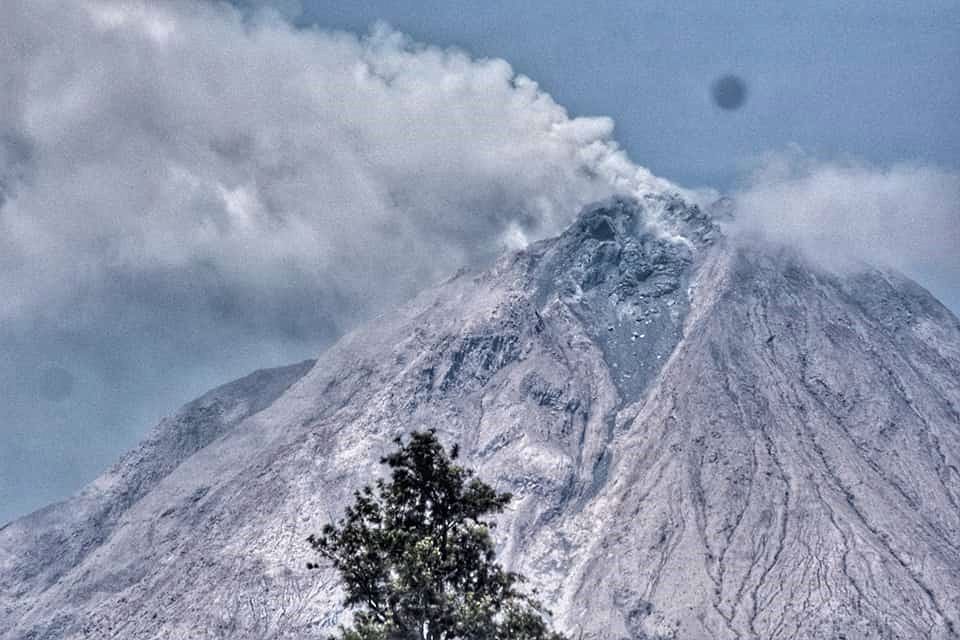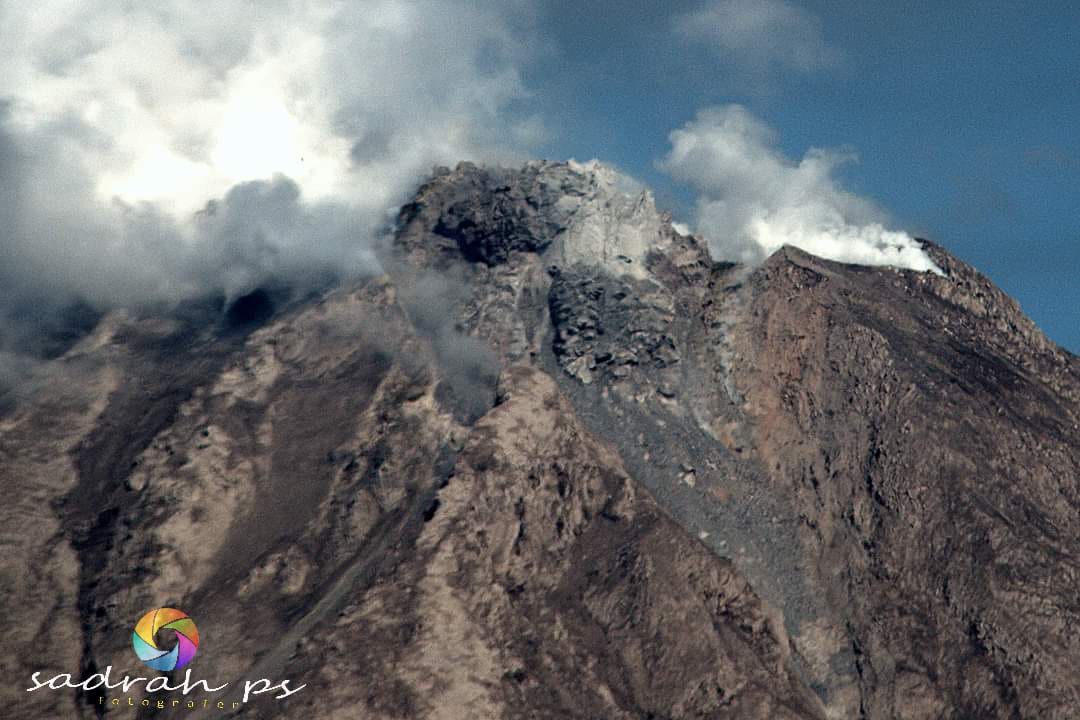 Sinabung - evolution of the dome - top photo: 10.03.2021 / 11:09 am / Nachelle homestay - bottom photo: 10.03.2021 / Sadrah Peranginangin
The seismicity on March 10 is characterized by:
- 3 eruption earthquakes, with an amplitude of 25 to 94 mm, and the duration of the earthquake was 183 to 341 seconds.
- 52 collapse / avalanche earthquakes, with an amplitude of 2-120 mm and the earthquake lasted 17-180 seconds.
- 10 blast / emission earthquakes
- 6 low frequency earthquakes
- 22 hybrid / multiphase earthquakes
- 1 episode of non-harmonic tremor, with an amplitude of 5 mm, and the duration of the earthquake was 898 seconds.
This March 11, 2021, at 09:22 WIB, a pyroclastic avalanche flow was observed, moving 3,000 meters to the southeast.
The alert level remained at 3 (on a scale of 1 to 4), with a general exclusion zone of 3 km and extensions to 5 km in the SE sector and 4 km in the NE sector.
Sources: PVMBG, Magma Indonesia, Beidar Sinabung, Endro Lewa (Awel Ordne), Nachelle Homestay, Global Volcanism Pogram weekly report.
Sinapred reports that a series of five moderate to strong vulcanian-type explosions occurred on March 9, 2021 at the San Cristobal volcano, Nicaragua, between 1:06 p.m. and 1:32 p.m. local time.
The strongest eruption at 1:25 p.m. local time was observed for 20 minutes and generated a dense, dark ash column at an estimated altitude of 2,400 m, which extended about 17 km southwest of the volcano. Ash falls were reported in the towns of El Viejo, Chinandega and Chichigalapa, severely reducing visibility there.
The last activity of the volcano dates back to March 2019 (GVP) ... a new eruptive cycle could begin in 2021.
Sources: Ineter, Sinapred and local media
Sabancaya's activity between March 1 and 7 was maintained at a moderate level, with an average of 85 explosions per day, accompanied by plumes of ash and gas up to 2,000 meters above the summit.
During this period, I.G. Peru recorded 1,867 earthquakes of volcanic origin, associated with the circulation of internal fluids. The VT earthquakes, related to the fracturing of rocks, occurred mainly to the southeast and northeast of the volcano, of magnitude between 2.1 and 2.6.
The slight inflation of the Hualca Hualca volcano, northern sector, is still observed.
The volcanic alert remains in Naranja, with an inaccessible area of ​​12 km in radius.
Source: I.G.P.
Scientists are closely monitoring the magma channel that has formed between Keilir and Fagradalsfjall on the Reykjanes Peninsula.
The magma chamber is only about a meter wide but about 7 kilometers long and has moved two to three kilometers south over the past two weeks as the magma entered it. At the bottom of the magma chamber, at a depth of about five kilometers, there is a channel and from there flows about 15 to 20 cubic meters per second upwards, about three to four times the average flow of the Elliðaán rivers. The magma chamber is estimated to be about one kilometer from the earth's surface on the south side, but about two kilometers at Keilir. The lava on the south side is also hotter and therefore more likely that the magma will rise to the surface.If the magma continues to flow into the magma chamber, it goes without saying that it will expand and seek out the magma where it is. find the least obstacle. It will probably continue to expand southwards or the magma will rise to the surface.
It is therefore the southern end that is under study, due to seismic activity and crustal movements show that there has been most of the changes in recent days, "explains Freysteinn Sigmundsson, geophysicist at the University of Iceland Earth Institute.
If there is an eruption, Freysteinn says it can be similar in size to the Fimmvörðuháls eruption, and he bases that on the flow of magma flowing through the magma tunnel. In fact, it can happen at any time and without much warning.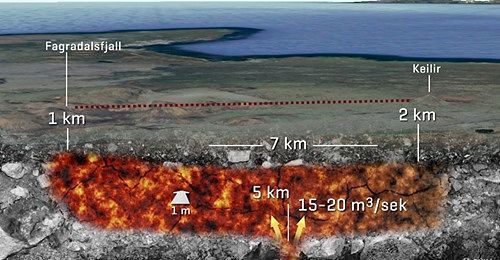 Reykjanes Peninsula - shematic description of the dyke between Keilir and Fagradalsfjall - warmer and closer to the surface at SW (left) - Doc. RUV - one click to enlarge
On March 10, around 2,500 earthquakes were detected in the Reykjanes Peninsula. About 30 of these were of magnitude M3.0 and above, the largest of which was M5.1 at 3:14.
About 800 earthquakes have been detected since midnight. The largest was M3.4 magnitude at 2:10 a.m.
Sources: IMO and local press