Publié le par Bernard Duyck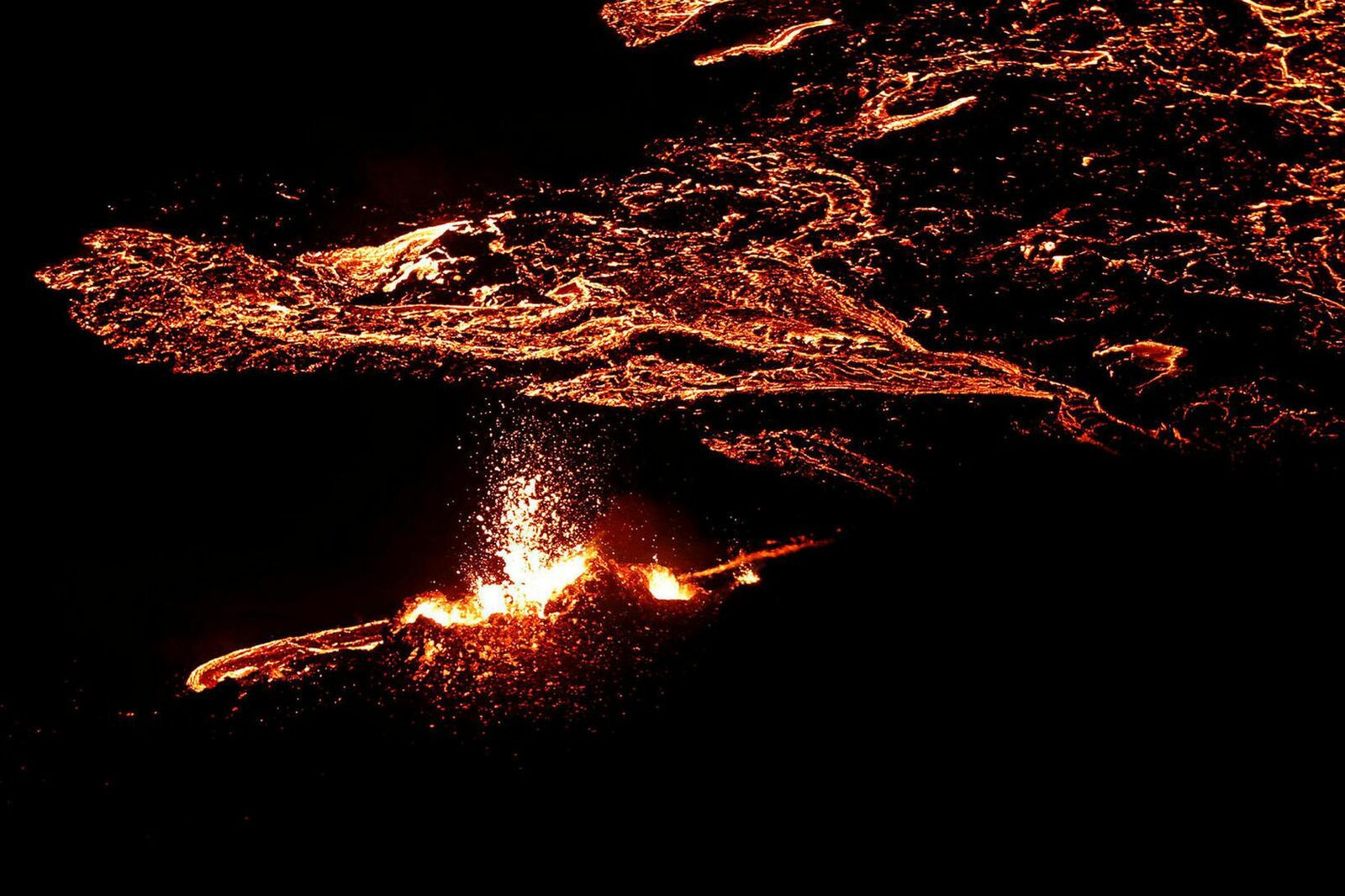 Reykjanes Peninsula - 2021.03.19 / 7pm - Photo from last night when a photographer from mbl.is was flying over the eruption. - Doc. mbl.is / Eggert Jóhannesson
At approximately 8:45 p.m. UTC today, March 19, a volcanic eruption started in Geldingadalur, near Fagradalsfjall on the Reykjanes Peninsula. The eruption was first seen on a web camera positioned near the mountain. It was also confirmed on thermal satellite imagery. At the time of writing, the weather on the peninsula is wet and windy, and an orange glow can be seen in the low clouds on the horizon from Reykjanesbær and Grindavík. The eruption site is in a valley, about 4.7 km inland from the southern coast of the peninsula. The coastal town of Grindavík is the closed, populated area of ​​the eruption site, located about 10 km to the southwest.
The eruption is considered small at this point and the eruptive fissure is approximately 500 to 1,000 m long. The magma zone is approximately 1km2. The lava fountains are small.
About 160 earthquakes have been detected since midnight near Fagradalsfjall, the largest M2.3 at 5:01 am, just east of Sýlingafell.
Almost 1000 earthquakes were measured yesterday, the largest one M3.7 at 5:48 am by Reykjanestá.
Seismic activity in the area of ​​the magma intrusion has been lower in recent days, and there is currently no intense seismicity in the area. Earlier today, several low frequency earthquakes were recorded under Fagradalsfjall. There are currently no reports of ash fall, although tephra and gas emissions are expected.
In accordance with well-prepared contingency plans, the aviation color code for the Reykjanes Peninsula has been raised to red, signifying an eruption in progress. Additional national restrictions were put in place, including the closure of Reykjanesbraut - the main road connecting the capital region to Reykjanesbær and Keflavík International Airport.
Reykjanes Peninsula - 19.03.2021 - 2021.03.19 Lava flows with a large flow from the eruption sites in Geldingadalur through Fagradalsfjall. - Doc. mbl.is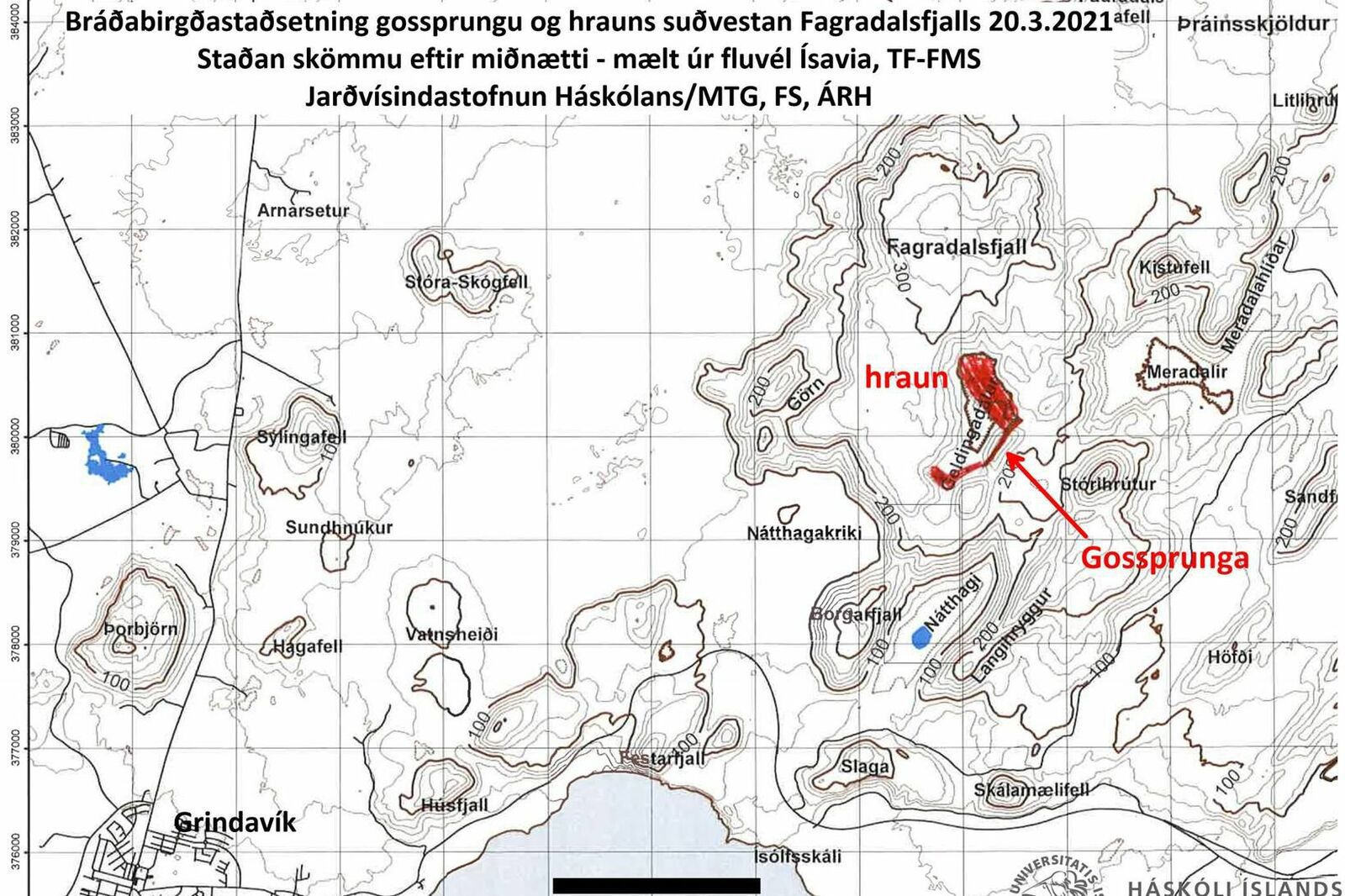 Reykjanes Peninsula - A new map from the Institute of Earth Sciences at the University of Iceland shows the location of the eruption crack on the southeast slopes of Geldingadalur
There was no measurable gaseous pollution in Grindavík, Reykjavík or Vogar, but there are no meters in Þorlákshöfn, but the wind direction last night was towards the west and therefore towards orlákshöfn.
Bjarki Friis Kaldalón, natural meteorological specialist at the Icelandic meteorological office, said in an interview with mbl.is that the forecast for today is that the wind will turn south, but with this possible gas from the eruption could go towards Vogar or the capital region.
It is forecast 5-10 m / s to start today and 8-13 m / s in the afternoon with precipitation and Bjarki says such weather should reduce the effectiveness of any gas pollution.
Sources: IMO, University of Iceland, mbls