Publié le par Bernard Duyck
After a series of paroxysmal episodes between February 16 and April 1 (and all the activity that preceded it in the last two years), Etna presented two strong explosions on the night of April 24-25 and in morning of April 26 at the Southeast Crater; the ash emissions quickly dispersed.
From about 6.30 p.m., there is a slight resumption of Strombolian activity at the CSE. Activity remains modest for now.
From a seismic point of view, the average amplitude of the volcanic tremor shows an increasing trend, currently focusing on medium-low values. The location of the source of the tremor is located near the SE crater area at 2,500 m. altitude.
Regarding infrasound activity, it remains at medium-low levels, with events localized in the area of ​​the SE crater.
Deformation data does not show significant changes
Sources: INGV OE & Boris Behncke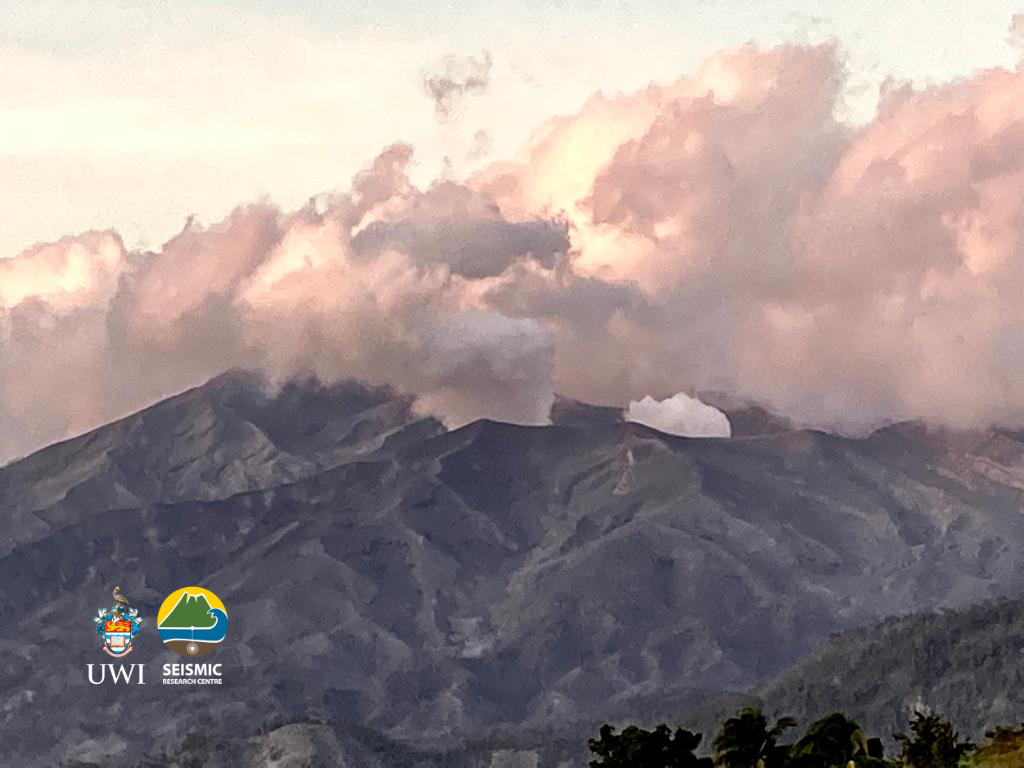 Soufriere de St. Vincent - degassing plume at 2 craters on 04.26.2021 - photo Prof. Richard robertson
Seismic activity at La Soufrière in St Vincent was weak after the tremor associated with the explosion and the release of ash around noon on April 22.
Only a few long period hybrid and volcano-tectonic earthquakes have been recorded and there have been no other earthquakes.
An observation flight took place on April 26 at around 11:30 am Visibility was poor with clouds blocking the crater most of the time.
This observation made it possible to see white vapor escaping almost continuously from several places on the bottom of the crater. No dome was visible, although a spine could be seen through the clouds
The volcano continues to erupt. Its pattern of seismic activity over the past few days is typical of the growth and destruction of lava domes. Explosions accompanied by falling ash, of a similar or greater magnitude, may restart with little or no warning.
The volcano remain in Red alert level.
Source: UWI-SRC
In Guatemala, the Fuego has been showing moderate thermal anomalies in recent days.
Moderate to strong explosions at a rate of 9 to 12 per hour, are accompanied by shock waves and plumes of gas and ash reaching 4,500-4,600 m. asl., with dispersion towards the southwest.
Ash falls are reported on Morelia, Santa Sofia, Panimache.
The activity generates avalanches of boulders in the direction of the various barrancas.
Source: Insivumeh & Mirova
Volcanic activity in the Reykjanes Peninsula has remained stable recently and many people visited the eruption site yesterday in good weather.
A large plume of steam emanates from the Geldingadalur eruption site on April 26, following favorable weather conditions ... which allowed the residents of Reykjavik to follow the eruption from a distance, both day and night.
Sources: Dr. Evgenia Ilyinskaya and Kristín Jónsdóttir