Publié le par Bernard Duyck
In Geldingadalur, the vents, Nor ðri and Su ðri, were bustling today, with a fairly stable flow of gas drifting east with consequent pollution.
The lava flow was stable, and the lava river appears to be elevated from the start of the week and is sustained at substantial levels.
Part of the northern scoria cone collapsed on April 2 around 5:45 p.m., changing the morphology of the eruptive site.
Video by drone of the eruption of Geldingadalgos - video RT
Golden foamy pumice, of centimeter size, and carrying a quantity of peeled hair, were found at the edge of the flows.

Geldingadalgos - samples of "golden pumice", with Pelée's hair - photos Ármann Höskuldsson, Þorvaldur Þórðarson 02.04.2021
Analyzes of lava samples show trace elements and isotopes which confirm that the magma fueling the eruption in Geldingadalur has a different composition from that which caused the historic eruptions in the Reykjanes Peninsula (Univ. Iceland)
Sources: IMO, RUV, mbls, Un.Iceland, Óróapúls - Volcanism on Iceland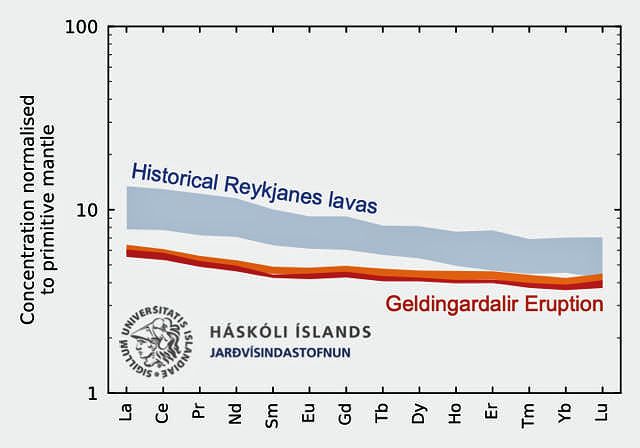 Rare earth element concentrations in the Geldingadalir eruption's bulk rock (red) and matrix glass (orange), compared with historical lavas on Reykjanes (light blue). Data is normalised to the primitive mantle composition of Palme & O'Neill (2014) and is shown on a logarithmic scale. The comparison data is taken from Kokfelt et al. (2006), Peate et al. (2009), and Koorneef et al. (2012).
Sinabung activity is still on the rise on April 2, 2021. A thick white plume is observed on April 2 at 50-500 meters above the summit.
Eight eruptive episodes are reported during the day, with a loud "roar" audible as far as Kabanjahe and Berastagi. The last episode at 22:58 WIB was recorded with an amplitude of 60 mm for 4 minutes.
The seismicity of April 2 is characterized by:
- 8 eruption earthquakes, with an amplitude of 9-60 mm, and the duration of the earthquake was 124-325 seconds.
- 101 collapse earthquakes, with an amplitude of 2 to 70 mm and lasting from 15 to 127 seconds.
- 9 emission earthquakes, with an amplitude of 2 to 22 mm and the earthquake lasted 12 to 80 seconds.
- 1 low frequency earthquake with an amplitude of 7 mm and the earthquake lasted 25 seconds.
- 9 hybrid / multiphase earthquakes, with an amplitude of 2-7 mm, S-P was not observed and the earthquake lasted 7 to 10 seconds.

Sources: PVMBG, Magma Indonesia and Beidar Sinabung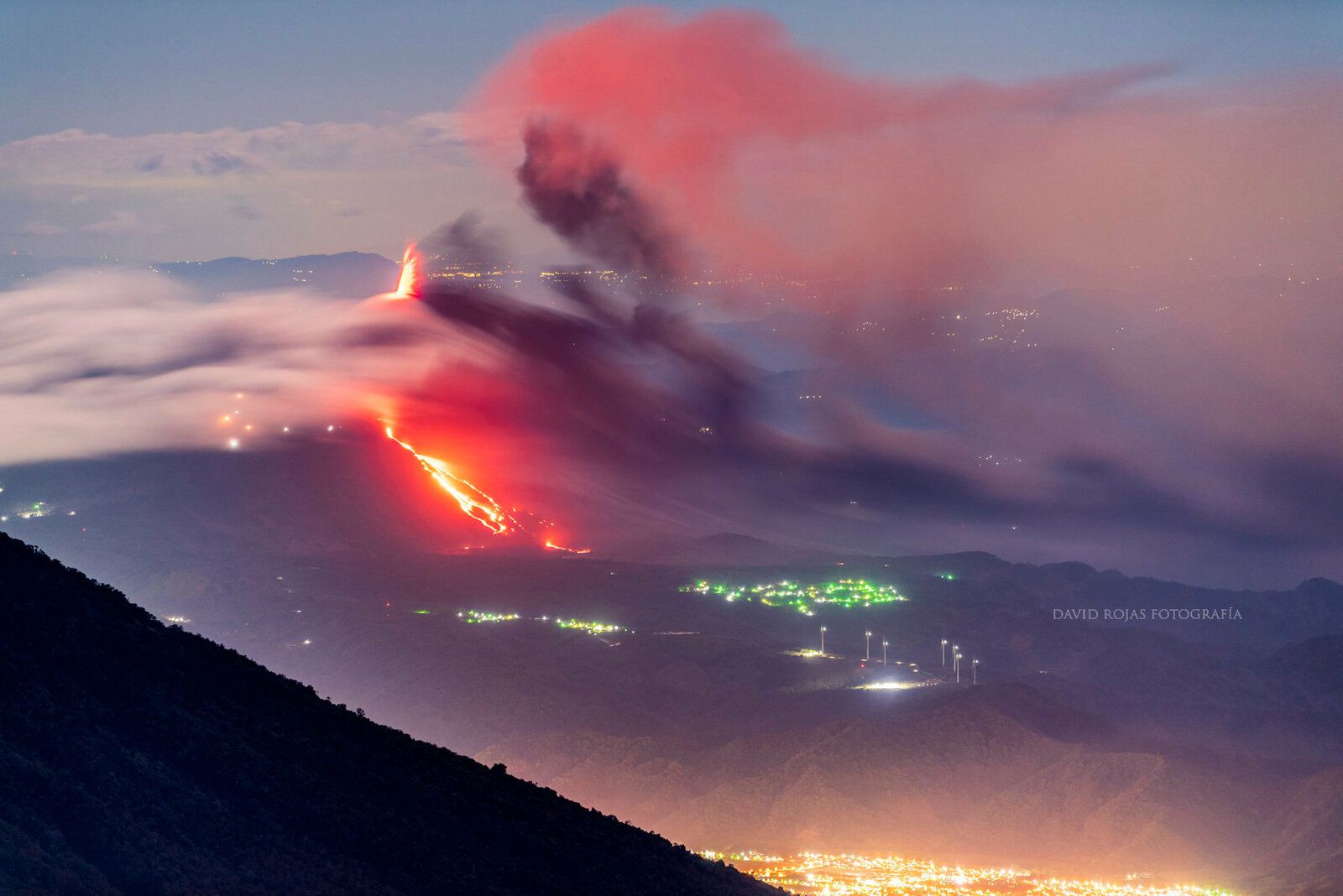 Pacaya - top Strombolian activity and effusive activity on the southwest flank - photo David Rojas photography 02.04.2021
At the Pacaya, continuous explosions expel ballistic materials 100-150 m above the Mackenney crater, and are accompanied by plumes of ash which disperse towards a southern and southwestern sector.
On the southwest flank, the active lava flow from the fissure reaches about 3000 meters, and passes near el Patronicio, after being diverted by ancient hummocky deposits. Falls of incandescent blocks mark the flanks and the flow front and cause fires.
Other flows could mark the other sides of the volcano.
Tremor is still recorded, associated with the rise of magma and the movements of the lava flow.
Sources: Insivumeh & Conred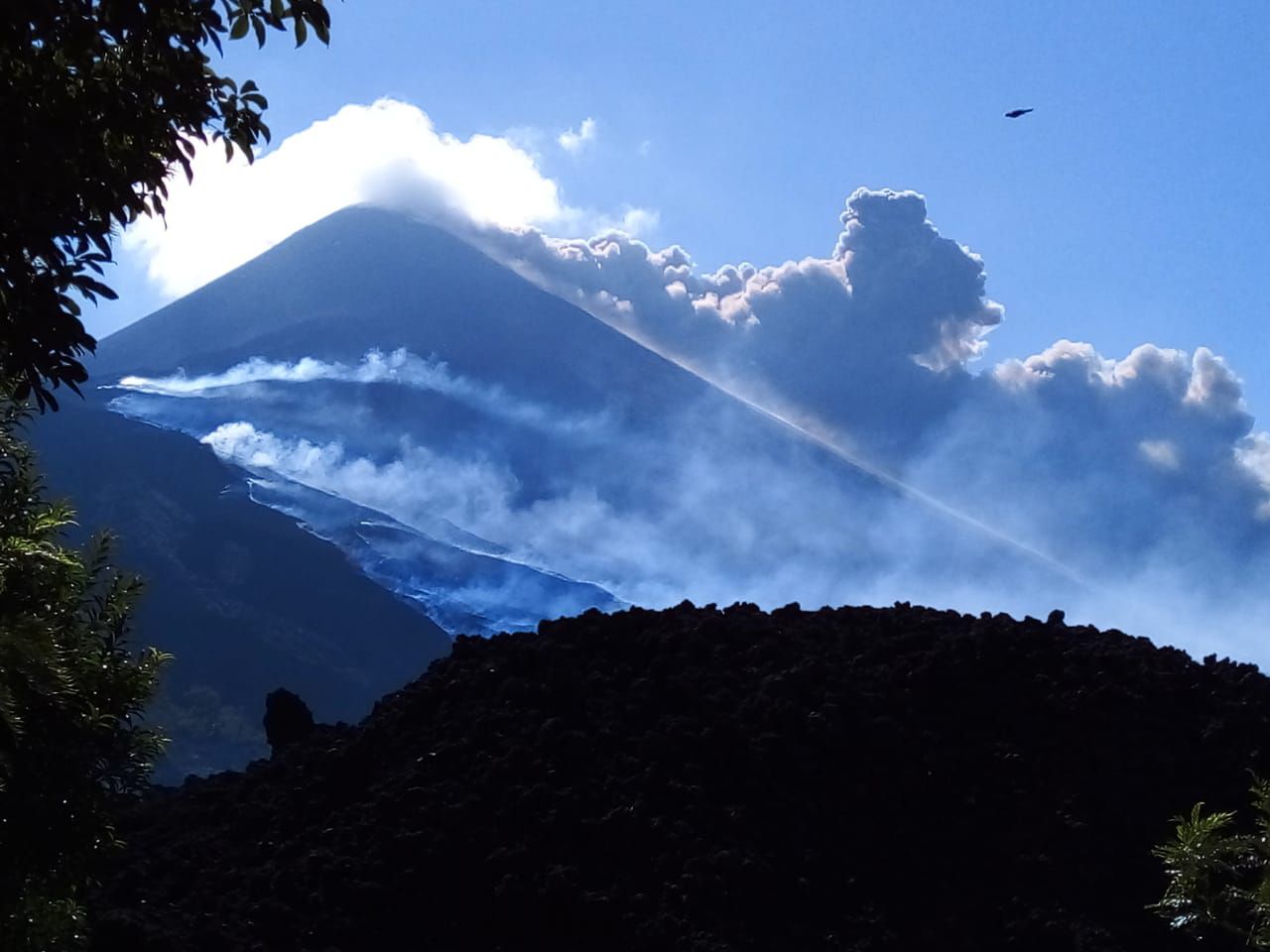 Pacaya - summit ash plume - a lava flow from the southwest flank remains active towards the lava fields of Las Granadillas and Buena Vista. - photo Conred 03.04.2021
In the Philippine archipelago, the seismicity of Taal is increasing significantly.
- During the day and night of March 30, the Taal volcanic network recorded 212 volcanic earthquakes, including 168 volcanic tremor episodes lasting from 1 to 20 minutes, and 44 volcanic earthquakes at low frequency. Sulfur dioxide (SO2) emissions averaged 1229 tonnes / day on March 30, 2021.
- During the day and night of March 31, the Taal volcanic network recorded 254 volcanic earthquakes, including 220 volcanic tremor episodes lasting 1 to 27 minutes, 33 low frequency volcanic earthquakes and 1 volcano-tectonic earthquake.
- The Phivolcs recorded for the day and night of April 1, 269 volcanic earthquakes, including 219 volcanic tremor episodes lasting from 1 to 37 minutes, 49 low frequency volcanic earthquakes and 1 earthquake volcano-tectonics.
- On April 2, 125 volcanic earthquakes, including 7 episodes of volcanic tremor lasting from 1 to 1.5 minutes, 114 low-frequency volcanic earthquakes, 3 hybrid earthquakes and 1 volcano earthquake -tectonics were recorded.
DOST-PHIVOLCS reminds the public that at Alert Level 2, sudden steam or phreatic explosions, volcanic earthquakes, minor ash falls and fatal accumulations or expulsions of volcanic gas can occur and threaten areas in and around TVI. DOST-PHIVOLCS strongly recommends that entry be strictly prohibited into Taal Volcano Island, the Taal Permanent Danger Zone or PDZ, especially the surroundings of the main crater and Daang Kastila fissure, and the occupation and navigation on Lake Taal.
Source: Phivolcs