Publié le par Bernard Duyck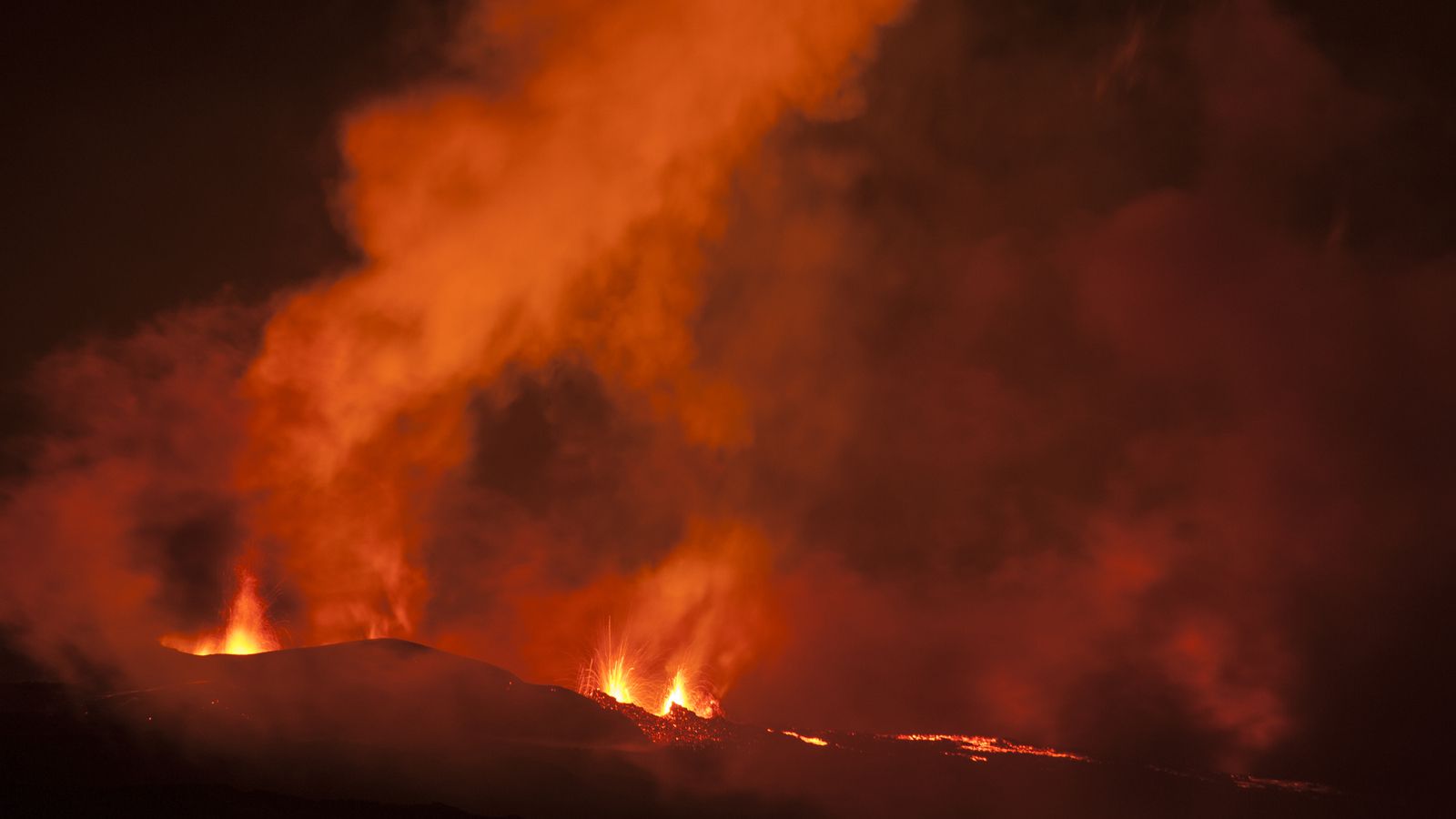 Piton de la Fournaise - the eruptive site seen from Piton de Bert : a main mouth with very fluctuating activity and a second mouth divided in two. - photo © Thierry Sluys 12..04.2021 - one click to enlarge
The eruption that began at Piton de La Fournaise on 04/09/2021 at 7 p.m. (appearance of the tremor) continues. The intensity of the volcanic tremor (indicator of the intensity of the eruption) is always very fluctuating. On the last 24 hours, 36 superficial volcano-tectonic earthquakes (between sea level and the surface) have been recorded under the summit craters
Observations of the eruptive site still show two eruptive vents, a main and a secondary of lower activity slightly downstream from which two regimes of lava fountains escape. The height of the lava fountains emitted by the main mouth was today between 20 and 40 meters depending on the periods of activity.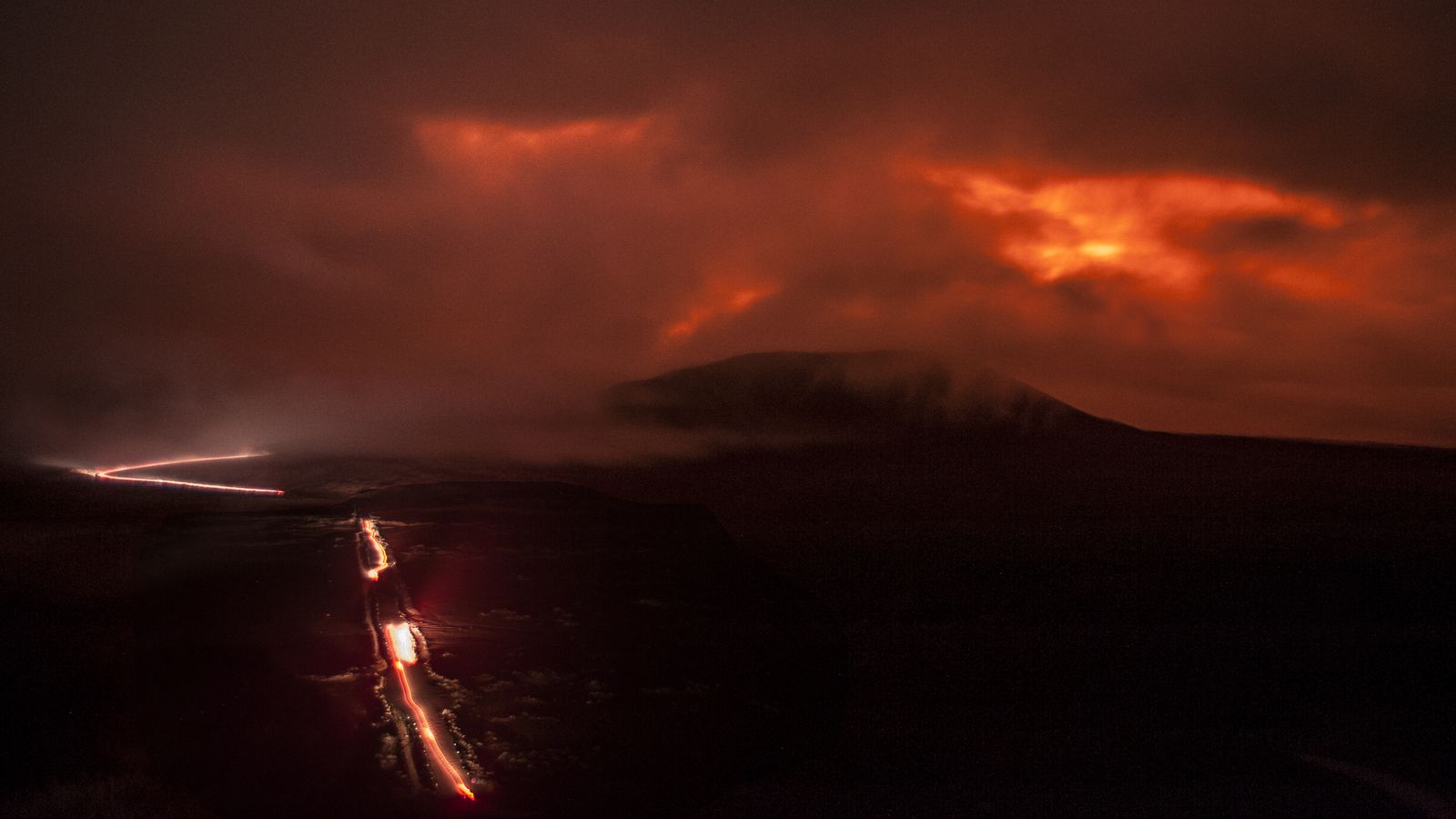 Piton de La Fournaise - upon arrival on the volcano, the atmosphere takes shape - photo © Thierry Sluys 12..04.2021
Since April 11, an increase in SO2 flows has been recorded on the NOVAC stations of the OVPF-IPGP; the highest values ​​were recorded today (April 13) with values ​​reaching 8 ktonnes / day, corresponding to flow rates> 30m3 / sec for non-degassed magmas.
Analysis of the NOVAC data shows that the plume reached an altitude of between 2,500 and 3,500m above sea level.
The surface flows estimated from satellite data via the HOTVOLC platform (OPGC - Clermont Auvergne University) remain very disturbed by the cloud cover on the eruptive site with values ​​between 8 and 30 m3 / s since the start of the eruption
Sources: OVPF press release of April 13, 2021/6 p.m.
Thanks to our friend Thierry Sluys, a well-known Belgo-Réunionnais volcanophile, for these photos taken before the bans.
In St. Vincent, the seismic activity changed with the explosive activity at 6.30am on April 13th. Prior to the explosion, long-period (LP) earthquakes had increased in number.
The explosions of La Soufrière pulsed for about 30 minutes and produced pyroclastic density currents that reached the sea at the mouth of the Wallibou about 6 km from the volcano and which extended out to sea, according to observers. Observations made during the afternoon show that the pyroclastic flows reached the sea from all the valleys between Larikai and Wallibou.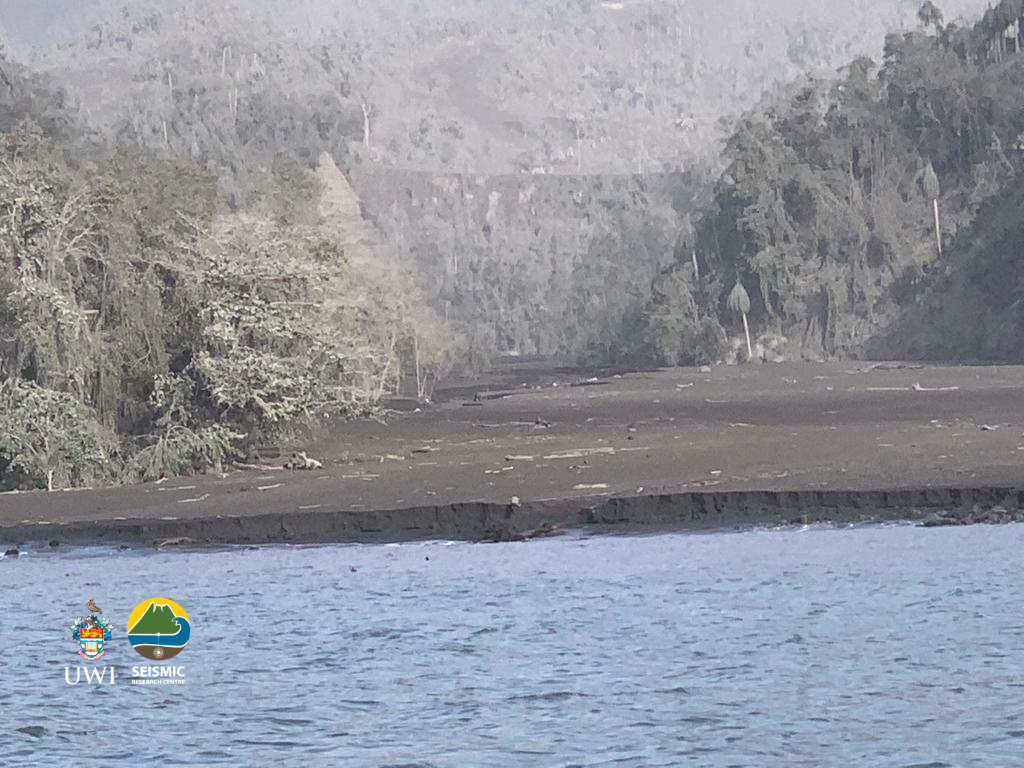 Soufrière de St. Vincent 13.04.2021 - Pyroclastic density current having taken the Wallibou river to the sea - photo Thomas Christopher, MVO
After this episode was over, LP earthquakes were recorded, slowly increasing in number, but significantly smaller than those recorded before the 6.30am explosion.
Volcanic activity is characterized by explosions which generate pyroclastic density currents, and more or less important ash falls. This activity is likely to continue in the coming days.
Sources: UWI-SRC, NEMO SVG, MVO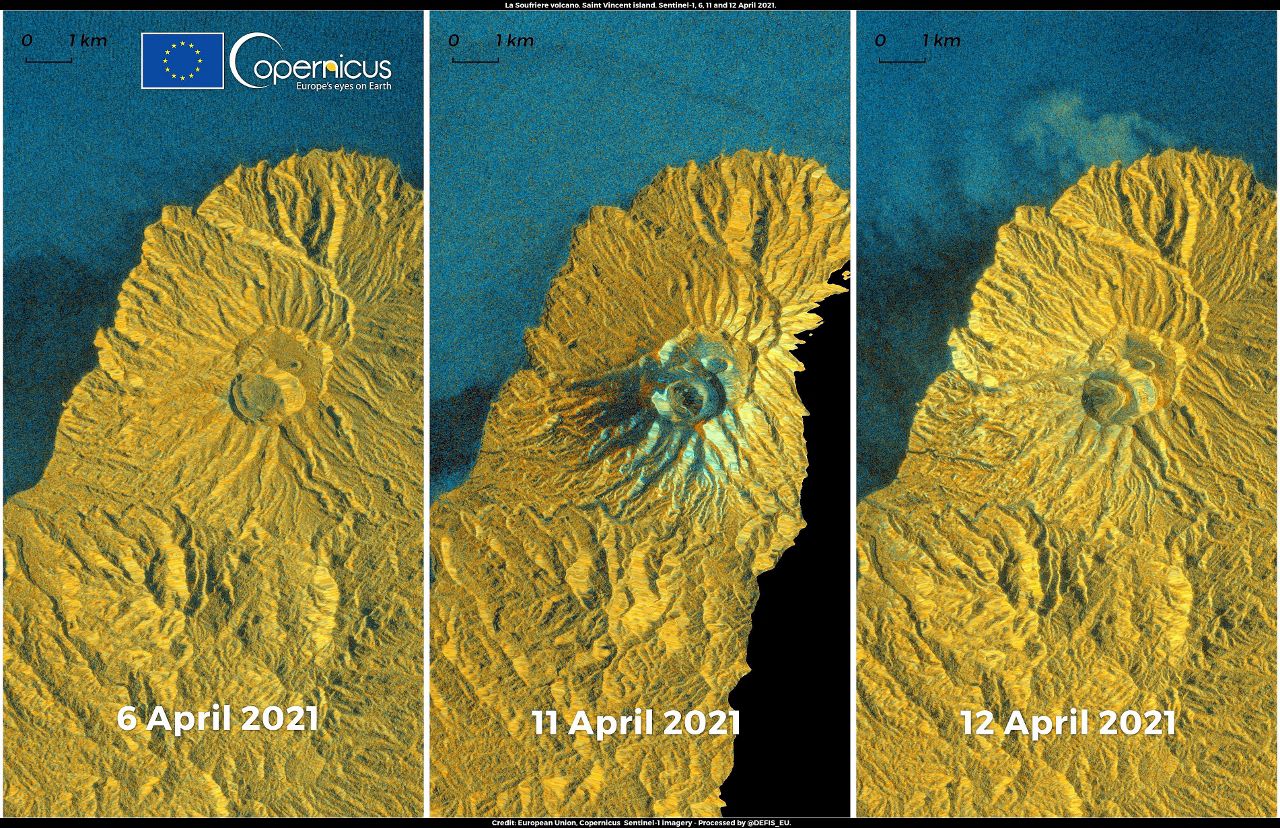 Soufriere de St. Vincent - permanent evolution of the crater between 06.04 and 12.04.20 - Sentinel images -1
The eruption site in Geldingadalur, Iceland / Reykjanes Peninsula is constantly changing, but on the morning of April 13, four new craters opened. Lava flows at the end of the second hiking trail to the eruption sites.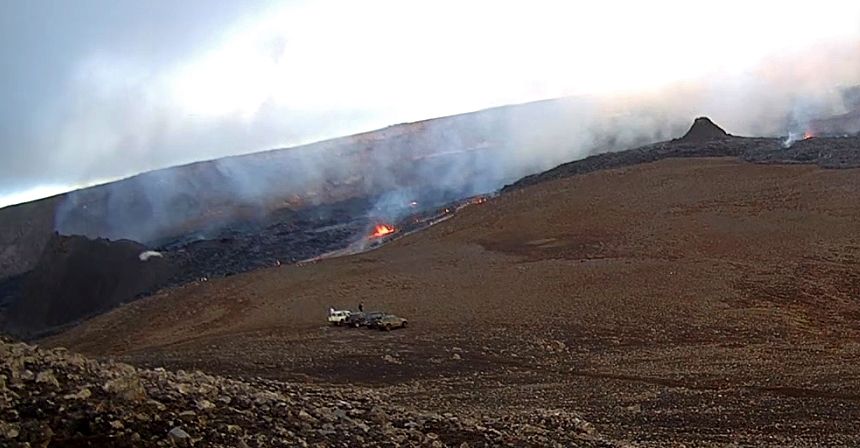 Reykjanes Peninsula - 5th crack open and flow towards Gelingadalur on 04/13/2021- photo Óróapúls - Volcanism in Iceland
" A few hundred yards down this is arguably a continuous crack / dyke, but on the surface it's a swarm of short, staggered cracks, as they appear on team maps. crack monitoring.
Therefore, it is likely that each vent is an independent channel with roots in a continuous part of the dyke. "
Geologist Þóra Björg Andrésdóttir, who is at the site of the eruption, just told mbl.is that instead of describing it as four new vents, you might as well be talking about a 100-meter-long crack. erupting.
" There is a continuous eruption in an area of ​​50 meters. Then there are two more craters, difficult to distinguish, and yet another on the side. Lava flows from all these vents south into the Geldingadalur."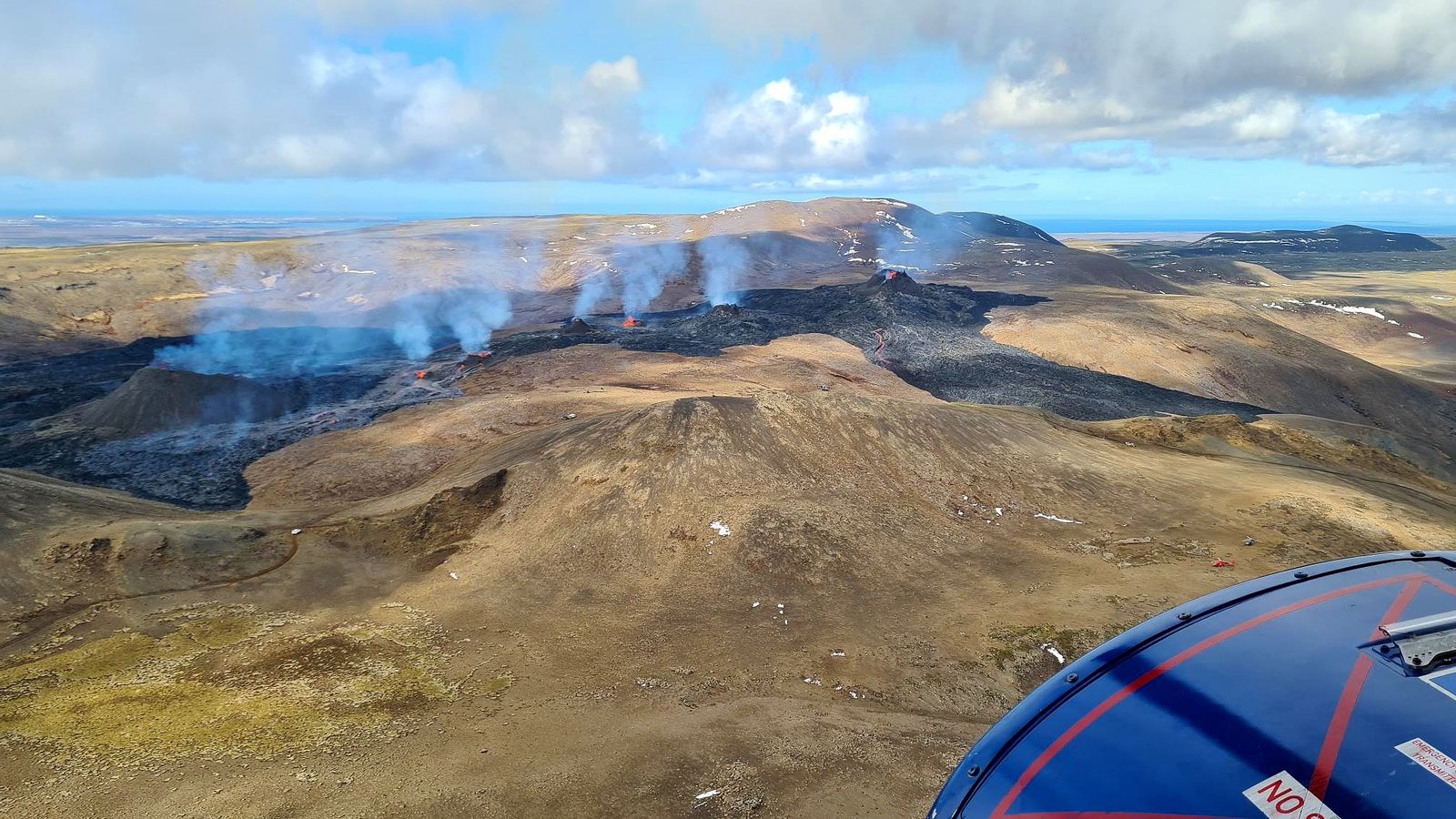 Reykjanes Peninsula - active vents and their gas plumes - photo 13.04.2021 Björn Oddsson @almanavir - via Dr. Thorbjorg Agustsdottir - one click to enlarge
A clear opinion from the Suðurnes police on social networks:
Police advise the elderly, pregnant women, and those with underlying heart and lung disease not to visit eruption sites if air pollution is imminent. There may also be soil surface, snow and surface water contamination due to the accumulation of heavy metals and fluorine. Surface pollution is most important in the immediate vicinity of the eruption site.
Do not take children or dogs to these sites: they are closer to the ground than adults and are more exposed to gas pollution. Those who do not dress properly have nothing to do in the area. "
Source: Lögreglan à Suðurnesjum
On April 12, 2021, the Taal Volcano Network recorded 158 volcanic earthquakes, including 127 volcanic tremor episodes lasting from 1 to 14 minutes, 31 low-frequency volcanic earthquakes and the ongoing low-level background tremor that began to 9:05 a.m. on April 8, 2021.
During the last 24-hour period, April 13, the Taal Volcanoes Network recorded 383 volcanic earthquakes, including 238 volcanic tremor episodes lasting 1-12 minutes, 143 low-frequency volcanic earthquakes and tremor. low level background.
Activity at the main crater consisted of very low emission of steam-laden plumes from the fumarolic vents that rose 5 meters. Sulfur dioxide (SO2) emissions averaged 1,886 tonnes / day yesterday, April 12, 2021. Maximum temperatures of 71.8 ° C and a pH of 1.59 were last measured from Main Crater Lake on March 4 and February 12, 2021, respectively.
Continuous monitoring by GPS and InSAR continues to record very slow and steady inflation and expansion of the Taal region which began after the eruption of January 2020. These parameters indicate persistent magmatic activity at shallow depths below the sea. building.
Alert Level 2 (Increased Agitation) is currently maintained on the Taal volcano. DOST-PHIVOLCS reminds the public that at Alert Level 2, sudden steam or phreatic explosions, volcanic earthquakes, minor ash falls and fatal accumulations or expulsions of volcanic gas can occur and threaten areas in and around TVI. DOST-PHIVOLCS strongly recommends that entry be strictly prohibited into the island of Taal Volcano, the Taal Permanent Danger Zone or PDZ, especially the surroundings of the main crater and Daang Kastila fissure, and the occupation and navigation on Lake Taal.