Publié le par Bernard Duyck
Volcanic activity continues at La Soufrière de St. Vincent.
The seismic activity at La Soufrière has remained weak, since the tremor linked to the explosion and the release of ash around noon on April 22.
In the past 24 hours, only a few long-period hybrid and volcano-tectonic earthquakes have been recorded and there have been no other earthquakes. Its pattern of seismic activity over the past few days is typical of the growth of a lava dome.

Satellite radar imagery acquired on April 24 indicates probable continued growth or formation of a lava dome following the explosions of April 18 and 22.
Explosions accompanied by falling ash, of similar or larger size, may restart with little or no warning.
The volcano is at the Red alert level.
Source: UWI-SRC update 25,04,2021 / 18h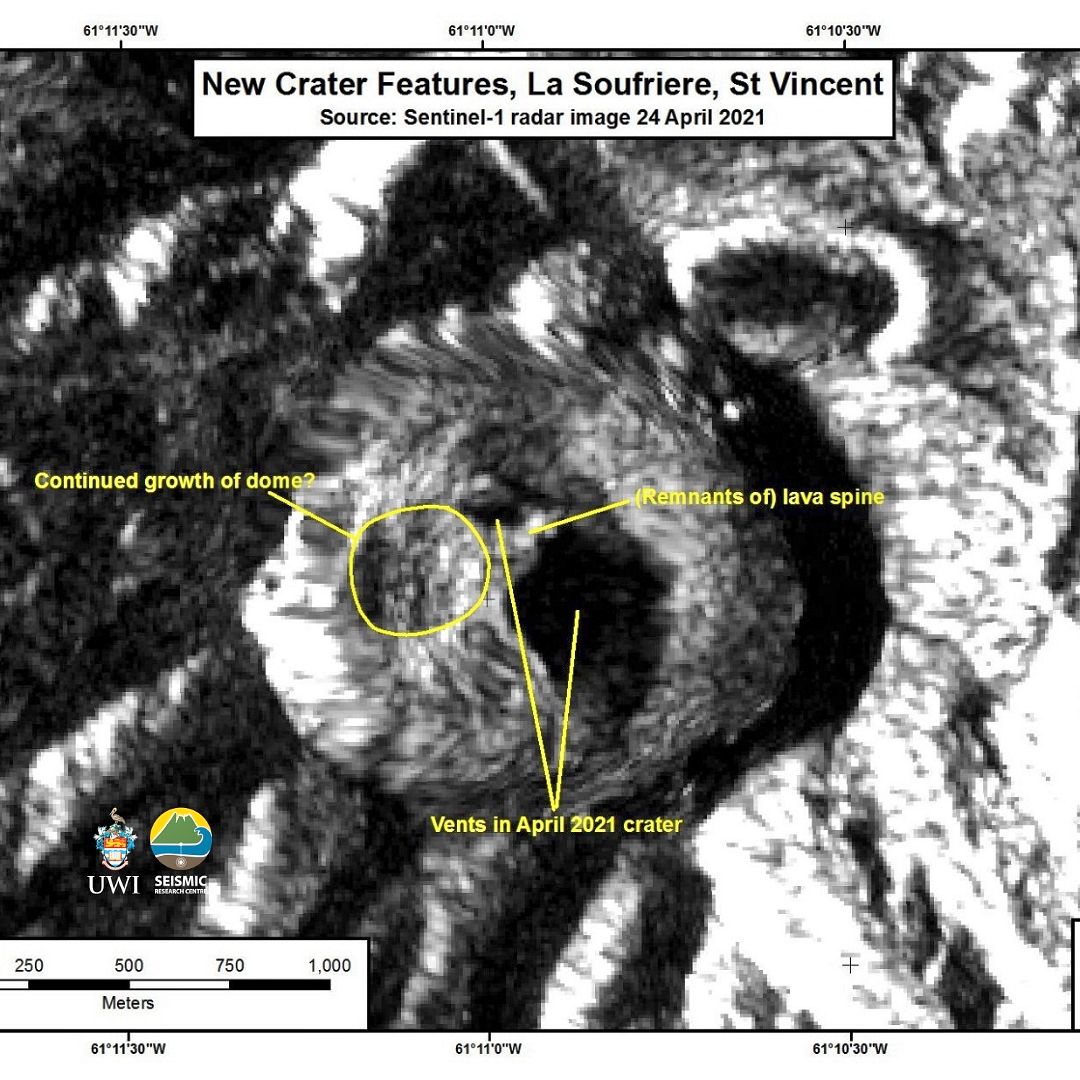 Soufriere de St. Vincent - Sentinel-1 radar image - with location of new dome and craters 2021 - via UWI
JMA report on activity at Sakurajima from April 23 to 26 at 3:00 p.m.:
at the Minamidake summit crater, 10 eruptions occurred, of which 7 were explosions.
Plumes of ash and gas rose up to 2,300 m above the crater rim.
The volcanic bombs reached up to the 5th station (1,000m to 1,300m from the Minamidake summit crater)
Source: JMA
Asked about the state of the eruption in the Reykjanes Peninsula, Einar Hjörleifsson, a nature conservation specialist at the Meteorological Bureau, said it has not changed. "It continues", Einar said.
The thermal anomalies remain high, when the cloud cover allows good satellite detection.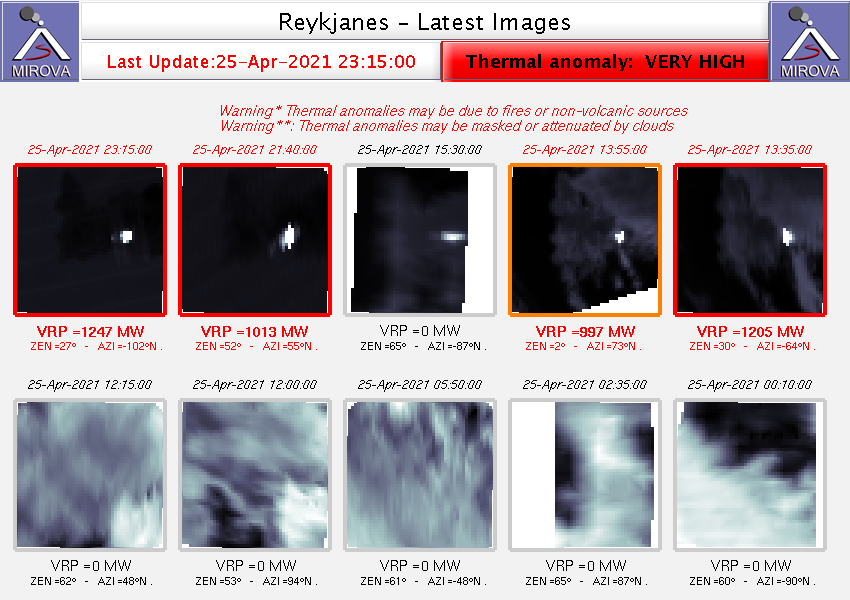 Reykjanes Peninsula - very high thermal anomalies at 04/25/2021 / 11:15 p.m. - Doc. Mirova_MODIS_Latest10NTI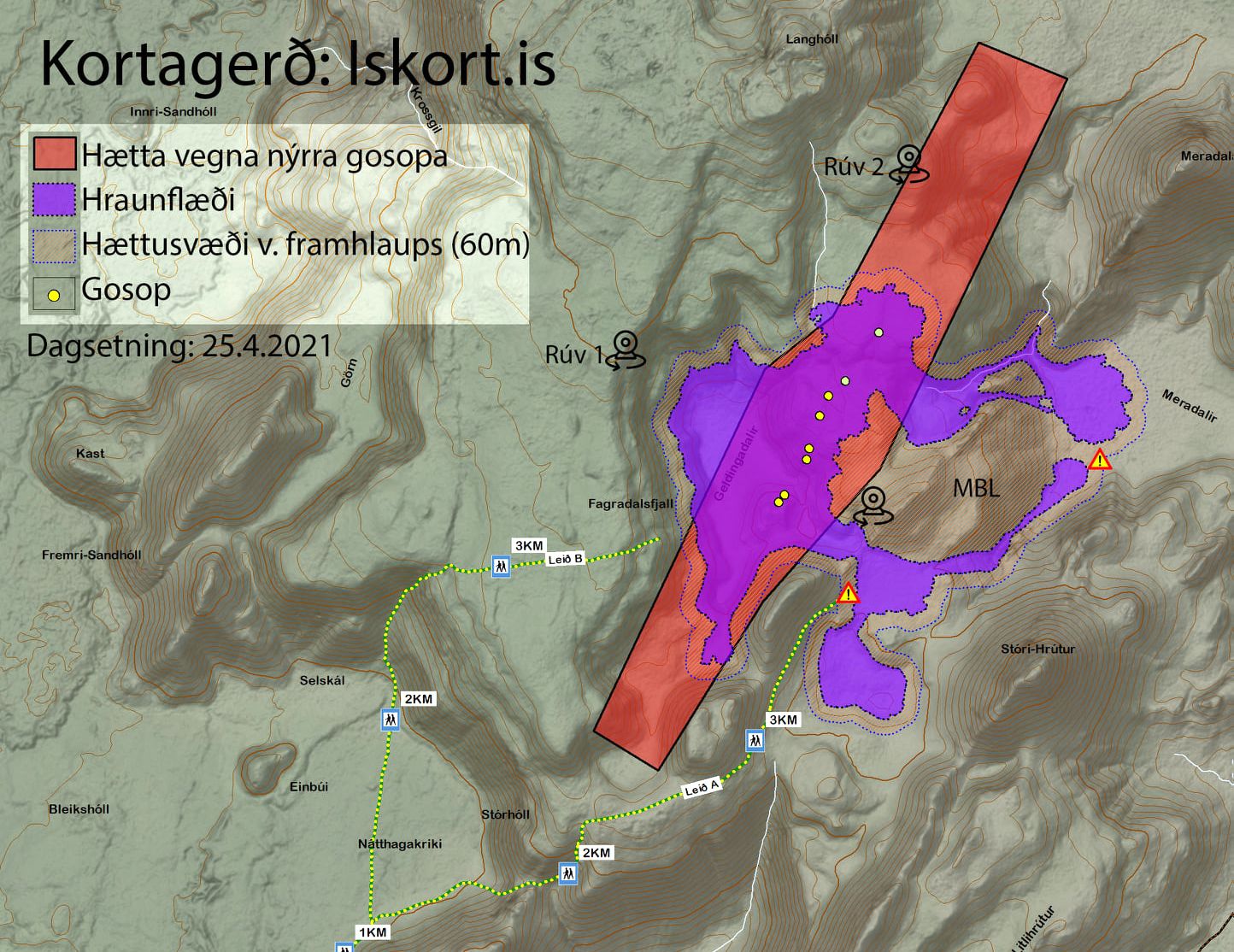 Reykjanes Peninsula - the lava field (in purple) ... the Geldingadalur and Meradalur flows at only 200 m. one of the other - the danger zone is in red-orange - the vents in yellow - Doc Isort.is
Special care is needed to ensure that people do not pass between the lava tongue which originates from Geldingadalur and the one which is found in Meradalir. They are now only about 200 meters from each other.
(information from Gunnar Schram, police chief of the Suðurnes police force, to mbl.is.)
Gas pollution from the eruption on the Reykjanes Peninsula could spread to Grindavík today and gas pollution could be detected in the capital region on the evening of April 25 and overnight.
Sources: IMO, mbls, RUV, Óróapúls