Publié le par Bernard Duyck
Some additional information to that of April 5 afternoon (see article: http://www.earth-of-fire.com/2021/04/opening-of-2-new-cracks-in-the-reykjanes-peninsula.html )
The fissure eruption that opened on April 5 around 12 p.m. in Geldingadalur is about 200 meters from the tent camp that the Þorbjörn rescue team has occupied in recent weeks. Members of the Þorbjörn team quickly went to the scene to take the tents and equipment to a safe place.
The lava emitted is very fluid and helped by the difference in level, the flow has reached the valley where it forms a small delta.
Reykjanes Peninsula - Landscape location of active sites - photos and captions / Iceland 360 ° VR - one click to enlarge
Measurements were made on the lava on April 5, using aerial photographs. No reliable estimate of the lava flow was obtained in the old craters, but the new fissure produced 7 cubic meters per second. The total flow (Geldingadalir + new crack) is now estimated at 10 cubic meters per second. The eruption therefore got bigger.
The area is considered dangerous, due to various factors: the possible opening without warning of new fractures, the constant pollution by volcanic gases, the difficult conditions encountered during the trail, to which are added the weather conditions (intense cold - 9 ° C, strong wind, sleet and / or snow). It remains closed for now, and we must focus on the webcams.
Sources: IMO, RUV, mbls, Visir, Almannavarnadeild ríkislögreglustjóra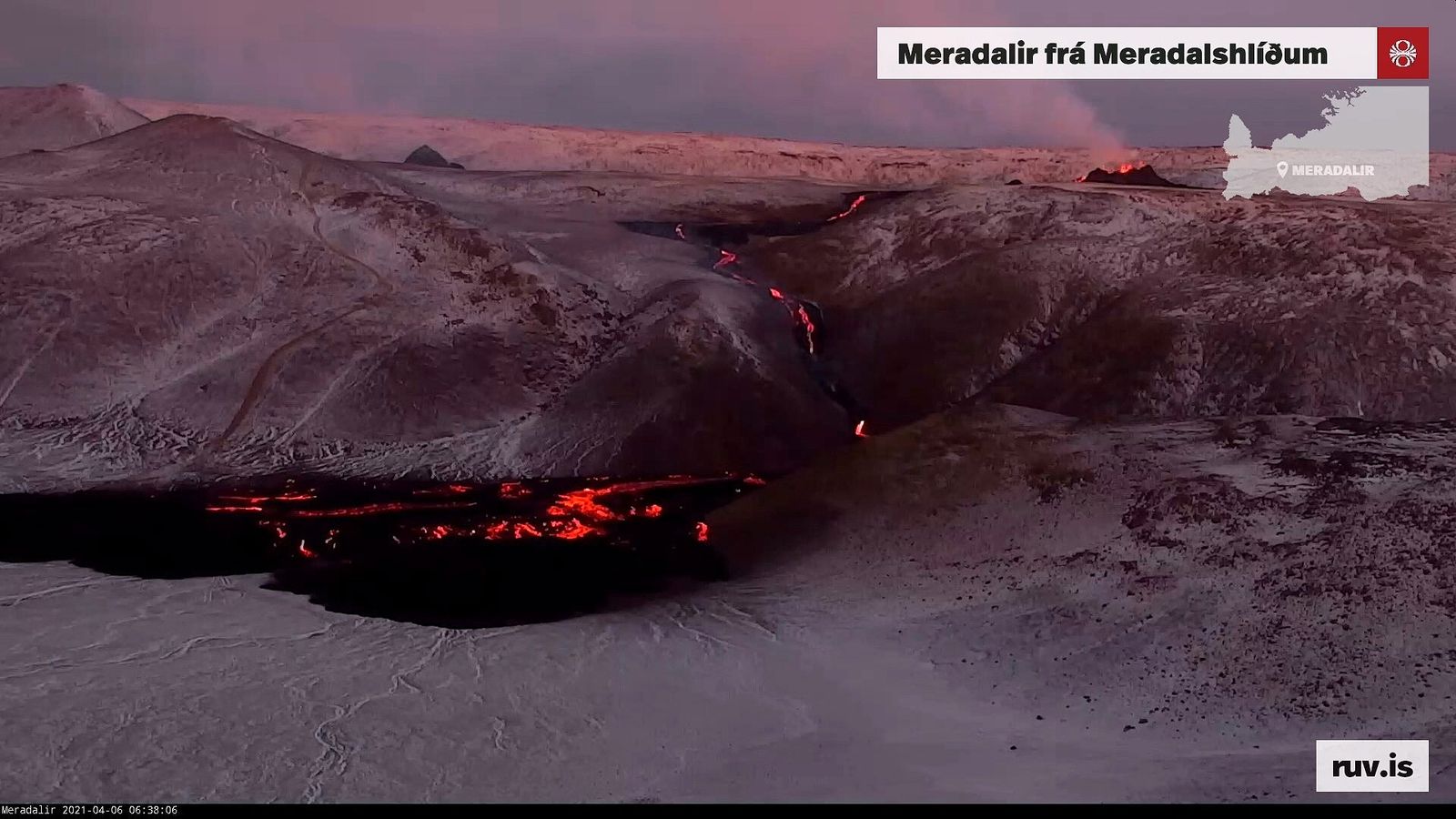 Meradalur - lava flow and delta during the night and on 04.06.2021 / 06:38 - (new) webcam RUV - one click to enlarge
At the Soufrière of St. Vincent on April 5, a new swarm of volcano-tectonic (VT) earthquakes began at 6:38 am. The number and magnitude of these earthquakes increased until about 8:30 a.m., after which they continued at a fairly steady rate.
This swarm of VT earthquakes was located at a depth of about 6 km below the summit of the Soufrière. This is slightly deeper than the VT seismic activities recorded between March 22 and 25, which were located at depths of 3 to 5 km below the summit.
The largest VT earthquake occurred at 9:20 a.m. with a magnitude of 3.5 and was felt by residents living near the volcano. Other VT earthquakes may also have been felt.
The alert level remains at Orange.
NEMO also encourages residents, especially people living in communities near the volcano, to prepare in case it becomes necessary to evacuate at short notice.
Sources: UWI-SRC & Nemo