Publié le par Bernard Duyck
An additional new crack opened around 12:00 p.m. on April 5, 2021 near the initial eruption site in Geldingadalur.
Early estimates of the crack length are approx. 200 meters, and the middle of the fissure is about 1 kilometer northeast of the Geldingadalir eruption site. Lava from the new fissure flows towards the valleys of Meradalir, east of the new fissure.
Icelandic Coast Guard helicopters are at the new eruption site to ensure the area is evacuated. An aerial plain with scientists is on their way to the crack to more accurately assess the location and size of the new crack.
The evacuation of responders in and around Geldingadalur was a success, according to Gunnar Schram, police chief in Suðurnes. Hundreds of people were in the area when the crack opened.
Due to the lack of ash and tephra emission into the atmosphere, the aviation color code of Keflavik Airport remains orange as there is no imminent danger to aviation.
Sources: IMO & Police in Suðurnes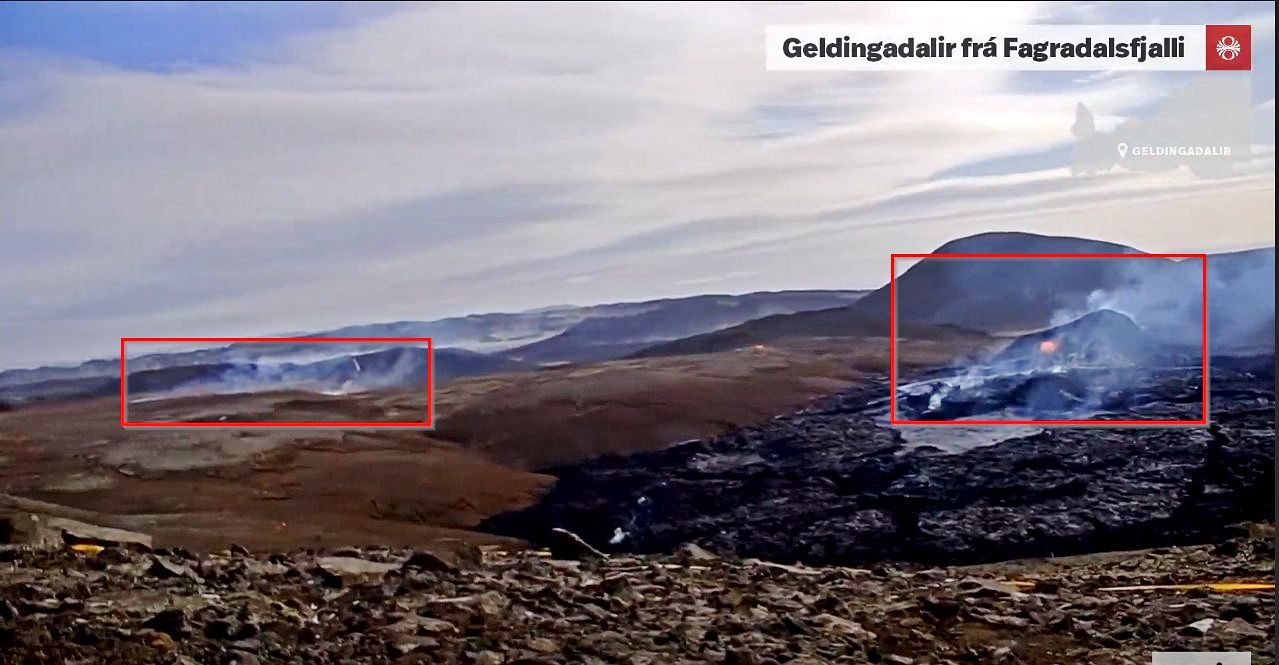 Reykjanes Peninsula - the two eruptive sites on 05.04.2021 in the early afternoon - RUV webcam - click on all the photos to enlarge
Update:
The eruptive centers are located about 700 meters from each other; the new one is northeast of the volcanic craters of Geldingadalur. The cracks are in total about 100 to 200 meters long. The lava from the fissures is fluid and flows in a long, narrow lava river east of Merardalur where a lava field is already starting to form there.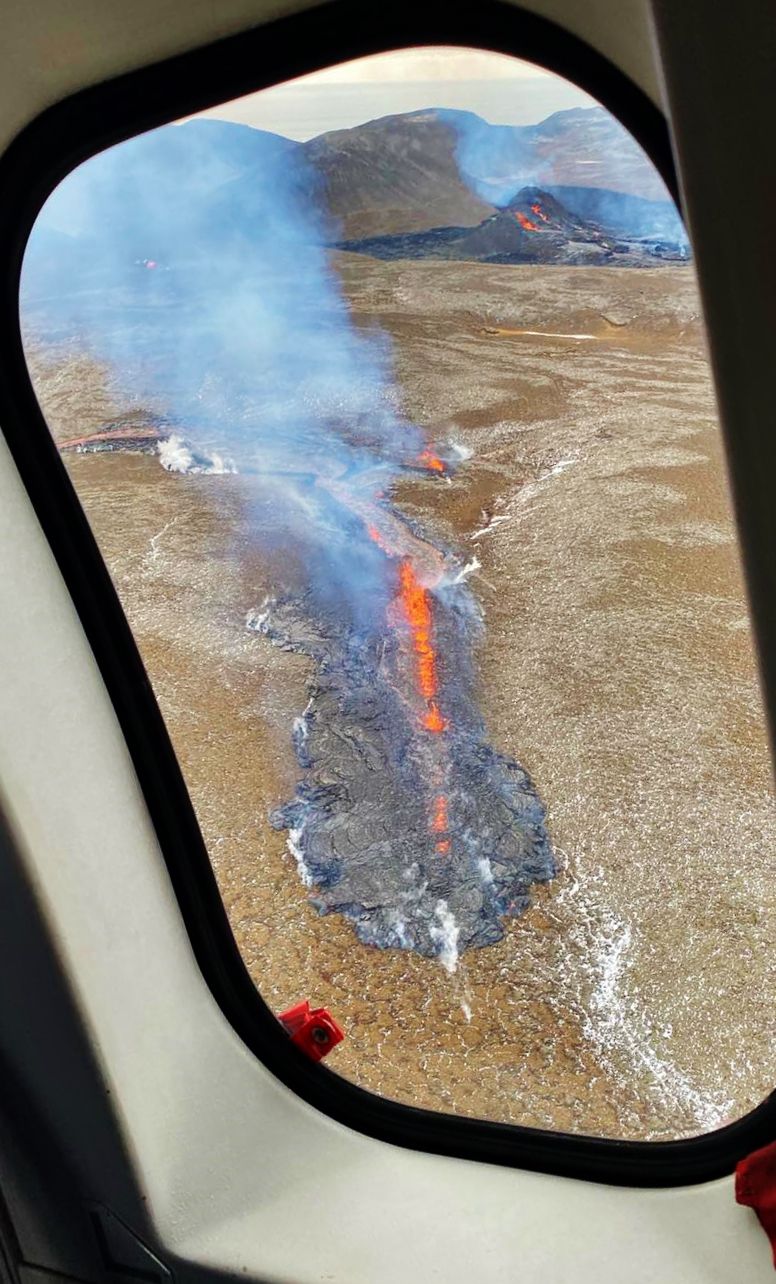 The two eruptive sites - at the top of the porthole, Geldingadalsgos, and in the foreground, the fissure towards Meradalur - photo 05.04.2021 / Coast Guard's helicopter squad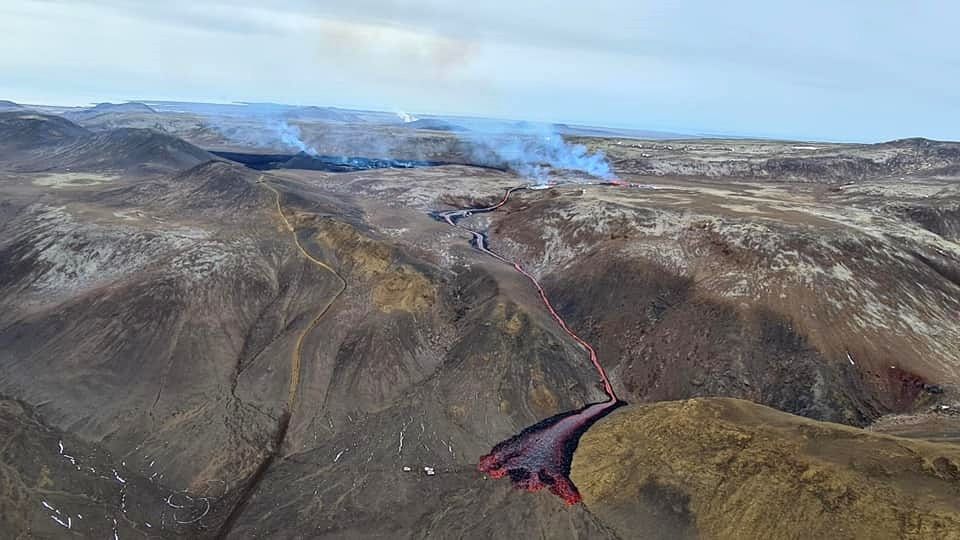 Meradalur - the crack, on the right and the flow towards Merardalur - photo Almannavarnadeild ríkislögreglustjóra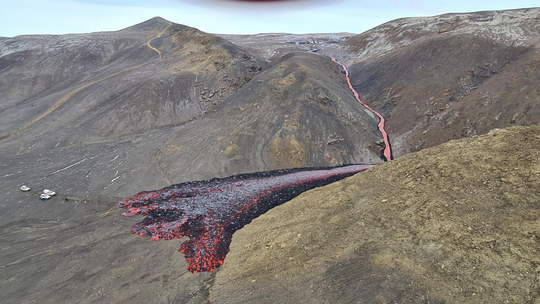 Meradalur - new lava field in formation - photo K. Jonsdottir 05.04.2021 (the cars on the left give the ladder)
At 4:39 p.m., RUV communicated that a second crack opened today and is much smaller in shape than the first which opened at noon, probably several tens of meters, according to Salóme Jórunn Bernharðsdóttir, conservation specialist nature at the Icelandic meteorological office.
The RÚV webcam focuses on the new eruption cracks, but the mbl.is webcam is still in place, focusing on the eruption of Geldingadalur. And it is clear that the eruption slowed down a lot there, as the new cracks are probably lined up on the same feed channel.
Páll Einarsson, a geophysicist, had noticed that around ten o'clock there were changes in the turbulence of the eruption at the cone level in Geldingadalur.
To be continued ...
Sources: IMO, RUV, mbls, Almannavarnadeild ríkislögreglustjóra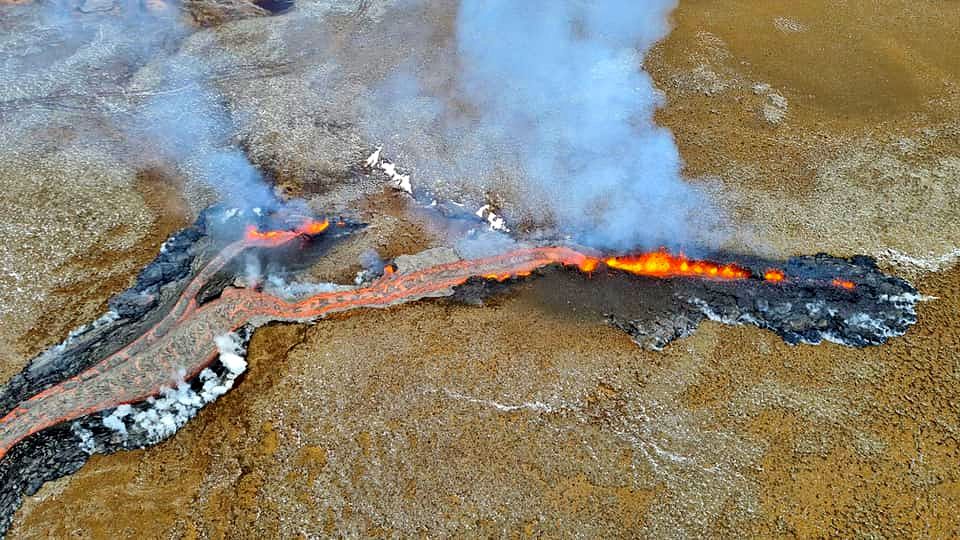 Meradalur - the 2 cracks and the rampart spatter - photo 05.04.2021 / Almannavarnadeild ríkislögreglustjóra