Publié le par Bernard Duyck
In Sakurajima, the activity of the Minamidake crater remains important.
Note the explosions of April 4 at 11:35 p.m. local, accompanied by a plume of ash 2,000 meters above the crater, drifting to the southeast.
Likewise, an explosion took place on April 5 at 6:41 am local time, accompanied by a plume 3,000 meters above the crater.
The JMA reports, for each of them, large bombs which disperse at the level of the 6th station, around 800-1.100 meters from the summit crater Minamidake
Sources: JMA & VAAC Tokyo
Sakurajima - 04.05.2021 / around 06:41 JST
In Guatemala, the Pacaya maintains a high level of activity, with plumes of ash and gas at 3,000 meters asl. And sporadic dispersions of ash over a southern sector.
On the southwest flank, the active lava flow currently measures 2,850 meters; it presents ramifications and incandescent avalanches at the flow fronts, affecting the vegetation.
A reconnaissance made using a drone equipped with a thermal camera made it possible to determine the progress of the flows and those of the hot spots.
Sources: Insivumeh, Conred, Sentinel-2, Mirova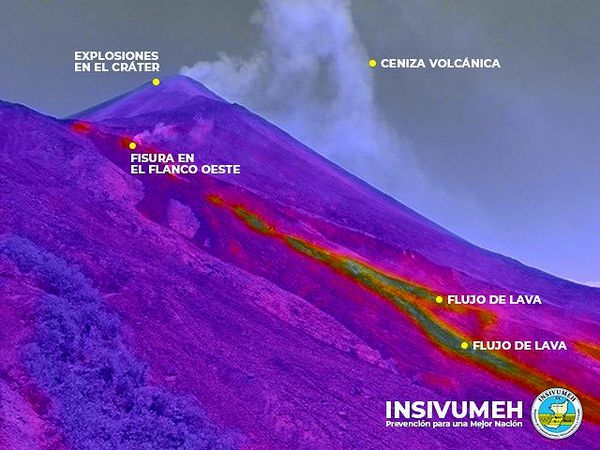 Pacaya - drone / camerathermic measurements of hot spots and extent of flows - Insivumeh images - one click to enlarge
Regarding the eruption in Geldingadalur, IMO mentions its continuation, with a stable flow ratio. The sulfur gas fumes remain dangerous.
During the day of yesterday, two collapses of the edge of the southern crater took place; the blocks of lava were carried by the flows towards the lava field, which fills more and more the valley.
The frost is permanent on the relief and winter precipitation expected ... but these weather conditions should not slow down the flow of the curious. It is recommended not to bring children and animals near the eruptive site, due to the presence of toxic gases.
Sources: IMO, RUV, mbls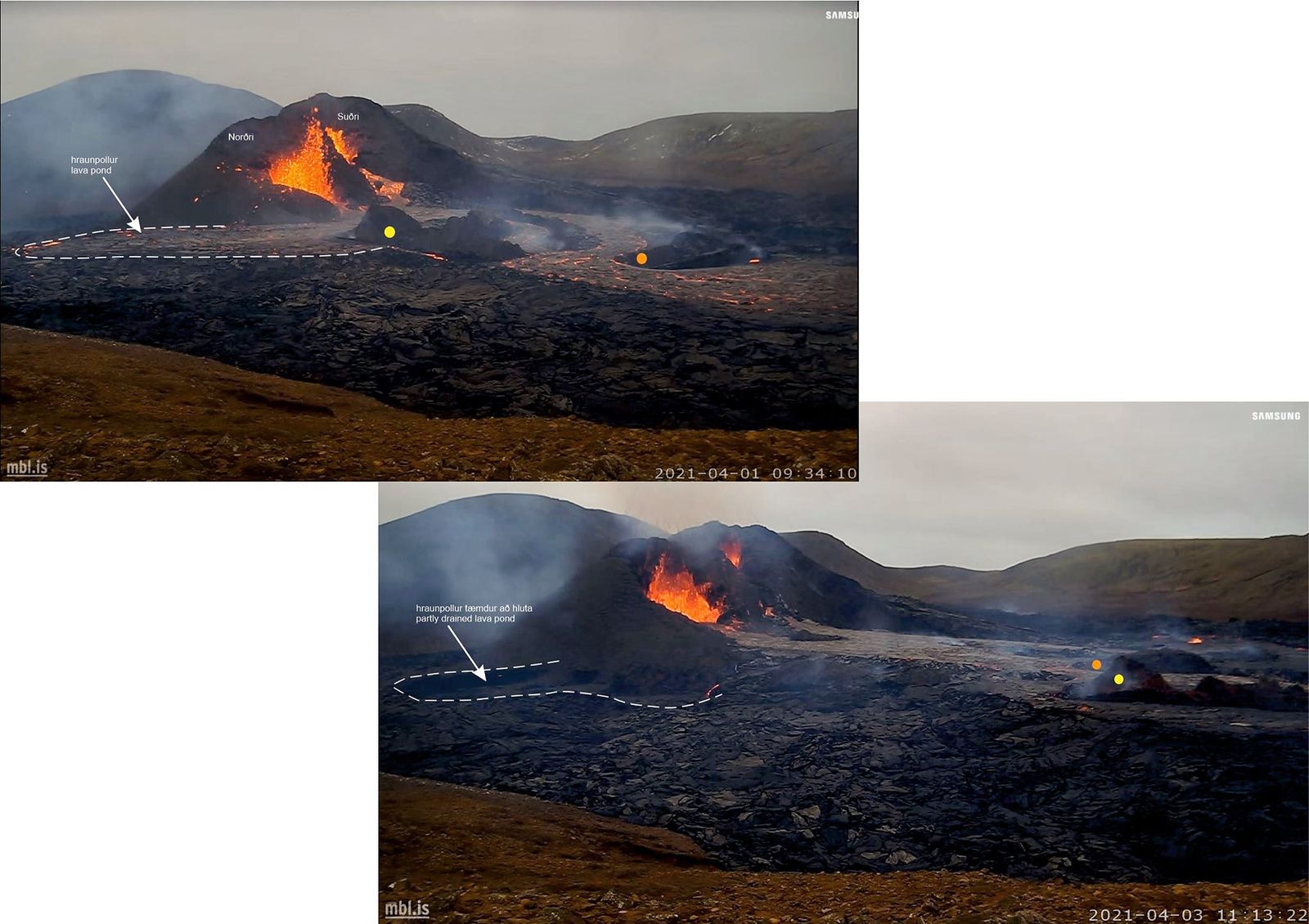 Geldingadalgos - modifications to the eruptive site between 01 and 04/03/2021 (drainage of the lava basin to the left of the cones and straying of blocks in the flows, depending on the position of the yellow and orange dots) - photo Eldfjallafræði og náttúruvárhópur Háskóla Íslands - one click to enlarge