Publié le par Bernard Duyck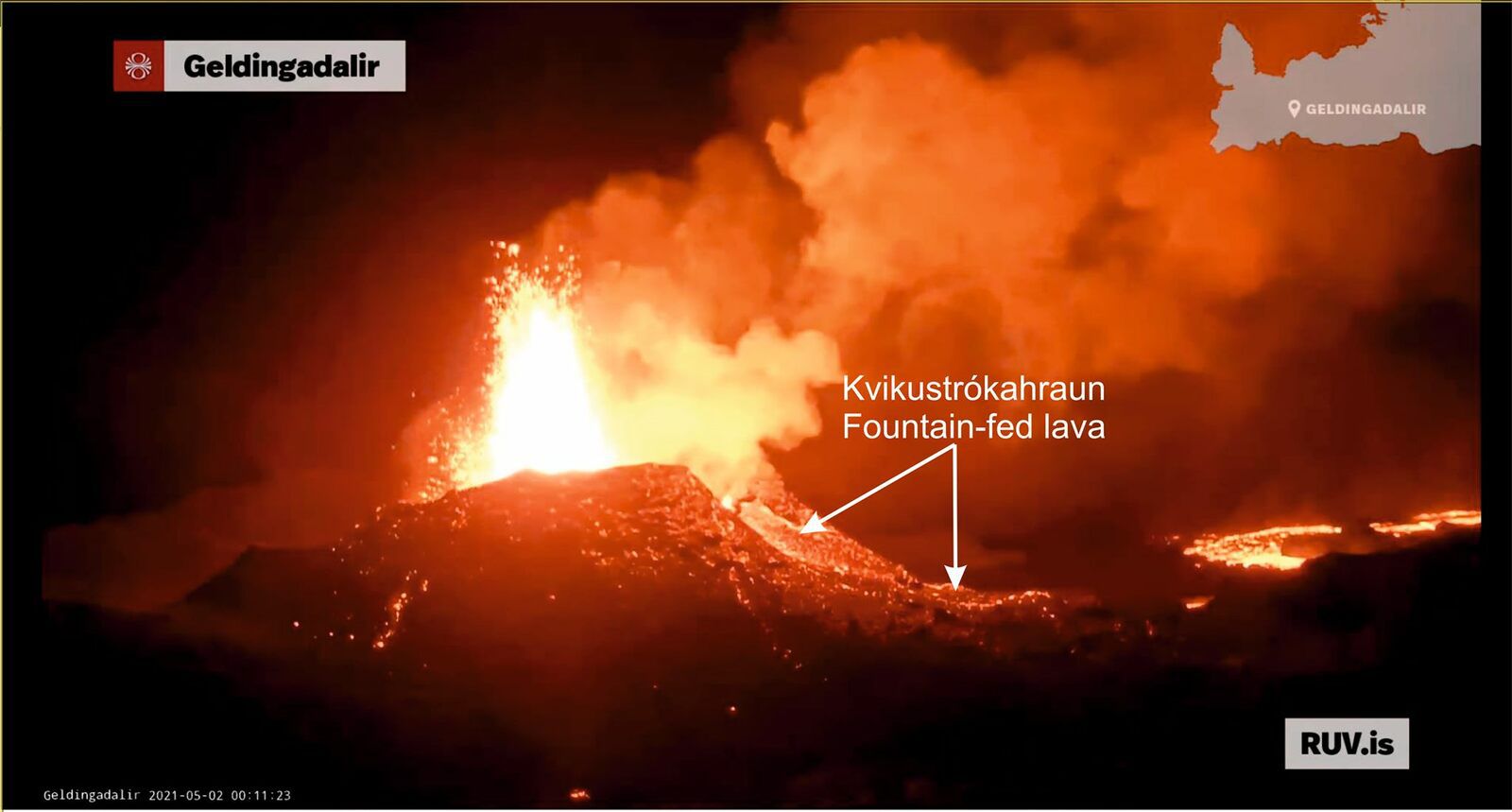 Geldingadalur - vent # 5b - lava flow fed by a fountain on 02.05.2021 / 00h11 - RUV webcam annotated Eldfjallafræði og náttúruvárhópur Háskóla Íslands - one click to enlarge
At Fagradalsfjall, around 11:45 p.m., a small fountain-fed lava flow flowed through a slit on the southern rim of crater 5b and a short distance down the slope (see photo above from ruv.is; marks ÞÞ) - the first lava flow clearly fed by a fountain in the eruption.
Fountain-fed lava, also known as splash / spatter-fed lava, is formed when large drops of molten magma (splattering bombs)
fall in such rapid succession that they are re-amalgamated into a cohesive liquid which then flows like lava.
Sources: RUV, Óróapúls, langihryggurN webcam, Eldfjallafræði og náttúruvárhópur Háskóla Íslands.
The eruption that began at Piton de La Fournaise on 04/09/2021 at 7 p.m. continues. The intensity of the volcanic tremor (indicator of a surface lava emission) has stopped its slow decrease and has been relatively stable for two days
No direct observation of the eruptive site could be made on May 1, given the very bad weather conditions on the volcano.
Local observers report the closure of the two cones, and an activity that takes place in tunnels (Volkaventures)
Over the past 24 hours, a single superficial volcano-tectonic earthquake (between sea level and the surface) has been recorded, located directly above the summit craters.
The CO2 fluxes in the soil are always increasing in the far field (Plains region). A slight inflation (swelling) of the summit area and the base of the terminal cone seems to appear. This parameter will be monitored over the next few days because it may correspond to the pressurization of the superficial magmatic reservoir located under the summit and could suggest a deep magma flow entering the superficial magmatic reservoir greater than the outlet flow of the reservoir which supplies the eruptive site.
Due to poor weather conditions on site, no flow estimate could be made in recent days.
Sources : OVPF - press release 01,05,2021 11h00 local time - 7h00 UTC & Volkaventures
On the morning of May 2, a clearing is forming, and we should have some good pictures today.
Source : IRT- OVPF panoramic webcam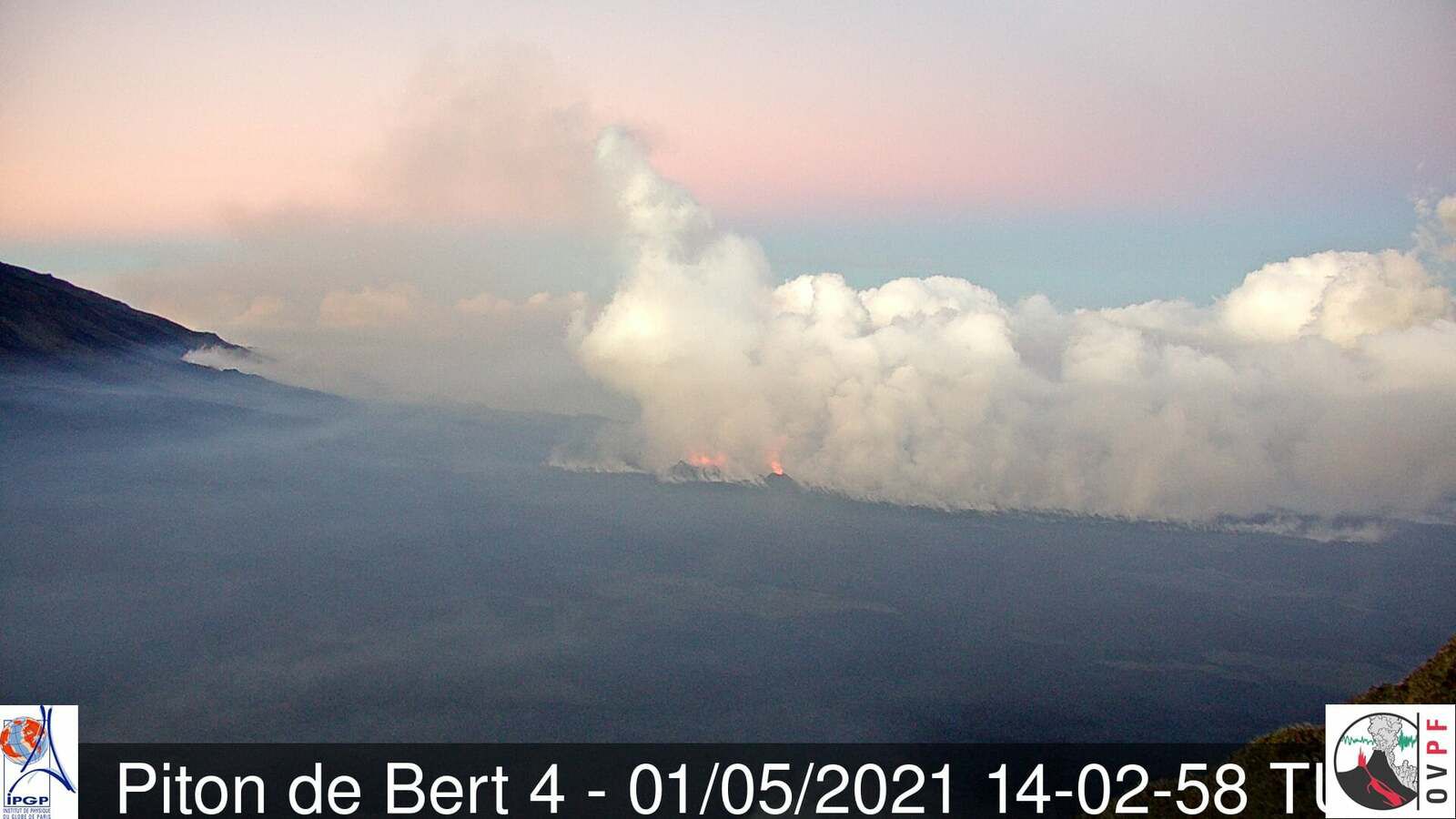 Piton de La Fournaise - the eruptive site 01.05.2021 / 2:02 p.m. TU- webcam Piton de Bert - IRT -OVPF
The seismic activity at La Soufrière in St Vincent has remained weak since the tremor linked to the explosion and the ash discharge of April 22.
In the past 24 hours, only a few long-period hybrid and volcano-tectonic earthquakes have been recorded and there have been no further earthquakes.
The seismic stations recorded the signals from small lahars around 1 a.m. and 8:30 a.m., in the red and orange areas.
The volcano continues to be in a state of unrest. Explosions accompanied by falling ash, of a magnitude similar or greater than those which already occurred during this eruption, may occur with little or no warning.
The alert level remains Red.
Sources : UWI-SRC 01,05,2021 / 18h & Trinidad and Tobago Weather Center